This is it, the next chapter in Honda's electrification strategy has been revealed. The 2024 Acura ZDX and ZDX Type S battery-powered SUVs made their global debut in California on Thursday in conjunction with Monterey Car Week and the famed Pebble Beach Concours d'Elegance. The reborn ZDX is the luxury automaker's first EV and an important starting point as Acura works to electrify its entire vehicle lineup.
Along with the upcoming Honda Prologue, the ZDX is based on GM's Ultium EV platform, a flexible architecture that provides near 50/50 weight distribution. Dimensionally, this Acura will roll on a 121.8-inch wheelbase and have an overall length of 197.7 inches. That makes the ZDX basically the same size as a Cadillac Lyriq electric utility vehicle, another Ultium-based product. A multilink suspension setup at both ends should help this Acura ride and handle well. The high-performance Type S version will also feature an adjustable air suspension system with adaptive dampers. Additionally, Brembo front brakes with 15.6-inch front rotors and six-piston calipers should provide sure and repeatable stops.
The more mainstream ZDX A-Spec model will be offered in both rear- and all-wheel-drive configurations. As expected, the former features a single electric motor that's good for around 340 horsepower, while the latter drivetrain layout features two dynamos.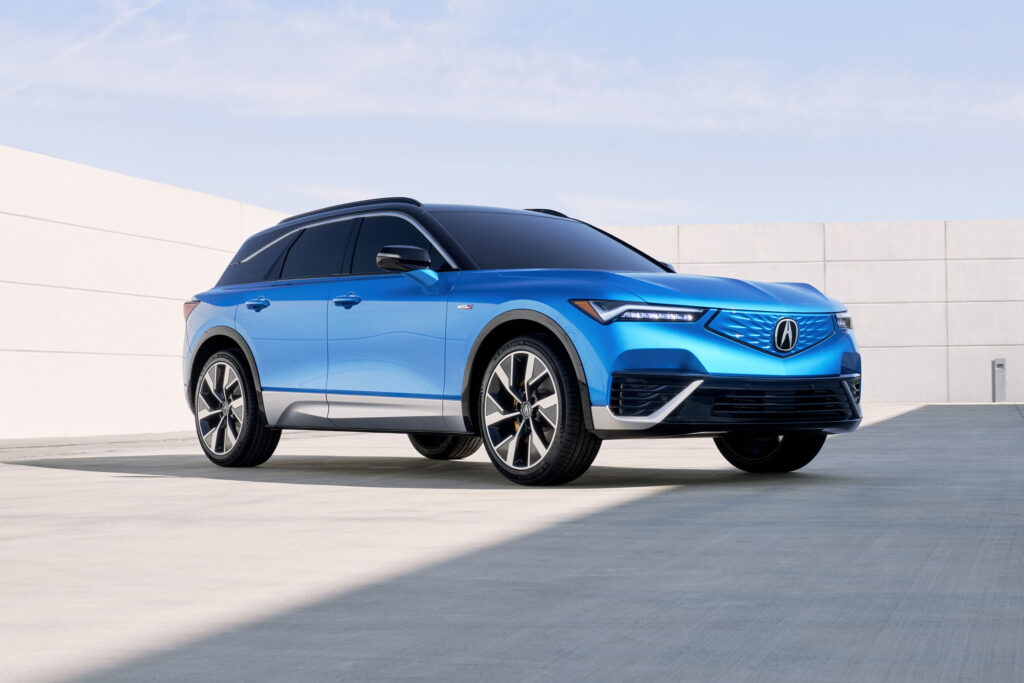 For drivers that want a little more oomph, the Type S will offer an estimated 500 hp courtesy of an up-rated all-wheel-drive powertrain. This variant will be the most powerful Acura SUV ever offered.
No matter the model, Acura's reborn ZDX will come with a 102-kilowatt-hour battery. This pack will DC fast charge at up to 190 kilowatts, enough to get you around 81 miles of range in just 10 minutes.
Speaking of range, the single-motor version of the ZDX A-Spec should offer up to 325 miles on a charge. Opting for all-wheel drive reduces that figure to a still-impressive 315. As for the Type S, its legs aren't quite as long, but this variant is still expected to get 288 miles out of a charge, a good performance, even if we like to see 300 miles of range here at EV Pulse because it gives you a little extra wiggle room.
The 2024 ZDX was designed by Acura's studio in Los Angeles. Stylists worked to evolve the brand's signature Diamond Pentagon grille, adding an illuminated surround in the process. This SUV also features a version of the brand's Jewel Eye LED headlights, which add some visual pizazz to the front end. The rest of the vehicle's design is low and wide for a planted stance, plus that long wheelbase helps push the axles out to the far ends of the vehicle for a sportier look and likely more interior volume.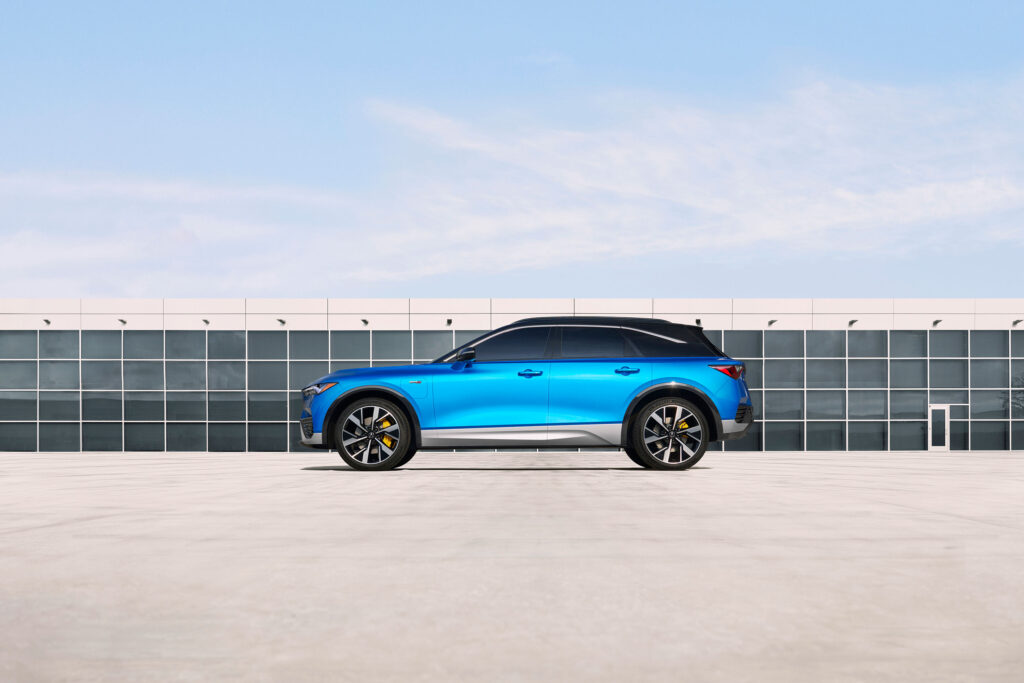 At least in pictures, this is a handsome vehicle with athletic proportions. The bodywork is also impressively sleek, free of superfluous creases and tacked-on trim.
In a media release shared by Acura, Dave Marek, the brand's executive creative director said, "As Acura moves into an exhilarating, electrified future, we will continue to push the forward-thinking design and proportions of our products as we take full advantage of the increased styling and packaging freedom EVs offer." He added that the ZDX's design team embraced this liberation and was energized by it.
Debuting on the Type S is a swanky new paint color, Double Apex Blue Pearl, which was previewed on last year's Acura Precision EV Concept. Beyond this, the ZDX will also be available in a hue called Tiger Eye Pearl, sort of a roasted yellow that's currently offered on Type S versions of the TLX and Integra four-doors, as well as the MDX SUV.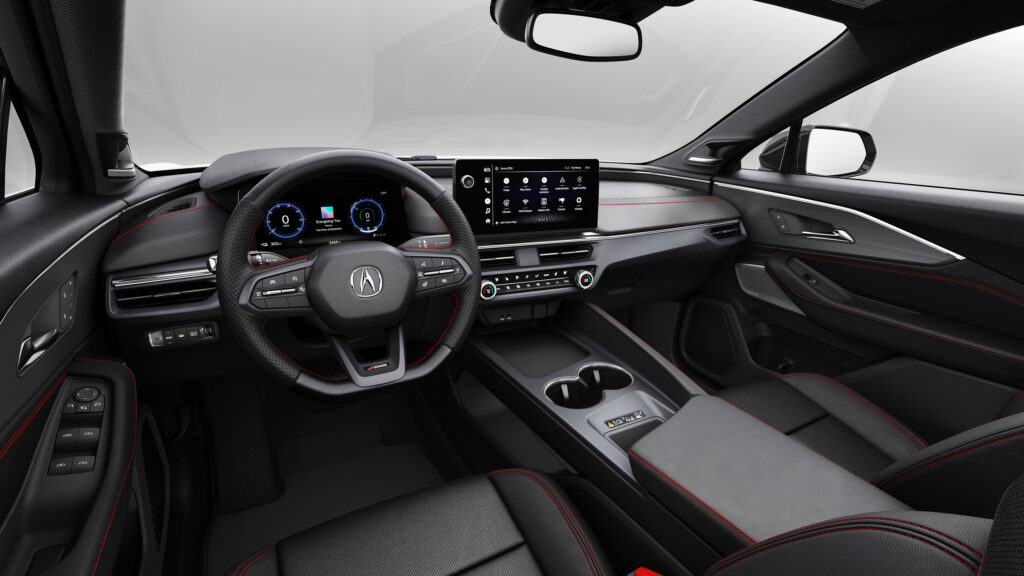 Expect suitably luxurious materials inside the new ZDX. Matching its exterior, the overall design breaks no new ground, but it doesn't have to. The cabin is understated, handsome and, knowing Acura, assembled with great care.
Tech should be another highpoint of this vehicle. The infotainment system, for instance, is enhanced by a range of Google services – Google Assistant, Google Maps and the Google Play store. Ahead of the driver is an 11-inch digital instrument cluster, while an 11.3-inch touchscreen pops up from the center of the dashboard. Additionally, the ZDX will be the first Acura to offer a Bang & Olufsen premium sound system. This bespoke setup features an impressive 18 speakers and comes standard on all trim levels.
Keeping you safe, the AcuraWatch suite of driver aids is bundled at no extra charge as well. This includes amenities like rear cross-traffic braking, blind zone steering assist and rear pedestrian assist. AcuraWatch 360+ on the ZDX Type S provides an automatic parking feature as well as adaptive cruise control with hands-free capability. Like GM's Super Cruise, this system should work on some 400,000 miles of compatible highways.
"The arrival of the new ZDX is an exciting moment for the Acura brand," said Emile Korkor, assistant vice president of Acura national sales in a media release. This SUV signals the automaker's transition to a greener future and "demonstrates our commitment to Precision Crafted Performance in the electrified era."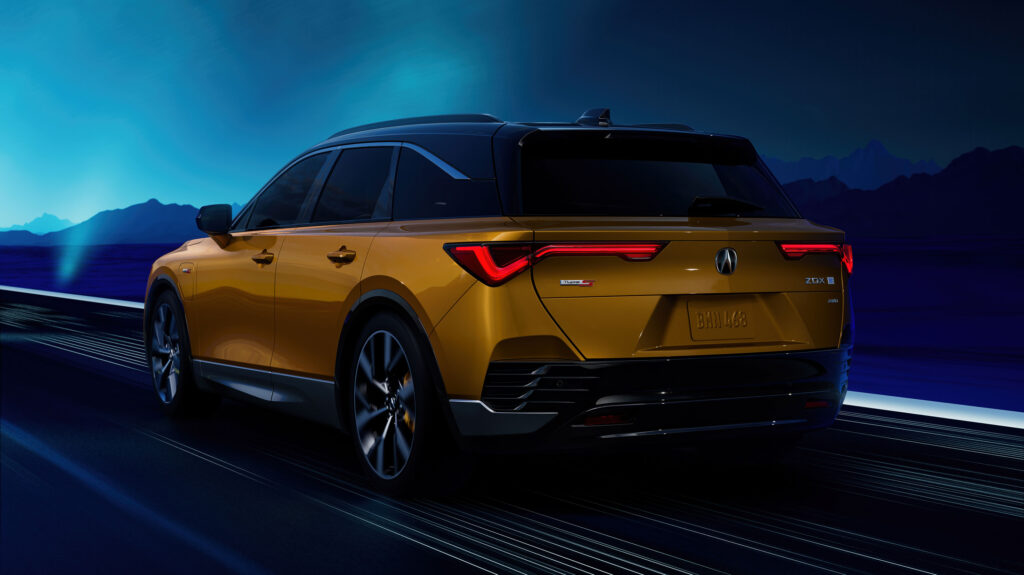 As for pricing, the A-Spec model is expected to start in the $60,000 range, which gives Acura quite a bit of wiggle room. We've seen many car companies make pricing promises for their latest and greatest EVs, only to break them by raising the MSRP as the cost of raw materials increased. Hopefully Acura doesn't fall into this trap; it's better to under-promise and over-deliver. Not surprisingly, the high-performance Type S will be more expensive than the mainstream ZDX, kicking off somewhere in the $70,000 range.
Breaking with tradition, the new ZDX will only be offered through a digital sales process, which customers can do at home or through their local Acura dealership. Per-orders should start later this year, with deliveries expected to commence in early 2024.