Your Tesla Model Y electric vehicle is the car of your dreams, right? If you want to protect your investment as well as the interior of the vehicle, you may want to invest in floor mats for it. Tesla equips the vehicle with carpeted floor mats and while those are adequate for the short-term, you just might want an all-weather liner for the Model Y.
Carpeted floor mats are the first line of defense against dirt and debris you track into your vehicle. Think about it though… do you know what's on the bottom of your shoes? What have you stepped in? If you remove your shoes when you walk into your house because you don't want unseemly crud tracked into your home and onto your carpets, all-weather floor mats are the way to go.
Best floor mats for the Tesla Model Y
Water, melted snow, and spilled coffee can be easily cleaned up and removed from the Model Y if you have all-weather mats, but these liquids just aren't so easily sopped up from a carpeted floor mat. That's why our recommendations for the best floor mats are all liners made from a plastic or rubber-type material. In recent years, these all-weather floor mats have become increasingly more popular than standard carpet mats.
SEE ALSO: 3 Reasons You Need Floor Mats For The Tesla Model 3
1. Top pick: WeatherTech Custom Fit FloorLiner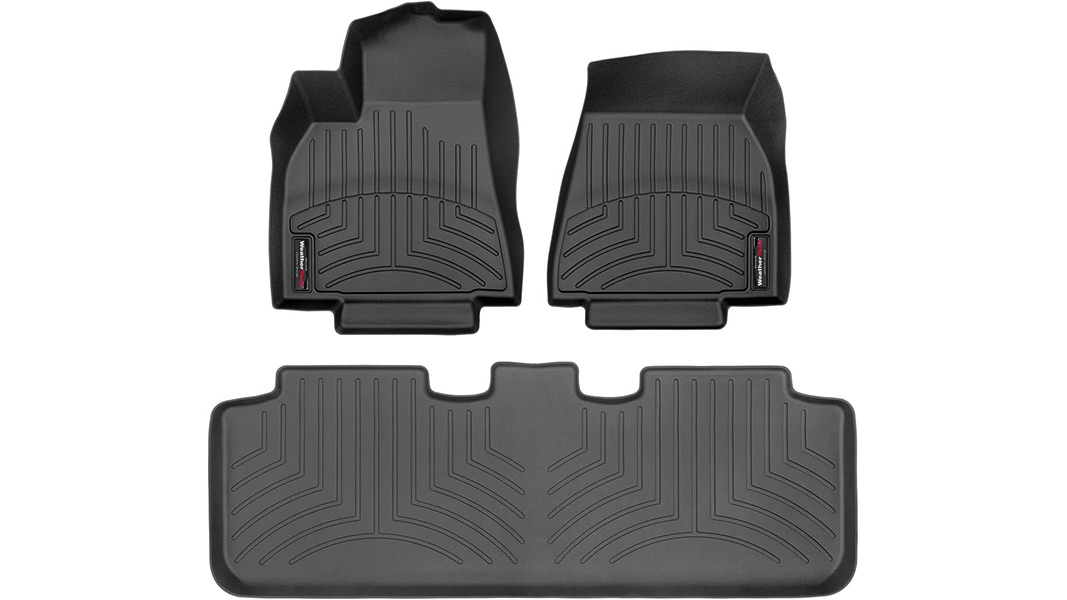 WeatherTech has arguably become the most well-known manufacturer of all-weather floor mats and for good reason. The company's FloorLiners are made in the U.S. and laser measured for a precise fit. One of the main reasons why they've become so popular in recent years is the high outside lip, which helps contain all that dirt, grime, and spills within the floor mat.
Manufactured from patented high-density tri-extruded (HDTE) material, WeatherTech's FloorLiners are a great way to protect your Tesla Model Y's interior.
2. 3D MAXpider all-weather floor mats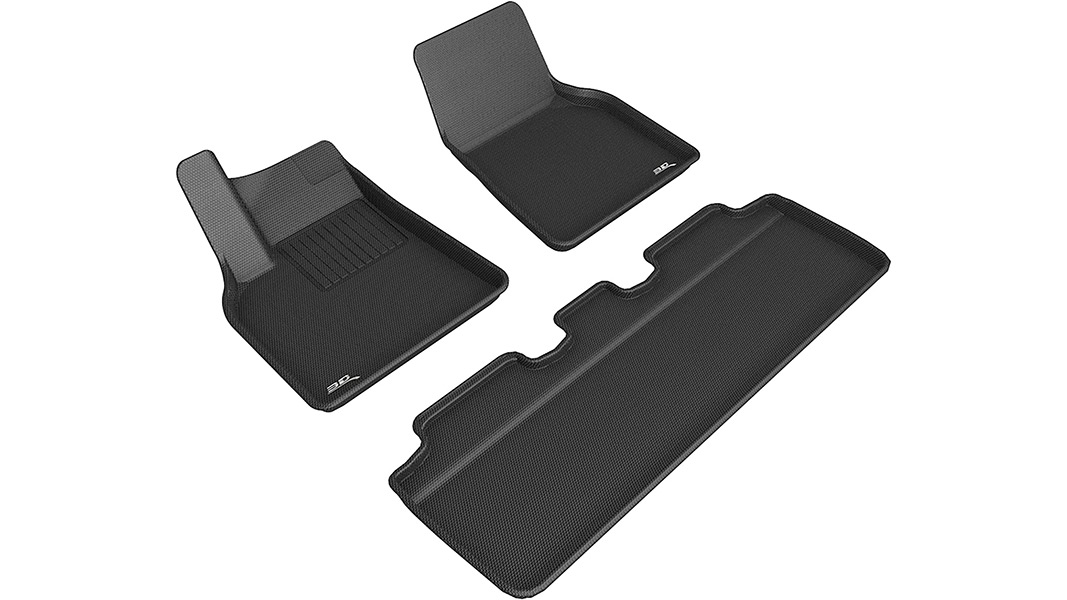 When we originally published this article, we had these floor mats as our third recommendation. At the time, it had close to 300 reviews and a 4.7 out of 5 rating. Fast forward over a year later and these all-weather floor mats continue to be a popular option among Model Y shoppers. There are now close to 500 reviews with the same 4.7 out of 5 rating.
Like the WeatherTech FloorLiners, these mats are designed using high-precision 3D laser scanning technology. They feature raised sidewalls and a thermoplastic rubber surface that covers a lightweight XPE foam middle layer. The backside of the floor mat has MAXpider's patented Anti-Skid Backing grips to prevent the mats from sliding around.
Note that this recommendation only fits 2021 to 2023 model years.
3. Genuine Tesla: Tesla Model Y all-weather interior liners
If you're a Tesla purist you may just want to go right to the source — Tesla — and buy some all-weather floor mats. These all-weather liners are "made from a thermoplastic elastomer material" that has a rigid core that provides a high level of protection as well as "spatial coverage" as noted on the Tesla site.
These mats not only cover the floor but also have vertical walls to protect the footwell carpet. The Model Y All-Weather Interior Liners feature an exclusive grid pattern for easy cleanup. The liners are also 100% recyclable and free of PVC, latex and lead.
While some car owners prefer to purchase everything from the factory, these interior liners are noticeably more expensive than aftermarket alternatives. Some people might even argue that the aftermarket liners do a better job, which is why we have decided to bump down the authentic Tesla liners down a couple spots on our list.
4. Pedigree Tesla Model Y floor mats set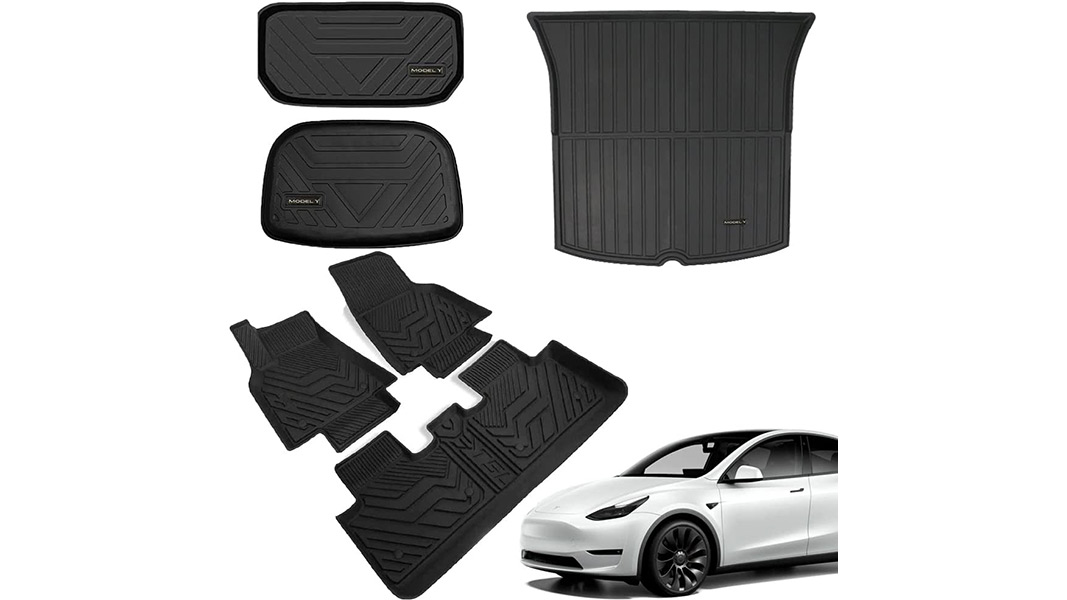 Our final recommendation is a complete mat set that includes front and back floor mats, storage mat, and a cargo mat. It comes from a company called Pedigree, which looks to be a generic overseas brand selling products on Amazon. But the price is competitive and the user reviews are surprisingly positive.
These mats are constructed from TPE material and will fit Model Y vehicles with five seats — not seven. They're a bit of a budget pick, but it does appear that the majority of owners are happy with the quality and fitment. If you're looking for a good value and willing to take a chance, this is worth a shot.
Recent updates:
Updated (12:49 p.m. EST, 04/14/2023): We've updated our product  image, description, and link for the 3D MAXpider recommendation since there is a newer version of the product.
Updated (1:07 p.m. EST, 02/22/2023): We have removed the recommendation from LDCRS due to availability and replaced it with an option from Pedigree. Added the WeatherTech FloorLiner recommendation as our top pick and moved the genuine Tesla floor mats to the 3rd position due to their premium pricing compared to aftermarket options. Also updated the product descriptions for our recommendations.