Honda is behind the curve on introducing electric vehicles, but that doesn't mean the Japanese automaker is sitting on its proverbial hands. A wide range of battery-powered cars and crossovers is under development, and this EV onslaught includes the 2024 Acura ZDX SUV, which the luxury division teased on Thursday morning ahead of the nameplate's official unveiling at Monterey Car Week on August 17.
Foretold by the Precision EV Concept from last year, this all-electric utility vehicle was styled in Acura's Southern California design studio. Accordingly, the vehicle promises eye-catching good looks with a reinterpreted version of the brand's signature Diamond Pentagon grille motif.
Closely examining the lone teaser image shared by Acura, the reborn ZDX does look a lot like the design study that heralded its arrival, though the vehicle might have even more in common with the handsome MDX SUV, a product that's been around in its current form for a year or two. The five-sided grille punctuated by a massive Acura logo, leering headlamps, contoured hood with a prominent crease down the middle and large bumper intakes on either side should help the ZDX fit into the broader Acura lineup.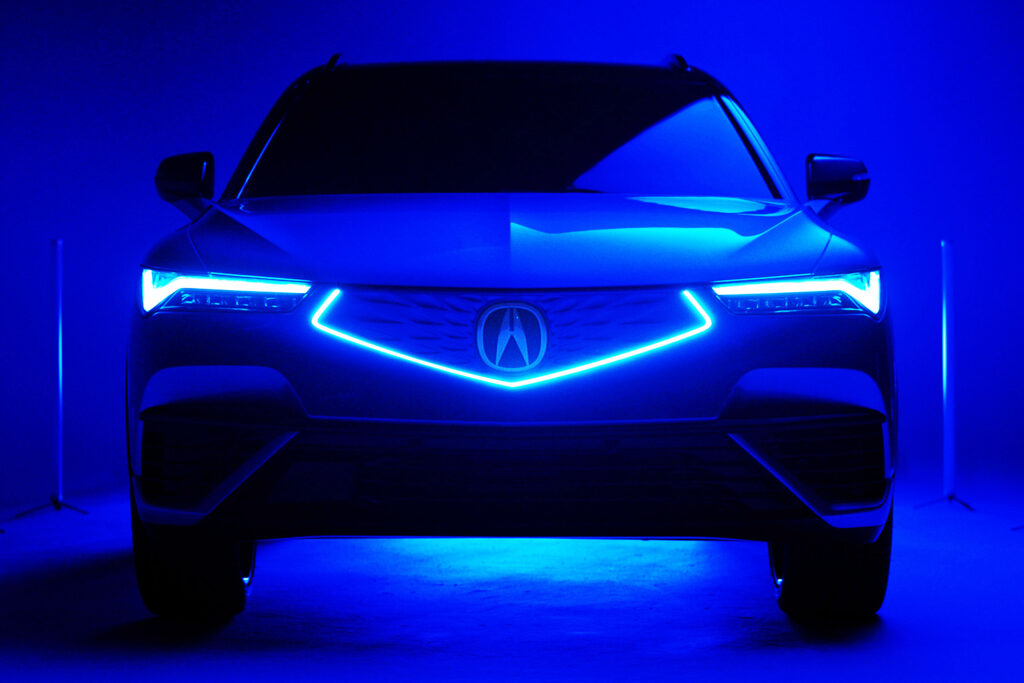 For a little more pizazz, this EV's headlamps feature lighting elements that resemble an elongated square root symbol, sort of like a checkmark. Beyond that, four sides of the grille are outlined in light for a unique look at night.
According to Acura, the ZDX and higher-performance ZDX Type S are slated to go on sale early next year, coinciding with the 2024 model year. Both trims will feature a Google-based infotainment system that supports "the latest apps and services." Expect the ZDX to offer a premium Bang & Olufsen audio system, something that, in the next few years, will be available in all Acura models.
Aside from tasteful styling and premium features, this electric utility vehicle also promises to deliver loads of performance, Precision Crafted Performance, to be specific, Acura's tagline. "As the most powerful and quickest accelerating SUV in the brand's history, the ZDX Type S will deliver on this promise and bring an exhilarating driving experience to the electric vehicle market," said Emile Korkor, the assistant vice president of Acura National Sales in a media release shared by the automaker.
For Honda, being late to the EV party isn't necessarily a bad thing. It sounds like the new Acura ZDX will be a compelling product, ready to tussle with other luxury EVs. And of course, we don't have to wait too long to learn more. The vehicle is set to be officially unveiled on Aug. 17, just two weeks away.