Planning to take your EV camping? It might not seem like they would make a difference, but electric vehicles have changed the camping industry. Don't believe us? Kampgrounds of America (KOA), the largest system of open-to-the-public campgrounds in the world, have even detailed on its website how electric vehicles have changed the camping industry. Many campgrounds have begun to adapt to the growing popularity of EVs, with some installing EV charging stations to make EV camping easier. If you own a Tesla, you've probably heard of your vehicle's Camp Mode feature. Other EV automakers are incorporating similar modes in their vehicles, like Kia and Hyundai's Utility Mode.
If you're thinking of taking your EV camping and considering a car mattress, you've come to the right place. Here, we'll go over our top picks for the best car mattresses, based on our extensive research of discussion forums, user reviews, and firsthand experience from friends and family who have purchased and tried different car mattresses, specifically for camping. Now, with so many different vehicles out there, it's hard to know exactly what will fit in your specific vehicle, which is why we have an assortment of recommendations covering various sizes.
Following our picks for best car mattresses, you'll find more information about car mattresses in general, and what you should be looking out for when shopping for one. Use our table of contents for easy navigation!
1. Top pick: Best Price Mattress trifold memory foam mattress topper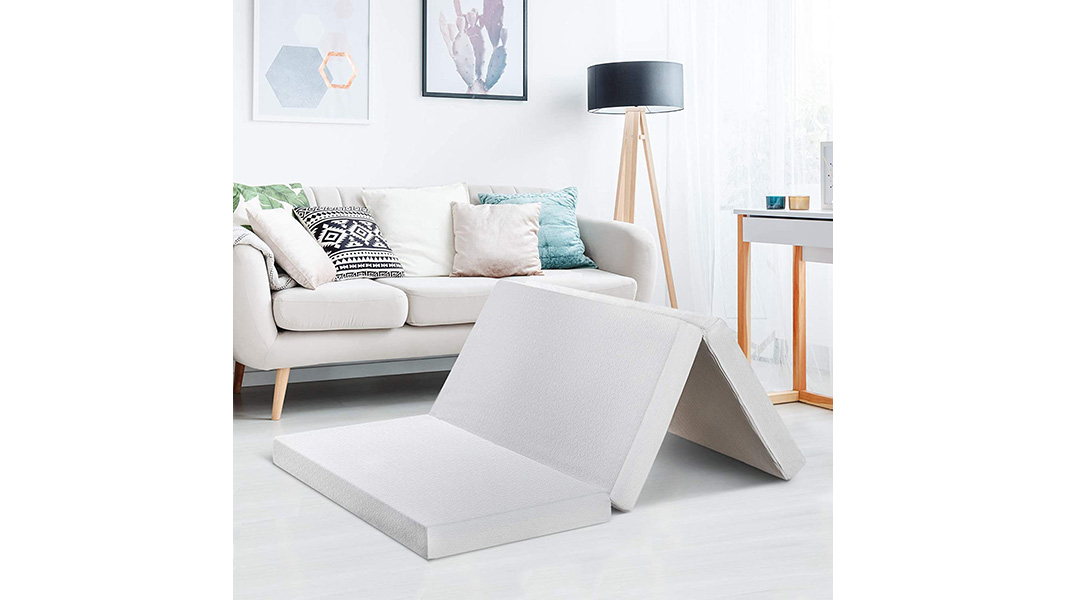 We admittedly cheated a little bit when picking our top pick. To us, versatility is important when it comes to camping and while this isn't specifically a car mattress, it works great as one. Featuring a portable trifold design, this is actually a memory foam mattress topper, featuring a base layer of 2.5″ of high density foam, topped by 1.5″ of memory foam. It's made with CertiPUR-US certified foams and includes a 100-percent poly jacquard cover with a slip-proof bottom. There are a few advantages to buying this topper instead of a dedicated car mattress. For starters, you can use this on your home bed when you're not camping. In addition, it's available in a variety of different sizes, so you'll easily find one that fits your vehicle and your particular sleeping situation. Lastly, you don't have to worry about inflating a mattress or worse, a leaking mattress.
There are several different trifold mattress toppers available on the market, but based on our research, this one is overwhelmingly positive and is competitively priced.
2. Best "mattress" alternative: Sleepingo sleeping pad
This sleeping pad from Sleepingo is an interesting take on the traditional air mattress, designed to be extremely lightweight so it's geared more for hikers or mountain climbers. But still, it's a great option for campers who want a car mattress that won't take up a ton of room when it's not being used. Constructed with flexible nylon material and treated with abrasion-resistant TPU, this sleeping pad can endure all sorts of terrain, if you decide to need it in the great outdoors.
When it's not being used, the 14.5-ounce Sleepingo (yes, it weighs less than a pound) packs down to 8″ by 3.5″, allowing you to shove it in your backpack if needed. It does only have an R-value of 2.1, so while it'll provide some warmth, you might want to have an electric car blanket handy. But hey, you're camping with your EV and you're probably going to want to take advantage of that fact, which means running your HVAC to keep you cool or warm.
Inflated, the sleeping pad measures 75″ by 23″, which should be good enough for comfort, even for taller people. It's 2.2″ thick so it provides adequate support, but won't be the most comfortable option on our list. For some, the biggest pro might be the fact that you don't need to bring any sort of inflator with you, since the Sleepingo can fully expand in 10 to 13 breaths, according to the manufacturer. Choose from blue, green, orange, and red shades.
3. Best for Teslas: TESCAMP camping mattress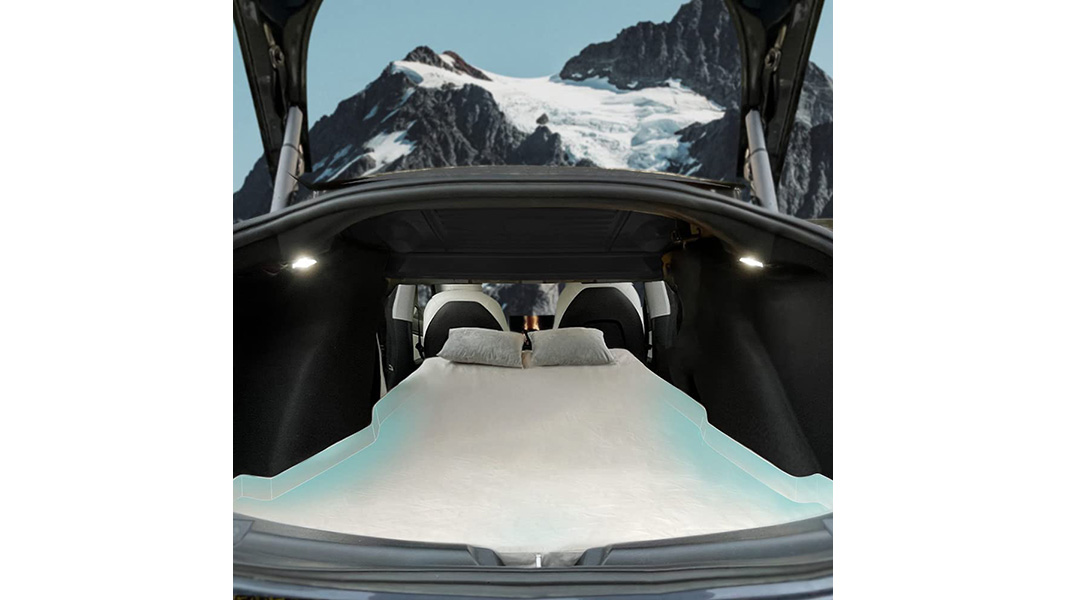 If you own a Tesla, you can actually get a Tesla-specific mattress for either your Model 3 or Model Y. The Model Y mattress will also fit the Model X, but it won't be perfect — LightEase (TESCAMP) says it's 90 percent. It's the same recommendation we have on our "How-to use camp mode in your Tesla" article and users are overall very satisfied with the fitment and comfort it has to offer. Featuring 2.4″ of memory foam, this should provide a better night's sleep than an inflatable mattress. While it's easy to unroll and setup, it'll take a little bit of effort to roll it back up into the storage bag. But the good news is, when it's rolled up, it'll fit in your trunk or frunk.
TESCAMP has also added hard boards at the mattress, so your head can be fully supported. If you're purchasing the mattress for your Model 3, you'll get three individual mats so that the entire mattress can be folded into your sub-trunk. The company also includes a bed sheet. Choose from the Model 3 or the Model X/Y version below.
4. Best for rear seats: FBSPORT inflatable car mattress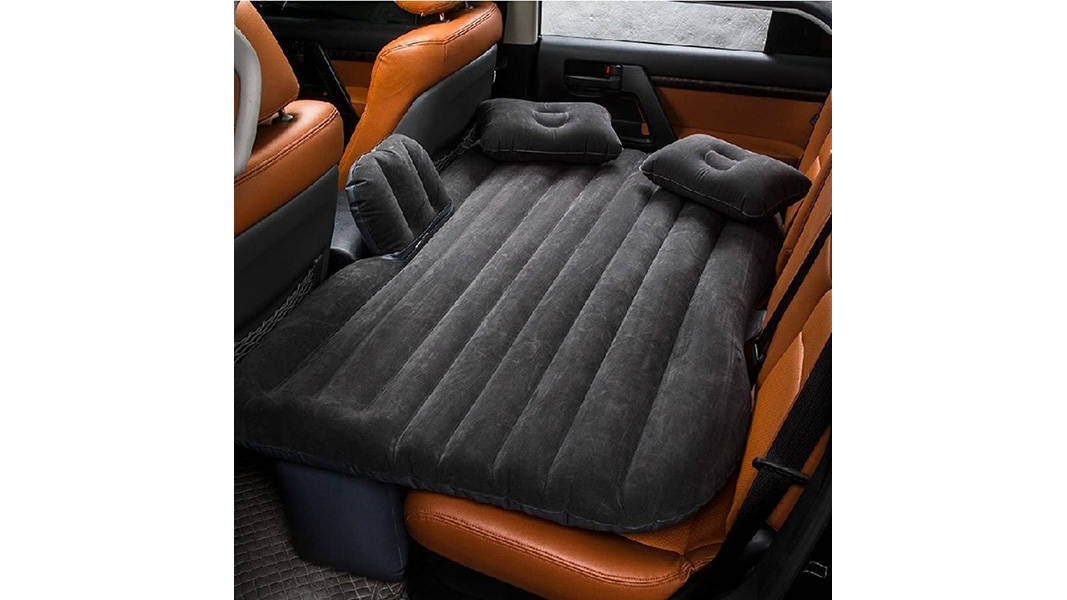 This recommendation is a more traditional inflatable car mattress and is designed to be used in your back seats, although it'll also work just fine sprawled out in your trunk. When inflated, it measures 56.3″ by 34.25″ by 17.72″ and should fit well in most back seats of today's EVs. The company also includes a pair of inflatable pillows, an inflator/deflator pump, and a storage bag with the mattress. Keep in mind that it's very likely the mattress will slowly deflate on its own overnight.
While researching, we found several products that were similar and all of them came from overseas manufacturers based in China. We wouldn't even be surprised if some of these were identical and came from the same factories, just branded differently. We picked this one based on FBSPORT's reputation for better customer service than some of the other offerings. It does appear if you run into an issue with this particular product, the company will go out of its way to help you out.
There are obviously better options out there for a car mattress, but we do know some shoppers are looking for exactly this style. This is our recommendation if it's what you need!
5. Best if you've got the room: Sierra Designs camping air bed mattress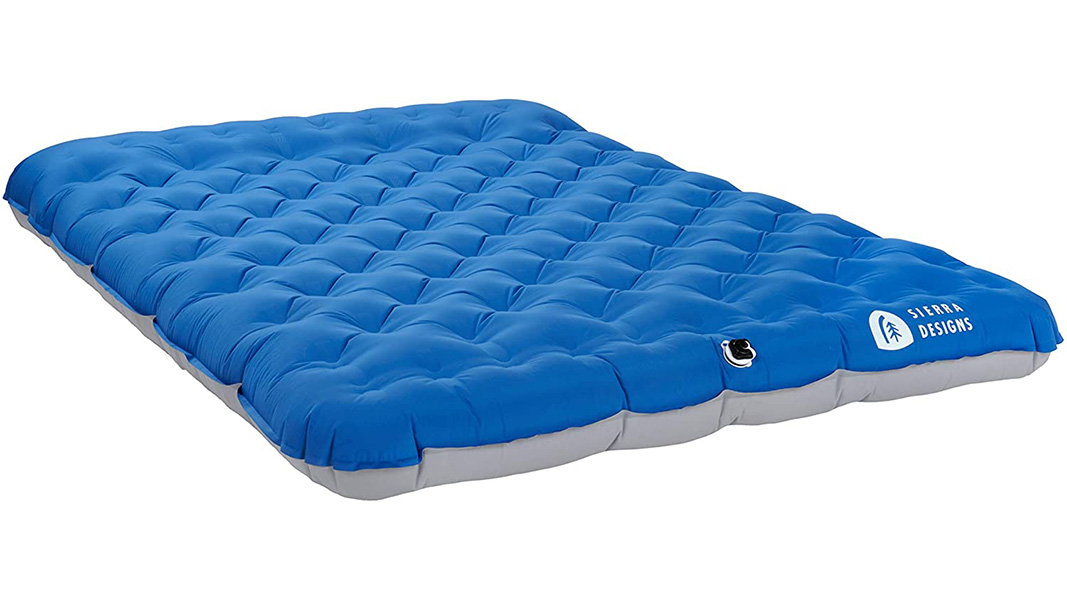 If you have plenty of room in your trunk once the seats are laid down, Sierra Designs offers a camping air bed mattress in Queen or Single sizes. The Queen measures 77.9″ by 55.9″ by 10.2″ when inflated, while the single is 77.9″ by 26″ by 10.2″. If you've never heard of Sierra Designs, it was originally founded in 1965 on the premise that "all people deserve to have good gear for exploring the outdoors, regardless of their background or experience level." It's a well-known brand among outdoor enthusiasts so we're confident in recommending it for camping with your EV.
This air bed mattress is PVC and Phthalate free, using TPU in its construction. It includes a battery-operated pump and a two-way Boston valve for easy inflation, packing, and storing. There is even an integrated pillow for added comfort, although we still recommend bringing some with you — we also have a pillow recommendation below.
6. Bonus: Wise Owl Outfitters camping pillow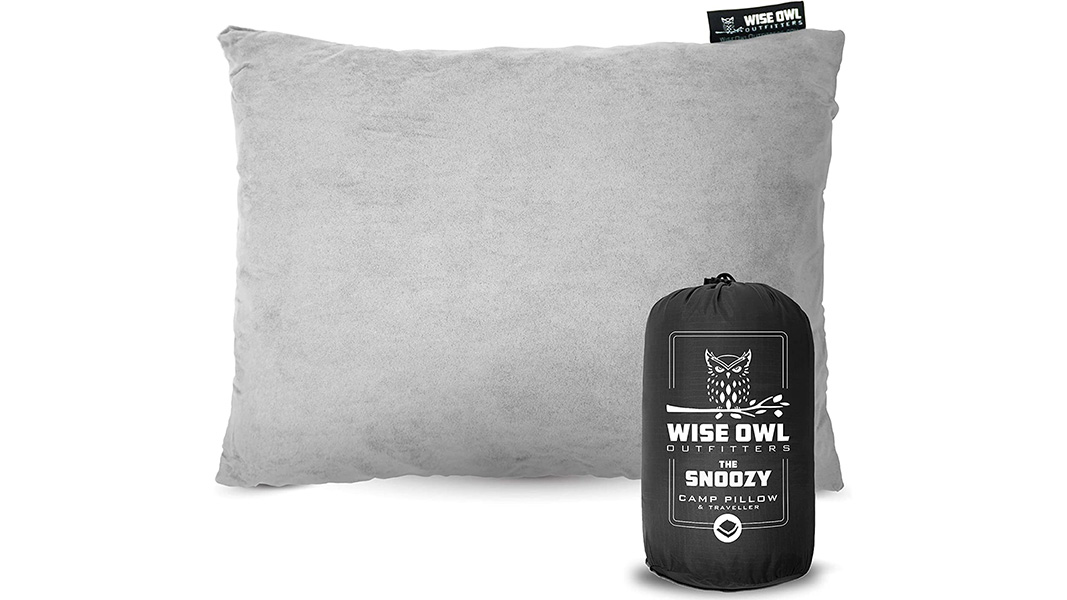 As a bonus recommendation, here's a great camping pillow to go with your car mattress. From Wise Owl Outfitters, this pillow is made with cushioned memory foam, wrapped in a microsuede cover. When it's not being used, it can be compressed into its waterproof stuff sack for easy storing. The entire pillow can actually be washed in the washer, so long as you keep the pillowcase cover on it. Otherwise, you can just wash the removable cover if you want.
Measuring 4″ thick, you can choose from either a small or medium pillow and a variety of different colors for the pillowcase: blue, teal, grey, black, rose, rust, and green. The perfect companion for camping in your EV.
Why do I need a car mattress?
You're probably thinking, why can't I just get any standard inflatable air mattress and use that as a car mattress? Well, most conventional air mattresses won't fit in your EV once inflated, but if they do, our final recommendation should suit your needs. Our other recommendations are designed to comfortably fit inside your vehicle, whether in the trunk or the back seats. If you own a Tesla, the TESCAMP mattress is contoured specifically to your model (Model 3 or Model Y), although in the case of the Model X it isn't a perfect fit. Regardless, the idea of a car mattress is that you won't have a fight on your hands setting up your mattress in order to get a good night's rest.
Of course you don't necessarily need a mattress for car camping, but it is certainly a lot more comfortable than sleeping on your seats. More importantly, you're saving your interior from excess wear and tear by using a mattress.
What is R-value?
If you're shopping for air mattresses or sleeping pads, you're likely seeing companies specifying their products' R-value. The R-value measures its ability to resist heat flow and the higher the value, the better job it will do to insulate you from cold surfaces. In other words, higher R-values mean more insulation and the scale is pretty intuitive. A sleeping pad with a 2.0 R-value is twice as warm as a pad with 1.0 R-value. Generally, less than 2 is minimally insulated, and 5.5 or more is very well insulated.
What else do I need when I go car camping in my EV?
Other accessories you might want to consider when car camping include sunshades, a portable generator (electric of course), an electric car blanket or two, and a portable refrigerator.
Recent updates:
Updated (4:44 p.m. EST, 02/16/2023): Added more shopping links to our recommendations. Our top picks remain unchanged.