If you've recently purchased or leased an electric vehicle and are currently shopping for a home charger, congratulations! Welcome to the wonderful world of never having to worry about stopping by a gas station and filling up your tank. But now you've been introduced to a new problem, especially if you live in an area where there isn't a great infrastructure for public charging. We highly recommend all electric vehicle owners, or even plug-in hybrid owners, to have access to home charging. Not just for convenience, but it's generally cheaper than public charging.
There are various things you need to consider when shopping for a home EV charger. For starters, if you're planning to install a Level 2 charger at home, you'll need a 240-volt outlet; and if you're planning to get a hardwired option, you'll want to contact an electrician unless you know what you're doing. Next, you'll want to determine the charging capabilities of your vehicle and its battery pack size. Everyone has a different need when it comes to range, and you'll want to ensure the charger you're buying is capable of giving you the range you need on a daily basis. For example, if you're only needing 10 to 15 miles per day, you may not necessarily need a Level 2 charger.
We'll jump into our recommendations for best home EV chargers first, but past our picks you'll find more information on how to choose the best charger for you.
1. Top pick: Enel X JuiceBox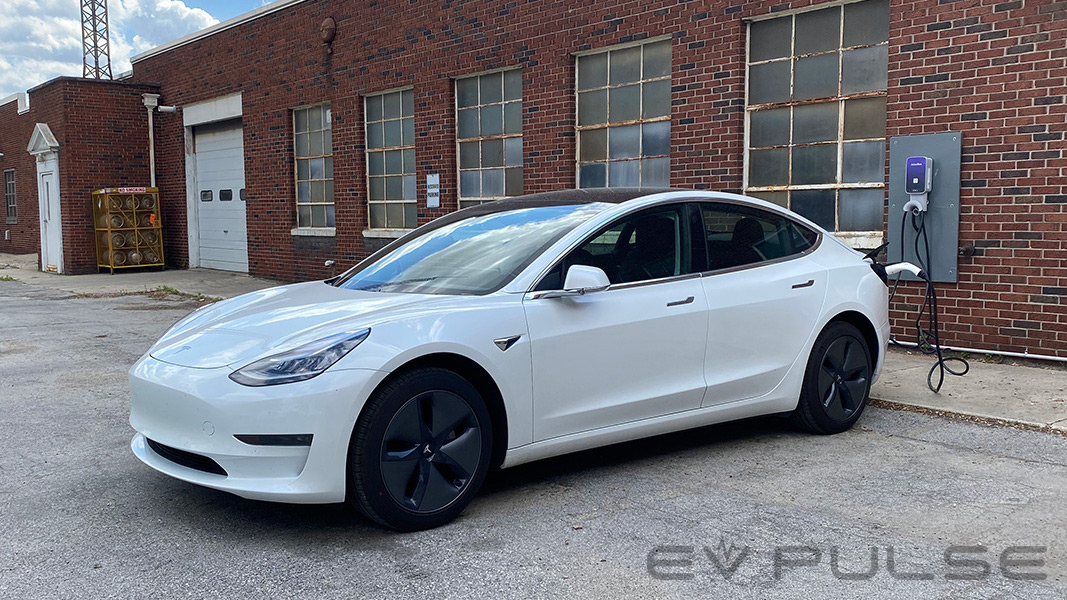 We're huge fans of the JuiceBox lineup — in fact, we use one at the office (seen above, commercial version)! It's available in 32-, 40-, and 48-amp versions, depending on your needs. The 32- and 40-amp JuiceBox models can be had either plug-in or hardwired, while the 48-amp model is only available hardwired. We recommend the 40-amp version, which offers up to 9.6 kW and you can choose between a NEMA 14-50 or NEMA 6-50 outlet if you want a plug-in model.
This charger is equipped with Wi-Fi connectivity, so you can control it through a smartphone app, which makes it convenient for you to schedule charging at lower rates. The app will also provide you with notifications when your vehicle is fully charged, and it can even remind you to plug in your vehicle if you're the forgetful type. As a modern solution for a high-tech problem, it's no surprise the JuiceBox 40 is also compatible with Amazon Alexa and Google Home. So yeah, if you want to issue out voice commands to control your charger, go on ahead.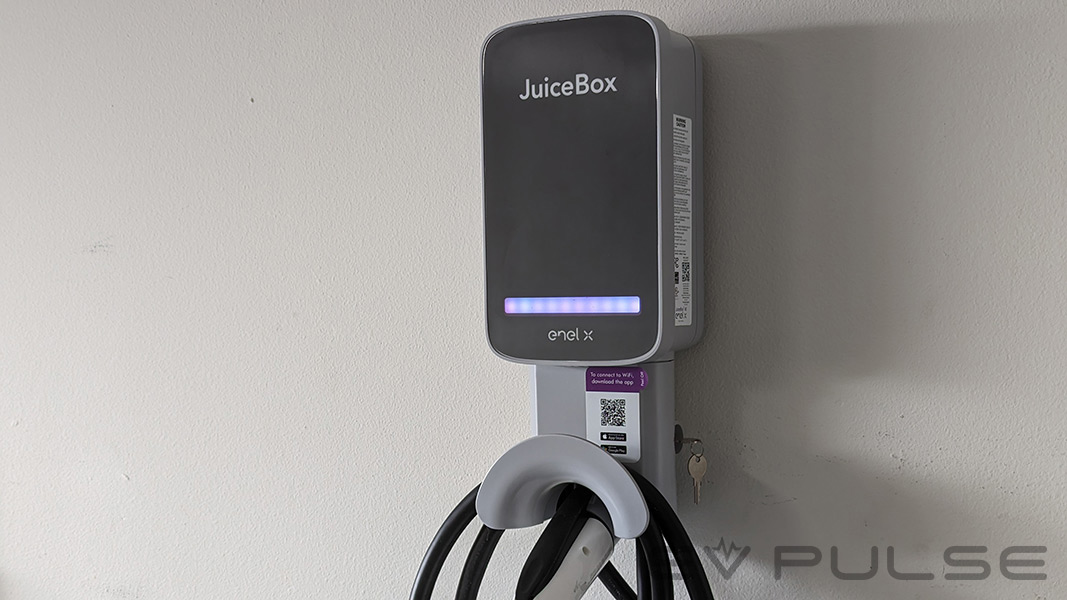 The residential version of the JuiceBox (seen above) comes equipped with a built-in cable rack for the 25-foot cable, a security lock, and the company provides a three-year manufacturer's warranty. These chargers are indoor and outdoor rated, thanks to a waterproof, dust-tight, polycarbonate casing. Even if you don't necessarily need everything the JuiceBox 40 has to offer with your current electric vehicle, it's still smart to future-proof yourself. It's highly likely you'll get a more advanced EV in the future and you won't have to worry about shopping for a new charger.
The Enel X JuiceBox is bit larger than other EVSEs out there, which is something to consider if you have limited space in your garage. If you want something smaller, look at our next recommendation. And while I still prefer having a separate holster so I can customize the installation in my garage, other users like that it's an all-in-one solution with the holster attached to the charging station. These two points mostly come down to personal preference, but when it comes to reliability and consistent performance, the JuiceBox really can't be beat. Finally, perhaps the biggest negative I found while testing the JuiceBox is its plastic connector. While it is well built, it's only a matter of time before the white finish is full of scratches.
2. Runner-up: Wallbox Pulsar Plus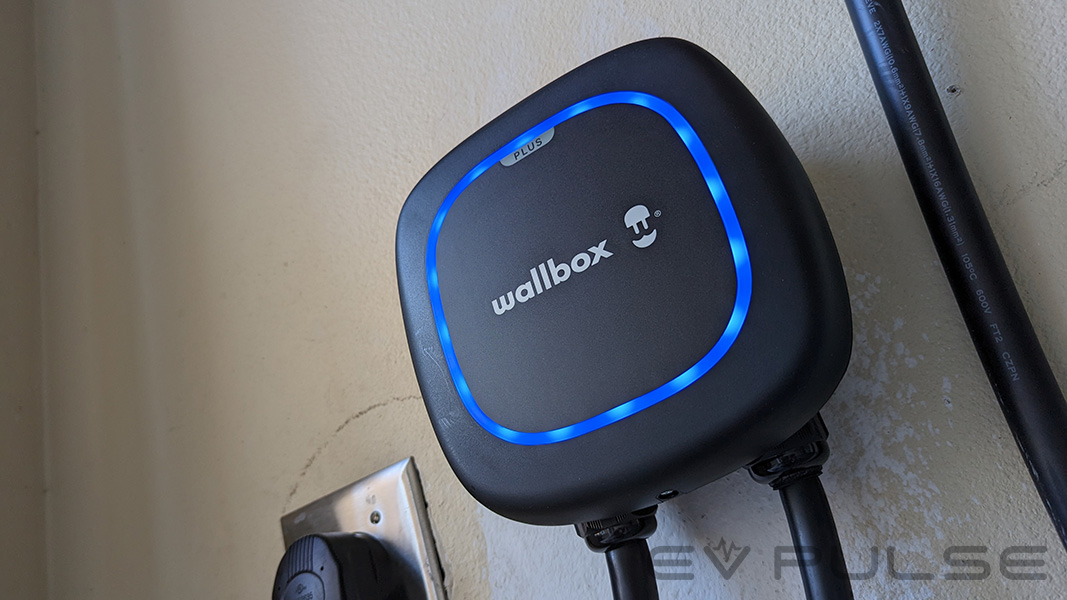 We recently had the opportunity to evaluate the Wallbox Pulsar Plus and came away really impressed. So much so, that depending on how it performs in our long-term evaluation, it may become our top pick. There are a few reasons why I prefer the Wallbox Pulsar Plus over the Electrify Home HomeStation, but the main factor is its size. As you can tell by the photo, it's a very compact Level 2 charger, the smallest I have tested. Another reason is that I found the Wallbox app to be more robust than Electrify America's app. Wallbox gives you options to setup notifications when your vehicle is fully charged and the ability to turn off the halo light when the unit is in standby. I could not find both of those options when evaluating the Electrify Home HomeStation. The Wallbox app also has a very user-friendly and intuitive dial to quickly adjust the amperage for your charger.
The particular Pulsar Plus we tested was the 40-amp unit with a NEMA 14-50 plug, but there is a 48-amp version available that needs to be hardwired. The unit comes with a separate holster so you can customize your install and it works well, giving the connector a slight downward angle so it doesn't protrude so much from your wall. It's a smart charger, so you'll need to connect to it with your phone via Bluetooth prior to setting up its WiFi connection. But afterwards, you'll be able to remotely access the Wallbox Pulsar Plus and monitor its status from afar. You can also schedule charging and setup notifications, as I previously mentioned.
The compact home EV charger is UL listed for electrical safety and is NEMA Type 4 rated for water-tightness and dust resistance. This charger has a similar price tags to other smart chargers, but I really love its compact design. It's not perfect though, as I did have some issues connecting to it via Bluetooth, although that could be specific to my device (Pixel 7 Pro). And while it does have one of the better quality connectors I've tested with its rubber finish, the 25-foot power cable isn't as thick as other EV chargers I've evaluated — which may be an issue in cold weather conditions.
You can read our full review of the Wallbox Pulsar Plus here.
3. Best on a budget smart charger: Emporia EV charger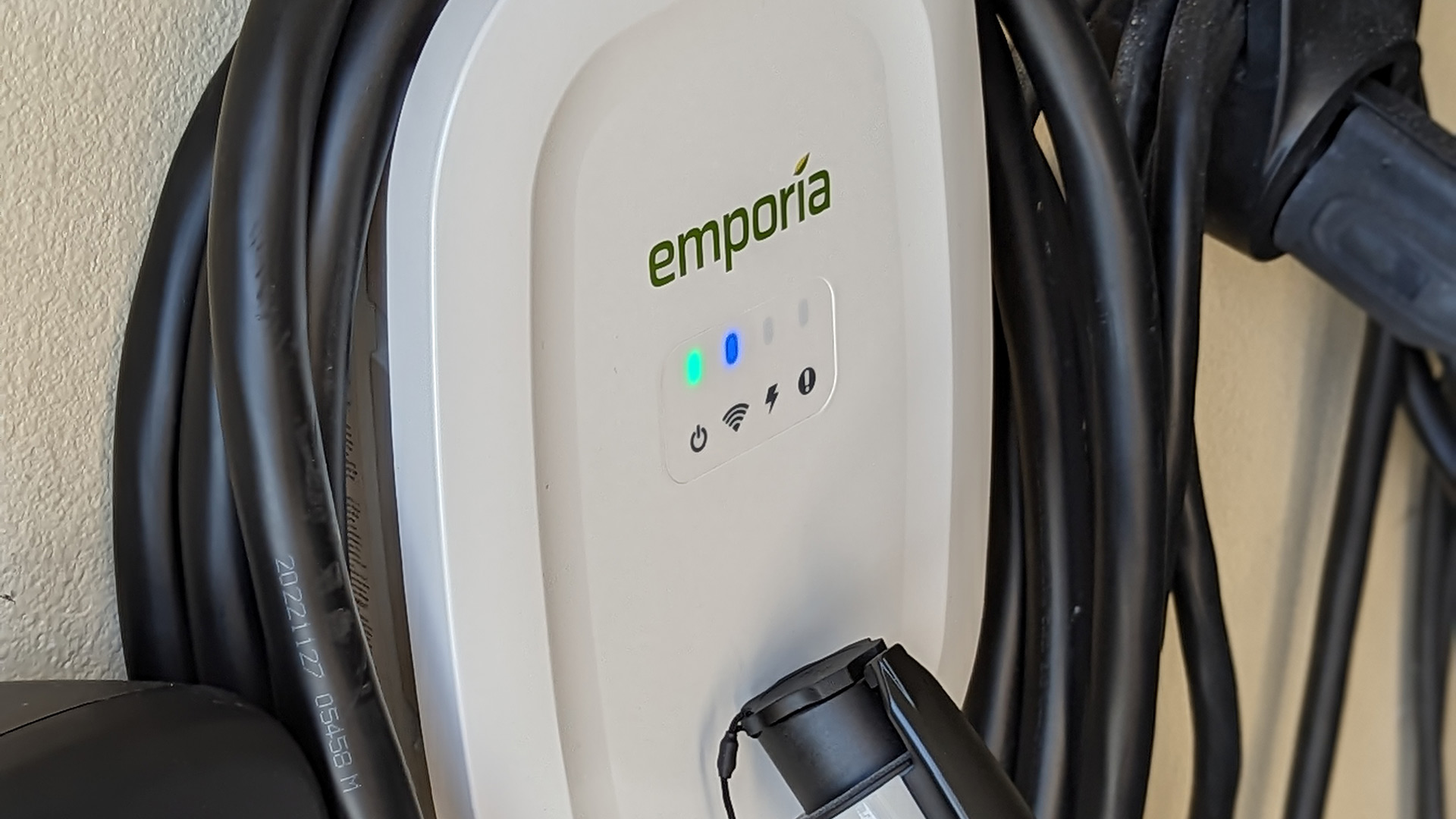 The Emporia home EV charger is less than half the price of some chargers on the market and I was admittedly somewhat skeptical when I had the opportunity to review it. To my surprise, it is a very well designed smart charger packed with all the features you'd expect from a much more expensive unit. In fact, it's the most affordable home EV charger we've tested and it has smart connectivity features, which are typically found on chargers that are priced several hundreds more.
But its affordable price comes with a few sacrifices. The biggest complaint I have about the Emporia EV charger is the included holster. It leaves the connector in an awkward position for removal, and you have to replace the rubber cap every single time you dock the connector. Otherwise, it's facing upward and all sorts of debris can fall into it. Fortunately, you can just purchase a separate holster and not use the one that is included.
I also do not like the hard plastic connector, although it is surprisingly similar to the connector found on the Enel X JuiceBox. It's a minor complaint because the connector does seem to be of good quality, but only time will tell how well it holds up to everyday use and occasional accidental drops. Finally, while Emporia's app is packed with great features, I found its design somewhat clumsy and unintuitive.
Overall, the Emporia home EV charger is a very impressive unit, especially when you consider its price. The biggest issue I had with the unit can easily be fixed. It is now undergoing our long-term evaluation to determine whether it belongs in a better spot on our list of recommendations.
4. Also consider: Electrify Home HomeStation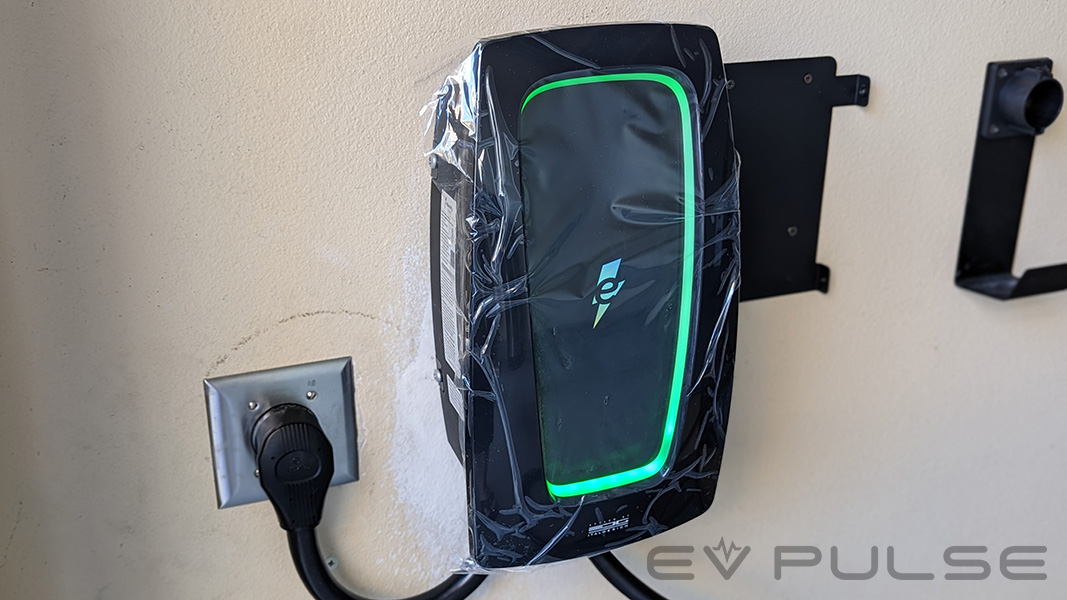 If you've paid attention to the electric vehicle industry in the U.S., you may have heard of Electrify America. The company is responsible for building the largest public fast charging network in the country and will be building its first solar farm in Southern California. So it's little surprise that Electrify America offers its own home EV charger, called the HomeStation.
As part of the Electrify Home brand, this EV charger offers up to 9.6 kW of available power at 40 amps, but it does offer flexible amperage so you can choose between 16, 32, and 40 amps. It comes equipped with a 24-foot charging cable and a standard NEMA 14-50 plug. Along with your typical suite of safety features and certifications, the company provides a standard three-year limited warranty.
What does make the HomeStation stand out from the crowd is the ability to use Electrify America's app, which also connects you to its large public charging network. Features on the app include remotely controlling your charger, setting up notifications and reminders, as well as voice control with Amazon Alexa. The company did say that Google Home is currently under development. If you use Electrify America's public charging stations, you'll only need one account to manage everything. Naturally, that means it'll sync the data between your home and public charging stations.
In our hands-on testing of the Electrify Home HomeStation, we loved the stylish and sleek design of the charger, its impressive packaging, and how easy it was to install and setup. We did find that the holster wasn't the greatest and the charger is a bit bulky compared to other EVSEs on the market. Other minor issues include not being able to control the lights and we do wish the connector felt more premium. You can read our full review of the Electrify Home HomeStation here.
5. Best on a budget non-smart charger: Lectron V-Box 48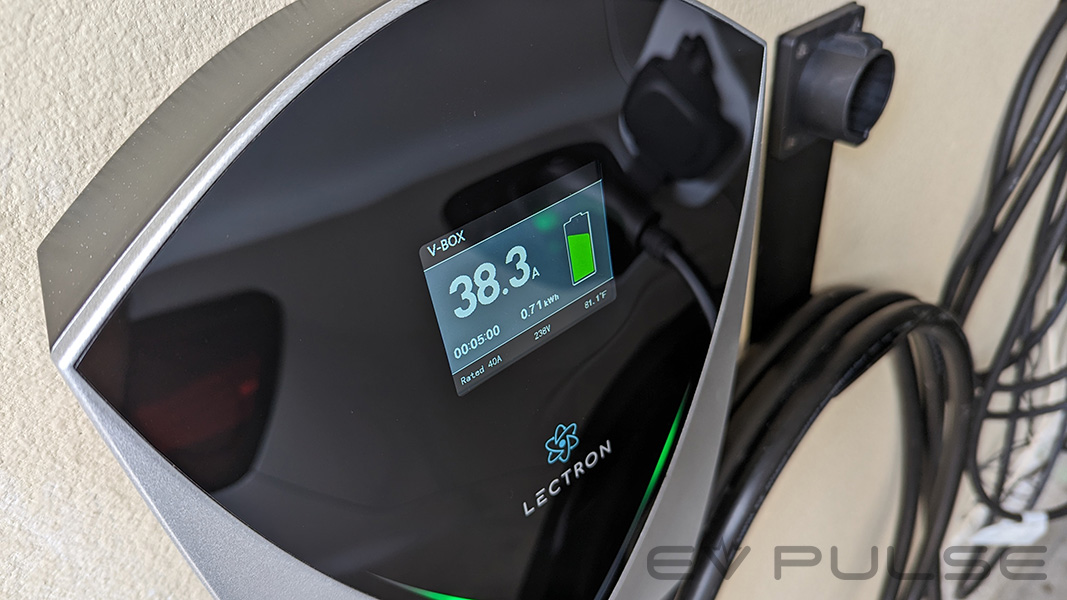 After a month of evaluating the Lectron V-Box 48 and testing two different units, I feel confident in naming it my "best on a budget" home EV charger. The reason why I had to test a second unit was due to minor quirks specifically with my Polestar 2, but Lectron updated the charger to rectify those issues. You can read more about it in my review.
The Lectron V-Box 48 is a non-smart charger and while there are cheaper ones out there like the Grizzl-E, I prefer the V-Box 48 because of its informative display. Unlike other home EV chargers in the market, the V-Box has a built-in screen that shows your charging status, charging time, amperage, power delivered, and operational temperature. While you probably won't sit there and monitor the entire charging process, it's nice to be able to glance at the screen to see the charger's status. After evaluating other EVSEs, I constantly found myself missing the screen of information Lectron provides with the V-Box 48.
Another huge plus of the V-Box 48 is its cable and connector. It has one of the thickest power cables I've evaluated, which does make it a little more cumbersome to maneuver but probably does better in the cold. The connector does have a plastic exterior, but I find it to be high quality and durable. Lectron includes a separate J-hook and holster to manage your cable and connector.
As for negatives, it has an IP55 weatherproof rating, so I would recommend mostly installing this indoors. I found that the front face does scratch easily and the overall finish of the exterior doesn't feel premium. There's no standby mode on the charger, so you have to actually toggle a power button on and off, which is a minor inconvenience. But perhaps the biggest negative is that Lectron only offers a 1-year warranty with the charger, which is noticeably less than the more common 3 years from other manufacturers. But if you can look past those flaws and want a non-smart charger that does the job well, check out the Lectron V-Box 48.
6. Best warranty: Enphase Energy
We recently had the opportunity to review the Enphase HCS-50 home charger, which replaces the ClipperCreek charger that used to occupy this spot on the list. Although it's no longer built in America — production has moved to Mexico as part of the acquisition — build quality of the Enphase HCS-50 is still impressive and is our recommendation if you need to install a charger outdoors. But the one feature that gets the Enphase HCS-50 on our list is its impressive five-year warranty. Most manufacturers offer three years, which is actually what ClipperCreek previously had on its charger.
As far as we can tell, and Enphase did confirm, nothing else with the charger has changed other than its branding and that it is now manufactured in Mexico instead of the U.S. You can choose from 32-, 40-, 48-, and 64-amp variants along with NEMA 14-50, NEMA 6-50, and hardwired options.
Safety certifications on Enphase's home EV charger include ENERGY STAR, ETL, and cETL. It also comes equipped with a service ground monitor, that constantly checks for proper grounding for safe use. This recommendation comes in a fully-sealed, NEMA-4 enclosure, making it ideal for outdoor installations. This charger comes with a 25-foot charging cable.
While we find little fault with the charger itself and its performance, there are two main reasons why it's not further up our list. The main factor is its price, and the second is its lack of connected features. The latter reason may actually be a pro for some shoppers, but it ties into our main factor. Typically, non-smart home EV chargers that have no WiFi or Bluetooth connectivity are cheaper. The Enphase HCS-50 is more expensive than smart chargers. You're paying a noticeable premium for less features, but you are getting a five-year warranty and better build quality. It's ultimately up to you to decide if that's worth the price.
How much is a home EV charger?
Home EV chargers can vary in price from as cheap as $200 to as expensive as $1,000. Most of our recommendations on this list fall between the $450 to $700 price range, which is what you should expect to pay for a quality charger. Cheaper chargers tend to be extremely simple and if they fit your needs, then we have no complaints about using them.
How much does it cost to install an EV charger at home?
As you can imagine, there isn't a straightforward answer to this question. Not only does this largely depend on where you live, but it'll depend on whether or not you have a 240-volt circuit available. If you do, expect basic installation to range anywhere from $200 to $500. If you aren't setup with an available 240-volt circuit, adding the outlet can increase costs significantly, depending on how much electricians in your area charge. Expect to pay anywhere from $500 to $1,500 depending on your specific situation.
If you already have an available outlet that is compatible with your charger, then you can just plug it in and start charging!
What is the difference between a Level 1 and a Level 2 charger?
The extremely basic answer to this question is the charging rate. But that might mislead you to wonder why you would ever consider a Level 1 charger. Generally, a Level 2 charger requires a 240-volt outlet, or a 40-amp circuit (depending on model) if you're installing a hardwired charger, which means it's not viable for everybody. Also, for those who don't need a lot of range on a daily basis, a Level 1 charger might suffice despite its slower charging rates. Some vehicles may not even have enough range to justify a Level 2 charger.
But back to answering the main question, Level 1 charging uses your standard 120-volt household outlet (20-amp circuit) and provides three to five miles of range per hour. For most EV owners that won't be enough, but might suffice for some plug-in hybrids. Things get a little more complex with Level 2 chargers, depending on the amperage. But generally, Level 2 chargers will provide the following charging rates depending on amperage:
16A: 10 to 12 miles
24A: 15 to 18 miles
32A: 22 to 25 miles
40A: 28 to 30 miles
To learn more about the different levels of charging, check out our guide here.
Do I want a plug-in or hardwired EV charger?
Another complex question when it comes to home EV chargers, the answer to this also depends on your needs. But to give you an idea of the differences, we defer to the experts over at Enel X, which manufactures our top pick, the JuiceBox 40. Hardwired charging stations are mounted on your wall and the wires are connected directly to your electrical panel in a junction box. That means they offer a larger range of amperage and charging-speed options, and hardwired connections are watertight, which makes them ideal if you're planning to install your charger outdoors. Naturally, since the charger is hardwired, it can't be easily removed.
Plug-in stations can simply be plugged into an outlet but you may be limited on charging speeds, depending on the outlet's maximum amperage. According to Enel X, plug-in stations are typically cheaper and easier to install than hardwired chargers, but may provide a lower current. You'll also have to take a few extra steps to install a plug-in charger outdoors, such as adding a weatherproof cover over the outlet, along with a GFCI circuit breaker.
Are there any incentives or rebates for installing a home EV charger?
Some states and local utility companies do offer incentives or rebates to help offset the cost of purchasing and installing an EVSE. We highly recommend that you check with your local utility provider to see if there are any rebates.
How much does it cost to charge an EV at home?
The cost of charging depends on your electricity rate, which can fluctuate depending on the time of day. If you want to roughly calculate the cost of charging, find out your vehicle's battery capacity in kWh and multiply that by your cost of electricity per kWh. Many of the smart home EV chargers will allow you to schedule charging so you can take advantage of off-peak rates. If your charger doesn't have a scheduling feature, check to see if your vehicle allows you to schedule charging.
Is it safe to charge my vehicle in the rain or snow?
Yes, if you purchased a quality home EV charger then it should be weatherproof and safe to use in rain or other weather conditions. But we always recommend to check the guidelines provided by the manufacturer, especially since everyone's installation setup is different.
What is the difference between an EVSE and a home EV charger?
EVSE is short for electric vehicle supply equipment and is a more technical term that refers to the entire system responsible for delivering electricity from a source to the vehicle. That means it includes electrical circuitry, connectors, cable, and ground fault protection. A home EV charger typically refers to the charging station that is connected to an electrical supply.
For general purposes, an EVSE and a home EV charger essentially refer to the same thing and the terms are often used interchangeably. Home EV charger is the more casual term and typically refers to the station itself that is being used for charging.
Recent updates:
Updated (6:38 a.m. EDT, 07/13/2023): Removed 2023 Amazon Prime Day deal link.
Updated (10:43 a.m. EDT, 07/11/2023): Added Amazon Prime Day deal.
Updated (1:42 p.m. EST, 04/25/2023): After testing and evaluating the Emporia home EV charger, we have decided to place it in the third position on our list of recommendations. It is our best on a budget smart EV charger. We also changed the Lectron V-Box to be our best on a budget non-smart EV charger.
Updated (1:03 p.m. EST, 04/18/2023): We recently tested the Enphase HCS-50 home EV charger that replaces the ClipperCreek charger, so we have updated our list based on our experience evaluating the charger. We have also removed the Chargepoint recommendation to bring the list of options to five, all of which we have tested and used extensively.
Updated (2:02 p.m. EST, 03/15/2023): Added a few more FAQs to the article.
Updated (11:44 a.m. EST, 02/19/2023): Added another photo of the JuiceBox from hands-on testing, as well as more feedback from using the charger. Added a link to the Wallbox Pulsar Plus review.
Updated (6:39 p.m. EST, 02/17/2023): Changed the main image for the article.
Updated (10:44 p.m. EST, 02/09/2023): We recently got our hands on a review unit of the Wallbox Pulsar Plus and came away very impressed with the charger. We have moved it to the runner-up spot, which shifted the Electrify Home HomeStation down to third place. We also swapped out the Grizzl-E with the Lectron V-Box 48 as our preferred non-smart charger after testing the V-Box for a month. The Lectron V-Box 48 is also now our "best on a budget" recommendation.
Updated (2:15 p.m. EDT, 1/25/2023): After testing and evaluating the Electrify Home HomeStation, we have decided to put it in the second spot on our list of recommendations.
Updated (3:53 p.m. EDT, 11/03/2022): Added additional shopping options to our recommendations. Removed the Walmart link for the JuiceBox 40 due to availability and replaced it with a Best Buy link. Recommendations remain unchanged.
Updated (5:28 p.m. EDT, 09/22/2022): Added a new shopping option for our ClipperCreek home EV charger recommendation.