If you've recently purchased or leased an electric vehicle and are currently shopping for a home charger, congratulations! Welcome to the wonderful world of never having to worry about stopping by a gas station and filling up your tank. But now you've been introduced to a new problem, especially if you live in an area where there isn't a great infrastructure for public charging. We highly recommend all electric vehicle owners, or even plug-in hybrid owners, to have access to home charging. Not just for convenience, but it's generally cheaper than public charging.
There are various things you need to consider when shopping for a home EV charger. For starters, if you're planning to install a Level 2 charger at home, you'll need a 240-volt outlet; and if you're planning to get a hardwired option, you'll want to contact an electrician unless you know what you're doing. Next, you'll want to determine the charging capabilities of your vehicle and its battery pack size. Everyone has a different need when it comes to range, and you'll want to ensure the charger you're buying is capable of giving you the range you need on a daily basis. For example, if you're only needing 10 to 15 miles per day, you may not necessarily need a Level 2 charger.
We'll jump into our recommendations for best home EV chargers first, but past our picks you'll find more information on how to choose the best charger for you.
1. Top overall: JuiceBox 40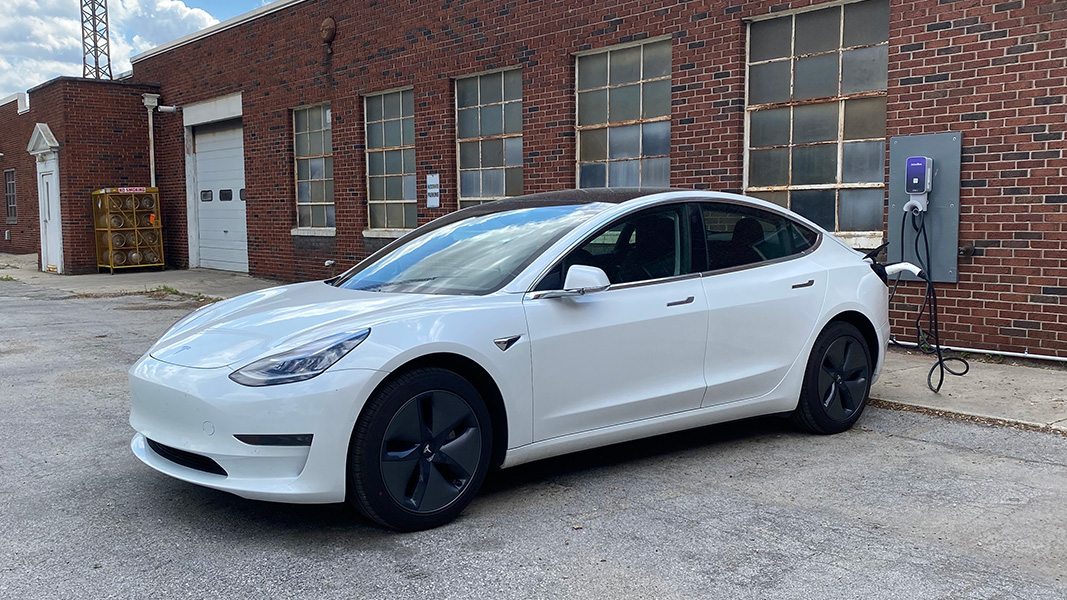 We're huge fans of the JuiceBox lineup — in fact, we use one at the office (seen above, commercial version)! It's available in 32-, 40-, and 48-amp versions, depending on your needs. The 32- and 40-amp JuiceBox models can be had either plug-in or hardwired, while the 48-amp model is only available hardwired. We recommend the 40-amp version, which offers up to 9.6 kW and you can choose between a NEMA 14-50 or NEMA 6-50 outlet if you want a plug-in model.
This charger is equipped with Wi-Fi connectivity, so you can control it through a smartphone app, which makes it convenient for you to schedule charging at lower rates. The app will also provide you with notifications when your vehicle is fully charged, and it can even remind you to plug in your vehicle if you're the forgetful type. As a modern solution for a high-tech problem, it's no surprise the JuiceBox 40 is also compatible with Amazon Alexa and Google Home. So yeah, if you want to issue out voice commands to control your charger, go on ahead.
Each charger comes equipped with a built-in cable rack for the 25-foot cable, a security lock, and the company provides a three-year manufacturer's warranty. They are indoor and outdoor rated, thanks to a waterproof, dust-tight, polycarbonate casing. Even if you don't necessarily need everything the JuiceBox 40 has to offer with your current electric vehicle, it's still smart to future-proof yourself. It's highly likely you'll get a more advanced EV in the future and you won't have to worry about shopping for a new charger.
2. Electrify America HomeStation
If you've paid attention to the electric vehicle industry in the U.S., you may have heard of Electrify America. The company is responsible for building the largest public fast charging network in the country and will be building its first solar farm in Southern California. So it's little surprise that Electrify America offers its own home EV charger, called the HomeStation.
As part of the Electrify Home brand, this EV charger offers up to 9.6 kW of available power at 40 amps, but it does offer flexible amperage so you can choose between 16, 32, and 40 amps. It comes equipped with a 24-foot charging cable and a standard NEMA 14-50 plug. Along with your typical suite of safety features and certifications, the company provides a standard three-year limited warranty.
What does make the HomeStation stand out from the crowd is the ability to use Electrify America's app, which also connects you to its large public charging network. Features on the app include remotely controlling your charger, setting up notifications and reminders, as well as voice control with Amazon Alexa. The company did say that Google Home is currently under development. If you use Electrify America's public charging stations, you'll only need one account to manage everything. Naturally, that means it'll sync the data between your home and public charging stations.
In our hands-on testing of the Electrify Home HomeStation, we loved the stylish and sleek design of the charger, its impressive packaging, and how easy it was to install and setup. We did find that the holster wasn't the greatest and the charger is a bit bulky compared to other EVSEs on the market. Other minor issues include not being able to control the lights and we do wish the connector felt more premium. You can read our full review of the Electrify Home HomeStation here.
3. ChargePoint Home Flex
Equally as impressive when it comes to features, reliability, and quality is the ChargePoint Home Flex. Available with either a NEMA 6-50 or NEMA 14-50 plug (hardwired also available), this is a Level 2, 240-volt charger with flexible amperage settings allowing you to control output from 16 amps to 50 amps. Like the JuiceBox recommendation, the ChargePoint app features scheduling, reminders, Alexa voice control, and charging data all in one convenient location.
Although it probably won't impact most EV owners, it's worth noting that the ChargePoint Home Flex comes with a 23-foot charging cable. So if you really need a 25-foot charging cable, keep that in mind. Otherwise, this recommendation checks all the boxes necessary for a quality home EV charger. It's UL listed for safety, NEMA 3R weatherproof rated, ENERGY STAR certified, and comes with a three-year manufacturer's warranty.
4. Grizzl-E Classic
Want something that's simple and straightforward? Don't care for all the fancy "smart" features on more advanced chargers? The Grizzl-E Classic is probably the charger for you. Manufactured in Canada, this charger offers adjustable amperage: choose from 16, 24, 32, or 40 amps depending on your circuit breaker.
The Grizzl-E Classic has your run-of-the-mill safety features and is IP67 water resistant with built-in GFCI. If for some reason you're looking for a charger that can easily be detached from the wall, this option does come with an easily detachable wall mount. Attached to this charger is a 24-foot charging cable, while the power cable measures 1.25 feet.
The company also offers a couple different styles, if you're not a fan of the matte black exterior. Like its name suggests, the Avalanche has a white and light blue theme, while the Extreme model sports a camouflage appearance.
5. ClipperCreek
An option that's made in America comes from ClipperCreek. Available in 32-, 40-, 48-, and 64-amp varieties, you can also choose from NEMA 6-50, NEMA 14-50, or hardwired options. It's one of the few companies that offers a 64-amp charger, that provides up to 61 miles of range per hour of charging, assuming your vehicle supports it.
Safety certifications on ClipperCreek's home EV charger include ENERGY STAR, ETL, and cETL. It also comes equipped with a service ground monitor, that constantly checks for proper grounding for safe use. This recommendation comes in a fully-sealed, NEMA-4 enclosure and the company says it's rated to work in a temperature range from -22°F to 122°F.
Like the JuiceBox chargers, ClipperCreek's comes with a 25-foot charging cable.
How much is a home EV charger?
Home EV chargers can vary in price from as cheap as $200 to as expensive as $1,000. Most of our recommendations on this list fall between the $450 to $700 price range, which is what you should expect to pay for a quality charger. Cheaper chargers tend to be extremely simple and if they fit your needs, then we have no complaints about using them.
How much does it cost to install an EV charger at home?
As you can imagine, there isn't a straightforward answer to this question. Not only does this largely depend on where you live, but it'll depend on whether or not you have a 240-volt circuit available. If you do, expect basic installation to range anywhere from $200 to $500. If you aren't setup with an available 240-volt circuit, adding the outlet can increase costs significantly, depending on how much electricians in your area charge. Expect to pay anywhere from $500 to $1,500 depending on your specific situation.
If you already have an available outlet that is compatible with your charger, then you can just plug it in and start charging!
What is the difference between a Level 1 and a Level 2 charger?
The extremely basic answer to this question is the charging rate. But that might mislead you to wonder why you would ever consider a Level 1 charger. Generally, a Level 2 charger requires a 240-volt outlet, or a 40-amp circuit (depending on model) if you're installing a hardwired charger, which means it's not viable for everybody. Also, for those who don't need a lot of range on a daily basis, a Level 1 charger might suffice despite its slower charging rates. Some vehicles may not even have enough range to justify a Level 2 charger.
But back to answering the main question, Level 1 charging uses your standard 120-volt household outlet (20-amp circuit) and provides three to five miles of range per hour. For most EV owners that won't be enough, but might suffice for some plug-in hybrids. Things get a little more complex with Level 2 chargers, depending on the amperage. But generally, Level 2 chargers will provide the following charging rates depending on amperage:
16A: 10 to 12 miles
24A: 15 to 18 miles
32A: 22 to 25 miles
40A: 28 to 30 miles
To learn more about the different levels of charging, check out our guide here.
Do I want a plug-in or hardwired EV charger?
Another complex question when it comes to home EV chargers, the answer to this also depends on your needs. But to give you an idea of the differences, we defer to the experts over at Enel X, which manufactures our top pick, the JuiceBox 40. Hardwired charging stations are mounted on your wall and the wires are connected directly to your electrical panel in a junction box. That means they offer a larger range of amperage and charging-speed options, and hardwired connections are watertight, which makes them ideal if you're planning to install your charger outdoors. Naturally, since the charger is hardwired, it can't be easily removed.
Plug-in stations can simply be plugged into an outlet but you may be limited on charging speeds, depending on the outlet's maximum amperage. According to Enel X, plug-in stations are typically cheaper and easier to install than hardwired chargers, but may provide a lower current. You'll also have to take a few extra steps to install a plug-in charger outdoors, such as adding a weatherproof cover over the outlet, along with a GFCI circuit breaker.
Recent Updates:
Updated (2:15 p.m. EDT, 1/25/2023): After testing and evaluating the Electrify Home HomeStation, we have decided to put it in the second spot on our list of recommendations.
Updated (3:53 p.m. EDT, 11/03/2022): Added additional shopping options to our recommendations. Removed the Walmart link for the JuiceBox 40 due to availability and replaced it with a Best Buy link. Recommendations remain unchanged.
Updated (5:28 p.m. EDT, 09/22/2022): Added a new shopping option for our ClipperCreek home EV charger recommendation.