After reviewing the Electrify Home HomeStation and finding its size to be one of its biggest issues, I decided to reach out to Wallbox to evaluate the company's compact Pulsar Plus home EV charger. Wallbox was quick to send out the Pulsar Plus for me to test and review, and I was equally as excited to get my hands on it. On paper, it's the ideal solution for electrified vehicle owners who have limited space at their residency for a charger install, and it's even usable if you're someone who needs to take a Level 2 charger on the go.
But how well does it work? Does the compact size affect its performance? How smart is this smart charger? Below, you'll find my hands-on review and evaluation of the Wallbox Pulsar Plus and my takeaways after putting it through its paces on two test vehicles: a Toyota Prius Prime and a Polestar 2.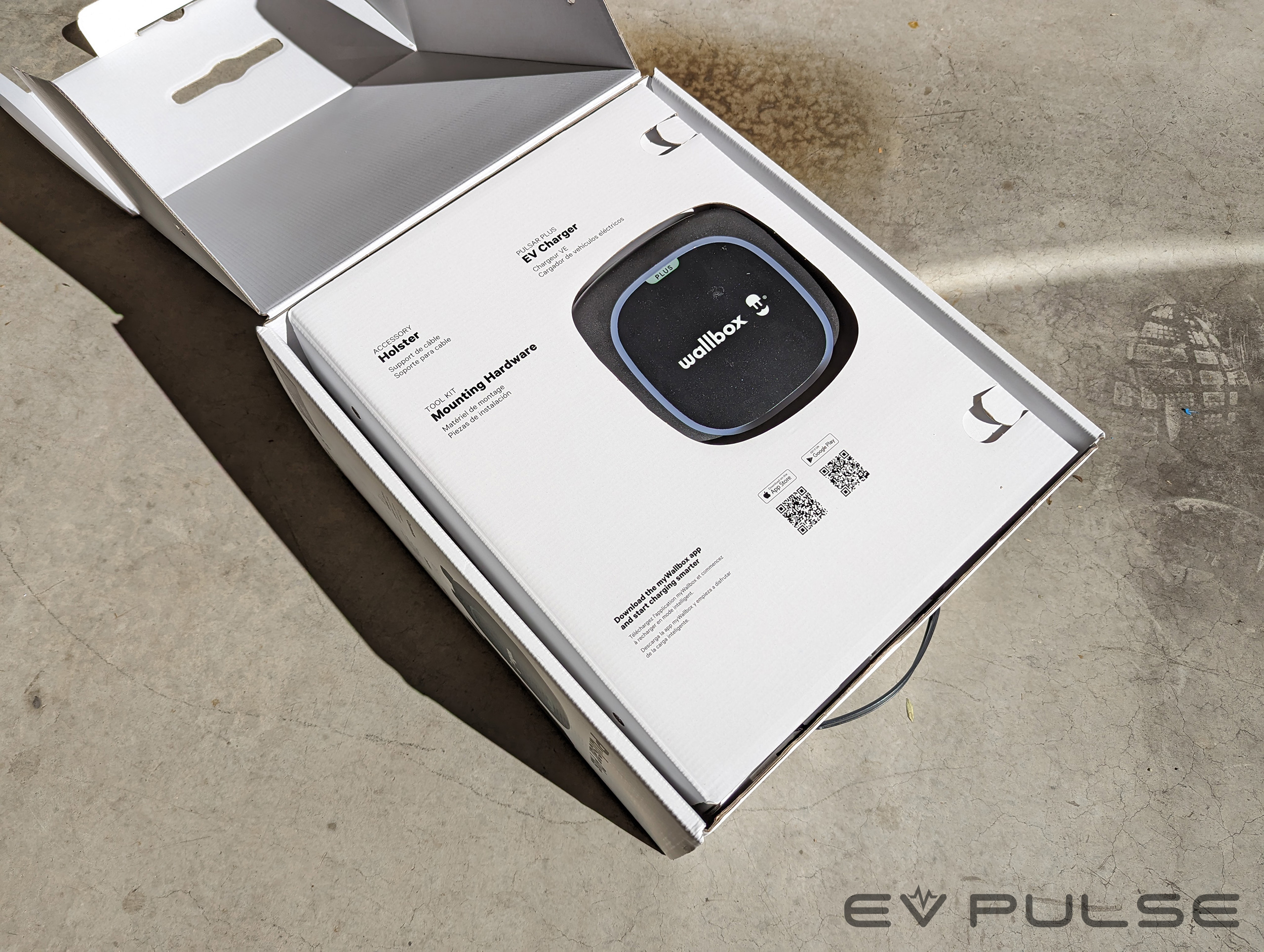 When I received the Wallbox Pulsar Plus, the first thing I noticed with the packaging was the convenient handle found on the box. I'm assuming given its small size and lighter weight, Wallbox was able to incorporate a handle into the box that wouldn't fall apart instantly. It's such a minor detail, but it shows that Wallbox took advantage of the charger's smaller design to enhance other aspects, such as packaging. Inside, everything was neatly organized but it was overall very basic. I was surprised to not see any sort of protective wrapping or covering over the connector. The NEMA 14-50 plug did have a standard plastic protective insert, at least.
Despite seeing dozens of pictures of the Pulsar Plus and watching a few videos about the charger before it arrived, I was still surprised to see just how compact it was. It reminded me a bit of the Fiat 500e — you know it's a car and you know it's small, but you're still a little shocked when you see it in person. Now considering there are some Level 2 chargers out there that can integrate everything it needs in an even smaller package, like MUSTART's Level 2 portable EV charger, you have to wonder why some EVSEs are so large and bulky. As far as I could tell, there isn't anything the Electrify Home HomeStation can do that the Wallbox Pulsar Plus can't.
For some car owners however, the styling and design of their EV charger is equally as important as its capabilities. The Wallbox Pulsar Plus's compact design might not appeal to everyone. But I do believe there's a misconception that bigger is better when it comes to home EV chargers. I personally know some people that were skeptical that the Wallbox Pulsar Plus would be "safe" because of its small size. It's an interesting effect the market has produced, with many of the quality and more expensive chargers being larger in size.
Once I pulled everything out of the box, I briefly looked over the installation manual. It's very thorough and detailed, and even includes handy labels you can apply to your circuit breaker with the selected amperage value. Like the handle on the box, it's a minor detail but those are the things that set a product apart from the crowd.
Installation is very similar to the other home EV chargers I've evaluated so far. The Wallbox Pulsar Plus comes with a backplate that's already attached to the charger. You simply slide that off and use that as your template for installation. All the necessary hardware is included, and depending on your setup, you'll either use anchors and screws, or just the screws themselves. The backplate does offer four holes to mount it to the wall, but only two is necessary to keep everything secure, according to the manual.
During the install, I immediately noticed the benefits of having such a small charger. You don't need an extra set of hands to be safe when dealing with something this compact. Once you have the plate mounted to the wall, you slide the charger over it and then you screw in two tiny screws into the bottom corner. The angle can be a bit awkward for those screws if you don't have a lot of empty space to the sides of the charger.
The power cable is 12″, similar to many other home EV chargers, so it's short. The NEMA 14-50 plug is oriented ground down, so you may have to do what I did with the power cord if your outlet is installed ground up, which is the more standard placement.
The separate holster has a one-piece design, which already gives it bonus points over the Electrify Home HomeStation's two-piece holster. It's a little bulkier than Lectron's J-hook, but there is one advantage to its design. The holster gives the connector a slight downward angle, something I really appreciate since I have a single-car garage. On some holsters, the connector sticks straight out, which means it can come close to your car's mirrors depending on how tight of a space everything is.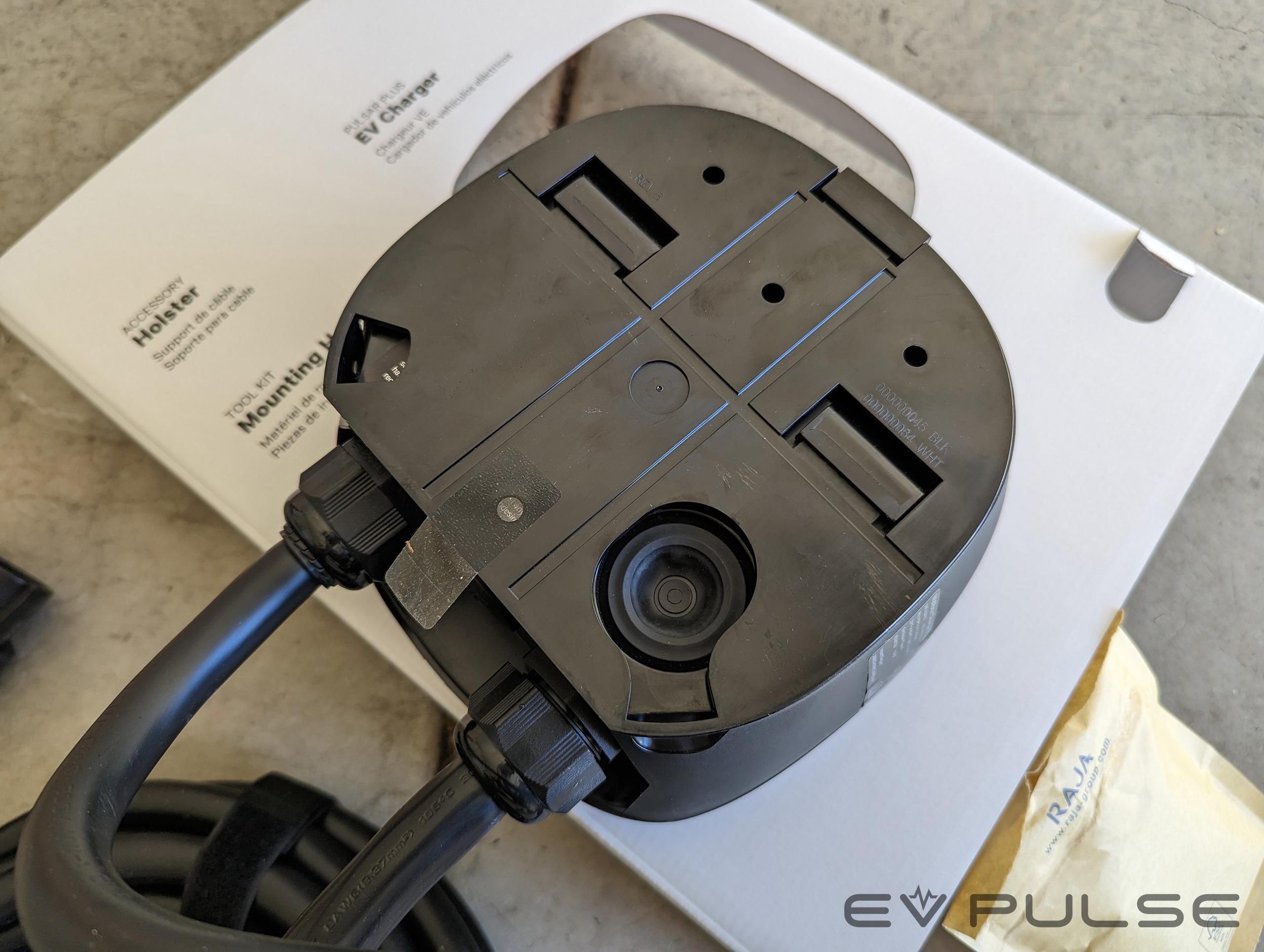 Initial impressions
Like many home EV chargers in this price range, the Wallbox Pulsar Plus is a smart charger, meaning it has WiFi and Bluetooth capabilities. Starting the setup process is similar to Electrify Home's HomeStation. You can a QR code on the side of the device and all the information is automatically sent to the app. You can also manually type in the information if you aren't able to get a good scan on the small label on the side of the charger. Which brings up a quick tip — if you're installing the charger and won't have easy access to the left side of it (from the front), make sure you take a photo of the label before installing so you have all the information the app needs to add the charger to your profile.
After the app adds the charger, you can then connect to it via Bluetooth to setup its WiFi connection. Unfortunately, my specific device (Pixel 7 Pro) had some issues connecting to the charger over Bluetooth. At first I assumed it was because my phone was connected to my Polestar 2 and my smart watch, so I "forgot" both of those devices from my phone. After I checked to ensure no other Bluetooth devices were connected to my phone, I tried to connect to the charger again but had no success. It wasn't until I rebooted my phone that I was able to connect to the Pulsar Plus and setup its WiFi connection.
Now, at this point, I thought since the charger was connected via WiFi, I would be able to access all of its features over WiFi. Unfortunately, a Bluetooth connection is still required for certain settings, including controlling the halo light and whether or not it stays active even when the charger isn't being used. I'm assuming this is done to make those settings more secure, which is understandable. The problem is, even after successfully connecting to the charger once via Bluetooth, I ran into the same issue over and over again anytime I tried to connect to it to test some of the settings. I ultimately found the easiest solution was to toggle my Bluetooth off and on and then connecting again.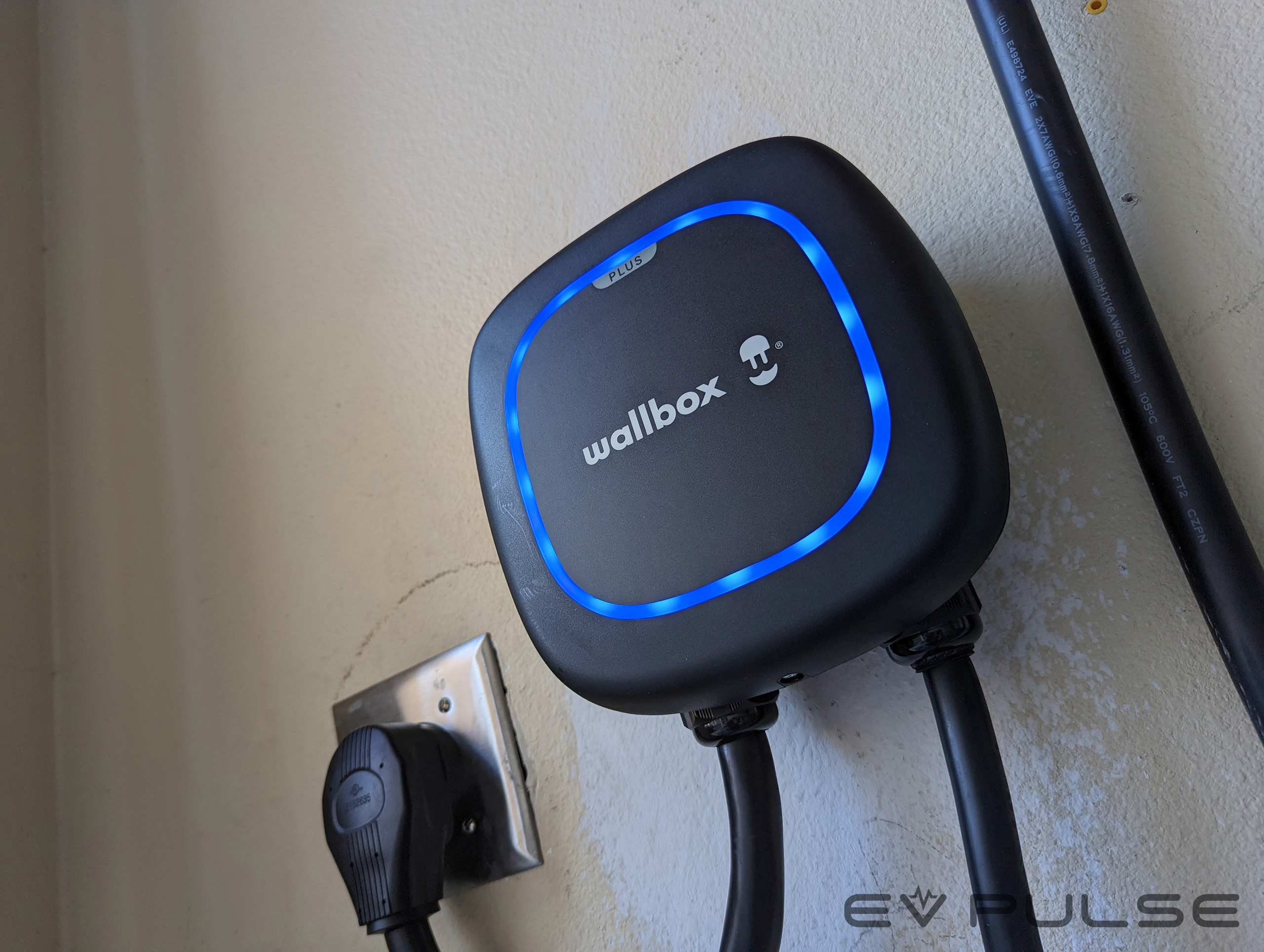 It appears I'm not alone when it comes to these issues with the app. At the time of publishing, the app has over 1,000 reviews and a 2.7-star rating. There are several reviews commenting about the same issue I experienced with Bluetooth. It could be device specific — Pixel devices are notorious for Bluetooth issues — but it's something I felt I had to mention in the review. Now, there is a benefit to having Bluetooth capability: those who have no WiFi signal where they're installing the charger, will be able to set it up and control it via Bluetooth. That does mean you won't have remote access to the charger if you're far away.
The good news is, once I had tested all the different settings and configured the charger the way I liked it, I have found no reason to connect back to the device via Bluetooth. You are able to control the amperage, schedule charging, and check on its status via WiFi, no matter how far away you are.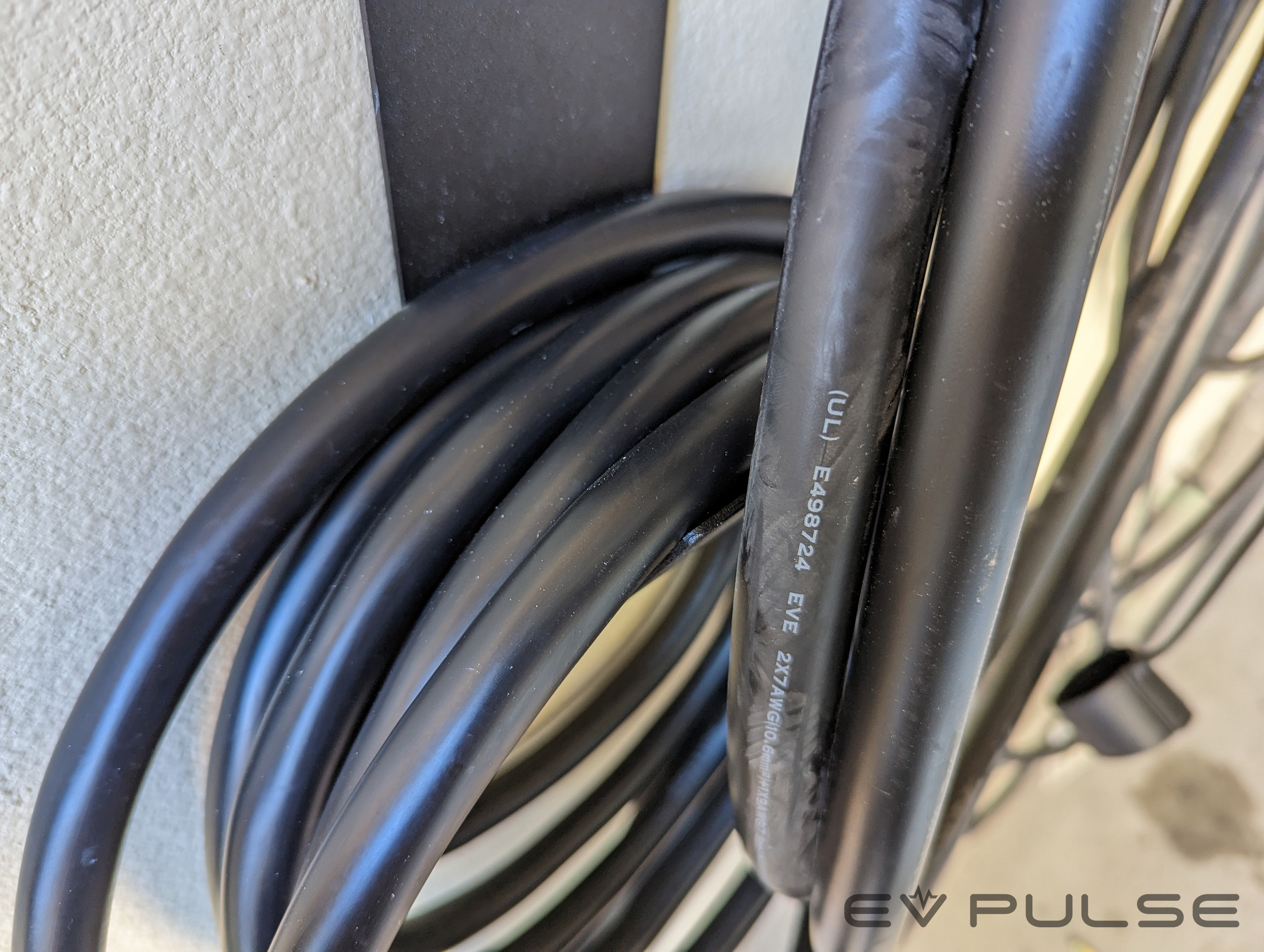 When it came time to testing the actual charger, the thing I immediately noticed was the difference in thickness on the cabling compared to other chargers I've tested. Now, this isn't a major issue for someone like me who lives in Southern California, but I do imagine it's a problem for states that experience an actual winter with freezing temperatures. It does make the cabling more flexible and easier to maneuver, but I'm going to assume it affects performance in the cold. Unfortunately I'm not able to easily do a freezer test, but you can find that somewhere else online if cold temperatures do affect you.
The connector however, deserves praise. Instead of the typical plastic finish you commonly find with other chargers, Wallbox gave this connector a nice, textured rubber finish. It feels premium in your hands and likely absorbs drops and impacts a lot better. At the very least, plastic connectors can crack when dropped and I have a feeling this connector can hold up to years of abuse. The rubber texture also provides a better grip, so you're less likely to drop it.
How does it work?
While I was busy installing and taking photos of the Wallbox Pulsar Plus, I let my Toyota Prius Prime idle in the driveway with the A/C on max to drain its all-electric range. This allowed me to test the Pulsar Plus from 0% SoC. Once connected, it started charging right away with no issues. In the app, it displayed live data on the current charging session, including duration, power, and energy delivered. There is a very intuitive and easy-to-use dial to adjust amperage if necessary. It took the Wallbox Pulsar Plus 2 hours and 2 minutes to fully charge the Prius Prime from 0% SoC, delivering 5.8 kWh in that time frame.
After the charging session was completed, the app recorded all the data to my account. One feature I do appreciate is that you're able to provide the app a price per kWh, so it can give you an estimate of overall cost for you. It stores all historical data, so you're able to figure out cost for pretty much any period of time.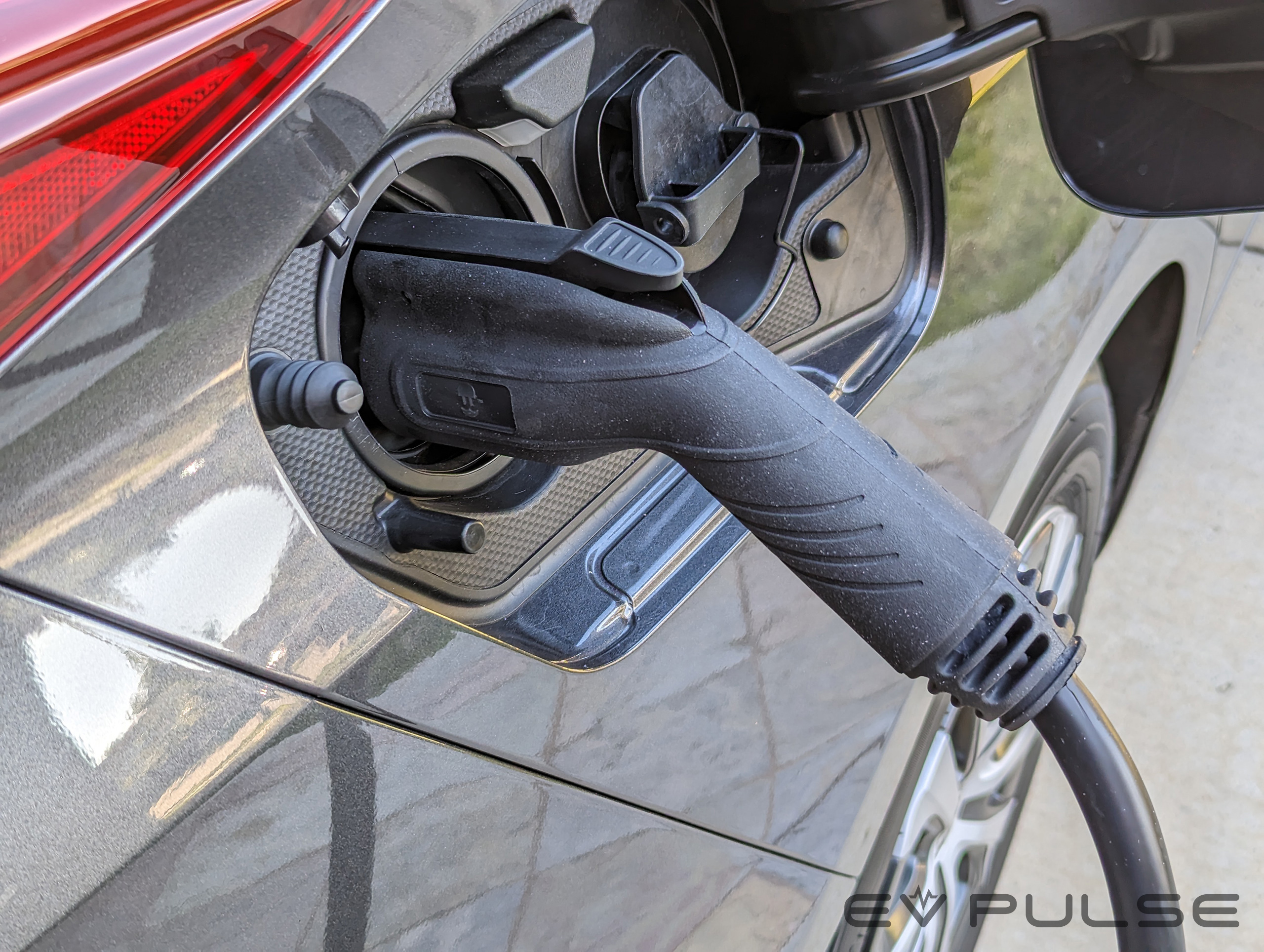 Once I was done charging the Toyota Prius Prime, it was time to plug in the Polestar 2 to see how well the Pulsar Plus would charge a BEV. Like the Prius Prime, the charger made an instant connection with the Polestar 2 and I was seeing 23 to 24 miles of range per hour, as expected from a 40-amp charger. The Polestar 2 was at 53% SoC and it was a bit colder outside than usual — 59°F according to the car. Overall, it took 3 hours and 35 minutes to take the Polestar 2 to 90% SoC, delivering a total of 31.21 kWh.
While the charger worked great when I tested it on both vehicles, the app was once again a disappointment. I was really excited when I saw that you can setup notifications to let you know when your vehicle is done charging, an issue I specifically mentioned in my Electrify Home HomeStation review. Well, the app didn't notify me even though I had the setting toggled on. After the Prius Prime charge completed and I didn't get a notification, I double checked that I gave the app the right permissions. Unfortunately, after the Polestar 2 was finished, it didn't notify me either. My assumption is that the WiFi connection with the charger disconnects, even if you leave the app running in the background. I found that when I returned to the app after any period of time over a few minutes, it would give me an error message saying it was disconnected from the charger. I would have to back out to the main page and reconnect to the charger each time. I believe since the app is disconnected from the charger, it doesn't receive the status update to let you know a vehicle is done charging.
This isn't a huge deal for most car owners, but it is for those who have to charge their cars outdoors or need to move it as soon as it's done charging. Some vehicles, like Teslas, have separate apps that will notify you when your vehicle is done charging. The Polestar app does not, so basically I would have to check either app to see when my vehicle is fully charged. This could be a minor issue or a major one, depending on your particular use case.
Update 02/16/2023: After further testing — I now have six separate charging sessions in my log — I did finally receive one notification saying that charging was finished. Oddly, it coincided with an additional entry in my log for 0 kWh and 1 min, along with the actual 4.32 kWh and 1 hour, 25 min charging session I had. I'm still unsure why this particular charging session resulted in an app notification, but will continue testing and updating this review if I can narrow it down.
Specifications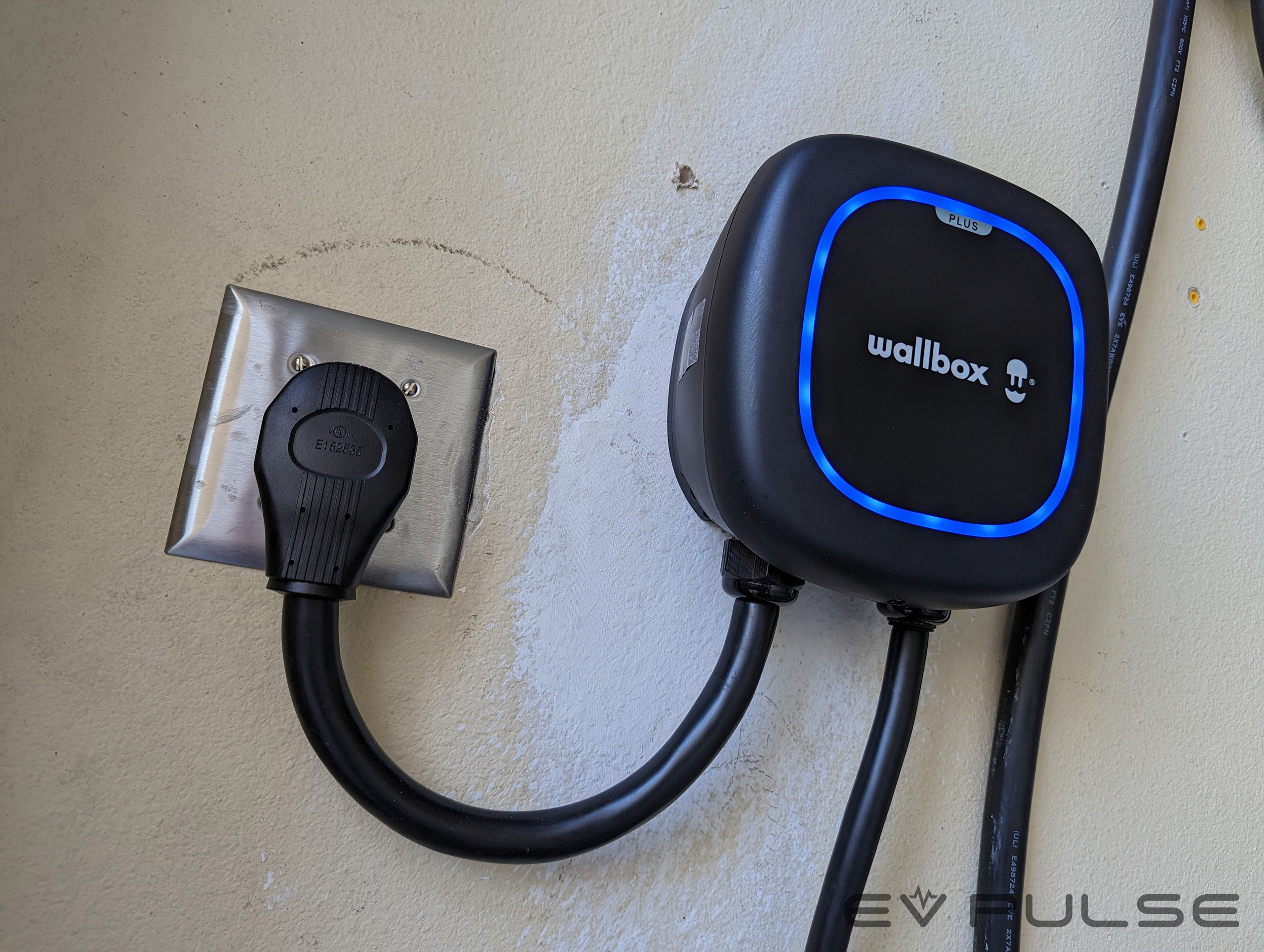 The Pulsar Plus is a Level 2 home EV charger from Wallbox. It's available with a NEMA 14-50 plug with up to 40 amps of power, and a hardwired 48-amp version. It supports both Bluetooth and WiFi connectivity, which is a bonus if you don't have a good WiFi signal at your installation location. It's an extremely compact home EV charger, measuring 7.8″ by 7.9″ by 3.9″. The connector cable measures 25 feet.
The unit's amperage can be adjusted from 6 amps to 40 amps on the NEMA 14-50 version, or 6 amps to 48 amps on the hardwired model. The enclosure is NEMA Type 4 rated so it's water tight and safe to install outdoors. The charger is also UL certified. It's packed with other features such as power sharing, dynamic power management, and eco-smart if you have a rooftop solar system at your home. It can be voice controlled via Amazon Alexa or Google Assistant once it's connected to your home's WiFi network.
Verdict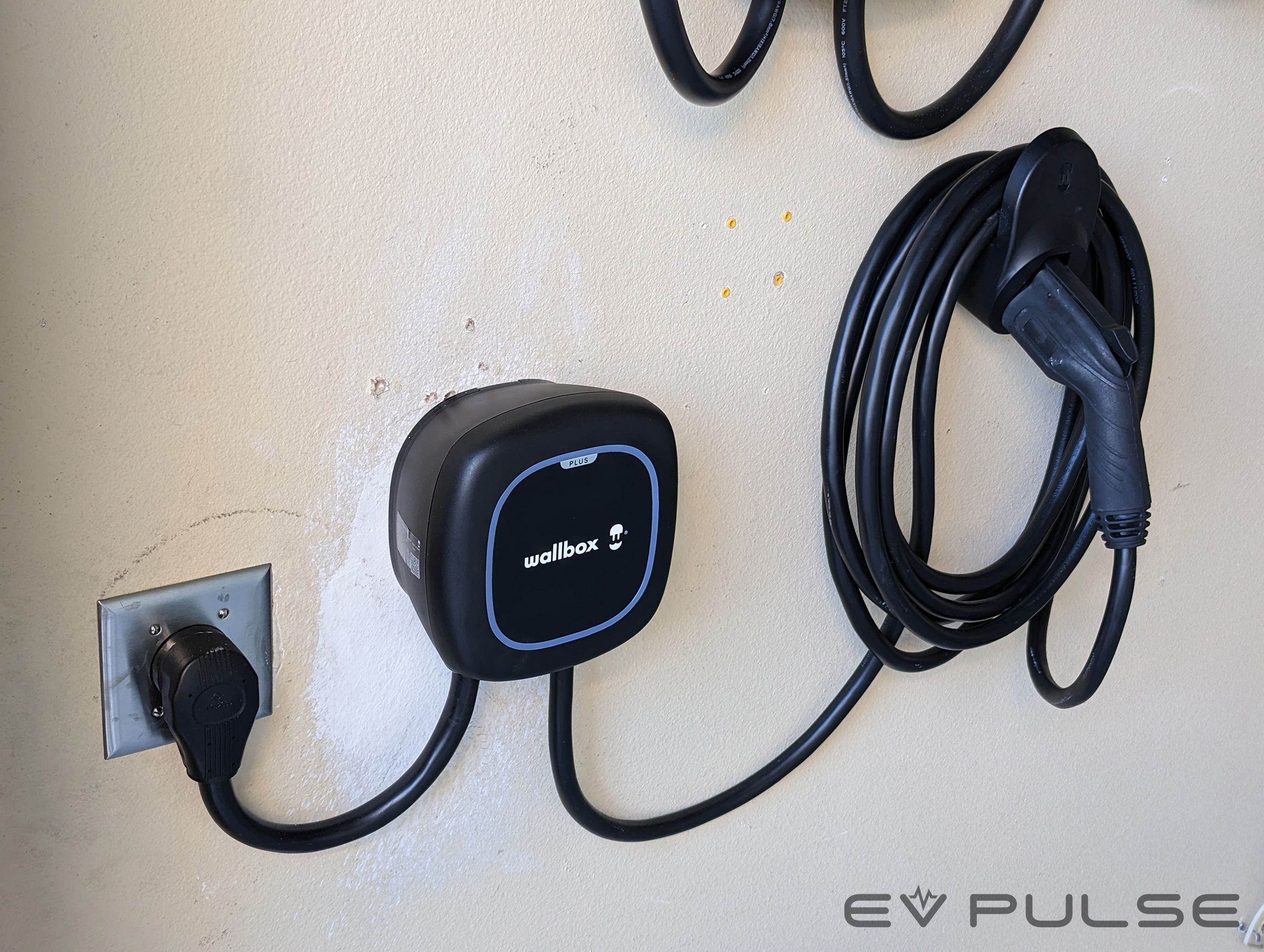 While it does have its shortcomings, mainly the app, there is a lot to love about the Wallbox Pulsar Plus. If you're looking for a compact home EV charger that won't take up a lot of space on your wall, it would be difficult to recommend anything other than the Pulsar Plus. I personally prefer the separate holster design since it allows you to customize the installation, and I particularly like that it gives the connector a slight downward angle since I have a single-car garage. The connector itself feels premium with its rubber finish. The installation process is painless, although it's pretty similar with many of the EVSEs out on today's market, so it's not exactly an advantage. The cabling is thinner than other units I've tested, which could be an issue if you live somewhere that experiences freezing temperatures.
The Wallbox Pulsar Plus is NEMA Type 4 rated, so it's watertight. It's also made in Spain, for those who are wondering where it's assembled.
I do wish the app worked better in my specific case. I like the fact that you're able to control the halo light ring, but not receiving notifications and the finicky Bluetooth are a little annoying. There are workarounds for both these issues, but it pulls away from the convenience of having a seamless user experience.
There are some other features that I haven't been able to test with the Pulsar Plus, but hope to do so in my long-term evaluation. One of those is power sharing, which allows you to connect two or more chargers to a single circuit so you're able to charge multiple vehicles at one time.
Overall, I highly recommend the Wallbox Pulsar Plus and right now it's my runner-up choice on our best home EV chargers list. Depending on how well it performs in my long-term evaluation, it may become the top charger.
Pros
Extremely compact design
Well written instructions
Separate holster is well constructed
Holster's downward angle helps in tight garages
Love the rubber grip on the connector
App is quick and easy to setup — if Bluetooth works
Can control the halo light ring
NEMA Type 4 rated enclosure
Cons
Cables are thinner than competitors
Bluetooth on my device (Pixel 7 Pro) is finicky
App isn't sending me notifications when charging is complete