If you don't count Tesla's Superchargers, Electrify America has the largest public charging network in the U.S., with nearly 3,500 DC fast chargers across almost 800 stations as of January 2023. In most areas of the country, there's likely an Electrify America charging station near you, with many more to come. Given its expertise on electric vehicle charging, it's little surprise Electrify America offers it own home EV charger. Part of the Electrify Home brand, the HomeStation is a 40-amp, Level 2 charger that is capable of delivering up to 9.6 kW of power.
In our goal to thoroughly evaluate as many EVSEs as we can to the benefit of our readers, we reached out to Electrify Home to get our hands on the HomeStation for testing. The company sent us a brand new HomeStation as a loaner, so unfortunately we won't be able to provide updates or a long-term evaluation on the charging station. But the time we did spend with the charger left us impressed, although it'll be up to you to decide whether it's worth the $649 retail price tag.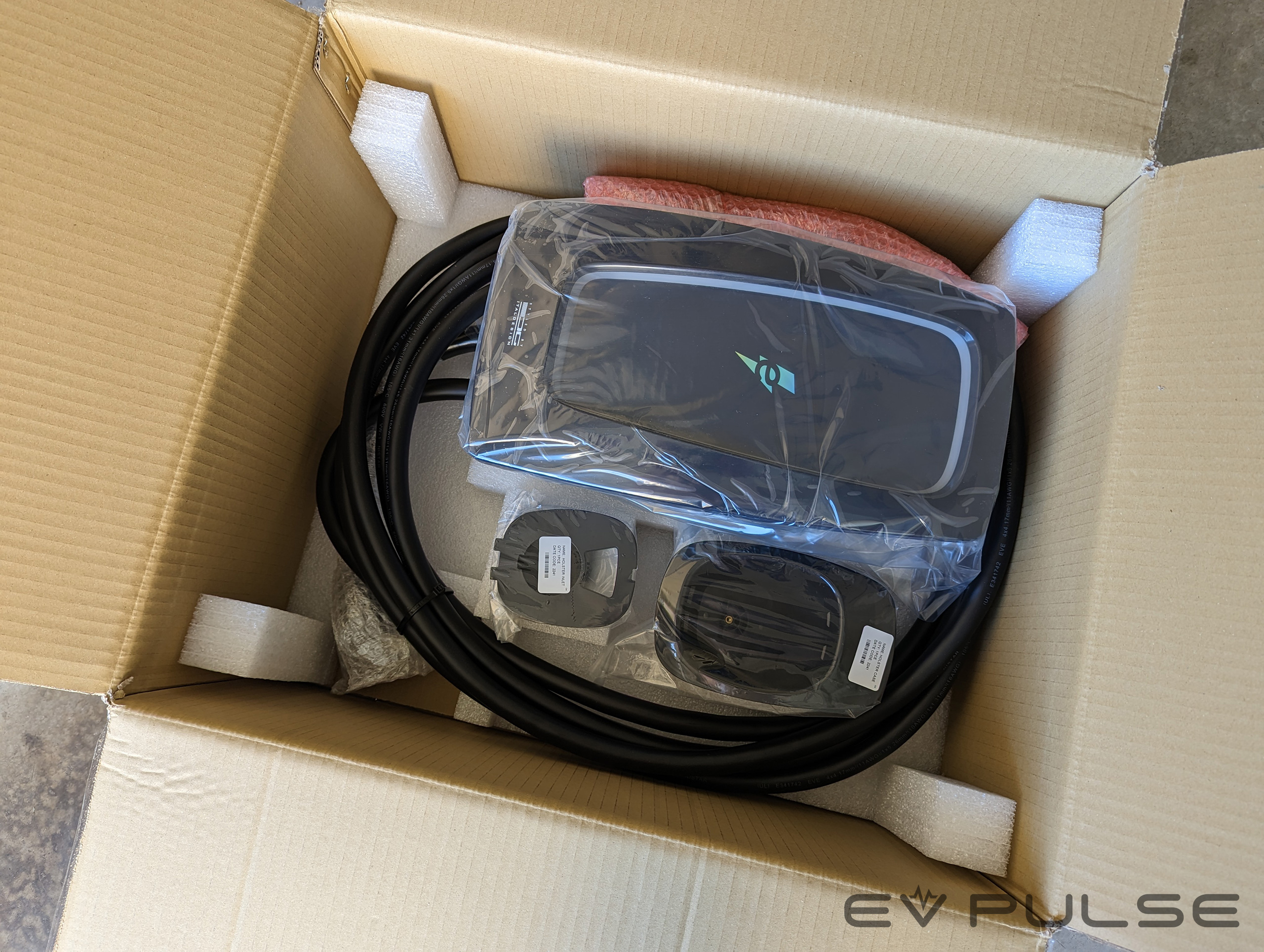 Before I start discussing about the charger itself, I have to spend a little time commenting on how well packaged the HomeStation was when it arrived. Considering this is one of the more expensive Level 2 home chargers out there, I was pleased to see that Electrify Home did spend the effort in making the packaging and its contents feel premium. Upon opening the box, you're greeted with a poster that is admittedly pointless, but a nice gesture nonetheless. Underneath that is your pretty standard quick start guide and instruction manual. But unlike some of the other home EV chargers I've evaluated, the HomeStation's manual is well written, very detailed, and well designed. It might seem trivial, but the last thing you should need to do after spending hundreds of dollars on a home EV charger is having to go on the internet to find an answer to your question because it wasn't explained in the manual. The HomeStation's manual is comprehensive and one of the best ones I've seen.
Underneath all the protective foam and cardboard is the charger itself, a wall bracket, a set of hardware, and the holster/mount combination. Another pleasant surprise was the included Torx bits since the charger uses Torx screws. Torx isn't as common as your standard flathead and Phillips head, so Electrify Home deserves credit for including the bits for those who don't have a Torx kit handy.
Inside the bag with the wall bracket is a paper template, but instead of being a template for the bracket itself — which I've always found a bit odd considering you can just use the bracket as a template — it has an outline of the entire charger. And this is important, because the HomeStation is a rather large charger, measuring 15.75″ by 8.66″ by 6.75″. The template gives you an idea of the install area you need and if you're plugging it into your NEMA 14-50 outlet, make sure you are installing the charger nearby. The power cord is a short one, like many EV chargers, and it's important to know the ground on the plug is oriented down. If you're having an electrician install a NEMA 14-50 outlet specifically for the HomeStation, make sure they know that, otherwise you might have to loop the power cord like I did, rather than dangling it straight down and plugging it in. The power cord isn't the most flexible either since it is pretty thick. Finally, it's worth noting the HomeStation weighs close to 20 pounds.
The install process is very straightforward and simple. The wall bracket attaches with two screws. Electrify Home includes four wood screws with washers, two that can be used for the bracket, and one for the holster mount. You may need to use anchors for your particular installation, which aren't included. After you get the wall bracket installed, you simply line up the charger and screw in the four Torx screws.
Since our unit was a loaner, we didn't bother installing the included holster. Its design is a bit strange, being two pieces that are held together with a Torx screw (included). You'd have to wall mount the outer piece first, before screwing in the inner piece. I did test the holster and it seems fine, but I personally prefer a design like Lectron's holster and J-hook, which I have two of in my garage.
Also, you've probably noticed that I left the protective covering on the face of the charger in the photos. Again, this charger was a loaner from Electrify Home, so I didn't bother with peeling it off.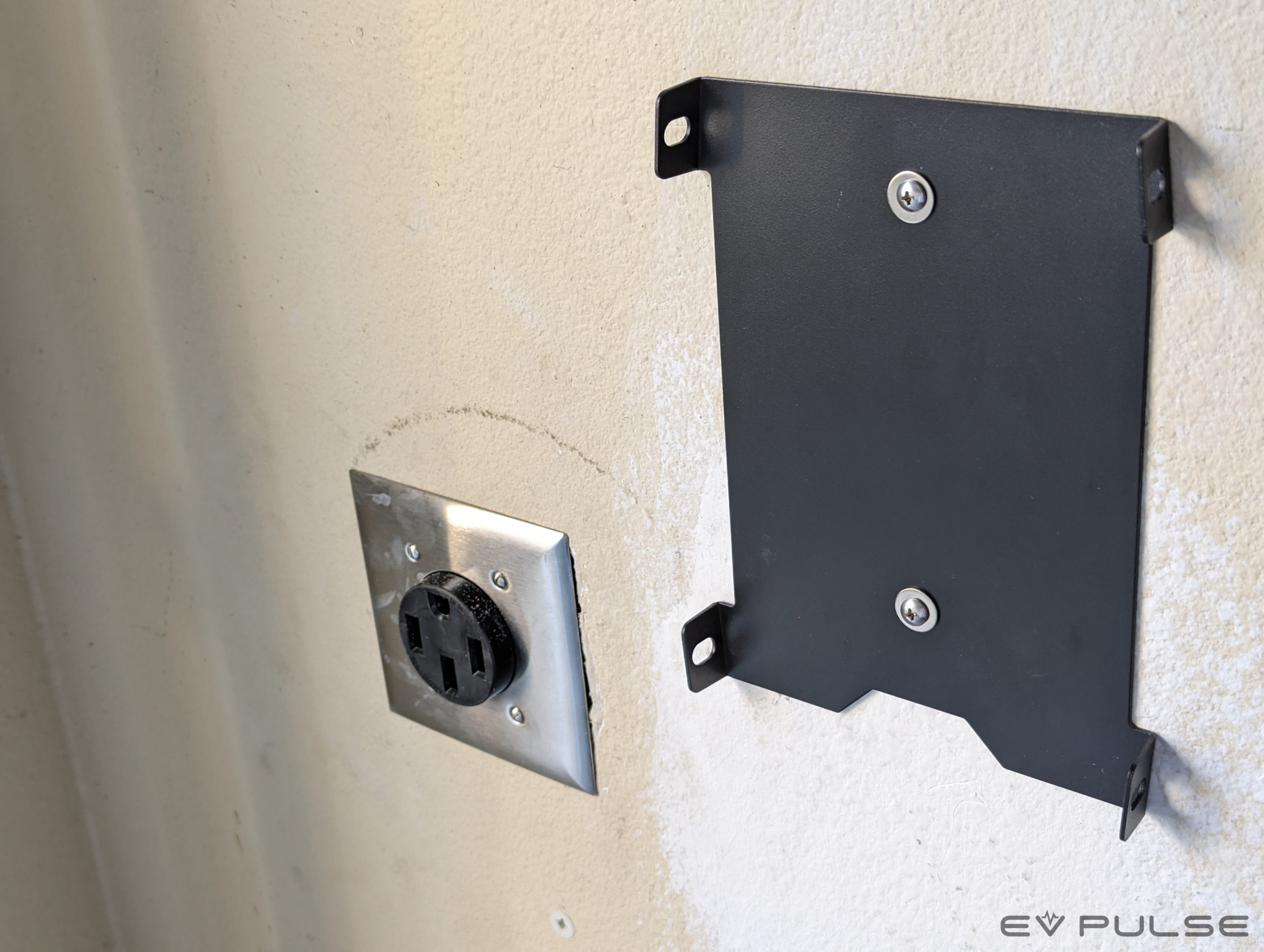 Initial impressions
Since this is a WiFi-enabled charger, it must be setup through an app on a mobile device. If you already use Electrify America's public charging stations, you probably already have the app installed and have noticed the "home" option at the bottom. If not, you'll have to download the app and setup an account in order to configure your charger. The setup process is pretty quick and straightforward. You start by connecting to the charger and setting up its WiFi connection. Then, you'll scan the serial number on the side of the charger (so make sure you have access to the left side of the charger after install) and select the desired power output. This charger has a maximum output of 40 amps, even if it's hardwired. Your options for charger amperage are 16 amps, 32 amps, and 40 amps. Once that's done, you'll be presented with the option to create a schedule, with an easy button to setup off-peak schedule for the lowest charging rates (where available). If you decide to use the charger's scheduling, you'll want to turn off the scheduling in your vehicle to avoid any possible conflicts.
Once I had the charger setup and ready to go, it was ready to go as indicated by its front light. Although I did find the charger a bit bulky, I did like its sleek design. It's simple, yet premium, and the color outline makes it easy for you to check the status of the charger.
The connector is well made, but I was a bit surprised that it didn't feel as premium as you'd expect from a $649 charger. There's no rubber texture on the connector, just hard plastic. It feels plenty durable, just a little disappointing when you first hold it in your hand.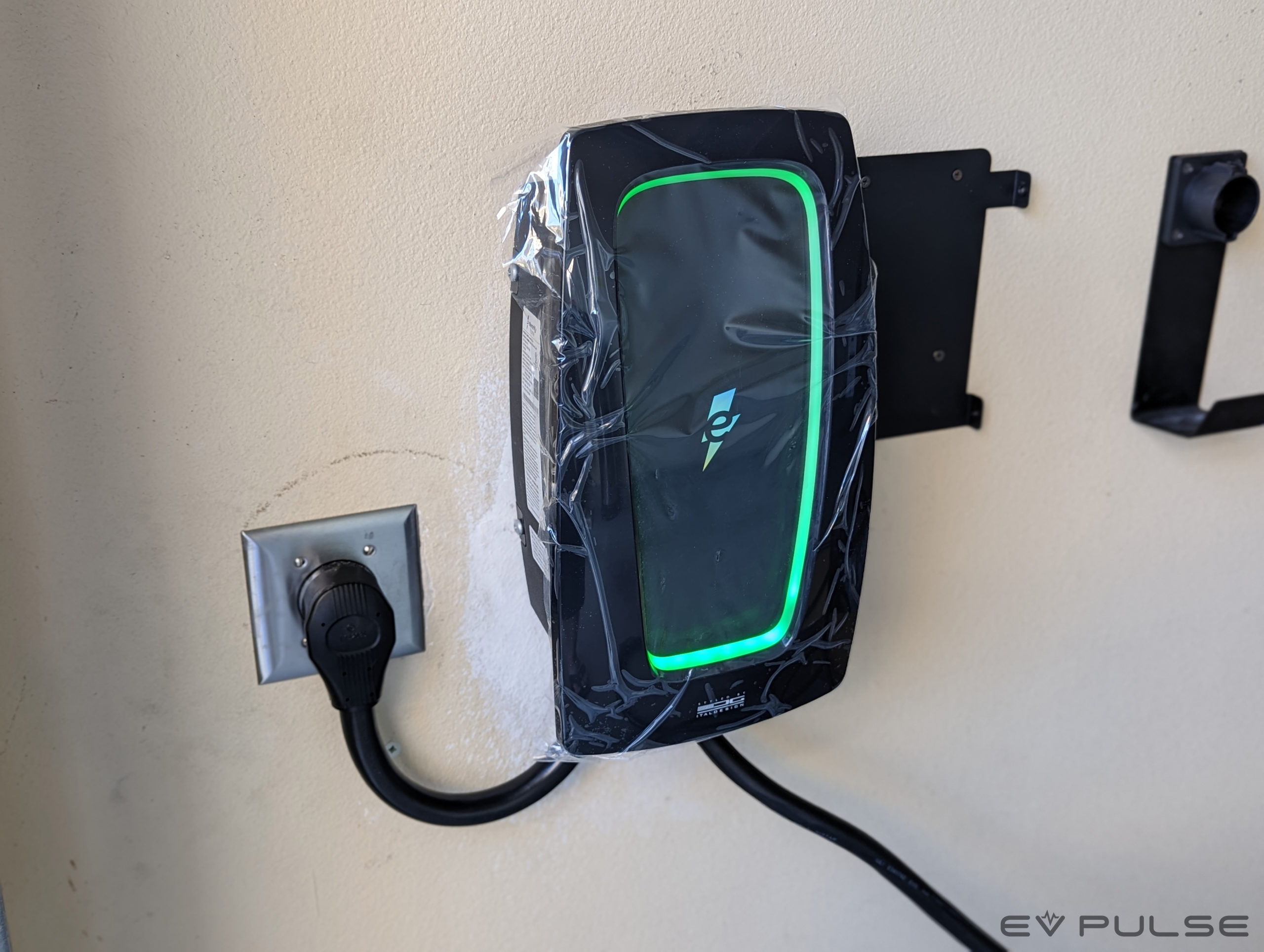 How does it work?
My Toyota Prius Prime was at 95% SoC, so it was a rather quick test on the plug-in hybrid. After plugging the HomeStation's connector into the Prius Prime, it connected instantly and started charging with the app stating a charge speed of 3.6 kWh. Since it did only have to top off the Prius Prime's small battery from 95% to 100%, the charger took a little less than 18 minutes to complete the charge. Once completed, it automatically went to a standby mode. Disappointingly however, I was surprised that the app didn't give me any type of notification saying that charging was complete. Considering the app knew the status of the charger, I assumed a notification would pop up on my phone. It may not be a big deal to most owners, but some may want that feature. It is entirely possible that I didn't properly setup push notifications on the app, but if I did miss the setting, it must have been buried deep within some menu since it felt like I combed through every possible selection trying to find it.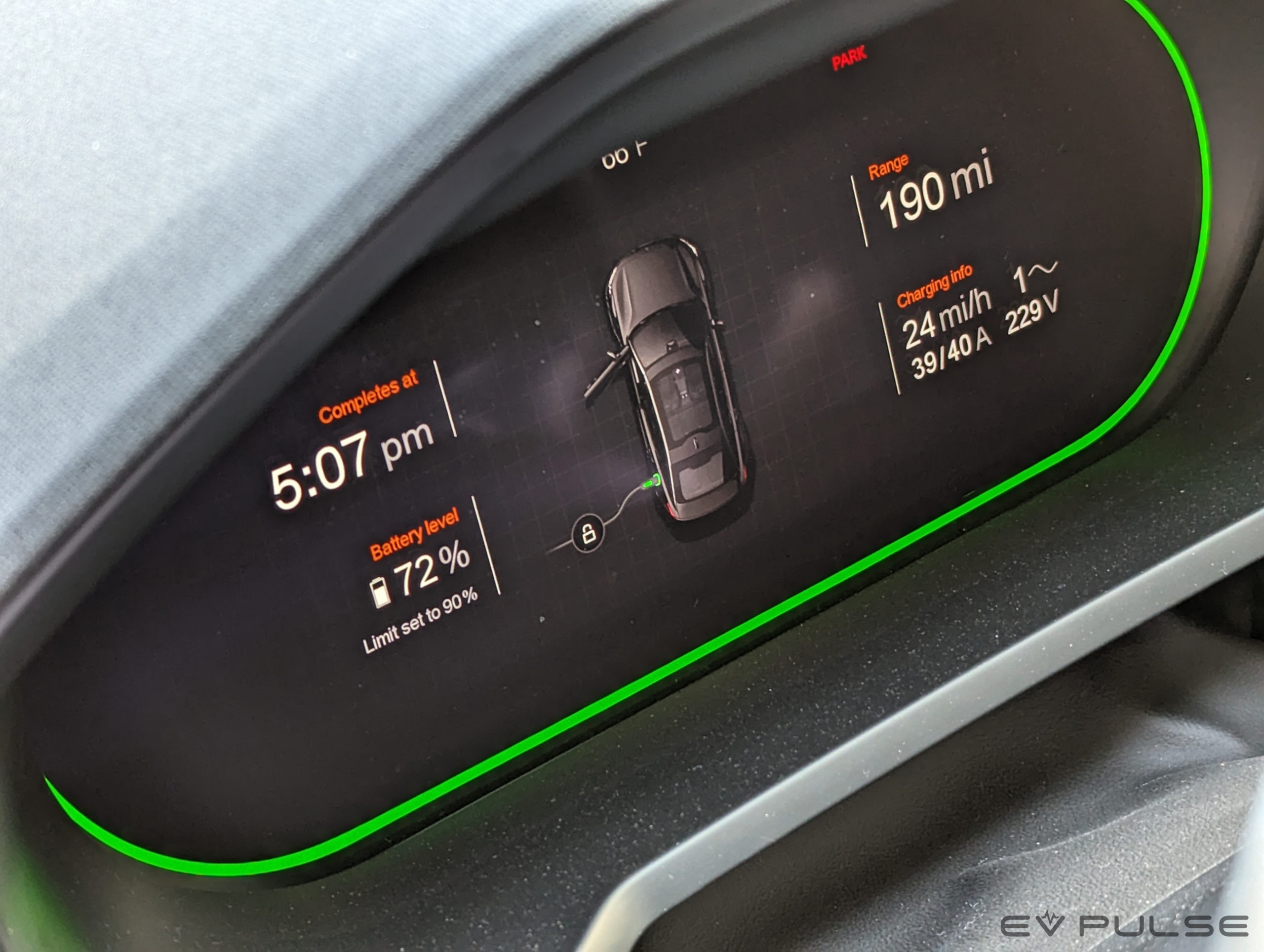 The next test was with my Polestar 2, which would be able to take advantage of the 40-amp charging speeds. Unlike the Lectron V-Box that I reviewed earlier this year, the HomeStation instantly connected to the Polestar 2 without me having to hold the connector in place until it locked. The app reported a charge speed of 9.2 kWh within 2 minutes of plugging it in. I ran the test by charging the Polestar 2 from 70% to 90%. In total, it took 1 hour and 42 minutes, delivering 14.7 kWh in that time frame. As you can see in the photos, the car stated 24 miles per hour of charge, which is what you should expect from a 40-amp charger.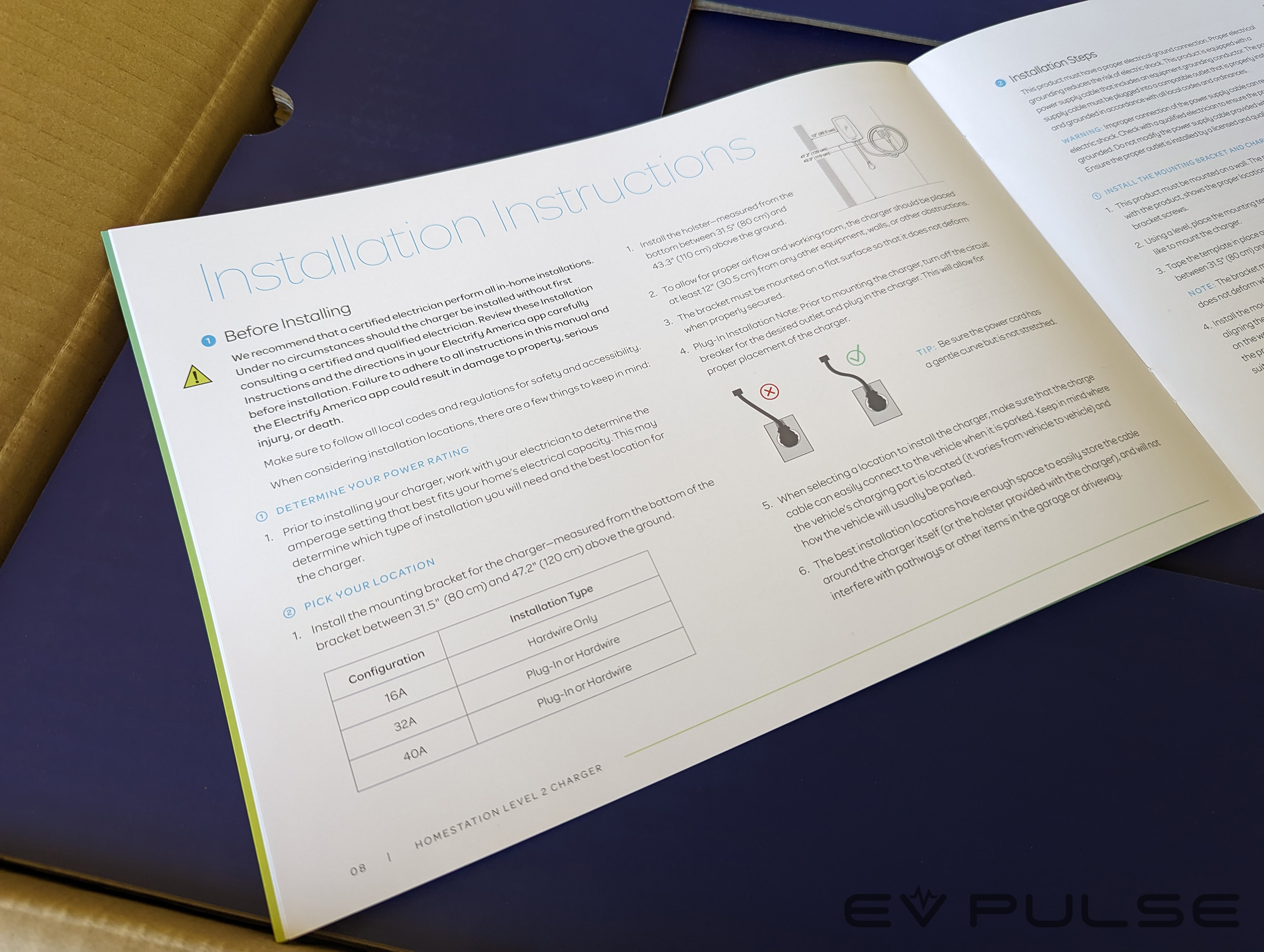 Overall, I have little complaints about the Electrify Home HomeStation. Shoppers should know that this charger is manufactured in Taiwan, one of the world's leading manufacturer of semiconductors. It is a bit on the bulky side, sticking out nearly 7″ from the wall, so it's something you need to take into consideration if you have limited space. The holster could have a better design, but since it is separate from the assembly, you can use any holster you like.
The app is quick and intuitive to setup, and even keeps a charging history for you, which is helpful if you like to calculate your costs. My other complaint with the app is that the history overview page has a timestamp of when charging began, but when you view the summary for that specific charging session, it only shows the date. It's a minor nuisance, but seems like an oversight that the timestamp isn't included in the session summary display.
Specifications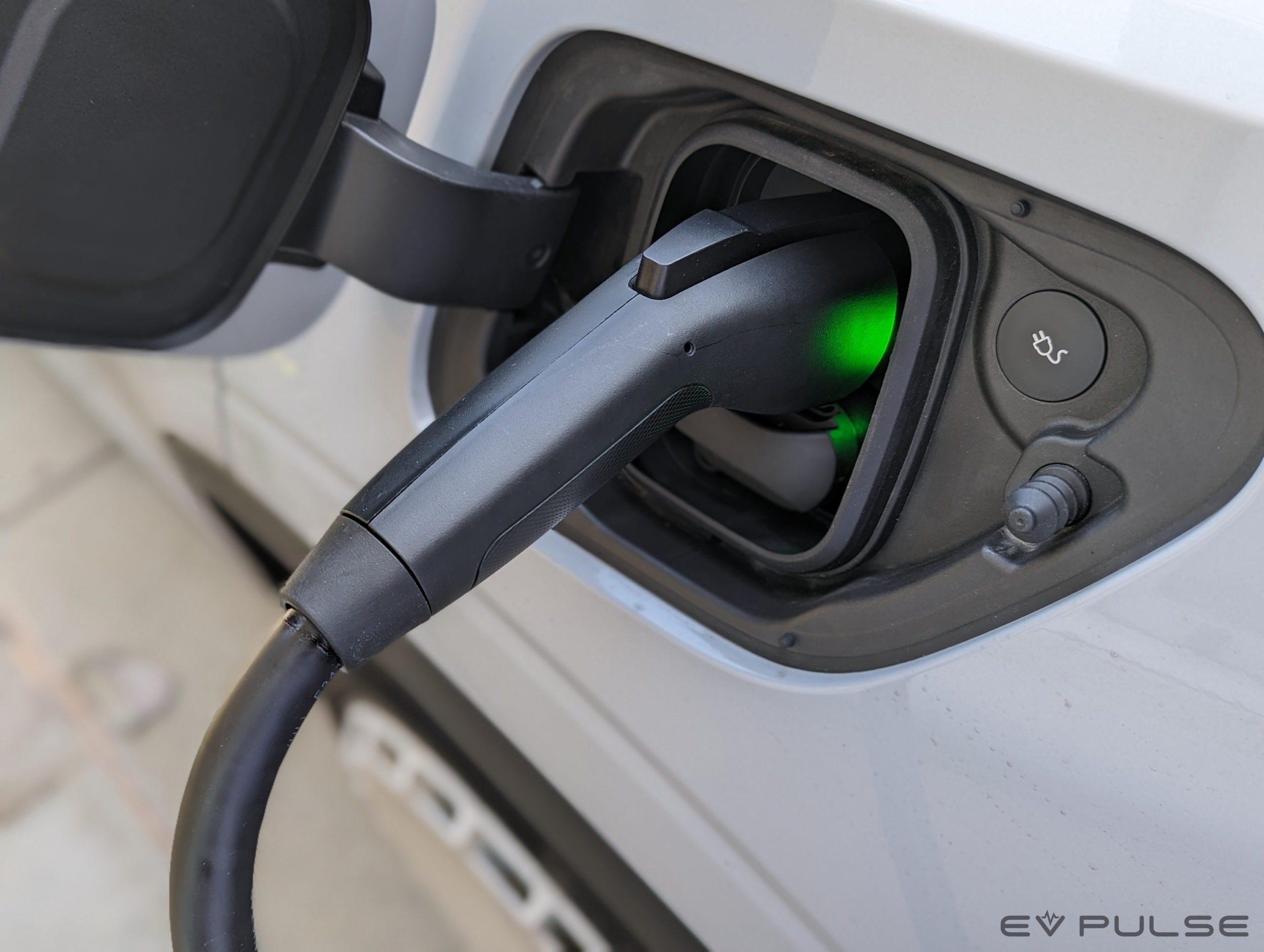 The Electrify Home HomeStation is a Level 2 home EV charger that offers up to 9.6 kW of available power at 40 amps, when used with a 50-amp breaker. The charger can be plugged into a NEMA 14-50 outlet or hardwired, but its maximum output is 40 amps in either configuration. Users can select from 16 amps, 32 amps, and 40 amps when setting up the charger. The charger cable measures 24 feet, while the charger itself is 15.75″ by 8.66″ by 6.75″. It weighs 19.85 lbs.
The HomeStation is tested and certified to meet UL standards for safety, including UL 2594 and UL 2231-1&2. It is also ENERGY STAR certified and SAE-J1772 compliant for all current U.S. electric vehicles.
Electrify Home provides a three-year limited warranty with this charger, which is pretty standard for most quality chargers within this price range. It has a NEMA 3R rated enclosure so you can install it indoors or outdoors.
Verdict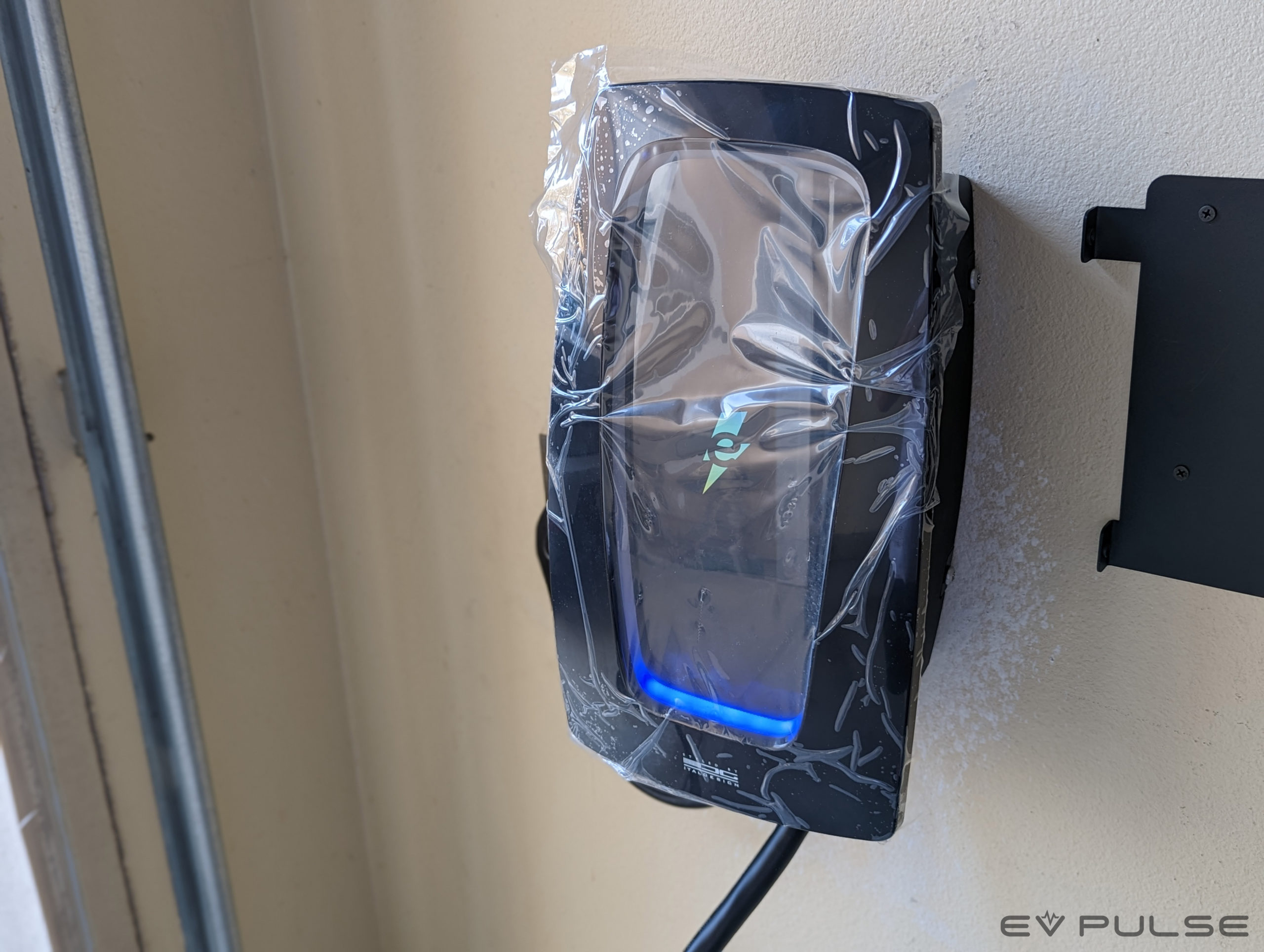 Overall, this EVSE looks and feels premium, and its WiFi connectivity is a nice addition if you like app functionality. But I am well aware that some buyers don't want to have to mess with a WiFi connection and a smartphone app to setup and control their charger. This is especially true if your WiFi connection is weak where you're installing your charger. If that's the case, you'll want to shop for an alternative since you'd be paying a premium for a feature you aren't using. The feature however, does provide OTA updates, remote start/stop, notifications/reminders, and scheduled charging.
One final complaint I would have with this charger, if I was to own it, is that you can't control the lighting. It might not be a big deal to some, but I would personally find it a bit annoying if the light just stays on all day and night. The charger should have a standby mode or at least the ability to toggle the light on and off within the app.
Pros
Quality, well made charger
Sleek and minimal design
Well packaged
Well written instructions
Delivers the charging speeds as promised
Quick and easy setup through an app
WiFi connectivity unlocks a lot of handy features including remote control and Amazon Alexa compatibility
Cons
Not a huge fan of the two-piece holster design
Charger is rather bulky compared to some of the more compact designs out there
No way to control the lights
Couldn't figure out how to setup a push notification for when a car is fully charged
Charging connector is well constructed, but lacks a premium feel