After having great success with Lectron's Tesla to J1772 adapter to charge my Polestar 2 and Toyota Prius Prime over the last few months, Lectron reached out to me to see if I would be interested in giving its V-Box 48-amp EV charging station a test. Since I have no intentions of ever purchasing another Tesla vehicle again, I was definitely interested in swapping out my Tesla Wall Connector with a J1772 EVSE so I no longer had to rely on using an adapter to charge my vehicles. But before I agreed, I had to ensure the V-Box was UL certified, as it was one of the main issues that appeared online related to the charging station. Lectron sent over the UL certification and other certifications it had for the V-Box, so I proceeded to have a sample unit shipped out to me for review.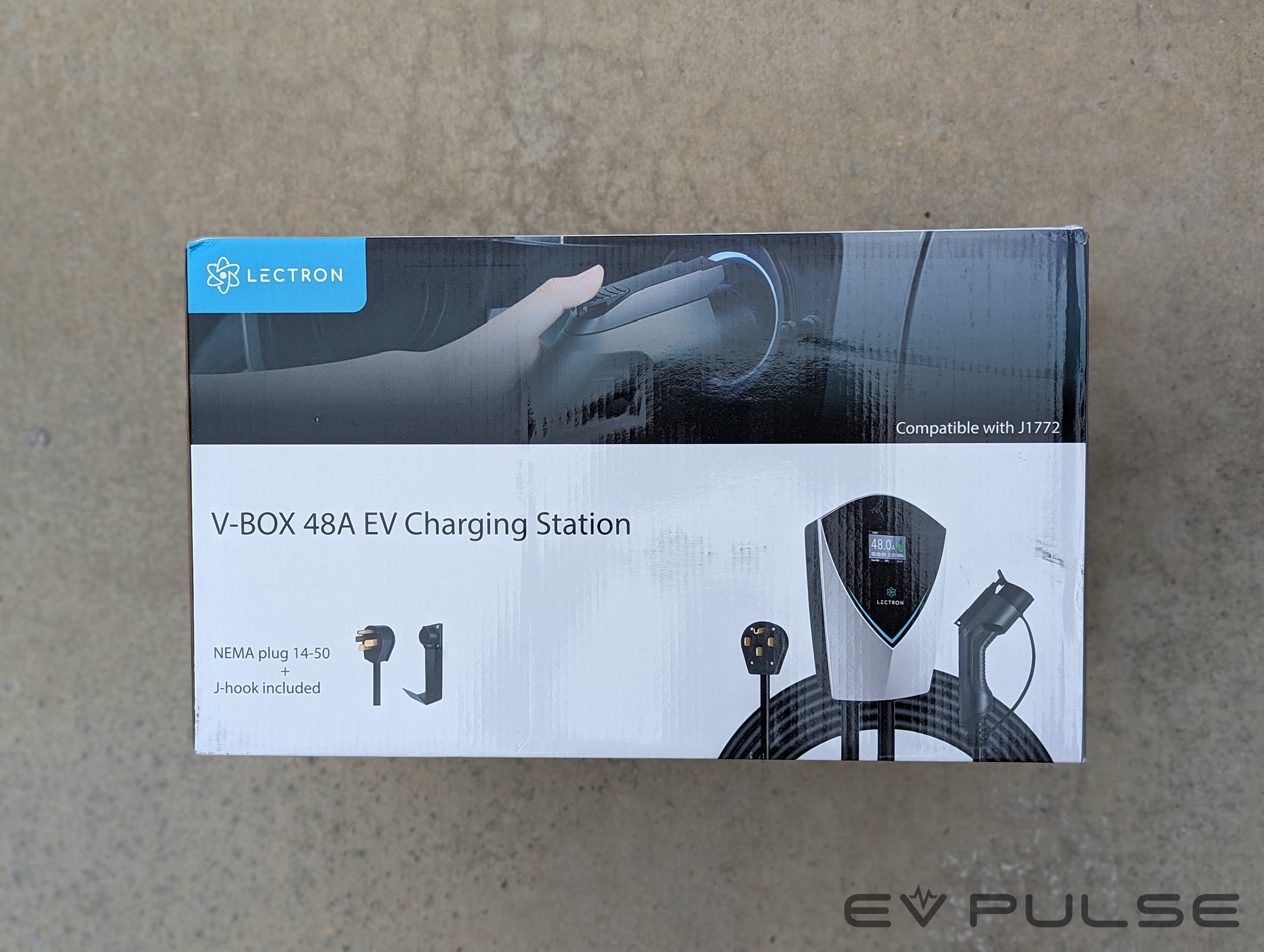 The charging station arrived with no issues in a surprisingly compact box. Foam inserts and bubble wrap protect the charging station and the included J-hook. It's not premium packaging by any means, but it does the job. The charging station Lectron shipped to me is the V-Box 48 amp, which has a maximum output of 48A. Now, that should only be done hardwired, despite what you may be seeing on some YouTube videos of the same charger. If you are plugging any home EV charging station into a NEMA 14-50 plug, it is likely on a 50-amp circuit breaker, so you shouldn't be pushing more than 40A. If you want to take full advantage of the 48A charger, you'll have to hardwire it directly to the breaker and that will give you the fastest charging rates.
Although my Polestar 2 does have an acceptance rate that can take full advantage of 48A charging (about 11.52 kWh) I decided to plug it into a NEMA 14-50 outlet, as I believe that's generally what most consumers will be doing. It's a lot more convenient to pay an electrician to install a NEMA 14-50 outlet at your home, than it is to have an electrician come out to hardwire a charger. With a NEMA 14-50 outlet, you can always swap to a different EVSE if you wanted to, making both installation and removal easy. Since most car owners are charging overnight, you'll more than likely get to a full charge within that time period on 40A or 48A. Only those who need the fastest charging speeds should consider hardwiring this charger to a 60-amp circuit breaker.
Installation was very straightforward and Lectron even includes a drilling template for the charger's backplate. You simply need to unscrew the pre-installed backplate from the charger box, set your amperage, drill four holes, and mount the backplate to your wall. Afterwards, you'll reinstall the charging station back onto the plate, tighten up those four screws, and cover up the holes with the included rubber plugs. While some may prefer to have onboard storage for the cable, I actually like having the separate J-hook installation. This allowed me to setup the cabling however I liked. It also gives you the versatility to manage the cable in one location, and mount the connector in another location if you want. Either way, the J-hook only requires drilling four holes and is very easy to setup. All hardware is included.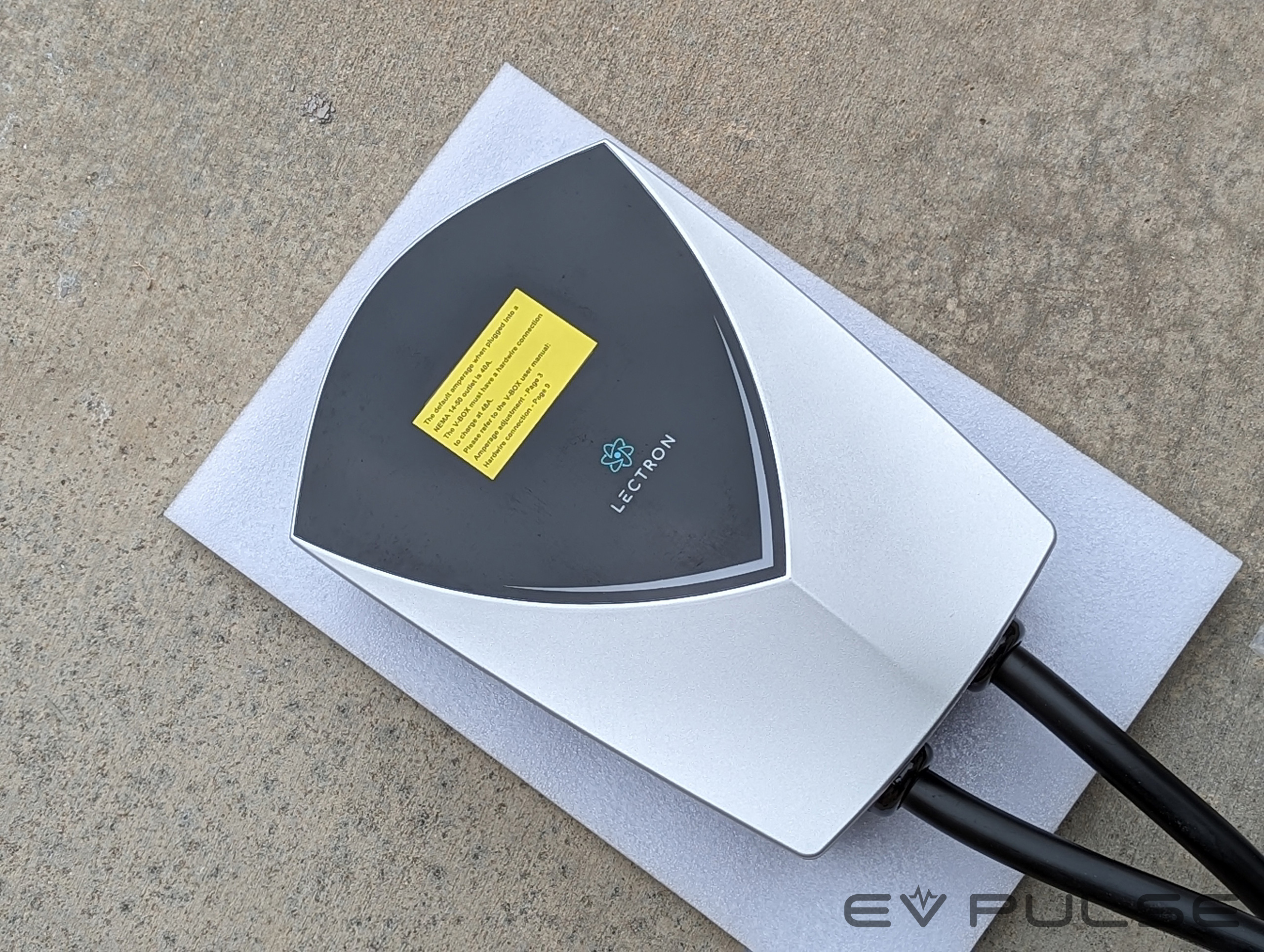 Initial impressions
The Lectron V-Box looks more premium than it actually is. I was surprised to see that the front finish wasn't very durable. In fact, my unit got a few scratches during the installation process. We could have been more careful during the install, but I really didn't expect the finish to scratch so easily. I was way more impressed with the quality of the connector and the cable. That side of the package feels very well-made and the cable is flexible enough for you to adjust it as necessary.
The display automatically dims when the unit isn't being used, in case you're wondering why it looks so dim in some of the photos in the gallery. When the charger was plugged into a vehicle and active, I found it to be plenty bright. There's no touchscreen on this EV charger. In fact, there's only one physical button for power. If you're coming from a Tesla Wall Connector like myself, it might be a bit annoying to have to push a power button each time you plug in your vehicle to charge. It's a minor inconvenience, but one worth mentioning.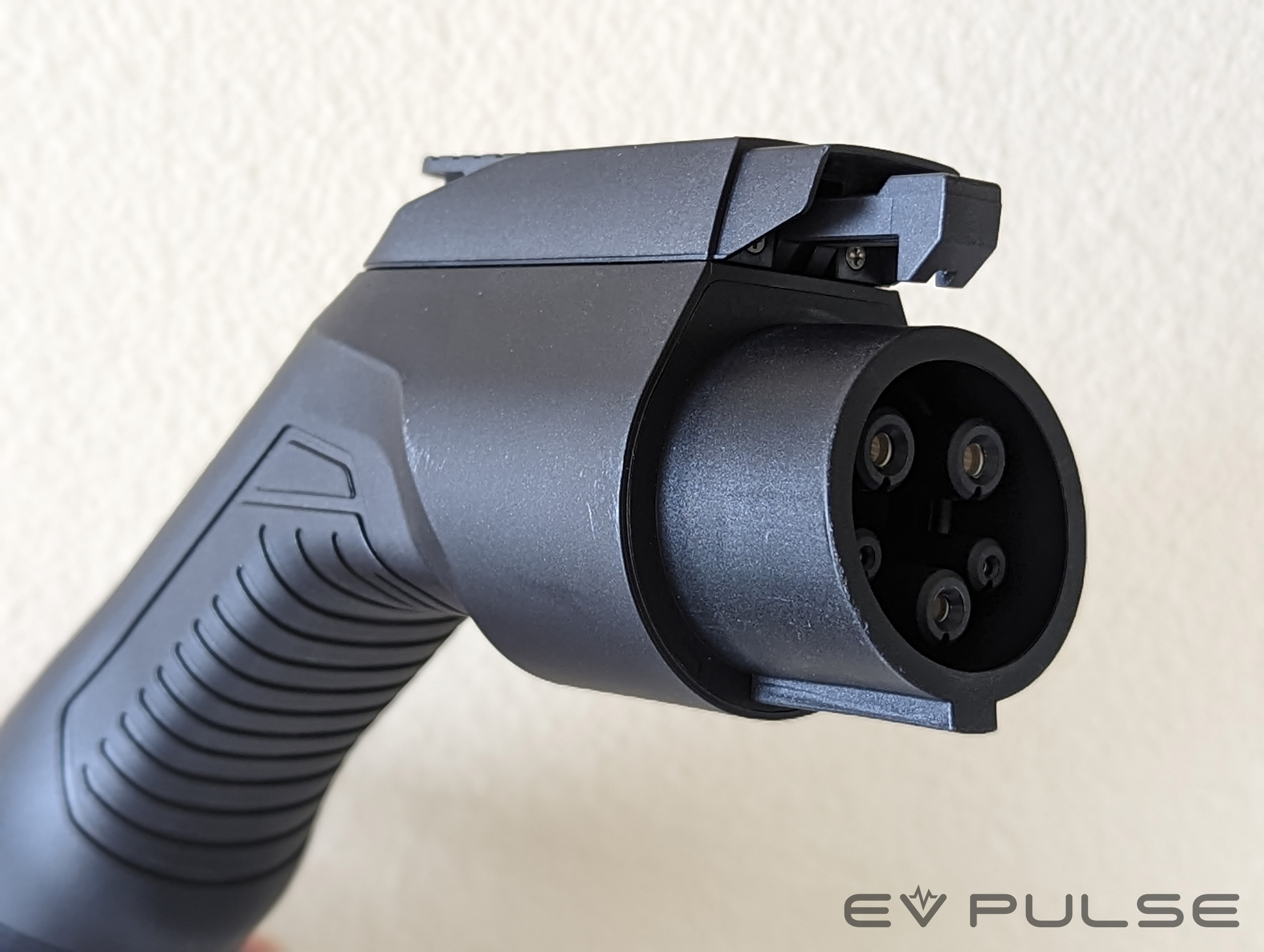 How does it work?
With access to a Toyota Prius Prime and a Polestar 2, I began my testing process with the plug-in hybrid. The charger worked flawlessly — I connected it to the Prius Prime, and within a few seconds it began charging the vehicle. It reached about 15A, which is about right since the Prius Prime has a maximum acceptance rate of 3.3 kW. As the vehicle got close to a full charge, the amperage decreased as expected, and the charging station went to a "complete" status once the battery on the Prius Prime was full. All in all, the Lectron V-Box worked great with the Prius Prime and charged it quickly at its maximum acceptance rate. No issues there.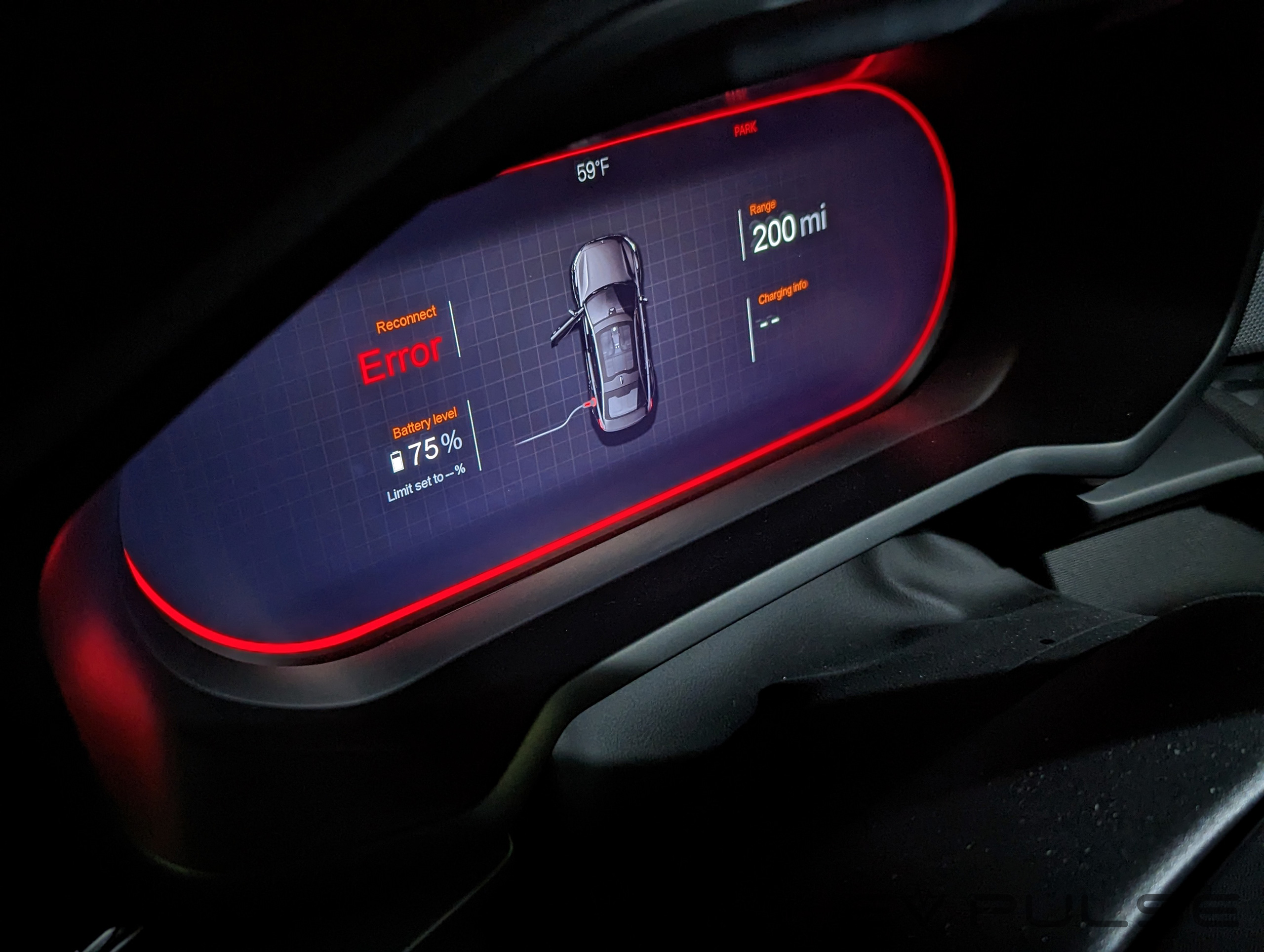 Things got a bit strange when I decided to test the charger with my Polestar 2. After plugging in the connector, I was surprised to see the light on the Polestar 2 turn red instead of green. The instrument cluster reported an error and asked me to reconnect the charger. So I removed it and reconnected it, and the same thing happened. So finally, I decided to hold the connector in place until it locked and the light turned green. I'm not entirely sure why the Polestar 2 required me to hold the connector in place with a bit of force to establish a connection, since I didn't run into this issue with the Prius Prime. In fact, I triple checked with the Prius Prime to see how quickly I could let go of the connector and it would still charge perfectly fine. I reached out to Lectron for a comment on this and will update the review once I receive a response.
Once I was able to get the Lectron V-Box to charge the Polestar 2, I let it do its thing from 75% state of charge. With the charger set at 40A, I was pleased to see it was consistently pushing around 38A to the vehicle which was good enough to get about 22 miles of range per hour of charging. I set the charge limit to 90% like Polestar recommends and monitored the charging process. The temperature display on the unit did get pretty warm, hitting 97.5°F in a little over an hour of charging time. For reference, the unit reported 71.6°F after 3.5 minutes of charging, before rising to 81.1°F after 5 minutes of charging. This was done inside a garage in about 60°F weather.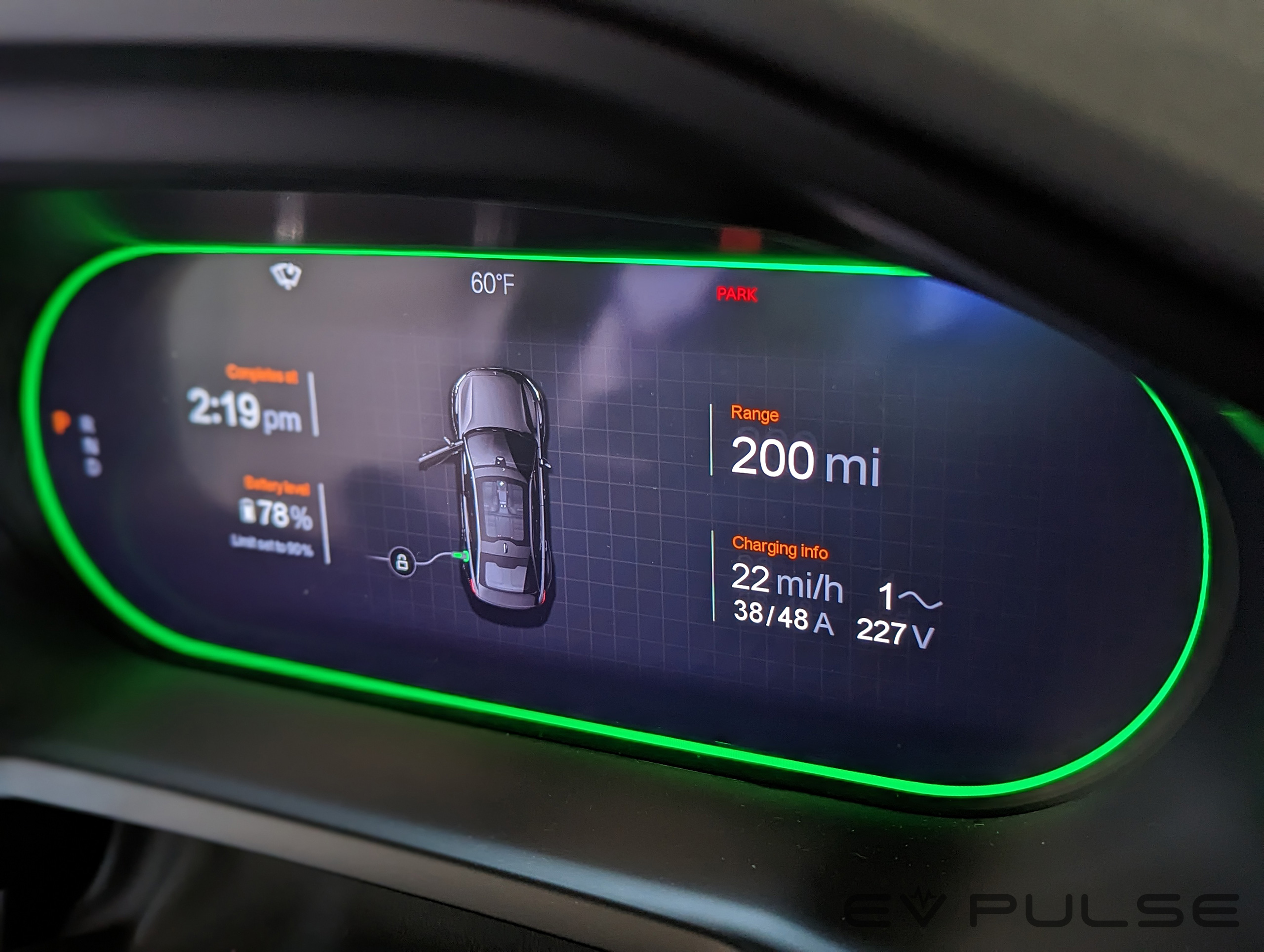 After about an hour of charging, the instrument cluster reported that charging was complete and the battery was at 90%. At this time, the charging station dropped to 0.5A and stayed there. I'm not entirely sure if the charging station was doing a trickle charge to keep the battery topped off, but it didn't switch to "complete" like it did on the Prius Prime. Again, I have reached out to Lectron to get a comment on why it would do this specifically with the Polestar 2 and will update this review once I receive a response.
After watching it stay at 0.5A for 20 minutes with no change, I decided to push the unlock cable button on the Polestar 2 and remove the connector from the vehicle. I double checked that the battery was at 90%. I then reconnected the charger with the Polestar 2 and again, it stayed steady at 0.5A. This time, I decided to just let it sit there until the status changed on the charger. It took 18 minutes and 28 seconds, but the charger did eventually go to a "waiting" status rather than the "full battery" status it showed with the Prius Prime. One thought I have for this is that the charge limit on the Polestar 2 is set to 90% rather than 100%, but I'll wait for Lectron's reply before speculating further. Again, this only happened on the Polestar 2 and I will be trying to get my hands on another EV for further testing.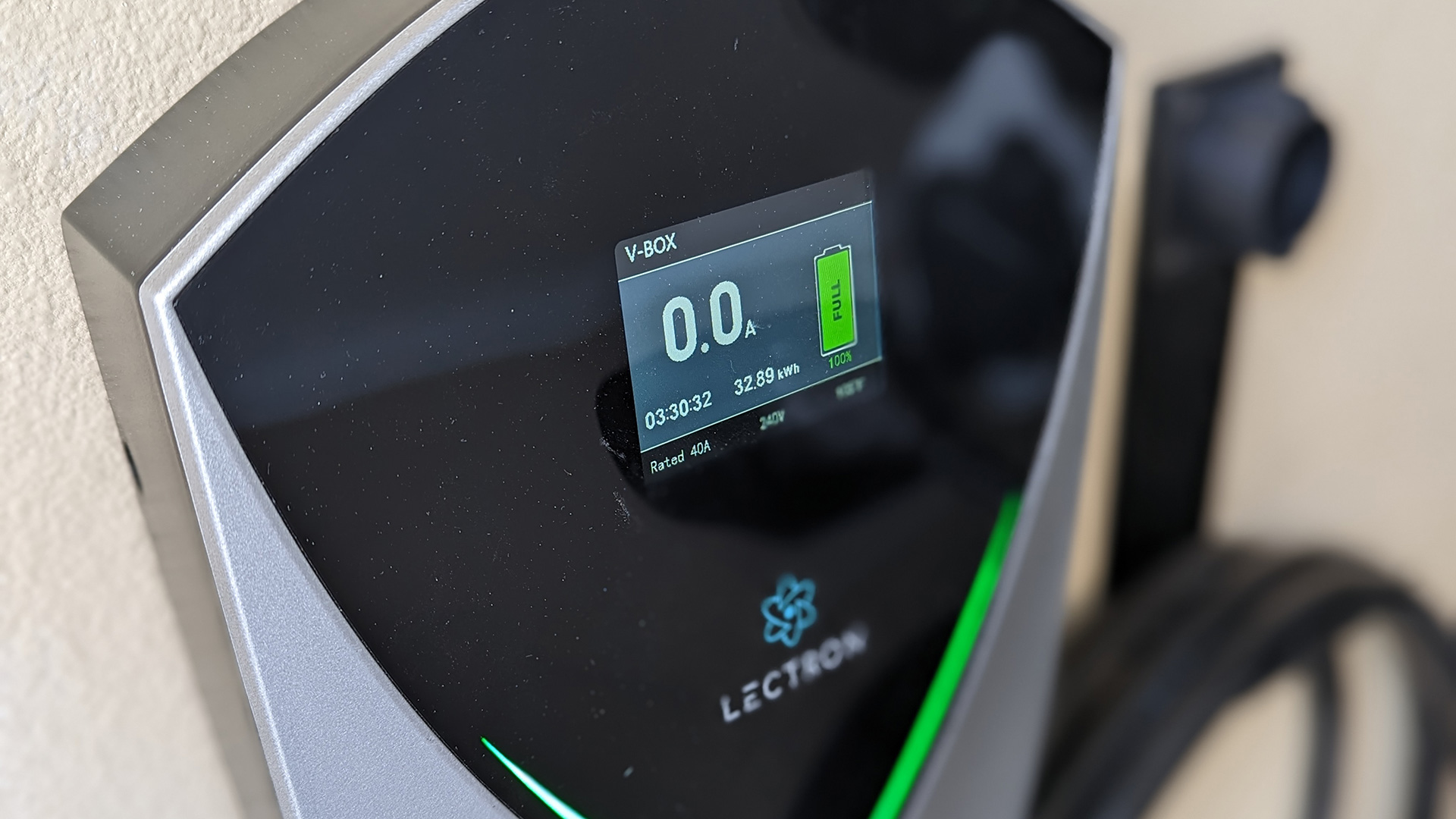 Update 02/02/2023: After additional testing with the Lectron V-Box charger with my Polestar 2, I found that the charger does eventually go to a fully charged status as you'd expect. It's still unclear to me why it takes about 30 minutes for the charger to switch to the "battery is full" status, even though the Polestar 2 indicates charging is completed. Lectron is planning to send me a different unit for testing and I will update once I get that in my hands.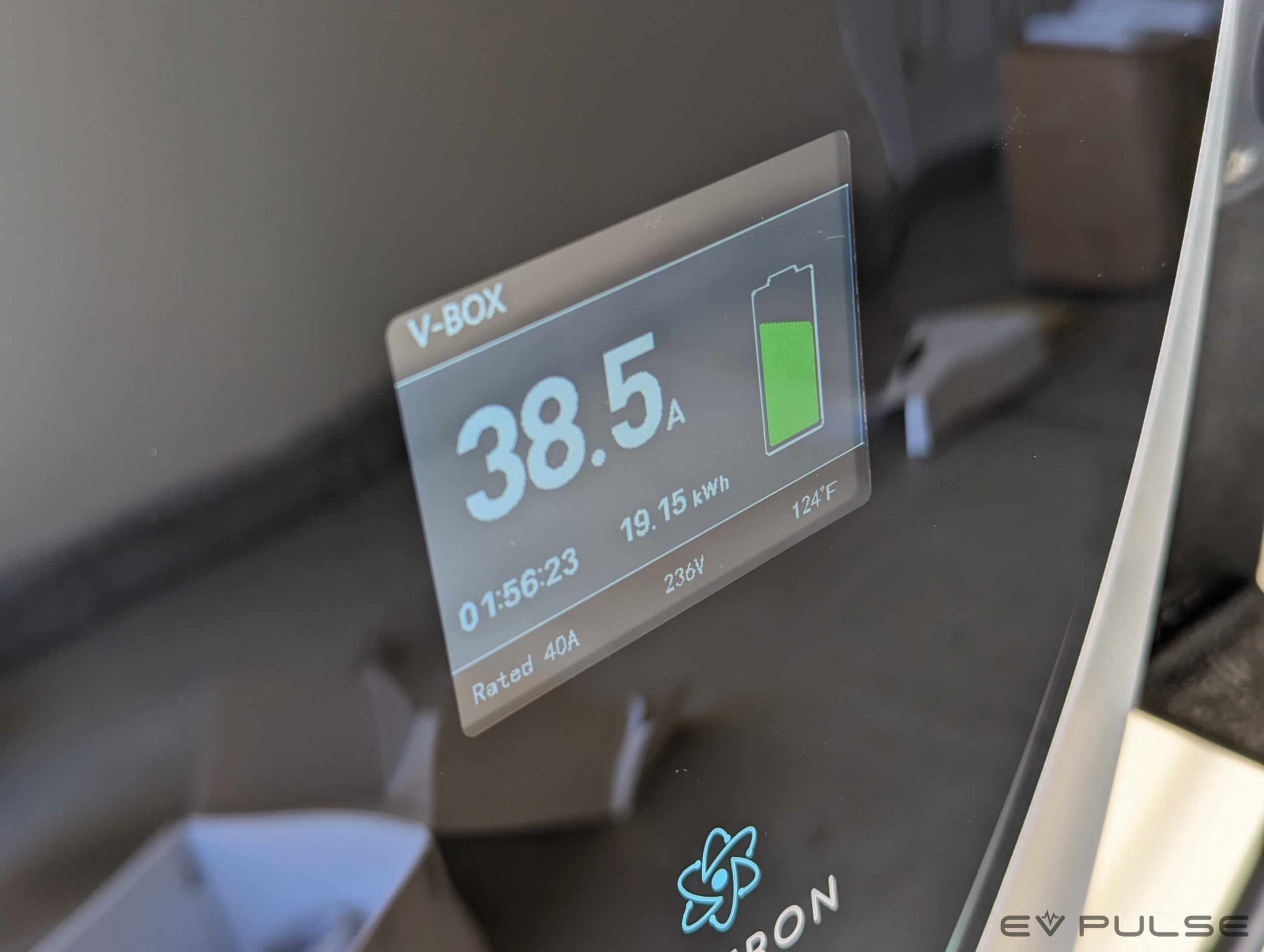 Update 02/09/2023: After speaking with Lectron about the weird quirks I experienced with charging my Polestar 2, the company shipped me a new unit to review, saying those issues had been fixed in an update to the charger. After uninstalling the old Lectron V-Box 48 and installing the new one, I plugged in the Polestar 2 and it connected immediately, unlike the first charger. I no longer had to hold the plug in place until it connected. During the most recent charging session, it was a bit warmer in Southern California than before and the unit did reach a high temperature of 124°F. Lectron confirmed that the temperature display on the unit is operational temperature and accounts for both outside temperature and unit temperature. The operating range in the manual states -22°F to 122°F, so my unit did exceed it by a couple degrees. Considering most chargers don't even display an operational temperature on the unit itself (or in an app), I do have to commend Lectron for providing the information. I'm honestly not sure how big of a concern it is that it reaches those temperatures — I can't compare with other EV chargers since that data isn't even shared — but long-term evaluation will see if it's an issue.
Update 02/10/2023: Lectron reached out to me about my temperatures and gave me a better explanation of what's going on. The temperature being displayed on the screen is the internal temperature and the company said the safe upper limit on that is 165°F. The -22°F to 122°F operational temperature in the manual is ambient temperature, which is not what is measured by the charger.
Specifications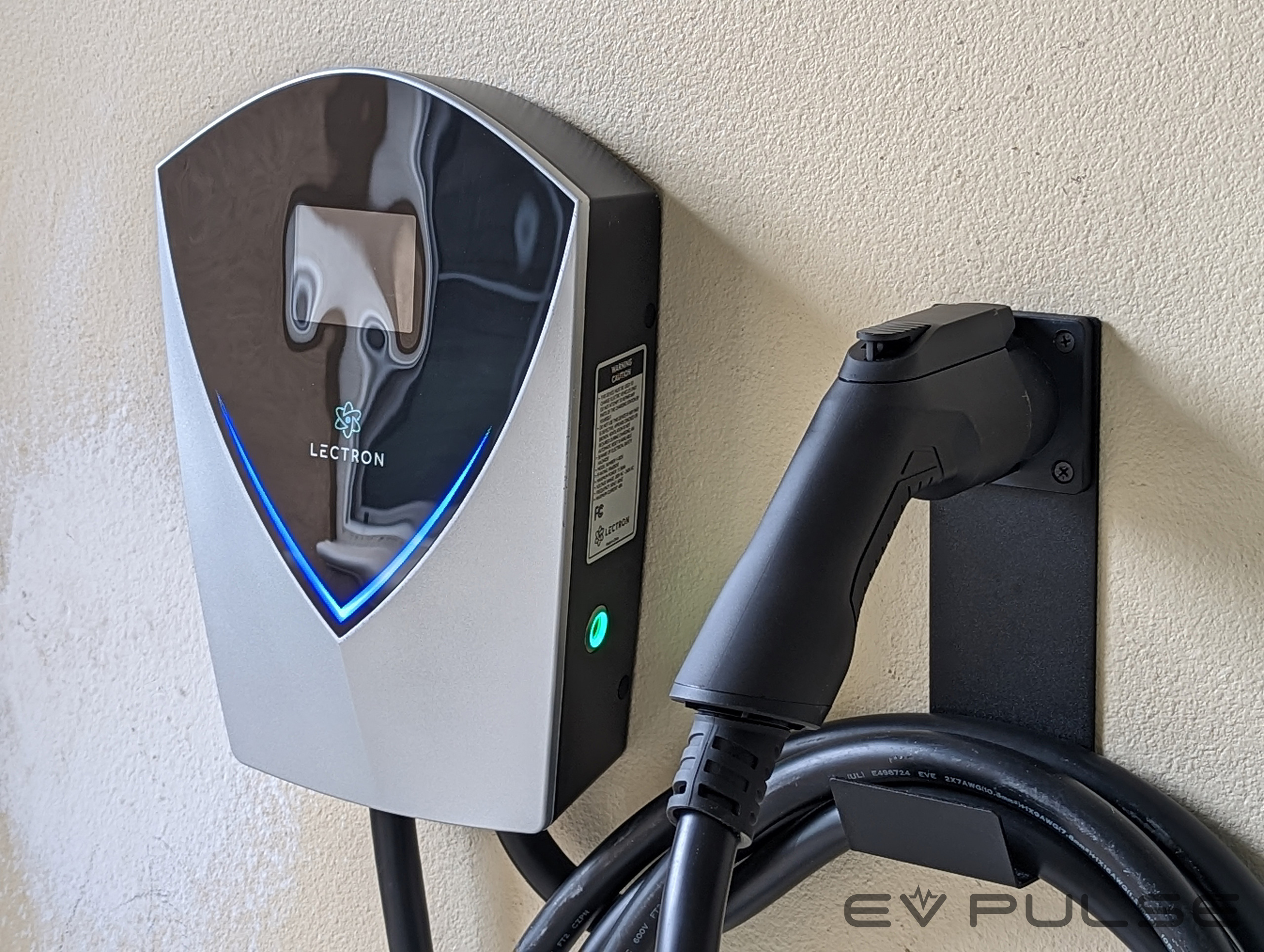 The Lectron V-Box 48-amp electric vehicle charging station has adjustable amperage of 16A, 24A, 32A, 40A, and 48A. If you plan on setting it to 48A, you must hardwire the charging station to a 60-amp circuit breaker. If you're plugging it into a NEMA 14-50 outlet, the maximum output should be set to 40A. If you don't think you ever need 48A charging capability, you can save a few bucks and get the 40-amp version of the V-Box.
It has a 20-foot charging cord, which is about average for EVSEs, but does come in a bit shorter than some of the more expensive and premium home EV chargers. It does have an IP55 weatherproof rating which means it's protected against dust ingress, but is not fully dust tight. It is also protected against solid objects and water jets projected by a nozzle (6.3mm) from any directions.
The front of the charger has an easy-to-read and bright LED display that shows charging status, real-time current, charging time, rated current, real-time voltage, grounding indicator, state of charge, and temperature. Safety features on the charger include circuit board temp sensor, leakage protection, over-current protection, over-voltage protection, overheating protection, and it's lightning proof.
Verdict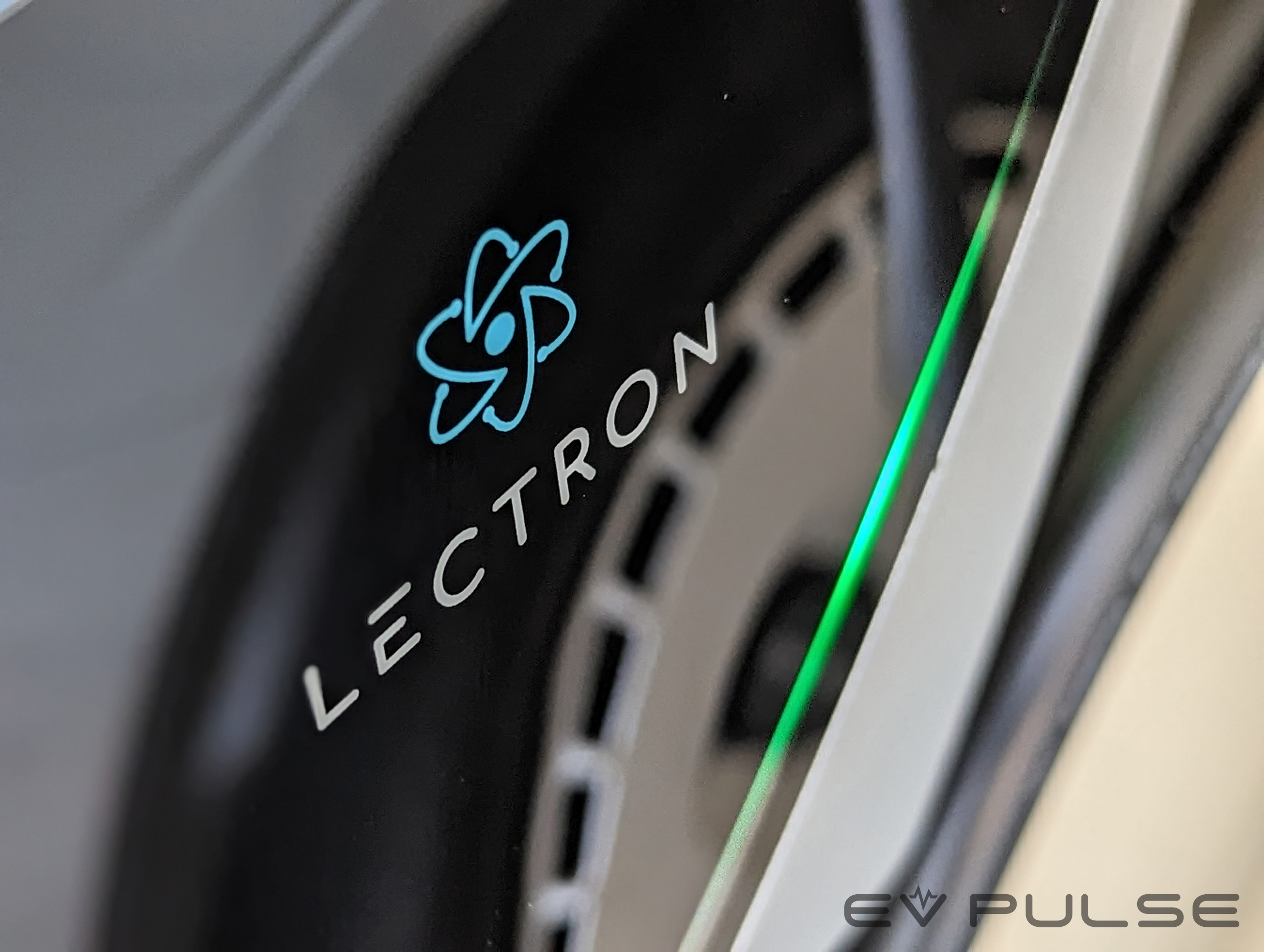 The Lectron V-Box does the job it's designed to do, which is to charge an electrified vehicle, whether it's a PHEV or a BEV. It's a simple EVSE with no bells and whistles, which I do understand a lot of consumers prefer. If you want a charger that you can just plug into an outlet and then into your vehicle and walk away, this is one worth considering. The most inconvenient thing about this charger once you have it installed is remembering to turn it on and off via the power button, since there isn't any sort of standby mode. Finally, similar to the Tesla to J1772 adapter I reviewed, the V-Box only has a 1-year warranty, which is noticeably less than the typical 3-year warranty you'll find on other EVSEs.
At the time of publishing, Lectron has it listed for $449.99 on both its website and Amazon.
Now, if you're looking for something fancier and capable of connecting to an app for remote control and scheduled charging, then the V-Box is likely not for you. The data it provides you with is also limited, so if you love to calculate how much charging costs you, you'll have to do a bit of manual recording here.
Other than the minor issues I mentioned that only occurred with the Polestar 2, the V-Box is a great home EV charger for owners looking for something basic.
Pros
Simple, easy to install, and easy to use
Heavy duty cord and connector
Separate J-hook allows for custom install and location for cable and connector
IP55 weatherproof rating
Bright screen with live charging data is really nice to have and isn't found on very many chargers
No need to deal with finicky apps or Bluetooth/WiFi connections to setup and use
Cons
Front face scratches easily
No connectivity or app features
Instructions are very basic
No standby mode, so you have to power it off when it's not in use
1-year warranty
Some minor issues specifically with the Polestar 2 These issues have been resolved with a new unit
Temperature still gets a bit too high for my liking (but apparently it's safe!)
Recent updates
Updated (10:29 a.m. EST, 02/10/2023): I received a response from Lectron regarding the temperature that is displayed on the unit and have added it to my review.
Updated (8:00 p.m. EST, 02/09/2023): Lectron sent us another V-Box 48 to evaluate so we have updated our review with the new results and added more photos to the gallery showing the install process.
Updated (7:00 p.m. EST, 02/02/2023): Added some additional testing results with the Polestar 2.