Currently, the Wallbox Pulsar Plus is undergoing our long-term home EV charger evaluation, and the smart features of the charger are becoming frustrating to use. The charger often disconnects from WiFi, rendering the app basically useless until I can reconnect the charger. Issues like this are a major reason why some consumers prefer to purchase non-connected home EV chargers, like the Enphase HCS-50 Level 2 charger being evaluated in this review. You don't need to worry about having an internet connection or smartphone to set up your charger. You simply unbox it, install it, and plug it into your car to start charging.
Previously, we tested the Lectron V-Box 48 home EV charger as one of our affordable options without any connected features. We named it our "best on a budget" choice in our list of the best home EV chargers. Recently, Enphase shipped us an HCS-50 home EV charger for testing, which is also a non-smart charger. We had originally reached out to the company to evaluate the ClipperCreek HCS-50, but since Enphase Energy has acquired ClipperCreek, the branding on the charger has changed.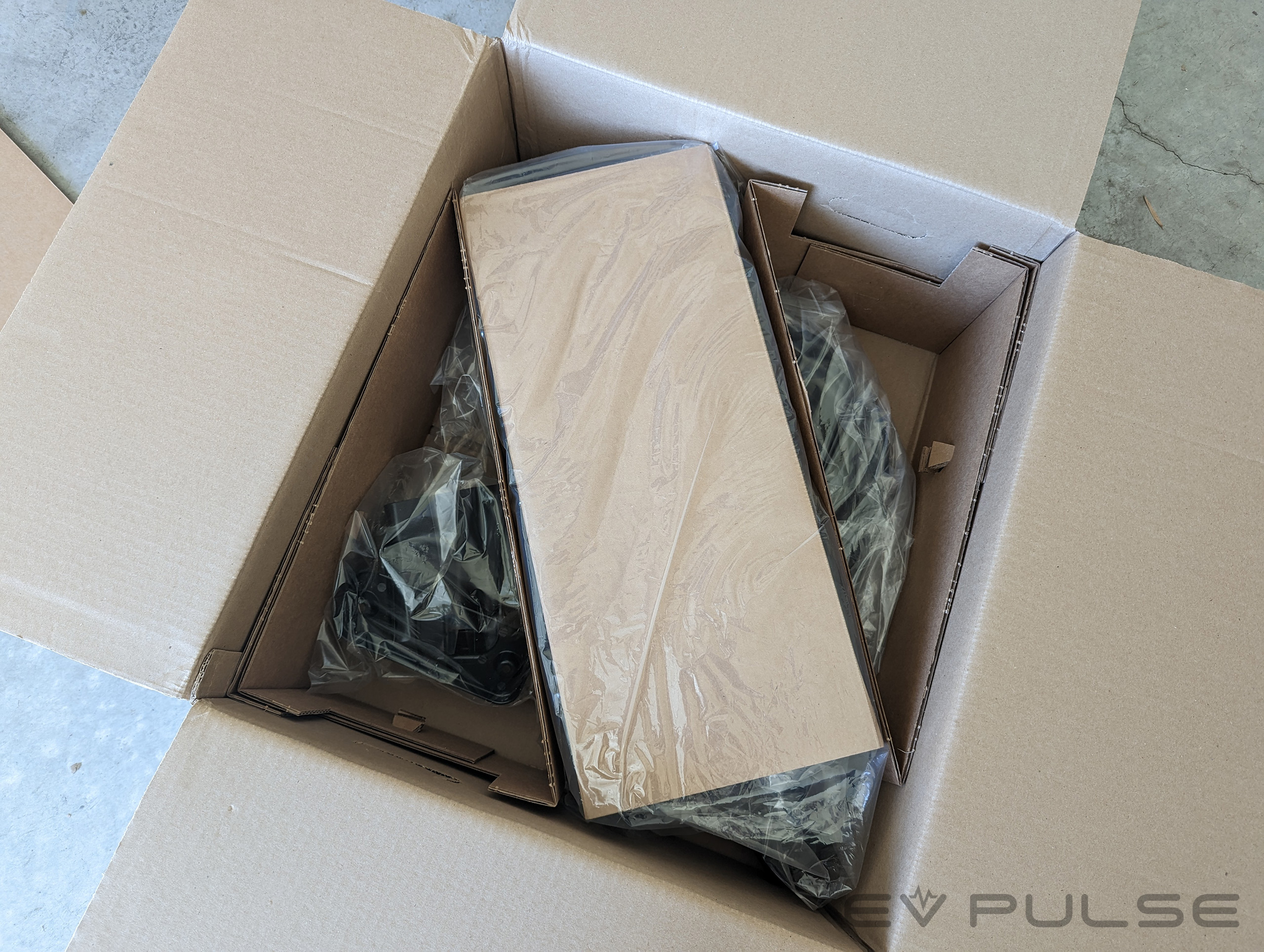 ClipperCreek has been a pioneer in the EV charging market since 2006, and according to Enphase Energy, it has sold over 110,000 Level 2 charging stations since its inception. The HCS-50 was a popular option among EV owners who wanted a basic home charger that didn't rely on any complicated or high-tech smart features. Owners just wanted to know they could simply plug in their EV and walk away. Enphase Energy completed its acquisition of ClipperCreek in January 2022 and has since released Enphase-branded versions of ClipperCreek's popular home EV chargers.
Unfortunately, I don't have a ClipperCreek version of the charger to make direct comparisons on what has been changed with the unit. I have, however, reached out to Enphase Energy to see if anything has officially changed other than branding. What I did notice is that our review unit was made in Mexico, which is not the same as ClipperCreek's products that were made in America. Although manufacturing changes are typical in acquisitions, I believe the discrepancy is worth mentioning in this review.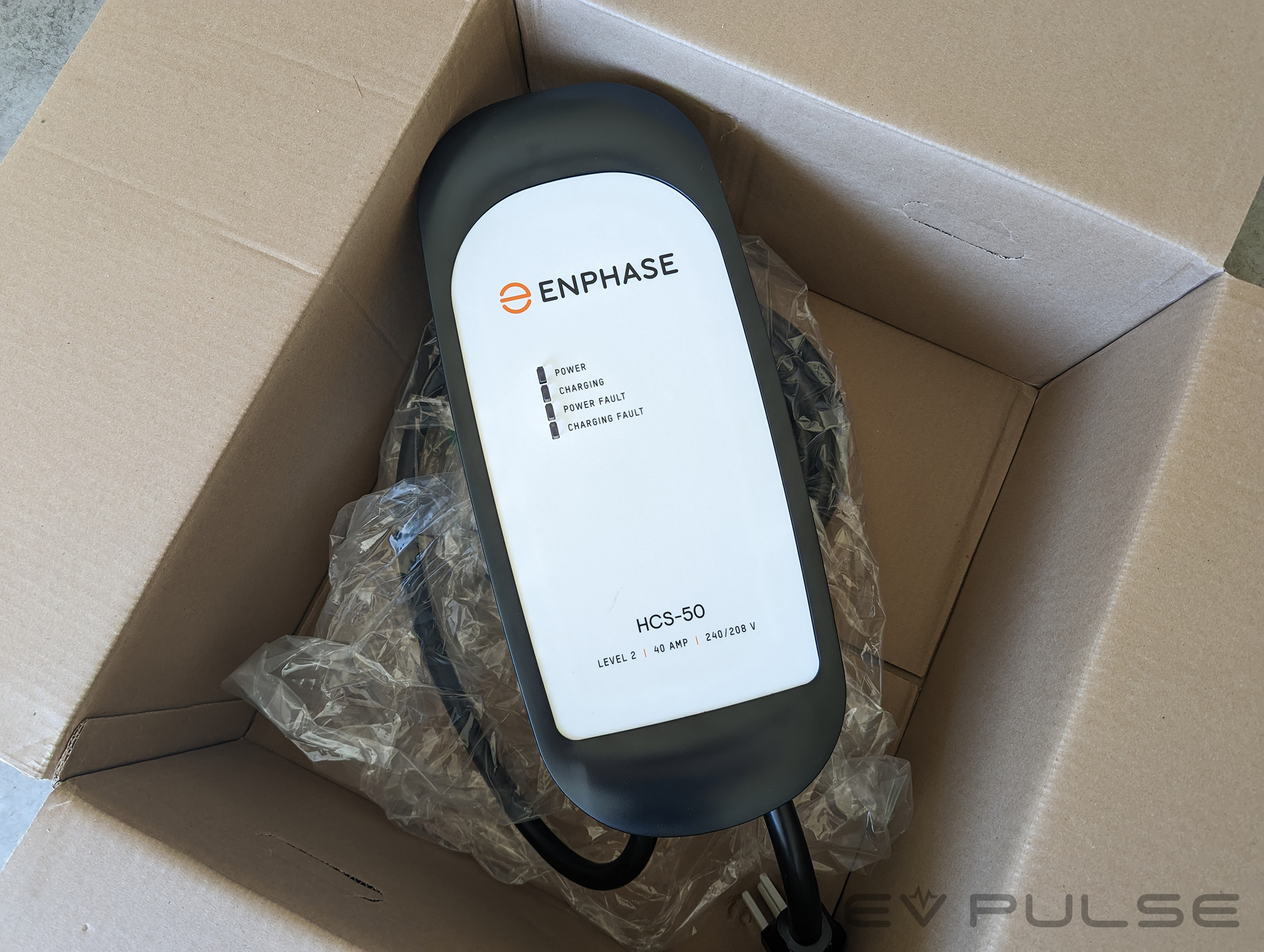 Initial impressions
I am honestly a bit surprised Enphase Energy didn't take the opportunity to redesign the charger. I understand that it makes sense to maintain the same look as ClipperCreek's HCS-50 for recognizability, but I find the overall design somewhat outdated compared to more modern options like the Wallbox Pulsar Plus and Enel X JuiceBox 40. Overall, the Enphase HCS-50 is rather large, similar in size to the Electrify Home HomeStation. However, the build quality feels exceptional with the charger appearing very durable. One benefit of the charger's physical size is easy cable management. You simply wrap the cord around the charger itself, and place the holster into the separate connector holder.
For the installation, I do have to mention that if you already have a NEMA 14-50 outlet installed, the Enphase HCS-50 has its power plug oriented ground down. While household outlets are mostly oriented ground down, NEMA 14-50 outlets are typically installed ground up. Several of the home EV chargers I've tested have the power plug oriented ground down, which can be frustrating if you already have your outlet installed. In my specific case, I actually had to redo my outlet to install the Enphase charger for testing purposes. This is no fault of the charger itself, since the 12″ plug cable is the maximum length allowed per National Electric Code. But it is worth mentioning if you already have your NEMA 14-50 outlet installed and you're worried about possible issues.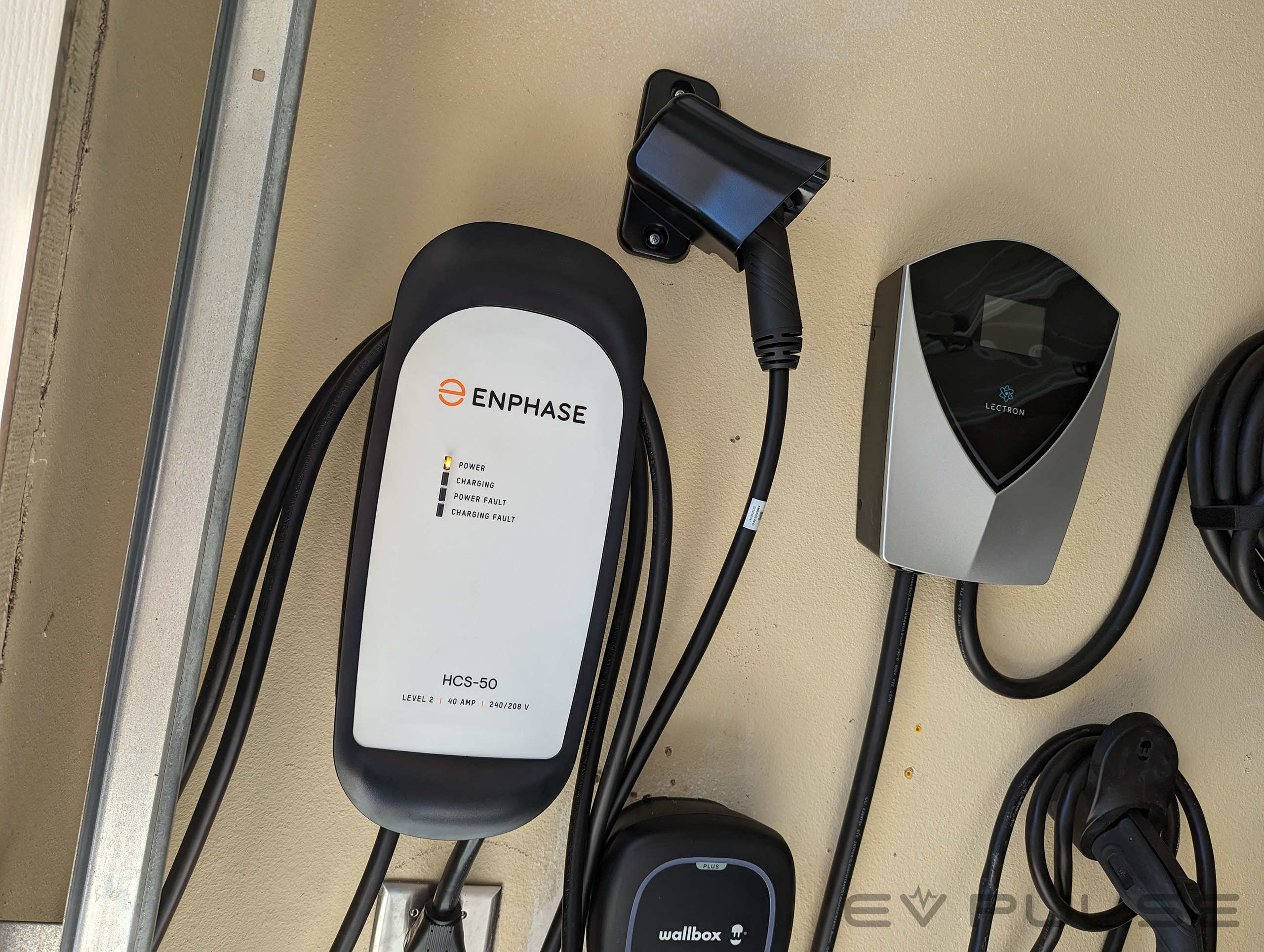 As for the charger itself, it feels extremely well built with quality materials. Despite its rather large size, the charger was not too cumbersome to install, requiring two screws that are included. Unfortunately, drywall anchors are not included, so if you're installing the charger onto a hollow wall like I was, you'll have to source anchors on your own.
The cable thickness on the Enphase HCS-50 is comparable to the Wallbox Pulsar Plus and Electrify Home HomeStation, but there is a noticeable difference in thickness compared to the Lectron V-Box 48 charger. As I mentioned in that review, the thinner cabling does make it more flexible and easier to use, but I imagine it affects performance in extremely cold weather. I live in Southern California, and even though we did see some "snow" this year, I likely won't notice any difference in performance. But it's worth mentioning if you're considering this charger in colder climates.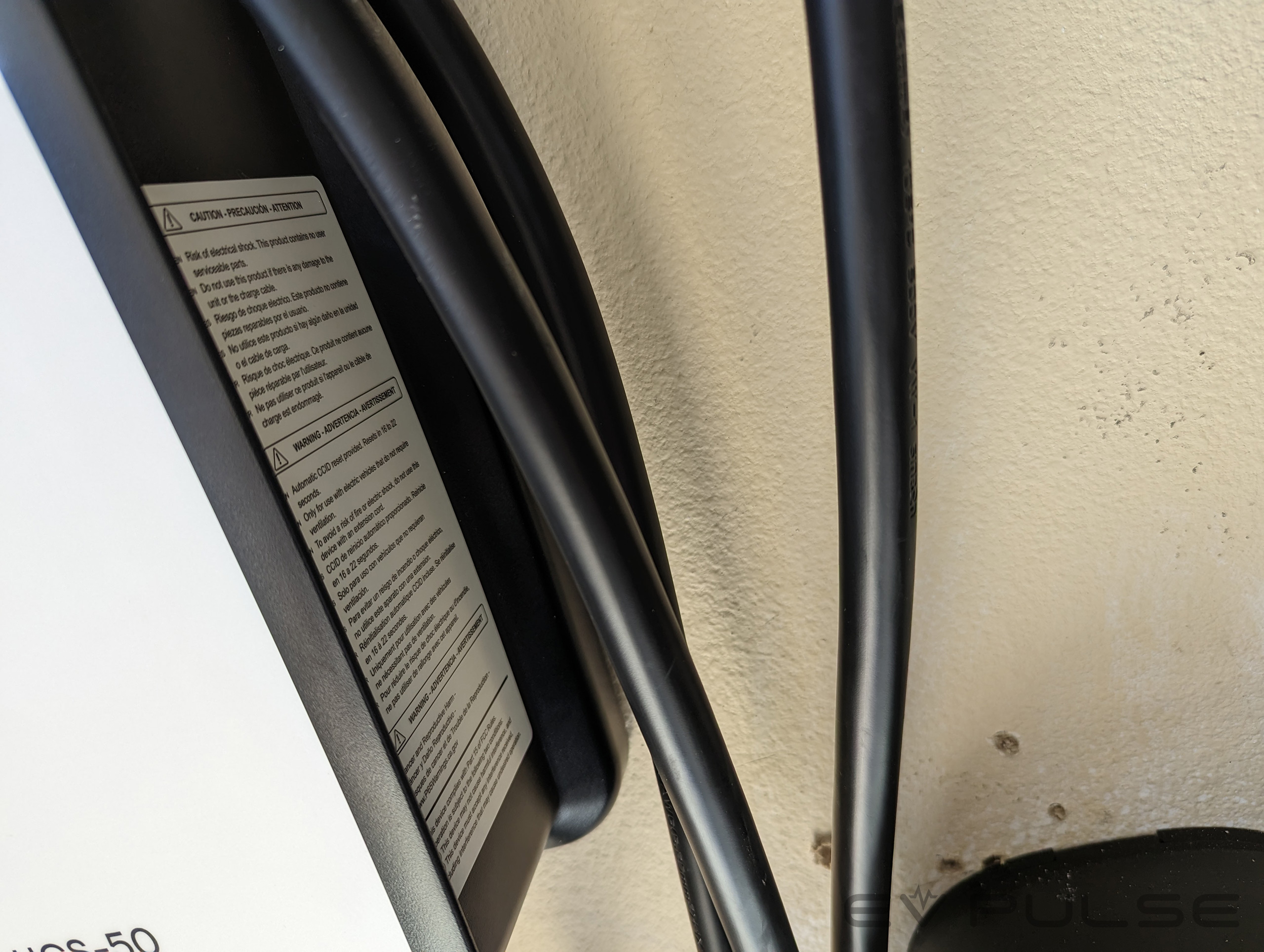 I was impressed by the connector on the Enphase HCS-50. It's similar to the connector found on the Wallbox Pulsar Plus, with a nice rubber texture that's easy to hold. I understand that you're likely holding the connector for mere seconds, but the rubber finish means it's less likely to slip from your hands. Plastic connectors are also more prone to cracking or damage when they're accidentally dropped. Personally, I find the rubber finish to feel more premium and it gives me peace of mind that it'll absorb impacts better if I'm ever clumsy.
How does it work?
After testing multiple smart chargers, I was surprisingly relieved to have a painless installation process that didn't involve downloading an app, scanning a QR code, creating an account, and trying to get everything to connect via WiFi or Bluetooth. Instead, I was just able to plug the connector into my Polestar 2 and watch lights turn green. All the indicators you need are found on the face of the charger, with four lights: power, charging, power fault, and charging fault. Since the charger worked flawlessly, I only saw the top two indicator lights illuminate during my charging tests.
While it is nice to have some of the features that smart chargers have to offer, they aren't for everybody. I know many EV owners who couldn't care less about the data an app provides, or the ability to check on your charger remotely. Obviously, that doesn't apply to everyone, but home EV chargers aren't exactly affordable products. If you're going to invest hundreds of dollars in a product, you should fully understand what you're going to get with that money.
With the Enphase HCS-50, you're going to get a reliable and well-made charger that is very basic compared to some of the other units on the market. If all you care about is charging your car with as little fuss or headache as possible, this is one of your best options. It remains to be seen if the change in manufacturing will affect the product long-term, but Enphase has upgraded the warranty it offers on the HCS-50, compared to ClipperCreek. Previously, the ClipperCreek HCS-50 offered a 3-year warranty; Enphase's version of the charger comes with a 5-year warranty. It's one of the best warranties you'll find with home EV chargers, as most companies offer a typical 3-year warranty.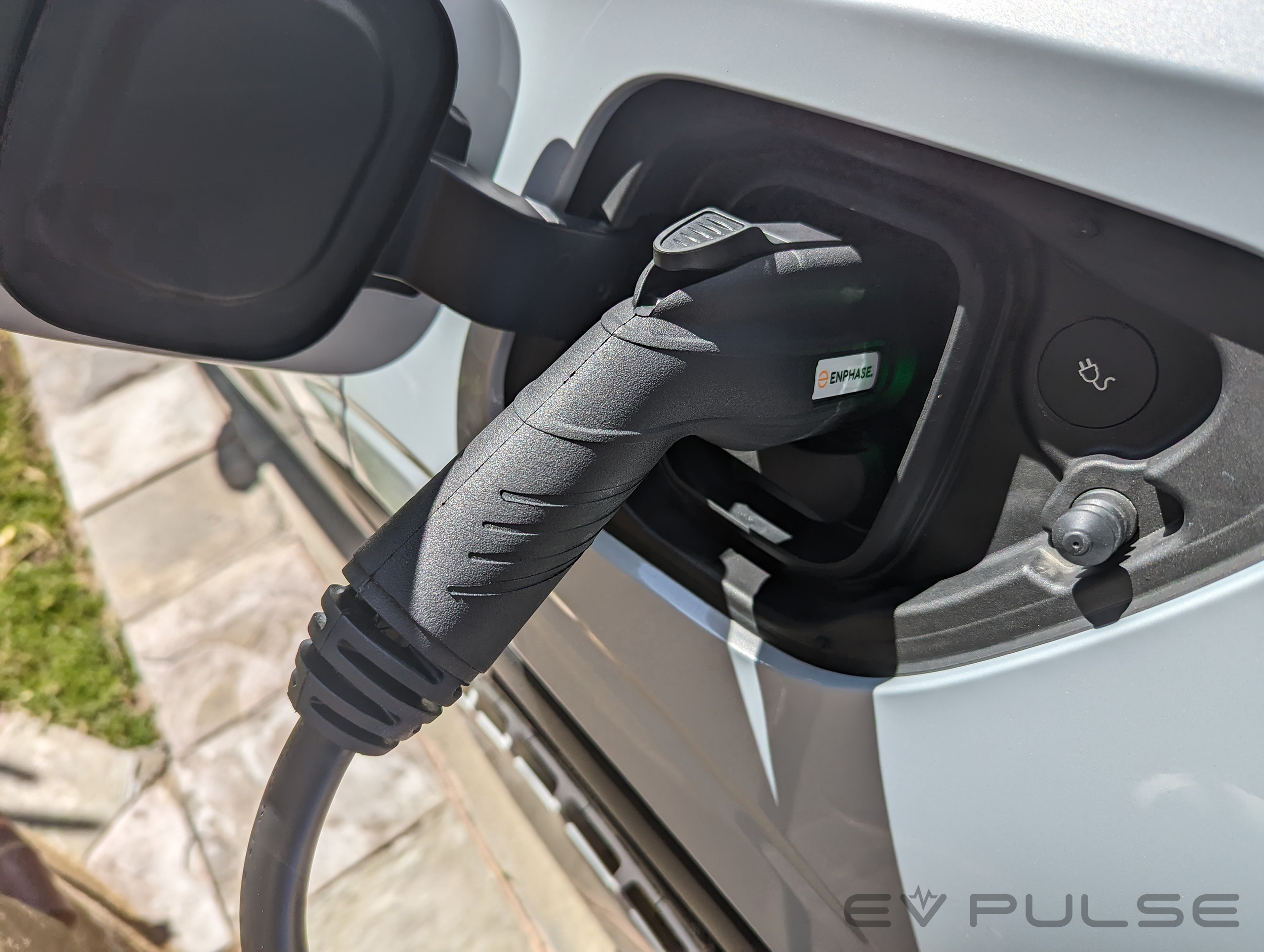 When things work well, there isn't a lot to write or complain about. And since the Enphase HCS-50 is a rather basic home EV charger that does the charging part well, I don't have much to complain about in terms of its performance. However, I do want to spend some time praising how well-designed the included connector holder is. As I mentioned in my previous reviews, I have a single-car garage, which means my car's mirrors fear for their lives when EV charger plugs are sticking directly out from my wall. This is why I really like Enphase's connector holder. Not only does it fully protect the connector — covering it from rain, dust, snow, etc. — it prevents it from sticking straight out from my wall. My car's mirrors offer their thanks, Enphase.
Specifications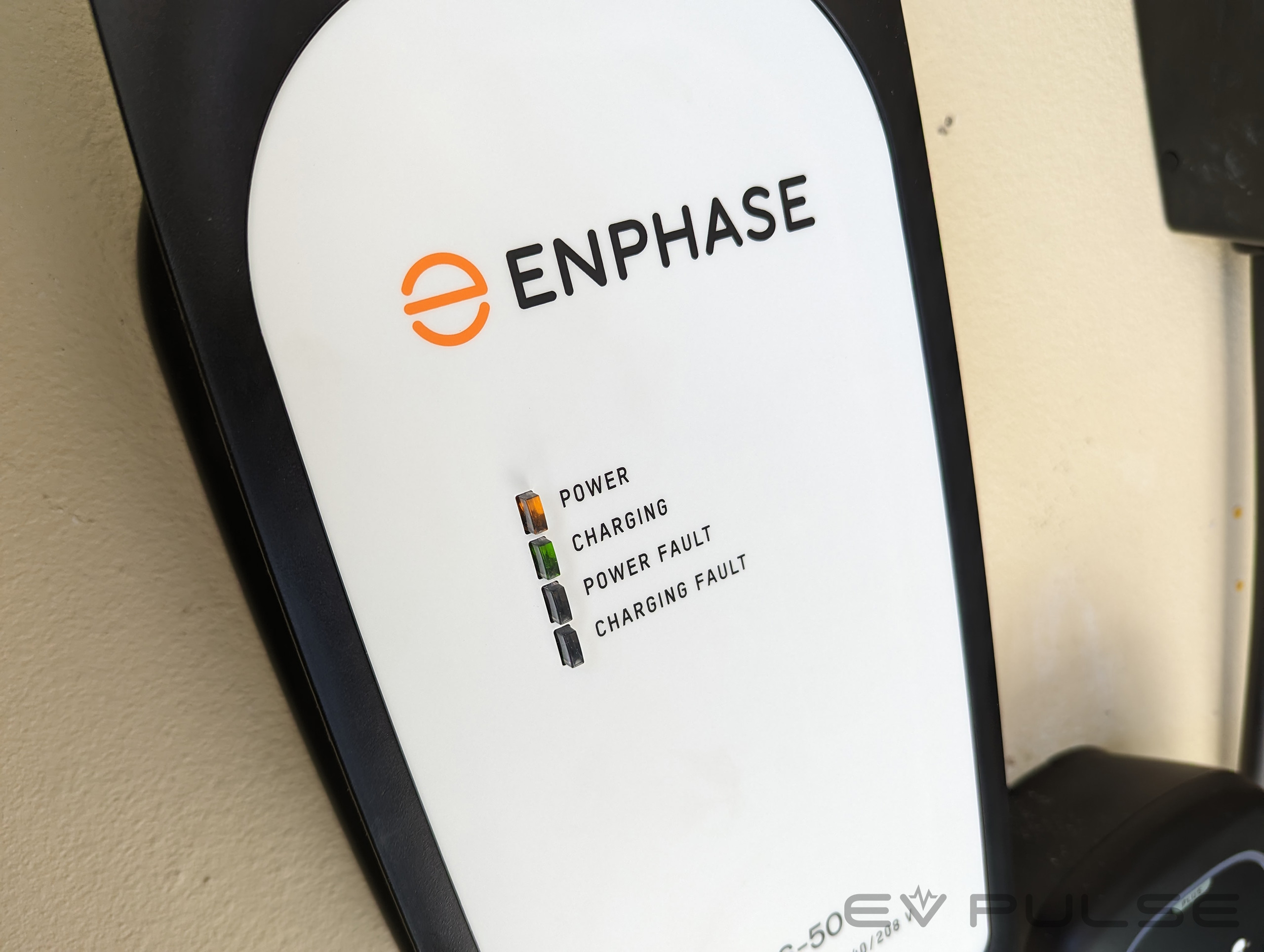 The Enphase HCS-50 is a 40-amp home EV charger equipped with a NEMA 14-50 plug. This charger was built with safety and durability in mind, so it's safety certified by ETL to UL 2594 standards and is ENERGY STAR certified. It is also housed in a fully sealed, outdoor-ready NEMA 4 enclosure, so it can be safely installed indoors or outdoors. As a 40-amp charger, it is capable of delivering up to 9.6 kW of power, or up to 38 miles per hour depending on your vehicle. The attached cable measures 25′, while the plug cable (as mentioned) is 12″ including the plug itself.
Enphase also offers the charger with a NEMA 6-50 plug and a hardwired option. More powerful versions are also available from the manufacturer, but we only tested the 40-amp, plug-in charger.
Verdict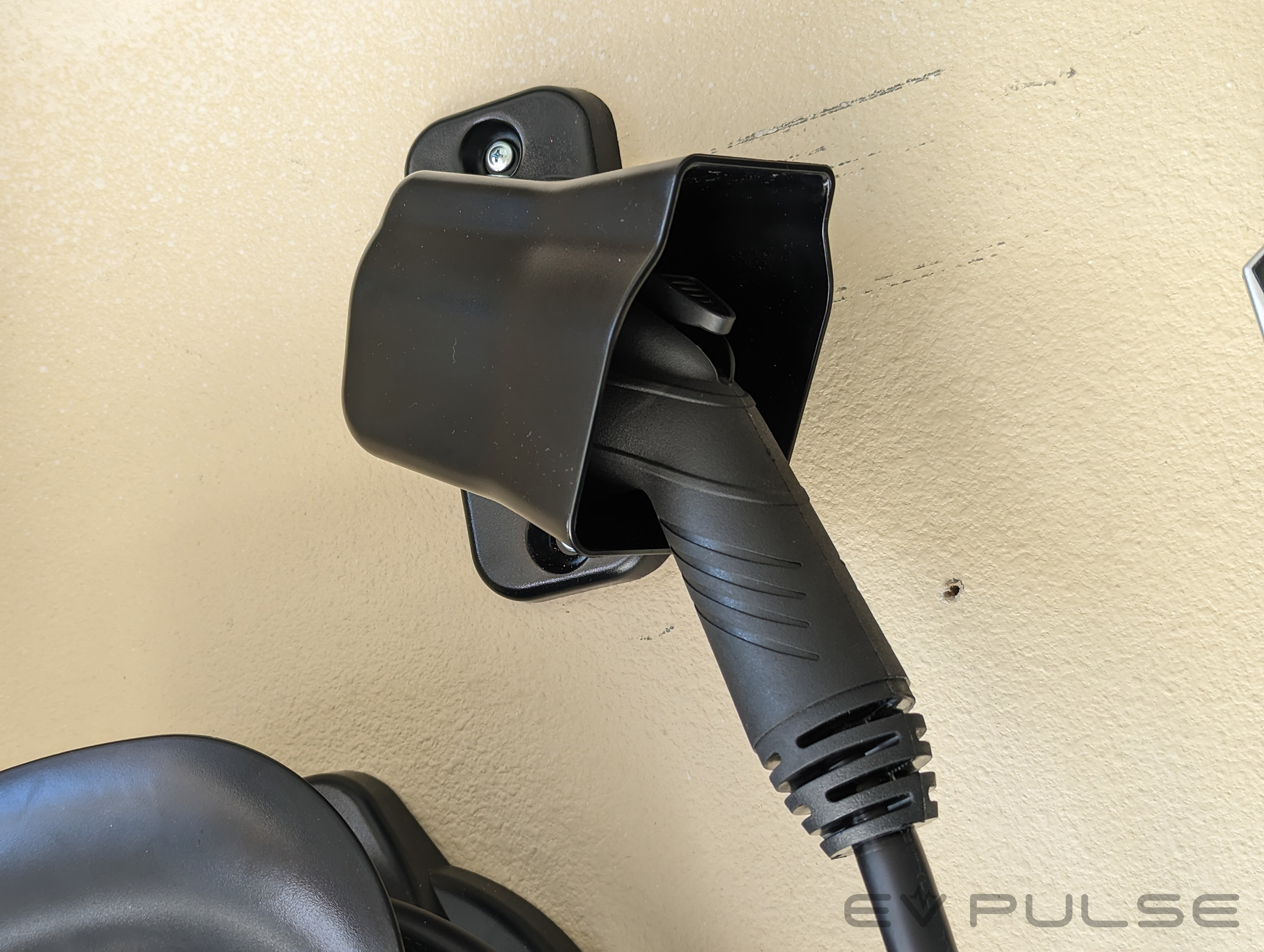 My biggest issue with the Enphase HCS-50 is its price tag. Sure, you get a 5-year warranty with the charger, but it's now produced in Mexico instead of the U.S. and costs more than any other option I have tested and reviewed. I do find it difficult to make a compelling argument as to why the HCS-50 is a few hundred dollars better than other chargers, especially when it lacks any connected features. Typically, non-smart chargers like this one are more affordable than their smart charger counterparts.
In addition, while this likely doesn't affect the majority of buyers, it's worth noting that you cannot adjust the power output of this charger. The Lectron V-Box 48 does have an adjustable dial if you need lower amperage. Unlike the Lectron V-Box 48 however, this charger will automatically enter a standby mode, so you don't have to deal with a separate power button.
If you care about quality above all else, the Enphase HCS-50 is one of the better-quality chargers I've tested, from its rugged connector to its brilliantly designed holder. I would say, if you have to install a home EV charger outdoors, this would be your smartest option. While there are other chargers with NEMA 4 enclosures, Enphase's 5-year warranty is much better than the typical 3-year warranty you'll get from other brands.
Pros
Automatically goes into standby mode (no power button to deal with)
No complicated setup process — just plug it in and you're good to go
Safety certified, ETL listed
Durable, NEMA 4 rated enclosure
High quality connector
Best connector holder design I've used so far
Five-year warranty
Cons
Price
Size – it's a big charger
Non-adjustable power
No smart or connected features