As EVs become more and more popular, it's only a matter of time before a company broke onto the market with an affordable Level 2 home EV charger with connected smart features. It appears that has now arrived with the Emporia Level 2 home EV charger, which has a price tag that is half of some options on the market. When I first heard about the Emporia charger, I thought it was almost too good to be true for its price. I believed it either had to make some sacrifices to get costs down, or other manufacturers have been overcharging for EVSEs. After going hands-on with the Emporia charger, I'm starting to believe it's more of the latter than the former.
Before we take a look at the charger, here's some background information on the brand. Emporia was founded in 2018 and is based in Littleton, Colorado. It's an energy company and its products are designed to make homes more energy efficient. Along with offering a Level 2 home EV charger, Emporia has a wide array of products, including smart plugs, energy monitors, battery systems, and more. Some of these products can be used with the home EV charger to reap additional benefits, such as automatically charging only when your home is producing excess solar energy.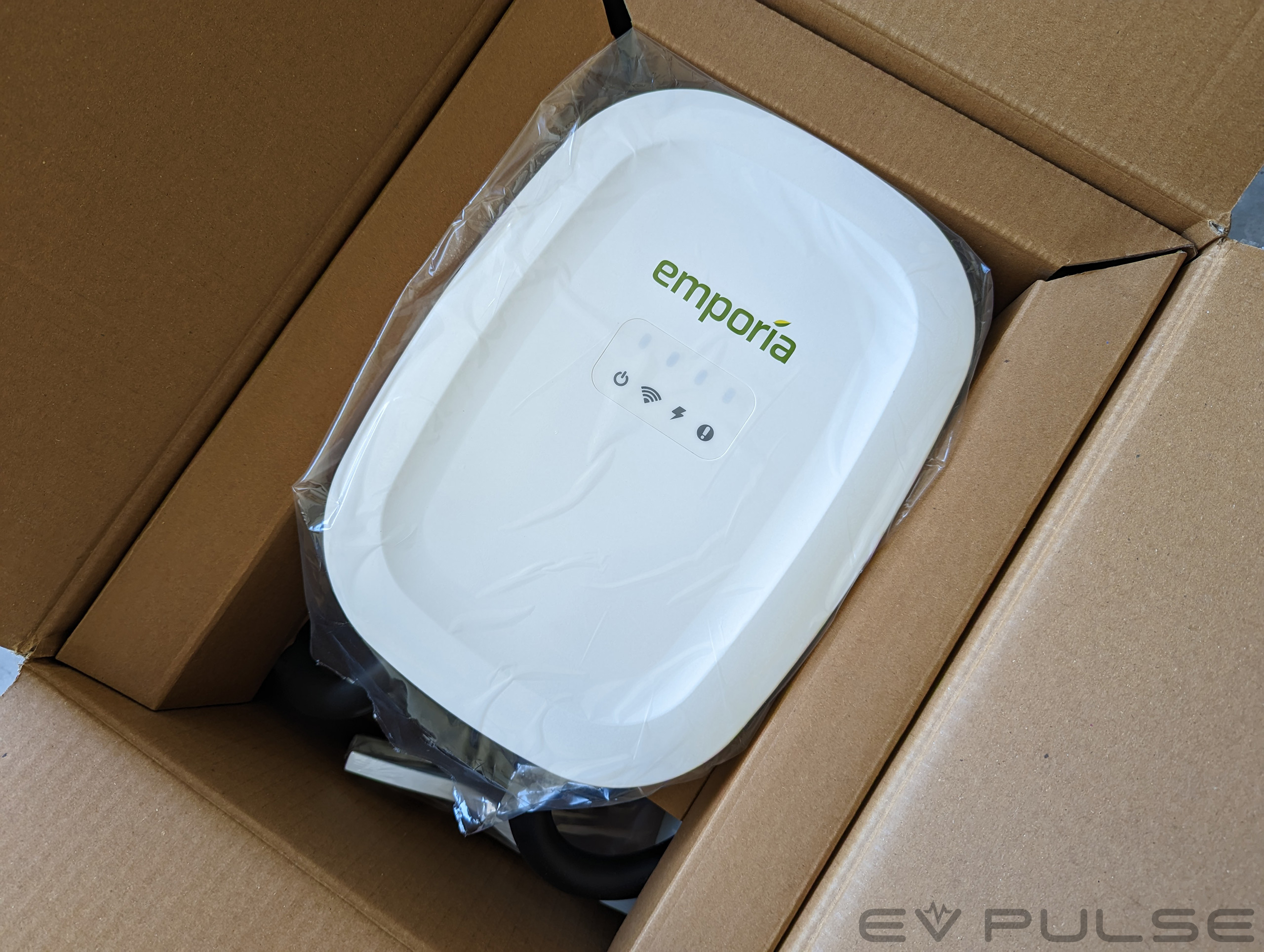 With a $399 retail price, the Emporia EV charger is the most affordable charger we have ever tested. It's less than half the price of Enphase Energy's HCS-50 that we recently reviewed, so I expected to find some corners cut. After all, we have been able to identify (for the most part) why certain home EV chargers are priced the way they are. So, did Emporia make any noticeable or meaningful sacrifices to get the price down to $399? Or, is this really an example of a company passing its savings on to the consumer?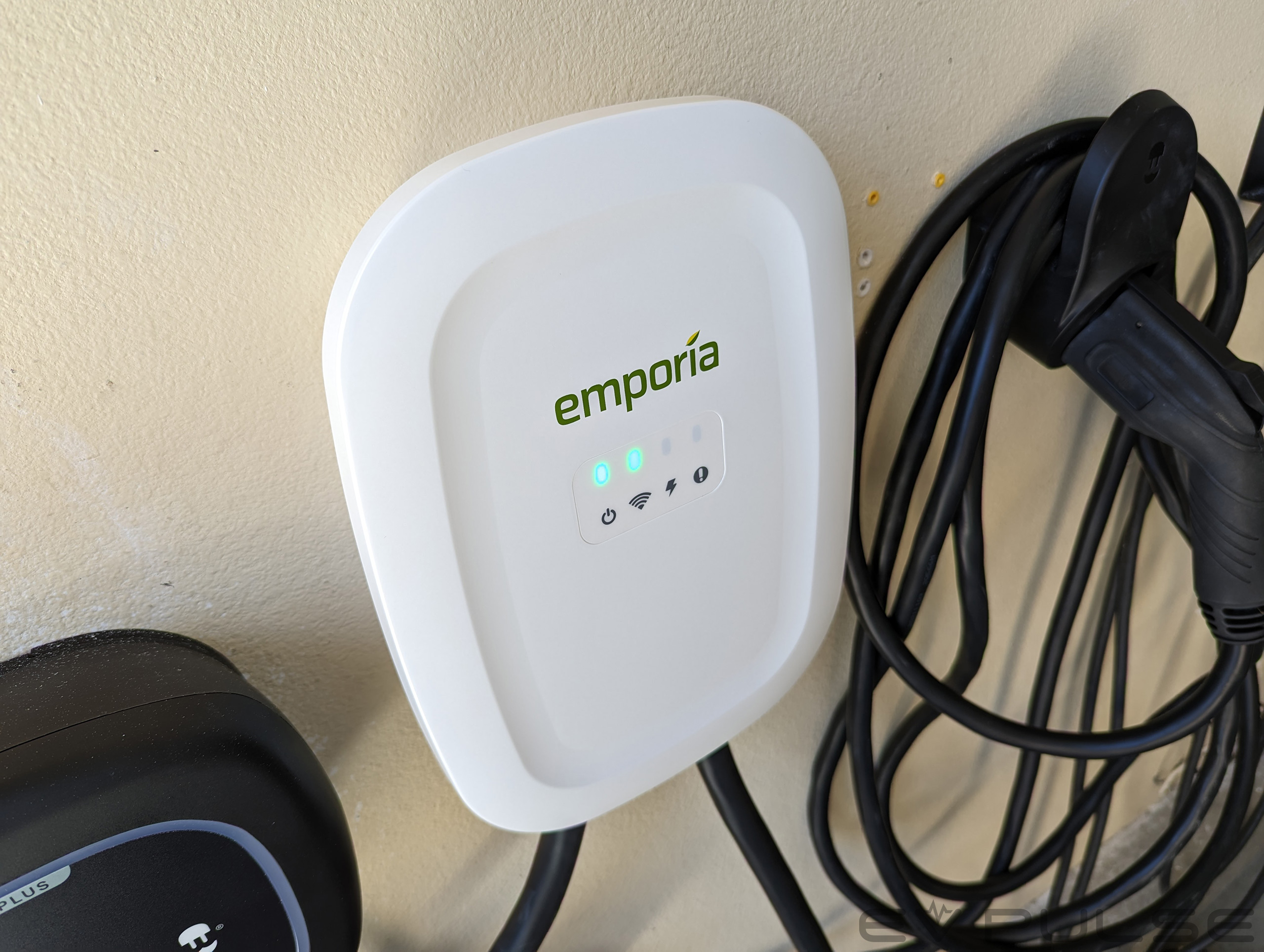 Initial impressions
One of the first things I've started to do when I receive home EV chargers for evaluation is to see where they are manufactured. I do understand that for many of our readers, where a product is made is very important. The Emporia charger comes from India, where product manufacturing has been growing at a rapid pace over recent years. This likely contributes to the affordable price tag on the charger, but as far as I can tell, no real sacrifices were made when it comes to build quality and components.
I also place some importance into a product's packaging. If you're spending hundreds of dollars on a product, it should be well-packaged when it arrives. It can be a very frustrating process to deal with a product that was damaged in transit, especially if it's due to poor packaging. In that regard, Emporia gets high marks. The charger is well protected inside its compact box, and packed tightly — to the point that it was actually a bit difficult to get everything out of the box. The cardboard insert is well designed to protect any of the contents from shifting in transit. The small bag with the hardware was a little frustrating to deal with, rolled up and taped over almost like an afterthought. But overall, packaging is well done with the Emporia charger.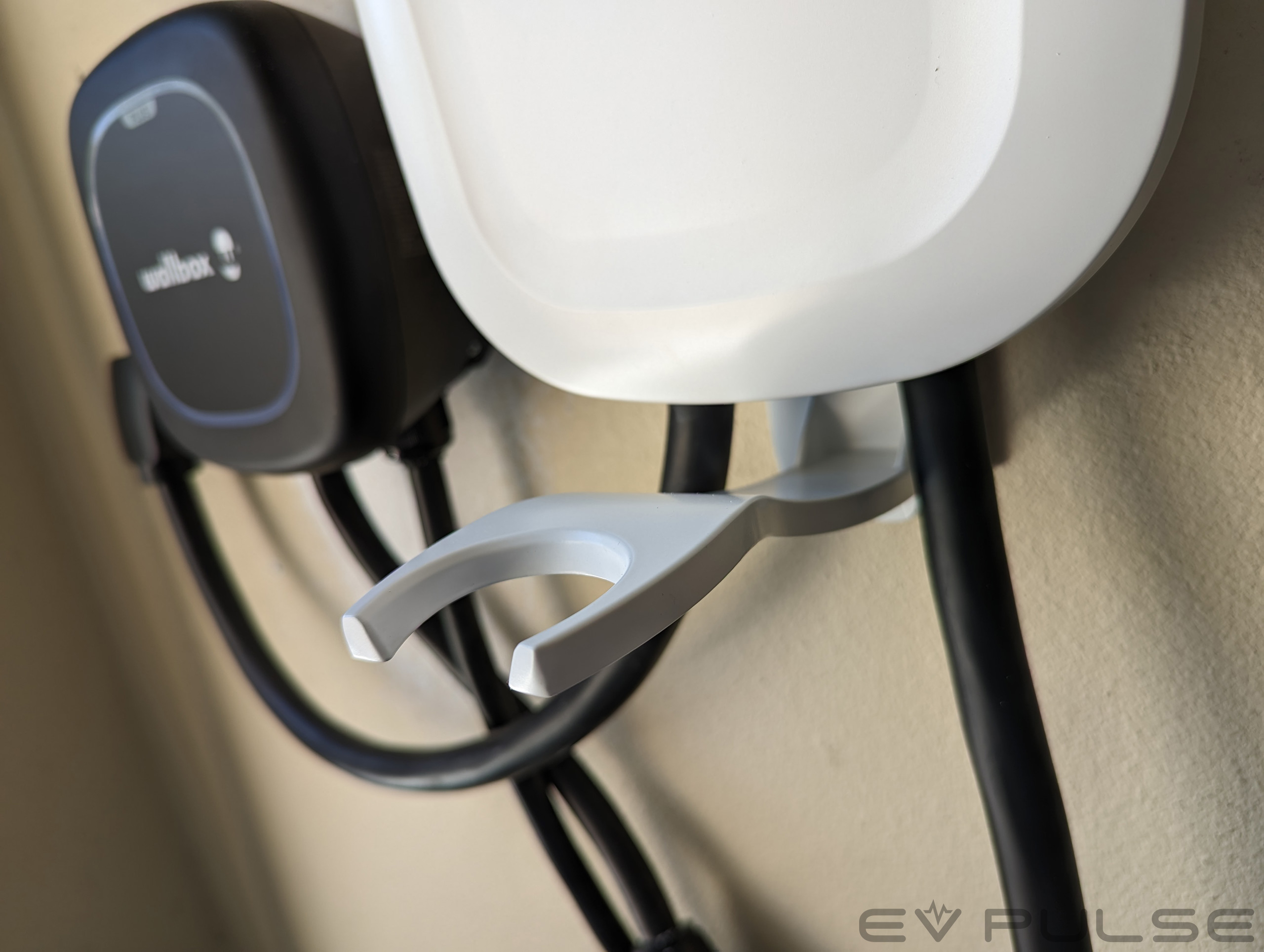 I was pleasantly surprised at the overall quality of the charger. Again, given its affordable price tag, I was expecting something to be noticeably wrong. But it's sturdy, well built, and features a NEMA Type 4 enclosure so it can be installed indoors or outdoors. The overall size is comparable to an average home EV charger, but it is thinner than most. The Wallbox Pulsar Plus is still the most compact home EV charger out there, but the design of Emporia's charger is not bad.
Installation is very similar to other home EV chargers, using a supplied wall bracket that attaches to the back of the unit. Compared to other chargers I have tested, Emporia's bracket is almost identical to the one used to install the Lectron V-Box. Personally, I prefer that the Emporia's NEMA 14-50 power cable and plug isn't the 12″ design found on other chargers I've tested, including the Wallbox Pulsar Plus and Enphase HSC-50. According to Enphase, the 12″ length is the longest length allowed per National Electric Code, but Emporia claims its longer power cable is compliant with 2017 NEC Section 625.17(A)(3). If you already have an existing NEMA 14-50 outlet, the longer power cable will make it easier to install. But if you're having an electrician install an outlet along with the charger, then it's not much of an advantage.
The cables on the Emporia charger are thicker than what I've seen on most of the other chargers I've tested and is very similar to the thickness found on Lectron's V-Box. That means it's not as flexible and easily maneuvered, but it should hold up better in extreme cold weather conditions.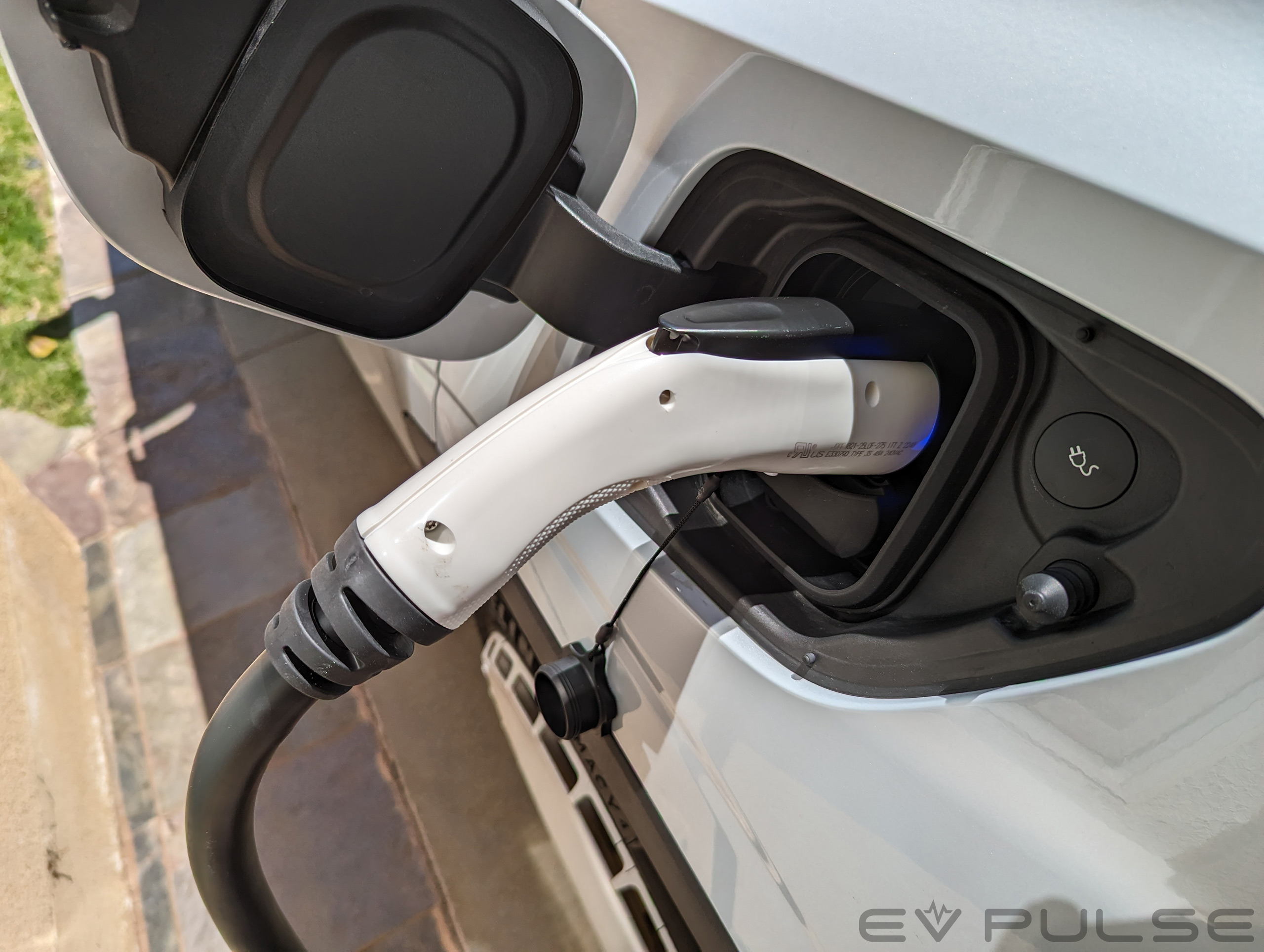 My initial impression of the connector on the Emporia charger was that it's pretty average and eerily similar to the Enel X JuiceBox's connector, down to its elongated trigger button and white, hard plastic exterior. If you read my other reviews on home EV chargers, you'll see that I prefer a textured, rubber finish on the connector. To me, the glossy hard plastic can be slippery and likely isn't as durable when dropped.
Finally, while I will talk more about the connector holster below, I do want to mention that it's made of metal, and not plastic. Again, Emporia's home EV charger is the most affordable charger we have ever tested, so a metal holster was unexpected. While I am not a fan of its design, I do have to applaud the choice of material.
How does it work?
Like other smart chargers, you'll download an app onto your preferred device to control most of the features on the charger. You'll use the app to connect directly to the charger to configure its WiFi connection. When going through the app's setup process, you'll select your time zone and dedicated breaker / max charge rate and then you'll have access to a wide array of tools including time-of-use management, peak demand management, and excess solar management. Some of these features only work if you have the necessary Emporia accessories.
If you're planning to only install the charger however, you will spend most of your time checking the charts and graphs for your charging sessions. It's quite detailed and robust, displaying charging speeds down to the second. I did, however, find the overall UI design to be a little overwhelming. It is one of the better apps I have used, but it could use some UI and UX improvements. Going through the app setup process was painless, and I didn't encounter odd connectivity issues like I did with the Wallbox Pulsar Plus. Getting everything up and running took less than five minutes and I was ready to plug my vehicle in for charging.
I did a quick connection test with a Toyota Prius Prime, and the charger had no issues delivering the maximum 3.3-kW acceptance rate in a matter of seconds. I then conducted a longer charging session with a Polestar 2, and the charger delivered the expected 21 to 22 miles of range per hour of charging. I ran into no issues doing full charging tests on both vehicles, so the Emporia charger worked well as a charger.
So where are the issues? How can Emporia possibly sell a charger at half the price of some of its competitors, while offering more features? Surprisingly, I don't have any major complaints about Emporia's charger, and I do believe the company has simply found a more affordable way to manufacture a quality charger and is passing along some of the savings to its customers.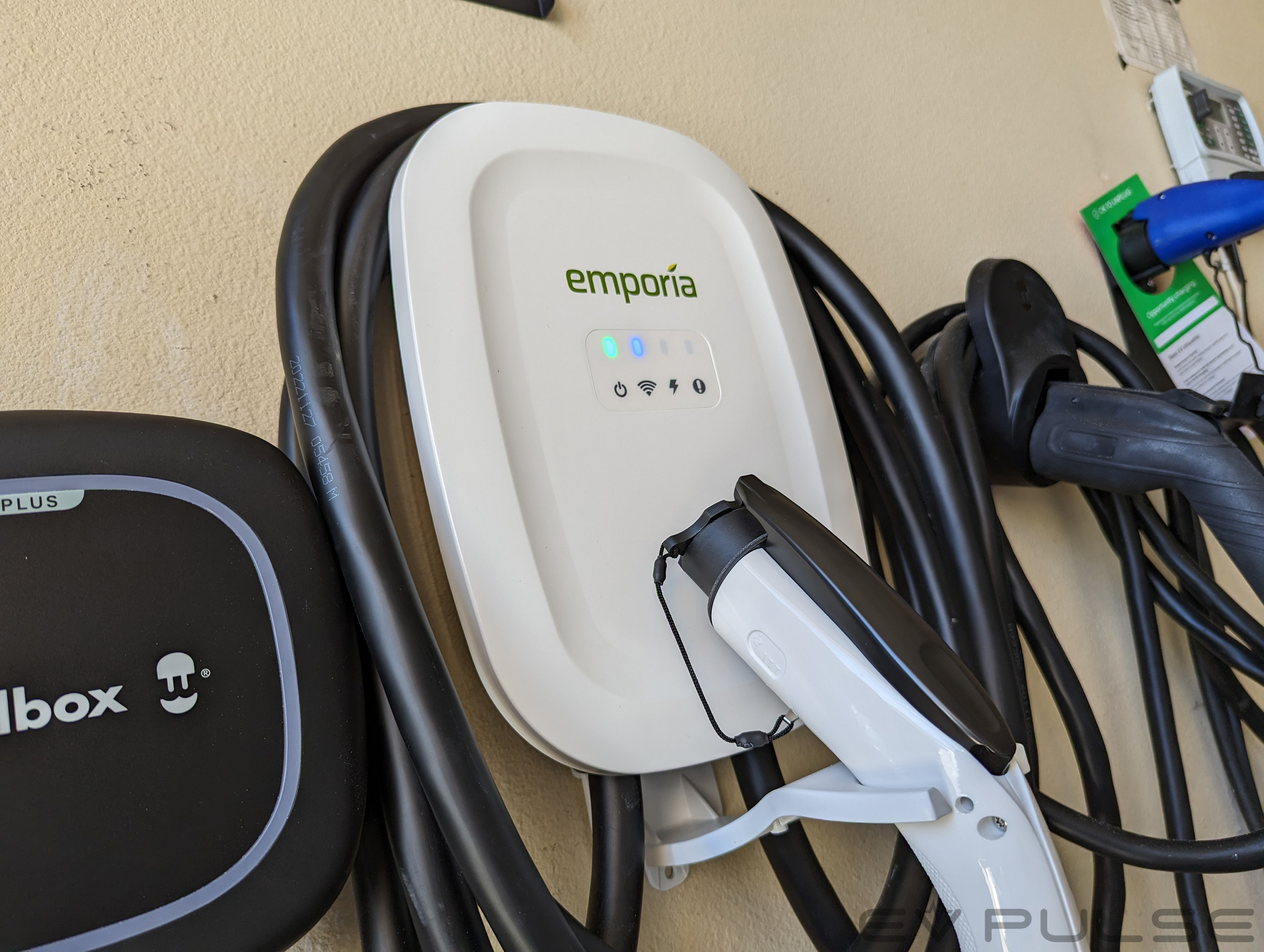 My biggest issue with the Emporia charger is the poorly designed holster for the connector. Even though it's made from metal and not plastic, it's clumsy to use and doesn't make it very easy for you to pull the connector from its resting position to plug into your vehicle. I also dislike that the connector points upward when it's not being used. That means you always have to replace the soft rubber cap on the end, otherwise dirt and other debris can get inside. The reason why I consider this complaint to be a minor one is that you can just purchase a different holster, like the one that comes with the Wallbox Pulsar Plus, or Lectron V-Box.
Now, you are able to install Emporia's holster bracket separate from the charger unit, but I still wouldn't recommend using it. It's just frustrating and poorly designed, so do yourself a favor and spend the few bucks you've already saved by purchasing the Emporia charger to get a different holster dock.
While it didn't affect me since I never use voice commands for my devices, it is worth noting that the Emporia home EV charger does not support Amazon Alexa or Google Assistant.
Specifications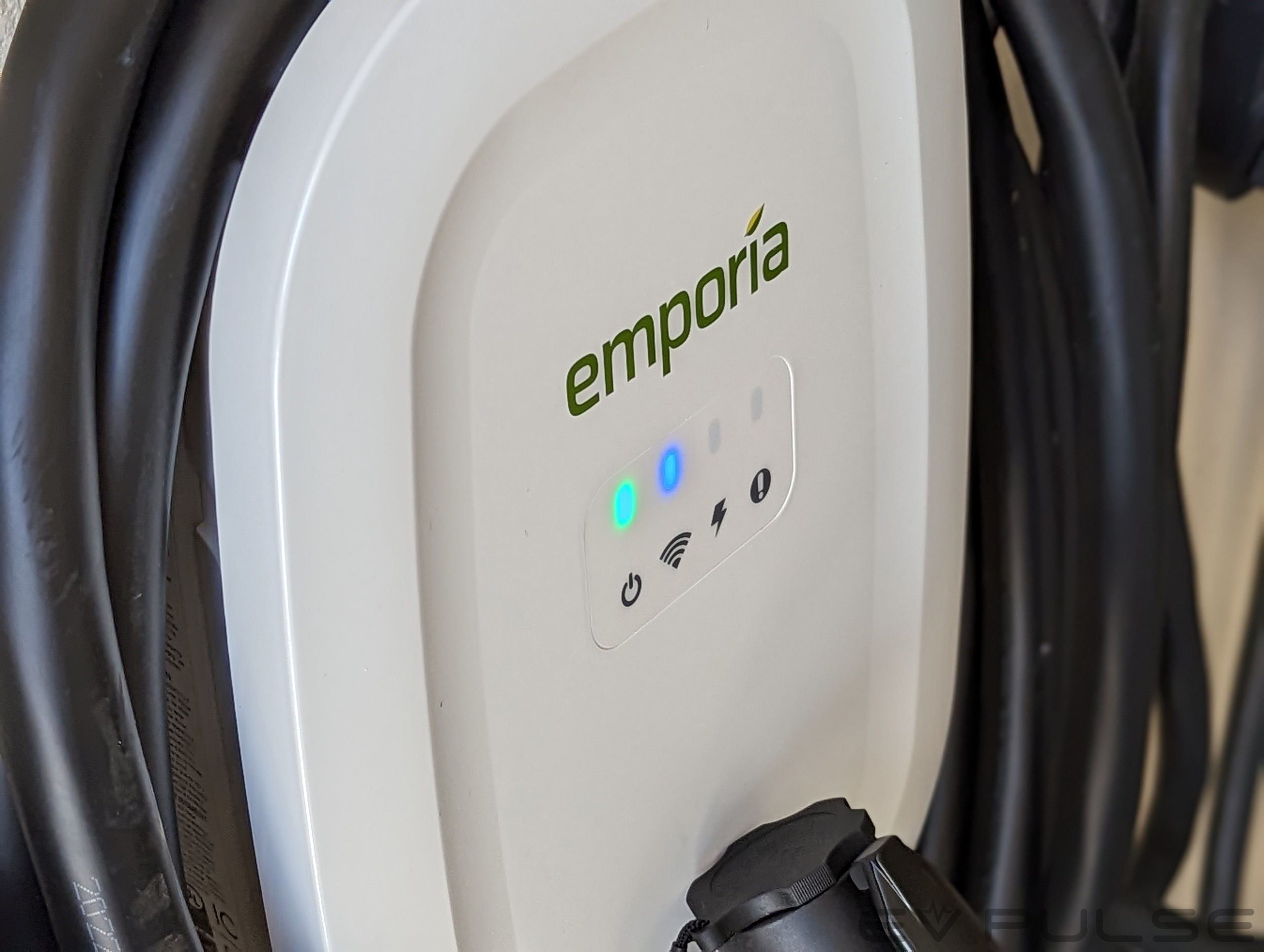 The Emporia EV charging station is a Level 2 home charger that supports up to 40 amps with 24″ NEMA 14-50P, or 48 amps with hardwired installation. Attached to the charger is a 24′ cable with an SAE J1772 connector, making the charger compatible with all EVs — although you will need a J1772 to Tesla adapter if you own a Tesla. As mentioned previously, it's all housed in a watertight NEMA Type 4 enclosure, so you can safely install this indoors or outdoors.
Here are all the safety criteria the Emporia charger meets: NEC 625, SAE J1772, UL 817, UL 991, UL 2231, UL 2251, and UL 2594. A WiFi connection is required to remotely access and configure the charger, including the scheduling of charge sessions. Overall, the charging station measures 12.6″ by 9″ by 3.4″. Emporia includes a three-year warranty with its charger, which is pretty much the standard, although Enphase does offer a five-year warranty on the HCS-50.
Verdict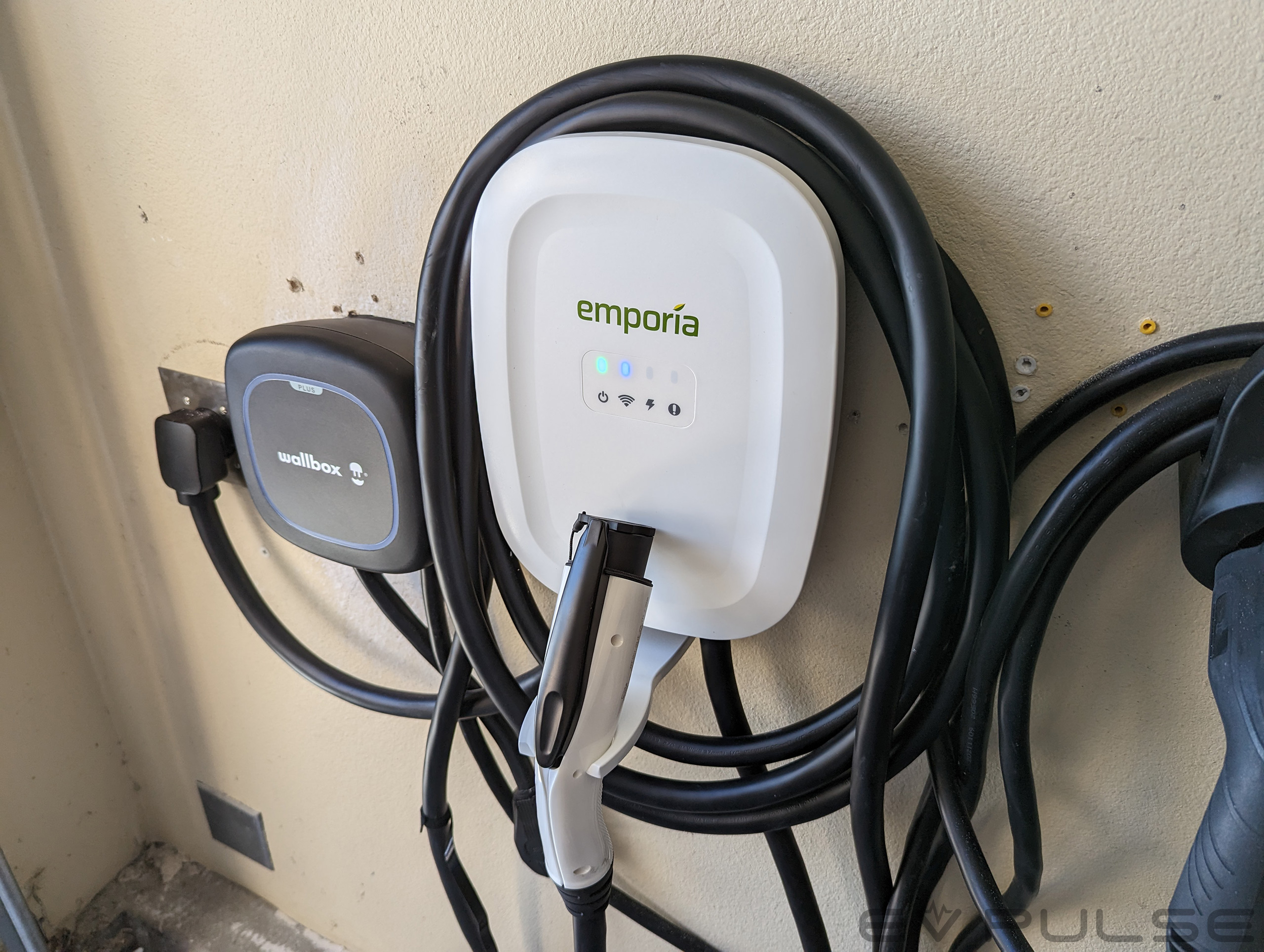 I have a feeling Emporia's EV charger is going to shake up the market. Its price tag proves it's possible to deliver a high-quality, feature-rich charger without a hefty price tag. I don't believe any of the issues I encountered with the charger are dealbreakers, and depending on how it fares in our long-term evaluation, it could be in the running as our top pick on our list of the best home EV chargers.
Without long-term testing however, I wouldn't be entirely comfortable recommending it over the Enel X JuiceBox, which we have used for years, and the Wallbox Pulsar Plus, which I have been using for several months. However, Emporia's charger — without a doubt — currently offers the best value and nothing even comes close. Since it is backed by a three-year warranty, I wouldn't hesitate to recommend it as an option for shoppers who are on a budget, but it's also a great choice for those who can't find hundreds of dollars of value from other chargers. But please, if you do plan on buying this charger, do yourself a favor and get a different connector holster. You'll thank me later.
Pros
An almost unbelievable value for its price
Connected/smart features
NEMA Type 4 enclosure
Meets NEC, SAE, and UL safety criteria
Longer power cable than other NEMA 14-50 chargers
Plays nicely with other Emporia accessories
Three-year warranty
Cons
One of the worst holster designs I've tested
Not a huge fan of the plastic finish on the connector
No Amazon Alexa or Google Assistant support