Whether you're going camping, taking a road trip, or just need some place cool to store your groceries, portable car refrigerators are relatively affordable and extremely handy to keep in your EV. Maybe you own a Tesla and want to take advantage of its Camp Mode feature, putting down the back seats, setting up a mattress, and enjoying nature for the night. It really doesn't matter if you own a Tesla or not, EVs are designed to be more practical and adding a 12-volt cooler makes it all that more functional.
But shopping for a car refrigerator isn't easy. There are several brands on the market and pricing can range anywhere from $100 to over $1,000. After our recommendations, we'll give you some advice on how to choose the best car refrigerator or cooler for you, but there is one main factor you should take into consideration while browsing our picks: size. Your preferred size and capacity of the cooler will help narrow down your options and we will recommend a wide range of capacities. Ultimately, you should choose the 12-volt cooler that's the best fit for your needs, as any of these reputable brands will do the job well.
1. Top pick: ICECO GO20 dual zone portable refrigerator (20 liter)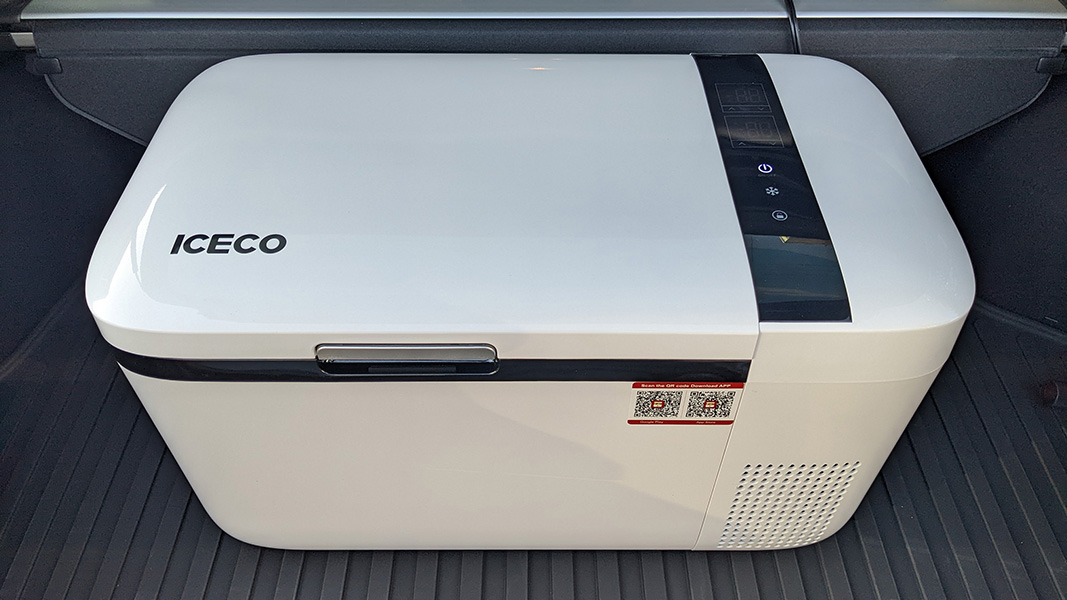 The ICECO GO20 is the 12-volt car refrigerator I personally own and use and if you wish to learn more about it, you can read my full review. It's a dual zone unit, allowing you to set separate temperatures for each zone. I particularly like the fast cooling option, which brought the left zone's temperature from 81°F to 37°F in just 10 minutes during my testing. The unit also does a great job maintaining the set temperature for each zone, even for a long period of time.
While it does have Bluetooth and an app for your devices, limited Bluetooth range reduces the app's helpfulness. But it does address my biggest complaint with the fridge, which is the controls on the lid. They're not the most responsive touch controls, so setting your temperatures through the app is much easier. Overall, this fridge is very well built and worth the price, assuming you use it often.
Other minor features include a built-in LED light that is adequate, and a soft-closing lid so you don't accidentally pinch your fingers. It comes with an adapter so you can plug it into your standard household outlet. What really sets this fridge apart from the competition is its Secop compressor, which is eerily quiet and efficient. ICECO provides a five-year warranty on the compressor and a one-year warranty on the other parts.
2. Runner-up: BougeRV 12-volt car refrigerator (22 liter or 28 liter)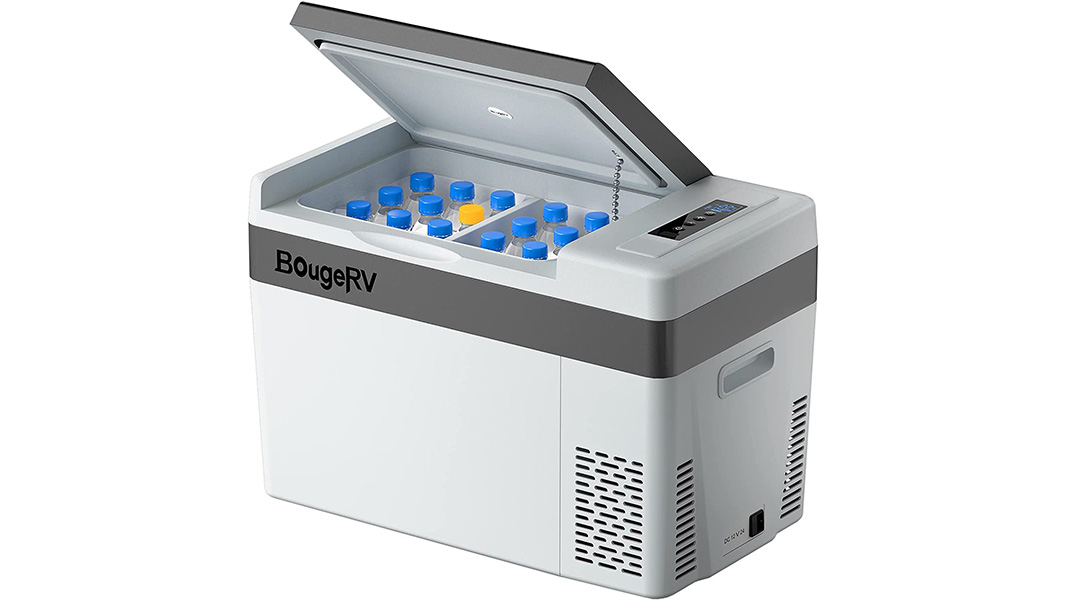 Our top recommendation is available in either 22- or 28-liter sizes and strikes just the right balance of performance and price. We believe most of you will want one of these two sizes and no matter which one you choose, you'll get fast cooling from 77°F to 32°F in about 20 minutes. If you need it to act as a freezer, it'll go from 77°F to -5°F in about 50 minutes. This is without needing ice—it is a portable refrigerator after all.
BougeRV equips its 12-volt coolers with an ECO energy saving mode, meaning the portable fridge's operating power is less than 45 watts. Even if you're running on MAX mode, it'll consume less than 1 kWh per day. If you're purchasing this cooler for camping, you'll be happy to know it's relatively quiet at 45 dB. For safety, it's equipped with a shockproof design, so you shouldn't run into any issues even when travelling up a 30° incline. A three-level battery monitor prevents the fridge from draining your car's battery and you have the ability to choose what battery voltage it'll automatically shutoff to prevent a complete drain. Lastly, the company provides a two-year warranty on the compressor and other accessories.
3. Premium pick: Dometic CFX3 12-volt portable refrigerator and freezer (45 liter)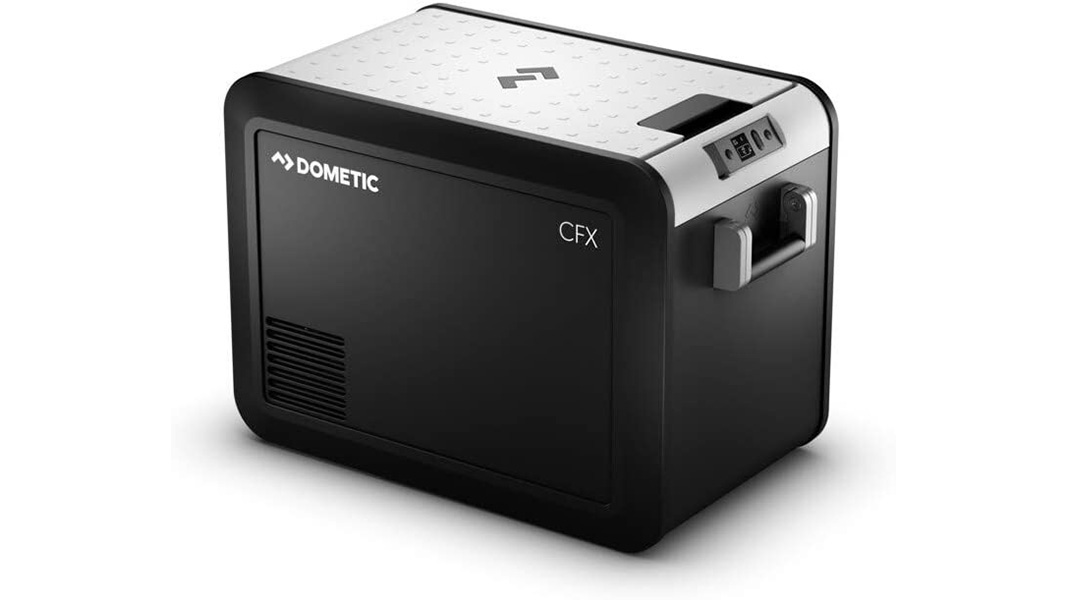 If you want one of the best 12-volt coolers and willing to pay the price, consider a portable refrigerator/freezer from Dometic. The CFX3 is a high-end, 12-volt cooler that'll meet all the demands you can throw at it, with the ability to deep freeze all the way down to -7°F. It's available in a variety of capacities, including 25-, 35-, 45-, 55-, 75-, and 100-liter options. No matter which one you choose, you'll be getting an extremely rugged 12-volt cooler featuring a lightweight ExoFrame construction and aluminum handles.
One reason why this portable refrigerator/freezer is so popular, despite its price tag, is the ability to control it over WiFi or Bluetooth through a smartphone app. You can remotely adjust the temperature, or check on its performance while away from the unit. This can come really handy out on camping trips, or if you're going off-roading with some of your buddies in an ATV and you're away from camp. It also sports a high resolution color display and soft touch buttons for easy control on the unit itself. The Dometic CFX3 can be powered with AC, DC, or Solar and naturally it has a built-in three-stage dynamic battery protection system to ensure your car's battery doesn't fully drain.
Oh yeah and if you need ice while on the road, the Dometic CFX3 comes with an integrated ice-making compartment.
4. Best on a budget: AstroAI 12-volt car fridge cooler (15 liter or 22 liter)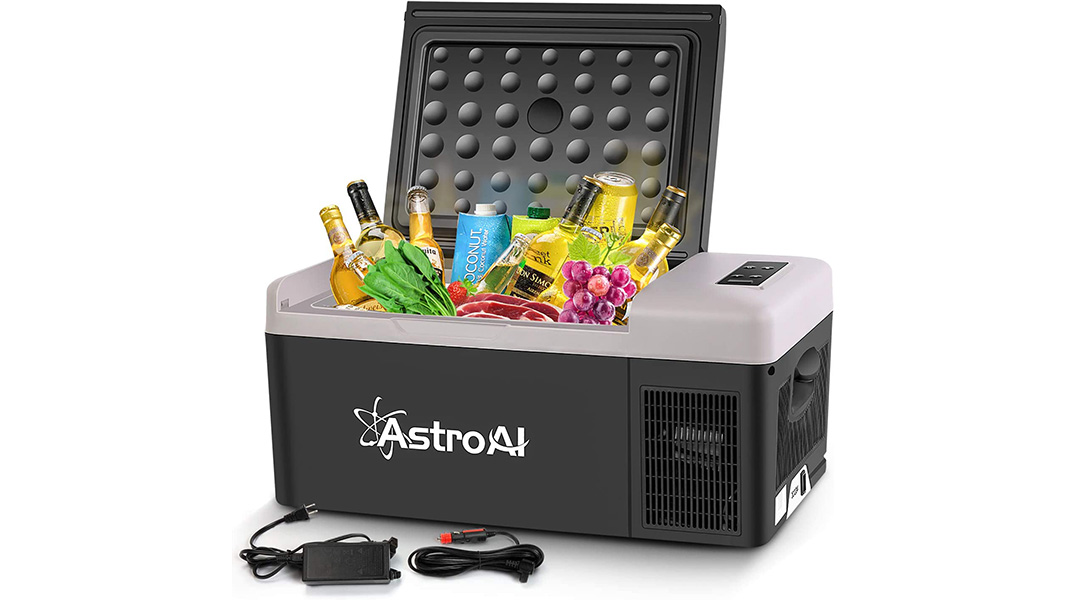 If you're looking for a decent-sized car refrigerator but won't necessarily use it all that often, consider this recommendation from AstroAI. It's available in 15- or 22-liter sizes and when empty, it's capable of cooling down to 32°F in about 15 minutes. To get down to its lowest temperature of -4°F, it'll take about 45 minutes. This cooler is also equipped with a MAX mode for fast cooling, as well as an ECO mode to save energy, consuming less than 1 kWh per day. It too is equipped with three levels of battery protection, automatically reducing its power consumption to maximize your vehicle's battery life.
On the unit itself is an LED display panel and a USB charging port that you can use to top off your mobile devices. Inside the portable fridge is a built-in LED light to make it easier to find what you need at night. Lastly, there's a child safety lock on this portable refrigerator to prevent accidental opening. Like all of our other recommendations, this fridge accepts either AC or DC power, allowing you to use this on the road or at home.
5. Best compact: Wagan EL6214 12-volt car cooler (14 liter)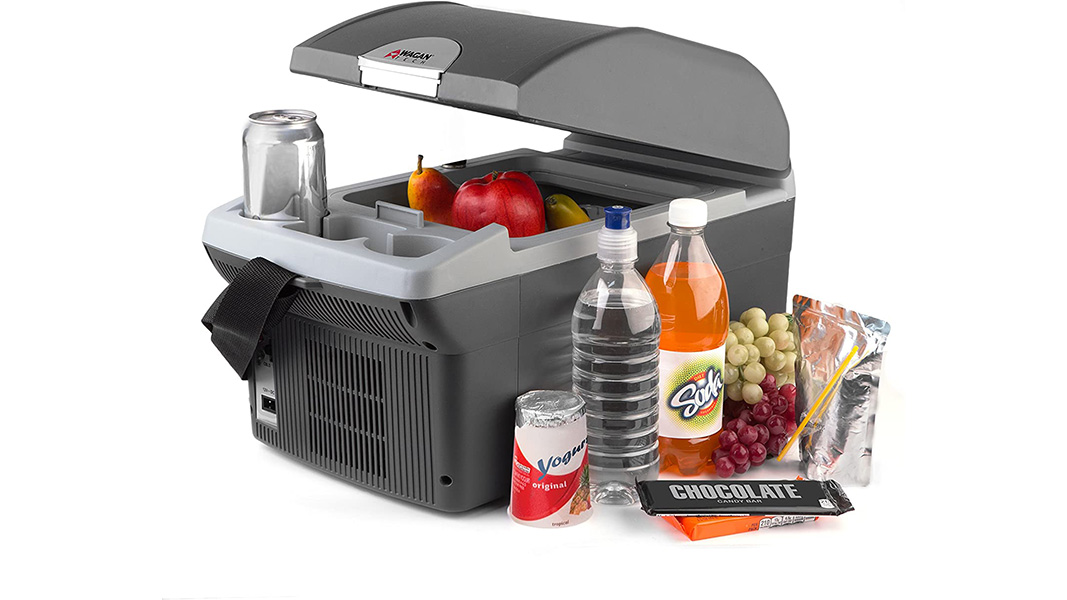 Some people just need a really compact cooler for daily use, like keeping your kid's snacks nice and cool on the way to picking them up from soccer practice. Or, you just want a small cooler to keep handy so your lunch doesn't spoil on your way to work. Whatever may be the reason, our recommendation for something compact is this 14-liter portable fridge from Wagan. To give you an idea of its capacity, it can hold up to a dozen soda cans and is capable of fitting two-liter bottles. As you can imagine, it's not as robust as our other recommendations, but it can cool down to 32 to 36°F or heat up to 140°F. Hey, you might even prefer that it's basic and doesn't have all the bells and whistles like our recommendation from Dometic.
As an added bonus, two external cupholders are built into the unit itself, making it great to have in the rear-middle seat if you've got two passengers on a road trip. A nylon carrying strap allows you to easily take it on the go when you get to your destination.
Can a 12-volt cooler drain my car's battery?
Yes a 12-volt cooler can potentially drain your car's battery, as can any device plugged into your car's cigarette lighter receptacle. It's the reason why so many of our recommendations have built-in battery protection, to ensure that doesn't happen to you. Now, it's very unlikely a car fridge will drain your battery while your car is running, but things are a bit different if you own a BEV. Tesla owners, for example, will want to use Camp Mode if you're planning to leave your portable fridge plugged in overnight. Also, you'll want to check to make sure your BEV doesn't automatically power off your 12-volt outlet when the doors are locked, otherwise you're going to come back to a not-so-cool fridge.
How long will a 12-volt car refrigerator stay cool once disconnected?
This largely depends on the cooler you purchase and its insulation. Quality coolers should be well insulated, which means you'll get a few hours before the cooler itself is no longer cold. That is, of course, assuming it's properly sealed and the lid isn't cracked open. Check with your particular cooler on how long it stays cool once it's unplugged.
Can I heat up food with a car refrigerator?
Although some car refrigerators do have heating functions, they aren't meant to be a substitute for an oven or microwave. They're designed to keep your food or drinks warm and shouldn't be used beyond that. In other words, please don't try to cook with one.
How long does a 12-volt cooler take to get cold?
Again, this largely depends on which product and capacity you purchase. Most companies will give specifications on how long it takes to reach a specific temperature threshold. Generally, an empty cooler should get cold in under an hour. If it's packed with items, expect that time to be increased several fold. A general approximation you can follow is for each pound of items in the cooler, it'll take an hour to go from room temperature to maximum cold.
Previous recommendations
These are products we previously recommended but no longer make the cut on our list.
Recent Updates:
Updated (12:21 p.m. EDT, 10/21/2022): Added an additional shopping link for the BougeRV recommendation.
Updated (1:10 p.m. EDT, 10/20/2022): Updated our top pick to the ICECO GO20, which I personally own and reviewed. Moved the Euhomy 12-volt car fridge to the previous recommendations section.