The Ram Revolution concept truck revealed at CES back in January was chockablock with clever features, from a front luggage passthrough to a fold-down midgate to third-row jump seats. It seems many of these features are unlikely to ever make it to production, but the tuck brand's chief executive says they plan to include nearly all of them in the roadgoing model, which is scheduled to go on sale late next year.
According to Mike Koval Jr., the affable CEO of the Ram brand, "There are only two things that I can't actually do in a production version, that I don't have a solution for, that that are on that vehicle right now." He continued, "Everything else I can do. And so, over time, my intention is to bring these features into [the] marketplace."
Koval would not share the two features they don't currently have a way to offer, but the Revolution concept was fitted with so many innovations, it's genuinely hard to guess which ones won't make the cut. Some of the clever amenities this design study showed off includes:
Cargo pass-through from front trunk
Power-operated midgate
Third-row jump seats
Removable 14.2-inch secondary infotainment screen
Augmented reality head-up display
Ram Track floor rail system that allows you to move the seats and center console around
Eco-friendly interior materials including ersatz leather sourced from apple waste
In-vehicle personal assistant
Shadow Mode that allows the vehicle to follow its owner, which could be useful for moving the truck short distances without getting inside
DC fast charging at up to 350 kilowatts
Rear-hinged back doors with B-pillarless bodyside apertures
Features like an in-vehicle digital assistant and animal-free materials are relatively easy to implement in a vehicle, ditto for a removable infotainment screen and fancy head-up display. For safety reasons, what probably won't make it into production is the floor rail system and maybe even the front pass-through. Additionally, it seems unlikely the third-row jump seats will be offered, but we won't know for certain until Ram decides to release additional information about the production model, which will hopefully come out sooner than later.
An optional range extender is all but confirmed for the Ram 1500 REV, another feature that could set this truck apart from rival electric pickups like the Ford F-150 Lightning, Chevy Silverado EV and Rivian R1T. Instead of having just a battery, the Ram could offer a small combustion engine that allows you to drive even when the pack is depleted. This could dramatically improve the versatility of the Ram 1500 REV, not to mention assuage customers' concerns about range anxiety.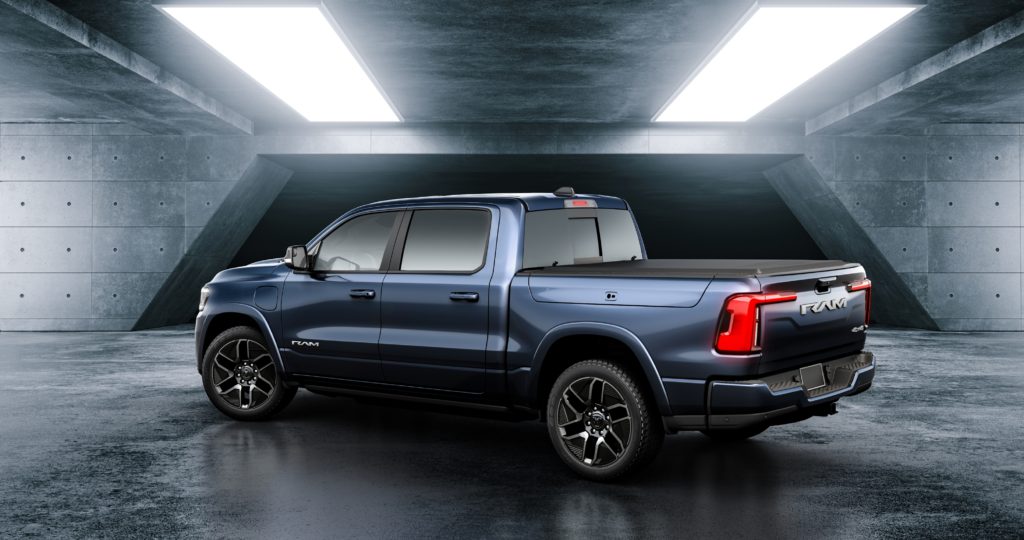 Of course, we have reason to be optimistic about all this because Ram has a strong history of innovation. The brand revolutionized the pickup market back in 1994 when its sleekly styled and highly innovative new generation truck debuted. And Ram did it again a couple decades later by offering adjustable air suspension, employing an eight-speed automatic transmission, popularizing mild-hybrid drivetrains and building interiors that put some luxury cars to shame.
"What was then a segment-disrupting 12-inch touchscreen, is now table stakes. We completely changed the game," said Koval of the DT generation Ram trucks that debuted for the 2019 model year. "And we will again, when we bring our suite of solutions to market next year."