If you're shopping for a luxury EV, you've got plenty of choices, practically an embarrassment of riches, but few of these high-end vehicles offer everything the 2023 Genesis Electrified GV70 does. This SUV is an incredibly well-rounded package that excels at practically everything, though it does have one not-insignificant weakness.
Impressive speed in more ways than one
The Electrified GV70 is hauled around by a pair of 160-kilowatt electric motors, one at each axle. Aside from standard all-wheel drive, these little dynamos also deliver 429 hp and 446 lb-ft of torque, but that's not all. This vehicle also has a boost mode that ups the ante by an extra 54 horses and 70 lb-ft of torque for a total of 483 and 516, respectively. Just push a button on the steering wheel and you get an extra shot of oomph — performance you can instantly feel — for up to 10 seconds. This is great for passing slower-moving traffic on a country two-lane road or getting the jump on other motorists when taking off from a red light.
Storing energy is a 77.4-kilowatt-hour lithium-ion battery mounted under the floor. This is the same size pack found in E-GMP models like the Genesis GV60, Kia EV6 and Hyundai Ioniq 5. That electron reservoir gives this luxury SUV an EPA-estimated range of 236 miles, which isn't all that great. We typically like to see at least 300 miles on a charge here at EV Pulse, but still, 236 isn't terrible for a high-performance luxury vehicle with big wheels and tires.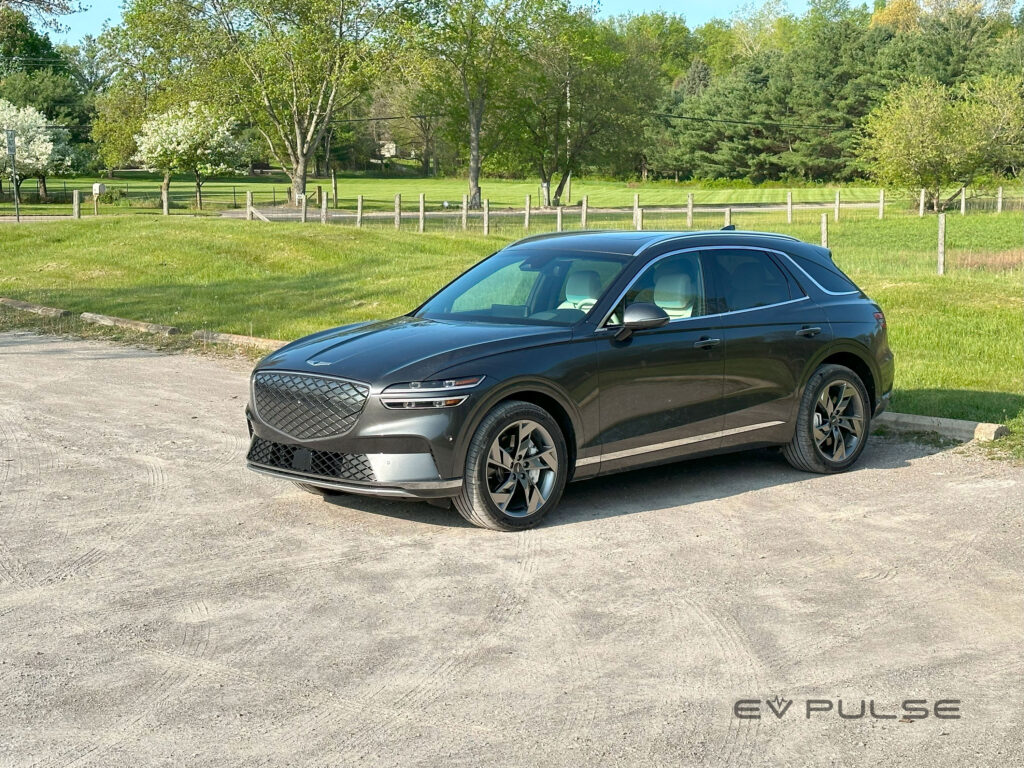 As for DC fast charging performance, the Electrified GV70 excels, just like the E-GMP cars. At 50 kilowatts, this SUV can go from 10 to 80% in 73 minutes, but if you hook to a charger that puts out more than 250 kW, the Electrified GV70 can do the same deed in as little as 18 minutes, an absolutely stellar performance. Hey, if you've only got 236 miles of range, you'd better charge quickly, and this Genesis certainly does.
Making long-distance drives just a little easier, customers also get free 30-minute charging sessions on the Electrify America network. This perk is included during the first three years of ownership.
Quick and comfortable
Out and about, the Electrified GV70 is not the most explosively quick battery-powered vehicle I've ever driven, but it is still a strong performer, with more than enough acceleration for any driving situation. Engaging boost mode immediately arouses the already-alert powertrain, making everything dramatically more responsive. Use this setting judiciously, lest you attract unwanted attention from law enforcement or raise the ire of your subdivision's HOA president.
As with many other vehicles, this Genesis has a range of different driving modes, Eco, Comfort, Sport and a custom setting that allows you to fine-tune several parameters. Comfort is ideal for normal driving, though, Sport wakes things up considerably and Eco dulls the vehicle's responses. All these settings work as advertised, so no surprise there.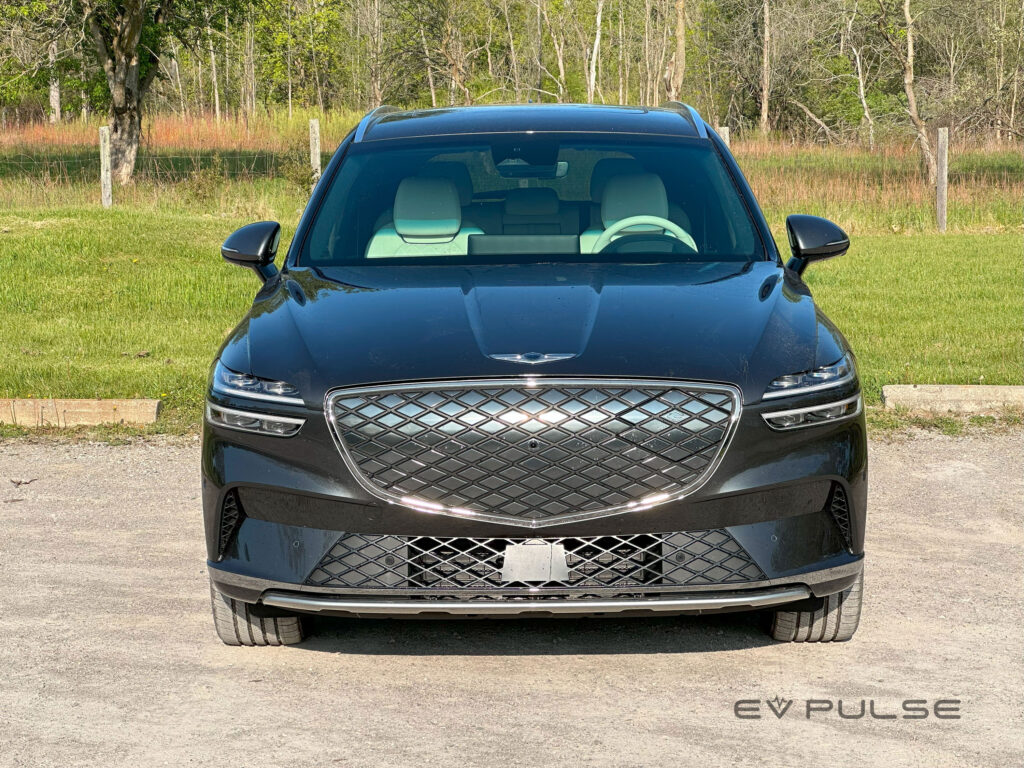 What is surprising, however, is just how smooth this SUV is. The GV70 looks sporty, but the ride is creamier than warm butter. You hear the tires hitting bumps and expansion joints more than you feel any impacts. The trade-off for this softness is a wisp of body roll in corners and a tiny bit of teeter-tottering over bumps or under hard barking or acceleration, though this is not objectionable at all. Stiffer dampers might level things out, but I would not want that if it came at the expense of smoothness. Further increasing the refinement, active noise cancellation is standard, which keeps the interior as quiet as a bunker.
The standard leather-wrapped steering wheel is lovely to hold and nicely shaped. Vehicle handling is secure and predictable, but a sports car this is not, and neither are any of the GV70's rivals. This Genesis competes with other electric luxury utility vehicles like the Cadillac Lyriq, Lexus RZ 450e, Audi Q8 E-Tron and Mercedes-Benz EQE SUV. Each of these competitors offers more range, except for the Lexus, which tops out at a pitiable 220 miles, though even this top-shelf Prestige-trim Genesis is a better value than many competitors. The Electrified GV70's price finishes where some of those rivals start.
No design surprises here
Compared to a gas-powered GV70, the Electrified model looks nearly identical, and that is not a bad thing. This SUV is handsome and well-proportioned, with a design that's interesting and modern but still tasteful.
Of course, a few visual differences set these models apart, and the biggest change is front and center. The Electrified GV70's shield-shaped Crest Grille is filled in to improve aerodynamics. The charging port is also integrated into the upper corner on the driver's side, a convenient place to put this all-important socket, though for protection from the elements Genesis went with plastic plugs that push into place. These feel incredibly cheap and are very fiddly to use. Little hinged doors to protect the outlets, like you get in many other EVs, including mass-market models, would be a far superior choice.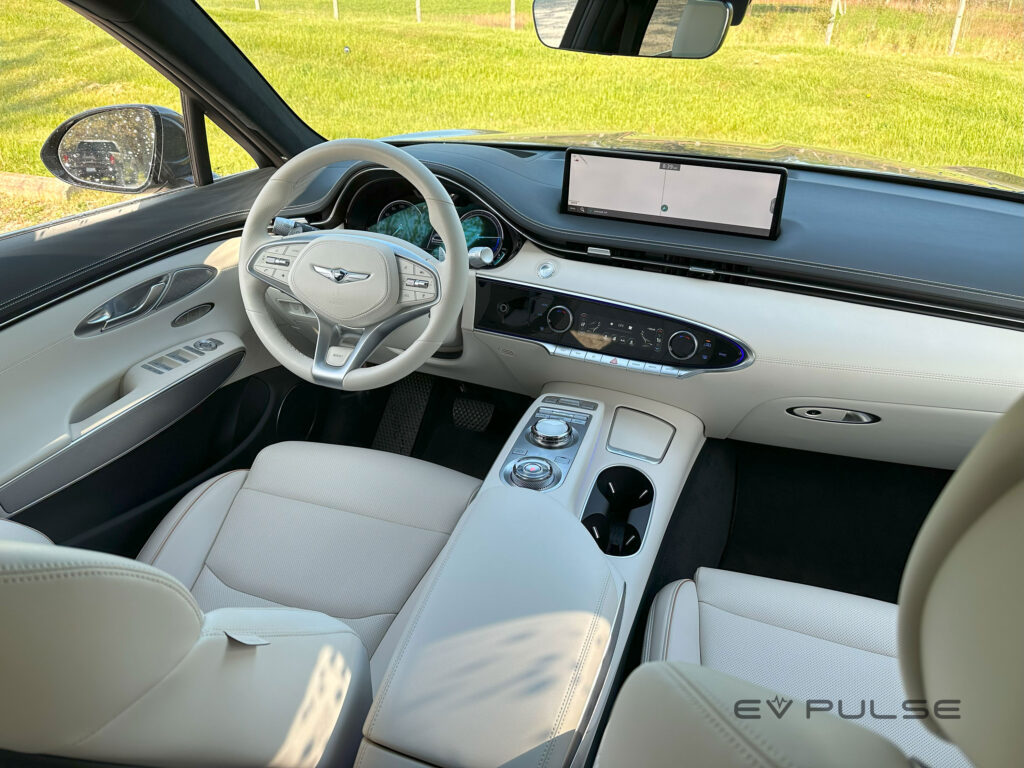 The Electrified GV70's grille is flanked by standard — and handsome — LED headlamps that incorporate the Genesis brand's signature two-line motif. Along the side, this vehicle rolls on standard 20-inch wheels that are neither too big nor too small, while the body is treated to a special paint finish, though be warned, the colors offered are limited, conservative and expensive. There are three gloss options, each for $575, and a matte gray for $1,500. That's it. Conventional GV70s are available with many more interesting colors, but I suspect the automaker is trying to simplify the number of build combinations with the electric model.
At the back, this battery-powered SUV is clean and elegant, with two-line taillamps mirroring the headlights. Compared to the gas-powered model, the rear bumper is also unique because it has no cutouts to accommodate exhaust outlets since, you know, there aren't any. Smartly, Genesis put the button to open the power-operated hatch up high on the windshield wiper stanchion where it's easy to see and use, though I'm forever groping around near the license plate trying to find this switch before remembering it's in a much better location.
An astounding interior
I can talk paint colors and wheel sizes until I'm blue in the face, but none of that captures the magic, the feel of the Electrified GV70. This is just such a nice vehicle, and the interior is stunning, stylish but subtle, advanced yet still approachable and welcoming.
The materials used in this range-topping AWD Prestige model are excellent and the assembly quality is perfect. The stitching is as straight as a laser beam, all the trim is rock solid and the controls feel expensive.
The Electrified GV70 comes standard with a 14-way power driver's seat and the front passenger bucket adjusts in a dozen different directions. Both of these chairs are heated, ventilated and fairly comfortable, though they're not the best buckets my cheeks have ever kissed.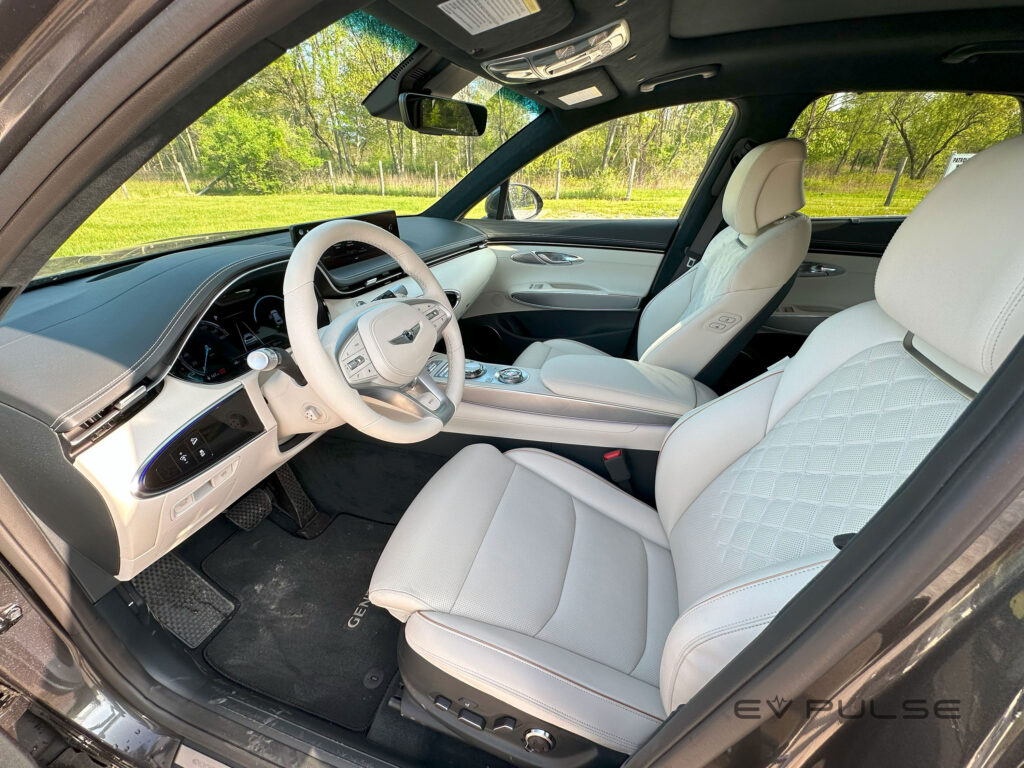 Upping the luxury factor, this model is also fitted with the $6,800 Prestige Package. This includes creamy-soft Nappa leather, a microfiber-wrapped headliner and roof pillars, leatherette on the instrument panel and an upgraded 12.3-inch digital instrument cluster with a 3D effect, a neat parlor trick that requires no glasses. You also get a head-up display as well as a heated steering wheel and butt warmers for backseat passengers.
As for tech, there's a standard 14.5-inch main display, one with a very wide aspect ratio, so it fits nicely on the dashboard. The infotainment system is beautiful to look at, super responsive and simple to use, basically everything you'd hope for. You can control this multimedia array with a knob on the center console or via touch, though the screen is quite a reach, so you're probably better off using the dial while driving. Android Auto and Apple CarPlay are both standard, though neither smartphone mirroring system can connect wirelessly, so bring a cable.
There's so much to love about the Electrified GV70's interior, but there are a couple issues. The cabin is only available in black or white, and the latter is much too bright for my taste. It's too easy to grab the rotary shift knob on the center console instead of infotainment dial since both are located close to one another. And finally, the climate controls are weird, a mix of physical knobs, a small touchscreen and touch-sensitive buttons. Just pick one interface and go with that, please.
Tough to find but worth the effort
Including delivery ($1,125), the 2023 Genesis Electrified GV70 starts right around $67,550, which is neither cheap nor outrageous. As it sits, the uplevel model tested here checks out for $74,350, with the $6,800 Prestige Package and a mandatory $575 paint job padding the bottom line. With plenty of comfort, performance and luxury swaddled in tasteful design, this battery-electric SUV is an excellent all-around vehicle, one that doesn't cost an absolute fortune.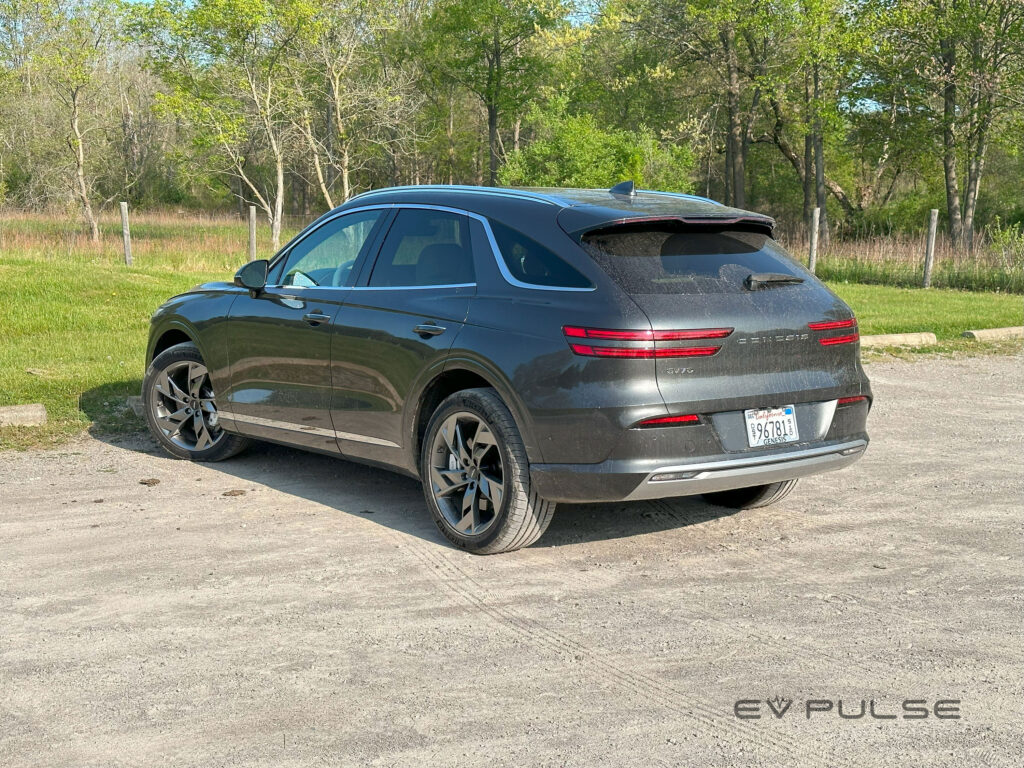 Built in Montgomery, Alabama, this luxury SUV is only available in limited quantities at select Genesis dealers in about 23 states. So, if you want an Electrified GV70, it might take some work to find one, but trust me, it's worth the effort.
At a glance
Year: 2023
Make: Genesis
Model: Electrified GV70
Trim: AWD Prestige
Type: Four-door all-electric SUV
Horsepower: 429 (483 with boost mode)
Torque: 446 pound-feet (516 with boost mode)
MPGe ratings (city/highway/combined): 98/83/91
Range: 236 miles
Pros: Buttery-soft ride, top-notch interior, strong acceleration, incredible DC fast charging performance, plenty of tech
Cons: Range could be better, limited interior and exterior color choices
Estimated Base price: $67,550 including $1,125 in destination fees
As-tested price: $74,350 including $1,125 in destination fees