One of the major benefits of owning an EV is that you're spending less money on general maintenance for your vehicle. You don't have to worry about oil changes, radiator fluid, fuel filters, or belt changes. Unfortunately, no matter how advanced your EV is, there's no such thing as a self-cleaning interior (yet). That means you still need to invest a bit of time, money, and effort to keep your cabin spotless, starting with a bottle of quality interior cleaner to go with one of our recommended car vacuum cleaners.
Nowadays, automakers worldwide are using all types of different materials and fabrics, with many focusing on animal-free interiors. We wouldn't even be surprised if most EVs in the future didn't offer genuine leather in the cabin, as several automakers have already committed to such a move. Volvo, for example, has announced that by 2030 none of its vehicles will use leather. Why are we mentioning this? Well, if you're not even sure what type of materials or fabrics are being used in your interior, what cleaner do you get? The good news is, many reputable car care companies now offer interior cleaners that are safe to use on a variety of surfaces, and those are the ones we focused on.
Most of these products I've personally used on my Tesla Model 3 in the past, and the convenience of having a single cleaner that can handle the majority of your interior really makes life easier. Before we go onto our list of recommendations for the best interior cleaners, we have to give one tip: always test an interior cleaner on a small inconspicuous area before applying it to the rest of the surface. Even if a product claims it's safe to use, it never hurts to be sure. The last thing you want is an interior cleaner staining your seats or center console.
Below are our picks for the best interior cleaners, followed by more information about the cleaners and some tips on keeping your cabin spotless. Interior cleaners aren't the easiest products to compare since most of them will do the job, at least on the surface. When picking my recommendations, I looked at how efficient they were at cleaning, if they left any sort of residue behind that required more effort to get out, and their scent. Some interior cleaners leave behind a very strong scent, and I try to avoid recommending those.
1. Top pick: Chemical Guys Total Interior Cleaner and Protectant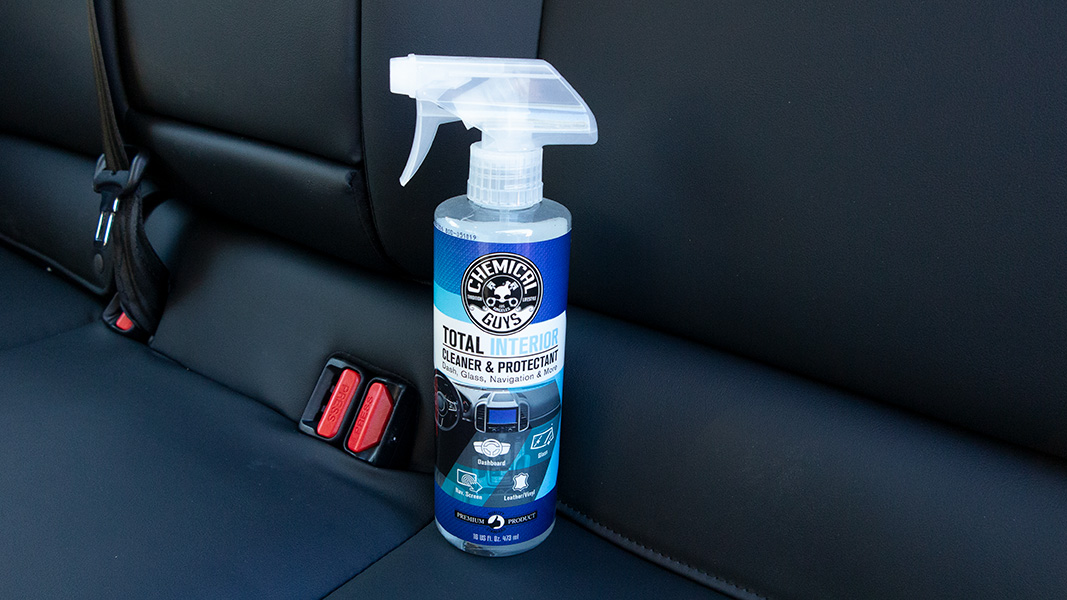 When it comes to performance and price, I have to hand my top pick to Chemical Guys. The company has a wide range of car detailing products and even several different interior cleaners, but this is my recommendation for something that works on all surfaces. I prefer this product over others because it's relatively mild and doesn't leave behind any strong scents. It's efficient too since I typically don't have to spray too much to cover my cabin. Chemical Guys also says the formula is blended with UV blockers to help prevent cracking and fading.
Chemical Guys Total Interior Cleaner and Protectant can be safely used on your seats, dashboard, carpets, floor mats, center console, and even your navigation screen or windshield. I never noticed any sort of residue being left behind, just a nice and clean finish that isn't glossy or greasy to the touch.
2. Runner-up: Adam's Microban Interior Detailer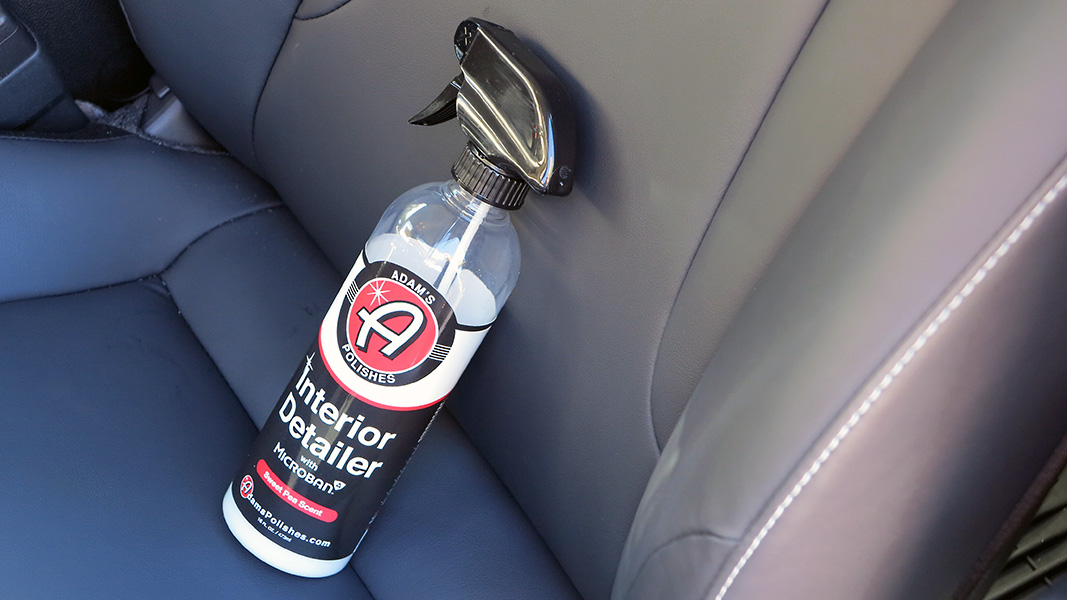 The car detailing experts at Adam's Polishes teamed up with Microban for our runner-up recommendation. If you've never heard of Microban, the company specializes in antimicrobial technologies and odor control solutions. The result of the collaboration is this premium interior detailer that is packed with UV blocking agents so it continues to work long after it has been applied. It's safe to use on all types of surfaces you'd find inside your interior, including your navigation screens, dashboard, headliner, vinyl, etc.
I'm not a huge fan of a glossy finish on my interior, which this product can leave behind depending on how much you use. I also found it a little streaky on my Model 3's center console, which had the glossy painted black finish. Overall it works great, but it's a bit more expensive per ounce than my top pick and it wasn't flawless.
3. Best bang for the buck: Griot's Garage Interior Cleaner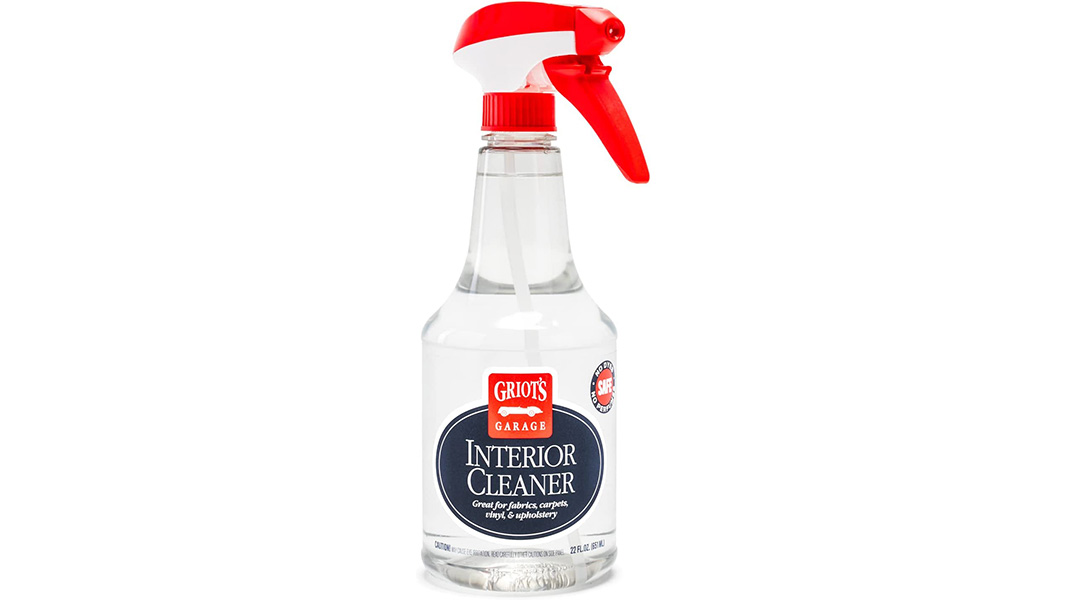 Griot's Garage is one brand that many professional detailers swear by and I do like some of its products. The company's interior cleaner is a solid choice, especially for the price. It's also a mild solution with no dyes or additives, and it's safe to use on all interior fabrics and hard surfaces. I had a few minor complaints when testing this product, the first being the bottle design that felt a bit clumsy. It's bottom-heavy so it's a little unwieldy compared to other products I tested.
I didn't find it to be as effective with light application compared to products from Chemical Guys and Adam's, meaning you'll need to spray a bit more of it to really get a clean surface. It was also a little streaky on certain surfaces, like glass. Where it does get bonus points is that it's basically odorless, so it's my recommendation for those who are sensitive to strong scents.
4. Premium pick: SHINE ARMOR Car Interior Cleaner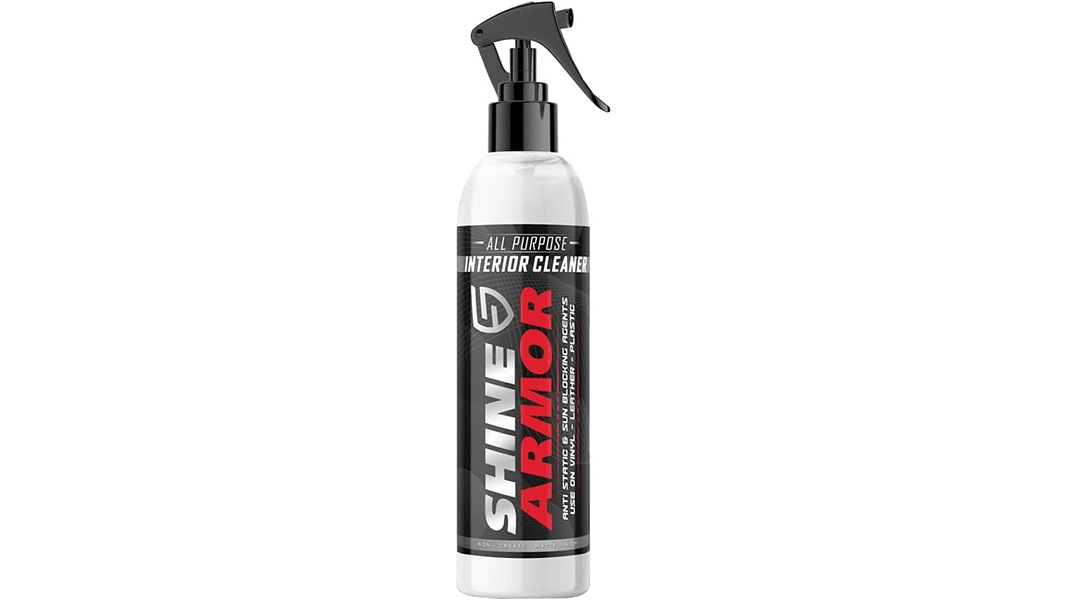 Over the last few years, SHINE ARMOR has quickly become a popular brand among online shoppers. Its interior cleaner performs well, but it's a bit expensive per ounce compared to our other recommendations. What you get however is a non-greasy interior cleaner with anti-static properties so dust doesn't instantly come back and cling onto your surfaces after cleaning. It's also formulated with advanced UV protection to help prevent your interior surfaces from deteriorating. Safely use it on your interior trim, synthetic leather, carpets, floor mats, rubber, plastic, and more.
I did find this product to be effective and I prefer the matte finish it leaves behind. Although the company's name is SHINE ARMOR, don't expect a glossy, shiny finish on your interior surfaces. It also leaves behind a bit of a citrusy scent, so keep that in mind if you're not a fan of smells.
5. Also consider: Meguiar's Ultimate Interior Detailer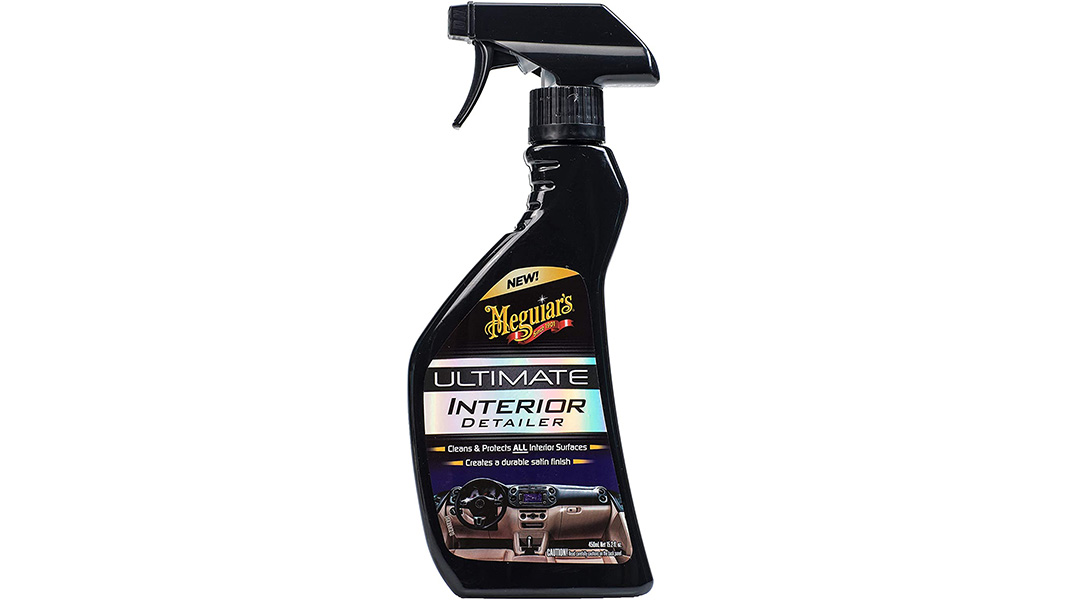 My final recommendation is an interior cleaner I used for years in the past. Meguiar's Ultimate Interior Detailer is a solid overall performer that will clean and protect without much fuss. It's priced in the middle of the pack and it'll leave behind a matte, satin-like finish. It too is formulated with UV protection to help prevent your interior surfaces from being damaged by UV exposure.
So why is it my final recommendation on the list? Well, if you're dealing with a really dirty surface, you'll need a couple applications for this cleaner to really get working. But my biggest issue with it is the strong scent that it leaves behind. It's a bit strange, because other Meguiar's products (like its Quik Detailer) leave behind a pleasant smell, but I am just not a fan of the Ultimate Interior Detailer's scent. If you're not sensitive to smells or simply don't mind them, this product will work great on your interior.
Can I use interior cleaner on my glass?
Certain interior cleaners are fine on glass, but we still recommend using a proper glass cleaner. Reason being, even if an interior cleaner says it's safe to use on glass, it could leave behind streaks or residue, which now requires you to use a glass cleaner to remove. Avoid it if you can, but if you must, test it on a small area first.
How often should I use interior cleaner?
Well, that largely depends on how dirty your car's interior gets. How often are you driving? Are you always tracking in dust, dirt, and grime? If so, you'll want to get it all off your interior surfaces as quickly as possible. Personally, I do a light spray and wipe of my interior after every car wash. It's a lot less effort each time than waiting until it gets really dirty and you're spending an hour just wiping down your interior. Another factor to consider is how often your car is parked outside. Quality interior cleaners will be formulated with some sort of UV protection. How effective that is can be argued, but we'd like to believe that something is better than nothing.
Are car interior cleaners really that different?
Truth be told, if you blindly grabbed any of our five recommendations and used it on your dashboard, you'd probably walk away thinking they're all the same product. For general cleaning, most quality interior cleaners will perform similarly. Things get a little different if your cabin is particularly dirty and then certain products won't be as effective with a single spray and wipe. You should also account for how a product smells, especially if you're sensitive to scents. Lastly, some products leave behind a glossy and shiny finish, while others are a matte, satin-like finish. This largely comes down to personal preference, but I tend to stay away from the glossy finish as it feels a bit greasy to the touch.
Recent Updates:
Updated (3:05 p.m. EDT, 04/28/2023): Added eBay shopping options to our recommendations. Our top picks remain unchanged.
Updated (12:10 p.m. EDT, 08/31/2022): Added original photography from testing some of the interior cleaners.