We've done our fair share of product recommendations to help you keep the exterior of your car shining like new, but what about your interior? After all, it is where you spend nearly all of your time with your car. It doesn't matter how careful you are, eventually your interior is going to get dirty from tracking in grime and dust on your commute. Routinely vacuuming your car is a great way to ensure the cabin stays in good condition, and who doesn't want to step into a car that's nice and spotless? Like a clean house, a clean car interior is simply more comfortable.
Now, you're probably thinking, "why can't I just use my home vacuum?" Well, you definitely could, especially if you have a cordless home vacuum. But if you've got a larger vehicle like a Tesla Model X, chances are the battery won't last until you're done. If you're planning to use a more traditional household vacuum on your car, it'll probably be quite the frustrating experience. Instead, we recommend investing in a proper car vacuum, especially when they're relatively inexpensive. You certainly won't be seeing any Dyson recommendations on our list, as our most expensive recommendation is under $200.
We've also included an assortment of different car vacuums, some that are cordless and handheld, others that are plug-in shop vacuums. We know everyone has different needs and when it comes to car vacuums, we don't believe there's a "one size fits all." Choose the one that's best for you and your car's mess.
1. Top pick: THISWORX car vacuum cleaner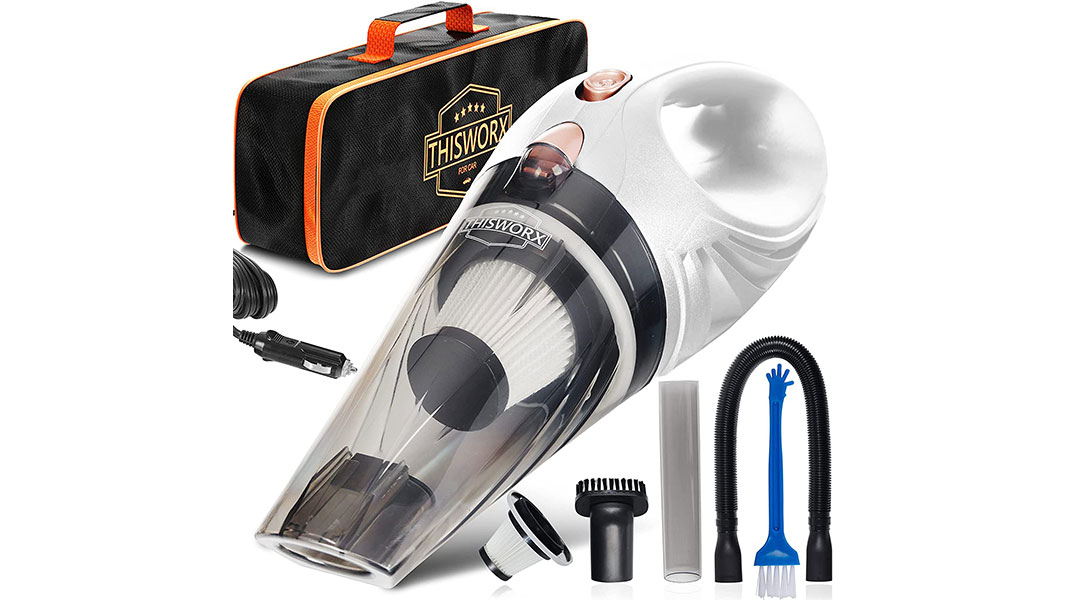 I have personally been a huge fan of THISWORX's car vacuum cleaner for a couple years now, and while the company does have an updated model, I haven't had a chance to test it out yet, which is why I'm recommending its older vacuum. Although it's not the perfect car vacuum (is there even such a thing?), it offers great performance for its price. Weighing about 2.4 pounds, it's what I'd consider lightweight and it's not cumbersome or tedious to use. It plugs into your car's 12-volt outlet (cigarette lighter receptacle) for power and its 16-foot cord means you should be able to clean your entire car's interior with little fuss.
This compact car vacuum is equipped with a HEPA filter and includes three attachments: flathead, extendable, and brush nozzle. THISWORX also includes an extra HEPA filter, a filter brush, and a carrying bag. Powered by a 106w motor, it offers ample power to pick up all that dirt, dust, and grime you've tracked into your car. Maintenance is fairly straightforward, especially since the filter is washable.
2. Runner-up: HOTOR car vacuum cleaner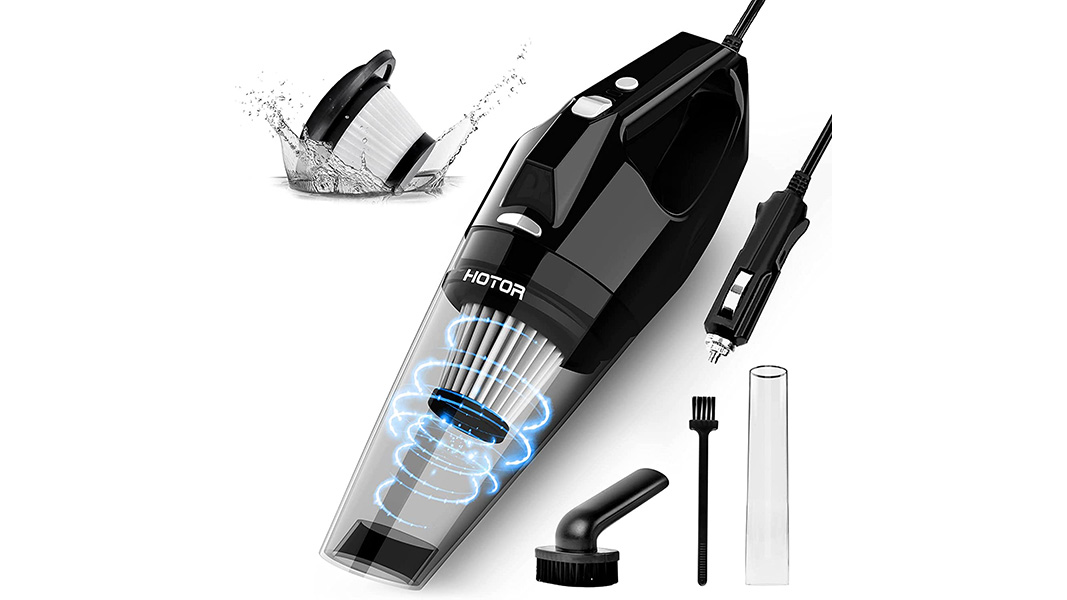 The HOTOR vacuum is similar to our top pick and it's a great option if you're shopping on a budget. The one major factor that keeps it out of our top spot is its shorter power cord, which could be an annoyance for those who own longer or wider vehicles. Otherwise, this recommendation is also equipped with a HEPA filter and includes a crevice nozzle for hard-to-reach areas, a dusting brush, a spare HEPA filter, and a pair of nylon wraps if you ever need to replace the original nylon wrap.
Again, you'll plug this vacuum cleaner into your car's 12-volt outlet for power, just make sure its 11.49-foot length is enough to cover your car. One minor feature that is worth mentioning is the built-in LED light, which can come in handy if you're trying to vacuum underneath your seats or in a dark garage. I'd recommend this car vacuum for those who don't expect their car's interior to get too dirty and need something that's affordable and powerful enough to take care of light messes.
3. Best compact wet/dry vacuum: Armor All shop vacuum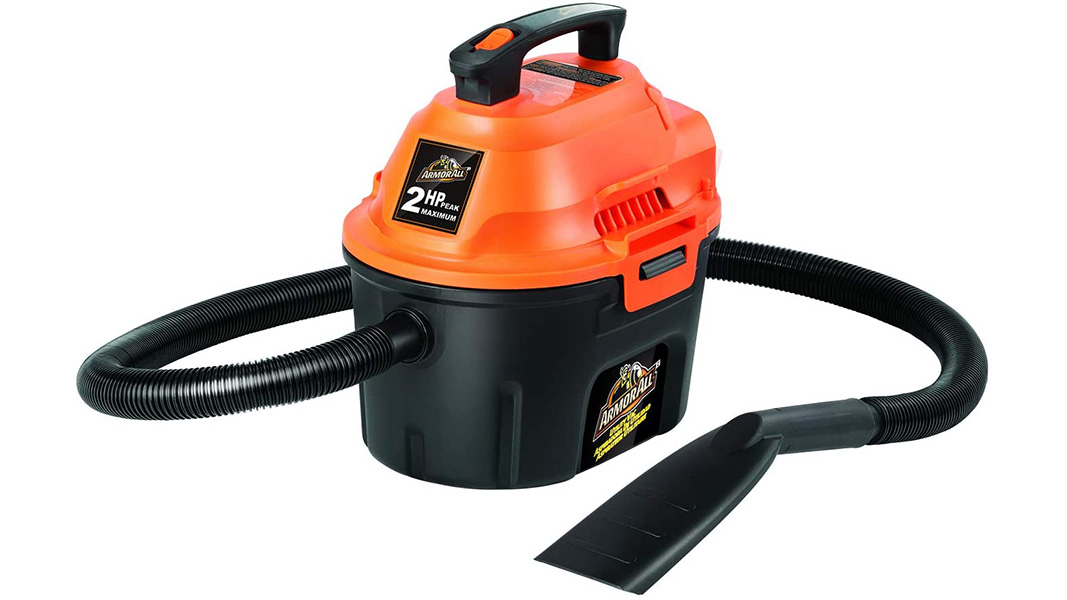 With our two handheld recommendations out of the way, we now turn our attention to shop vacuums, which you have likely heard of or seen. These are more traditional car vacuums and what you'd see at a mechanic's shop or a car wash to make quick work of your messy interior. I'd only recommend shop vacuums to those who have a convenient power outlet nearby, and there's a good chance you may need an extension cord. While they're not as convenient as handheld car vacuums, they are more powerful, easier to dump out, and for some, less effort to use.
My compact recommendation and the one I keep in my own garage comes from Armor All. It's a 2.5-gallon wet/dry vacuum powered by a 2.0-peak-horsepower motor, which is ample power in my opinion to take care of the interior in most cars. The attached power cord measures 10 feet and it's equipped with a 1.25-inch diameter hose that measures six feet. It can also serve as a blower and has convenient storage for accessories and the hose on the vacuum itself. Armor All also includes an assortment of attachments: a two-in-one utility nozzle, detail brush, crevice tool, blower nozzle, and a deluxe car nozzle.
4. Best heavy-duty wet/dry vacuum: DEWALT shop vacuum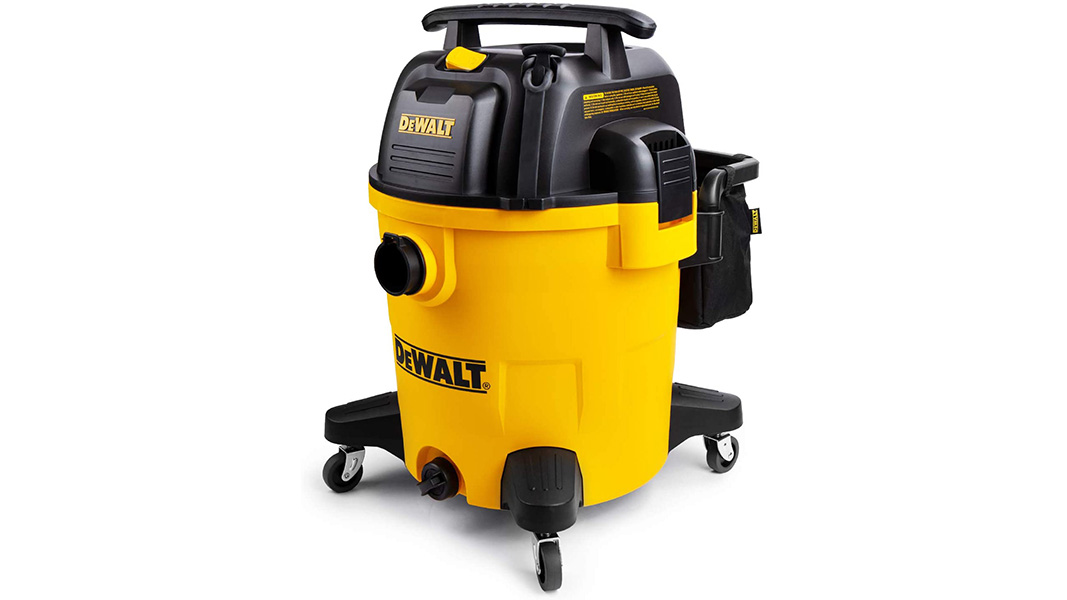 Own a Hummer EV and your daily routine involves taking your kids to their sporting events and practices? Constantly staring at muddy carpet and dirt wondering how our previous recommendations could possibly help you? Or maybe your garage just has a pair of electric crossovers and our smaller vacuum recommendations just can't make the cut. Whatever your reason for needing a heavy-duty car vacuum, we'd recommend this one from DEWALT, the same manufacturer of popular tools we used to use to work on our ICE cars.
Packing a 12-gallon tank, you'll be able to take care of your vehicles several times before having to empty this vacuum out. It's powered by a 5.5-peak-horsepower motor that should manage basically any cleanup job in your car. There are also rubberized casters, which makes it easier to maneuver the vacuum around and since it is a wet/dry vacuum it'll take care of all your messes. Attached is a generous 20-foot power cord and like most shop vacuums, there's a built-in blower port so you can switch over if needed. If you are having to clean up wet messes, the built-in tank drain makes it easy to empty. It also comes with plenty of accessories and tools to make vacuuming your car easier, and all of it can be conveniently stored in the accessory bag, which attaches to the backside of the vacuum.
5. Best for pet owners: BLACK+DECKER Furbuster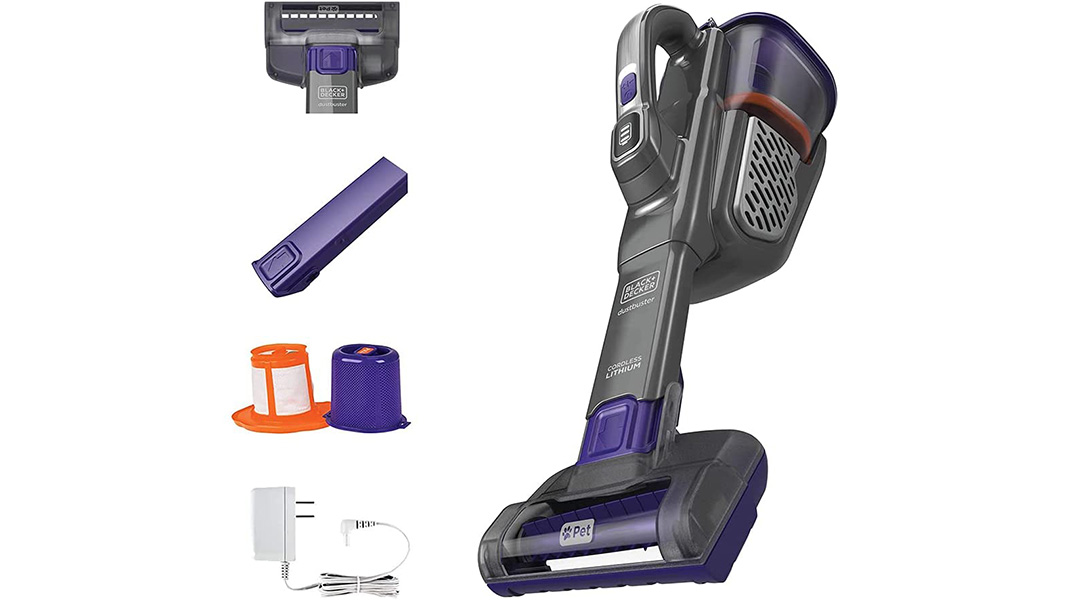 Our final recommendation is a household vacuum cleaner, but it's a cordless unit from an extremely reputable manufacturer. The BLACK+DECKER Furbuster is ideal for car owners who often travel with their four-legged best friend, leaving fur or hair behind in every imaginable crevice. If this sounds like you, then you'll want this recommendation. Designed with anti-tangle rubber bristles that are motorized to lift all that pet hair from your seats, floor mats, and carpet, this car vacuum also has a built-in "POWERBOOST" function for when you need more suction.
Since it is a household vacuum, there are a few convenient features like its one-touch, easy-empty design. Simply push the button and empty out the dustbin. An extra-long crevice tool is handy for vacuuming a car's interior. Inside is a washable filter for easy maintenance. As for battery life, it uses a 20V max lithium-ion battery that should be enough to handle your car (depending on its size and the mess) before it runs out and needs to be recharged. There is a battery indicator, which isn't often seen on some of these cordless household vacuums. Best of all, you can use it at home too!
Why do I need a car vacuum cleaner?
As we mentioned before, a household vacuum cleaner can be used to vacuum your car, but it's not as convenient. Car vacuum cleaners are specifically designed to make quick work of your car's mess, whether it's through attachments or a 12-volt power cord that plugs into your car's cigarette lighter receptacle. Shop vacuums are even better for the task in terms of suction power, but they might not be the most convenient to use for everyone. If you care about keeping the interior of your car clean, you'll want to invest into a car vacuum cleaner. They're simply easier and more efficient to use than your household vacuum.
Do I need a wet/dry vacuum?
The short answer to this question is that it all depends on you. Have you ever dealt with a spilled mess in your car? If so, then you probably want to have a wet/dry vacuum handy in your garage. I like to recommend shop vacuums to everyone who can conveniently use one, because they also come in handy for home use. You can purchase one and primarily use it for your car, but you're going to be extra grateful that you have it ready to go when something in your house happens to leak.
How do I choose the right car vacuum?
Our recommendations cover three different types of vacuum cleaners: handheld units that use your car's 12-volt outlet, shop vacuums, and a cordless unit that's designed for home use. Personally, I would choose the type of vacuum that you're most likely to use. That means convenience is the primary factor. If you have an electrical outlet nearby where you wash your car, then a shop vacuum is probably the best recommendation. If you aren't able to easily plug in a shop vacuum to clean your car, then consider one of our handheld options that use your car's 12-volt outlet for power. Another factor to consider is how messy your car gets and how often you're going to vacuum. If you have a regular routine for washing your car and can spare the 15 minutes to vacuum each time, then you don't necessarily need something heavy duty. But if you're often commuting with pets or kids, you may want to consider something more powerful.
Recent updates:
Updated (1:51 p.m. EST, 1/27/2023): Added more shopping links to our recommendations.