Aside from the Stinger and maybe, maybe the K900 luxury sedan, which was offered with a lovely V8 engine, Kia is not really known for building high-performance vehicles. They don't even have a dedicated go-fast division like Mercedes-AMG or even Hyundai's N sub-brand. But a glaring exception to this is the new EV6 GT, the most powerful production Kia ever built. This all-electric hatchback can rocket from 0 to 60 mph in a scalding 3.4 seconds. The new GT is a performance vehicle through and through, though for several reasons, you may not actually want one.
A roundhouse kick
Giving the GT a big advantage over lesser EV6 trims like the Wind and GT-Line are two potent electric motors. The front dynamo is rated at 160 kilowatts while the rear one cranks out 270. In freedom units, that works out to a total of 576 horsepower and 546 pound-feet of immediate torque. Even if it's not quite as violent as some other high-performance EVs, this Kia has no trouble roundhouse kicking you and your passengers in the chest when you stand on the accelerator.
Helping control that immense power, GTs also come with upgraded brakes. There are 14.2-inch rotors at the back and 15-inch discs up front that are squeezed by four-piston calipers that have been treated to a fetching neon green finish. Rounding out the chassis, this car also comes with adjustable dampers, unique front suspension components and an electronic limited-slip rear differential. The steering ratio has also been quickened compared to other EV6s, which provides plenty of agility, though more feel would always be appreciated. Like many other modern vehicles, this steering setup isn't particularly communicative.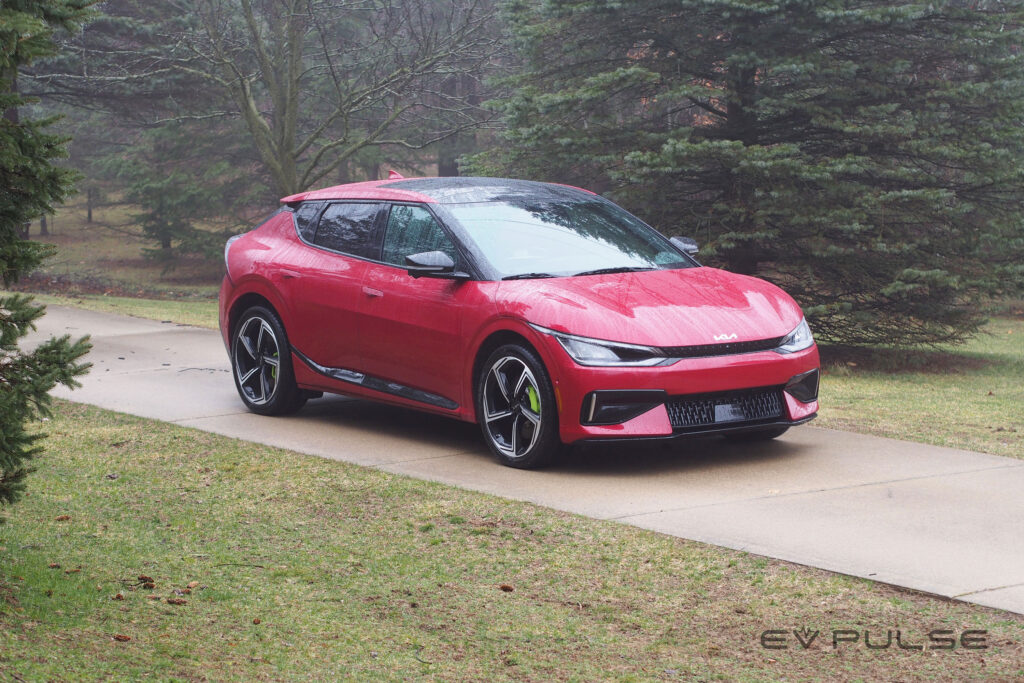 Aside from substantive technical upgrades, a few visual changes help set the EV6 GT apart from its siblings. The front and rear ends have been tweaked, there's a special rear spoiler and this example rolls on lovely 21-inch wheels that are fitted with winter tires, 'cause it's still been cold and nasty here in Detroit.
Regrettably reduced range
Just like the closely related Hyundai Ioniq 5 and Genesis GV60, the EV6 GT features a 77.4-kWh lithium-ion battery. A DC fast charging champion, this pack tops out at around 235 kW, a stellar performance, one that's strong enough to go from a 10% state of charge to 80% in just 18 minutes.
But as with everything in life there are trade-offs, and for the EV6 GT, a big one is range. Having beefy tires and all that power means this vehicle can only go an EPA-estimated 206 miles on a charge, which is not great. In comparison, the all-wheel-drive GT-Line version of this Kia is rated at 252 miles and the all-wheel-drive Wind at 282. So, here you're giving up potentially 76 miles of range. Making this trade-off even more questionable, lesser EV6s are already fantastic performers, with 320 hp and 446 lb-ft of torque. And this right here is perhaps the GT model's biggest weakness, that it isn't distanced far enough from other EV6 trims.
Subtle interior enhancements
Matching those restrained exterior enhancements, the EV6 GT also features a few minor interior upgrades. There are vibrant neon green accents, the striped motif on the dashboard and center armrest is supposedly different and the manually adjustable front bucket seats are unique to this trim and heavily bolstered. They fit me just about perfectly, though larger drivers will probably not care for them because they're quite snug in the torso.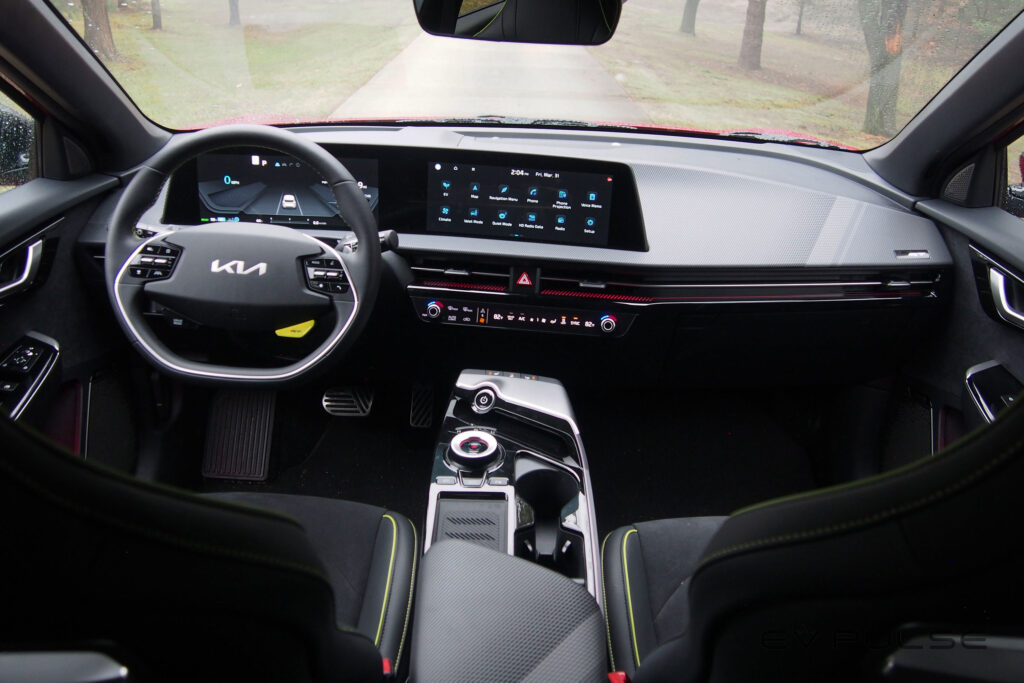 Exotic car-toppling performance
Despite being electric, in many ways the EV6 GT drives like a true performance car, with bonkers straight-line performance. Just roll on the accelerator at any time, in any situation and the vehicle instantly leaps forward. It's not take-your-breath-away or bruise-your-internal-organs quick, but the EV6 GT has serious oomph, in fact, Kia is proud to say this little EV can out accelerate a Ferrari Roma and a Lamborghini Huracan Evo Spyder RWD.
Head for the hills and you'll discover that the GT's steering is crisper, firmer and more direct than what you get in other EV6s, thanks to the quicker ratio and unique suspension components. It would undoubtedly be even more engaging with summer tires installed. Unfortunately, when hustling, this vehicle feels heavy — because it is. The curb weight is just shy of 4,800 pounds, which makes this hatchback seem a little reluctant to change direction.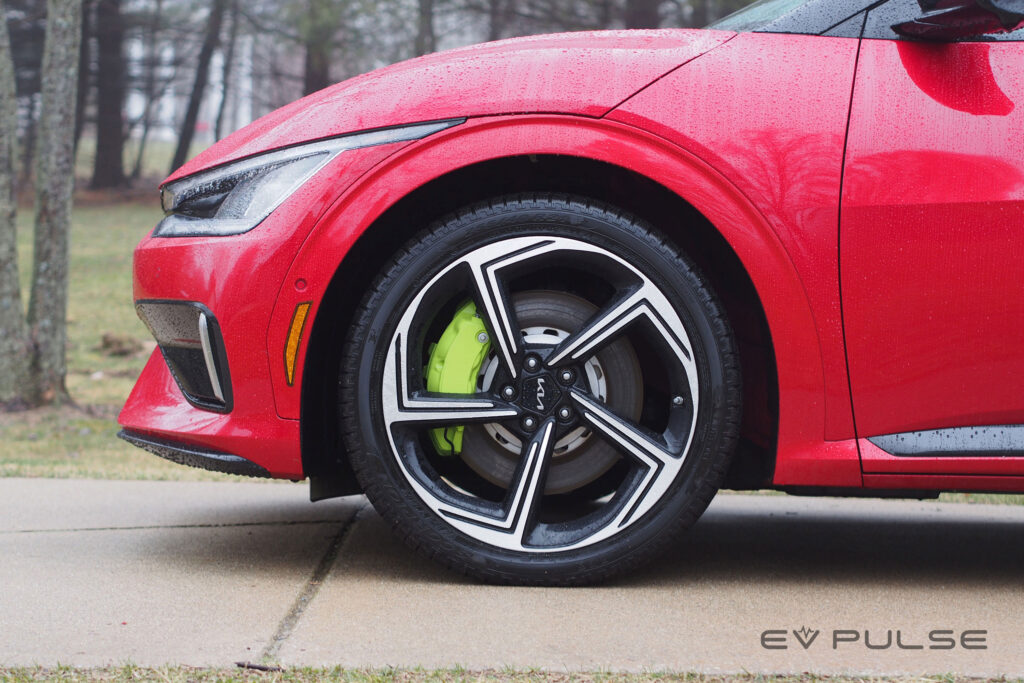 The EV6 GT's ride is always firm, but never brutal. The chassis does a great job filtering out roadway harshness, so you don't feel any grittiness coming up from the pavement. The adjustable dampers allow you to fine-tune how this car rides, in theory at least. While playing with various settings I never noticed much of a difference.
Encouraging delinquency, there's also a drift mode that basically routes all the juice to the rear tires so you can smoke 'em or get sideways with a tap of your toes. Accessing this setting requires a bit of effort, so plan accordingly. You have to first put the car in GT mode, then turn traction control off. Finally, pull both paddles and hold for a few seconds until "Drift" pops up in the instrument cluster. Now you can have some fun, just don't get caught.
Potent performance for a price
The 2023 Kia EV6 GT offers plenty of performance and style. The interior is also lovely and the driving dynamics are quite engaging. Of course, the range could be better, a bit more separation between lesser EV6s would be nice, and this Kia is not cheap.
Out the door, our tester stickers for just shy of $63,000 including delivery fees. That's about 9 grand more than an all-wheel-drive EV6 Wind, which is a lot to pay for appreciably less range and only marginally better performance.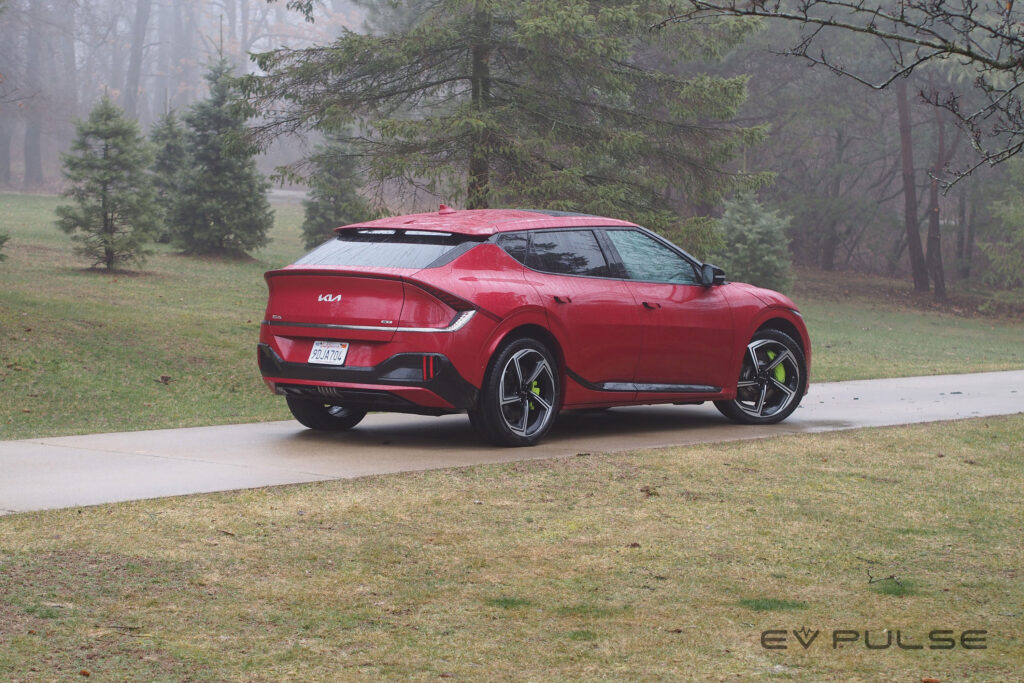 I love the GT's strong acceleration and sporty demeanor, but unfortunately, I don't think this vehicle is really worth the trade-offs. That's not to say the EV6 GT isn't a great electric vehicle — it absolutely is, and it might be exactly what you're looking for — it's just that regular AWD EV6s are already so good this car has a hard time standing out or moving the needle.
At a glance
Year: 2023
Make: Kia
Model: EV6
Trim: GT
Type: 4-door all-electric crossover
Horsepower: 576
Torque: 546 lb-ft
MPGe ratings (city/highway/combined): 85/74/79
Range: 206 miles
Pros: Premium interior, great tech, warpdrive acceleration
Cons: Limited range, steep price, more separation between other EV6s would be nice
Estimated Base price: $63,000
As-tested price: $62,865 including $1,295 in destination fees
Video review