Electric vehicles usually aren't cheap. As platforms for automakers to showcase their technological prowess, today's EVs are typically high-end vehicles loaded with the latest and greatest amenities, which pushes their prices far beyond the reach of many drivers. But electrics don't have to be unobtainable. There are a few affordable options like the Chevy Bolt and Bolt EUV, Nissan Leaf and, perhaps the best of this fiscally responsible bunch, the new 2023 Kia Niro EV.
Middle class fancy
Think of this battery-powered crossover as a workaday alternative to the superb but spendy Kia EV6. A more mass-market product, the Niro EV sacrifices range and charging performance to help keep the price tag low, though, surprisingly, you give up little technology or quality in this transaction.
The Niro EV's biggest rivals are the above-mentioned Chevy Bolt EUV crossover and Nissan Leaf hatchback. Each of those competitors has its own advantages and trade-offs, but overall, this Kia is probably a step above thanks to its better (but not great) DC fast charging performance and higher-quality interior.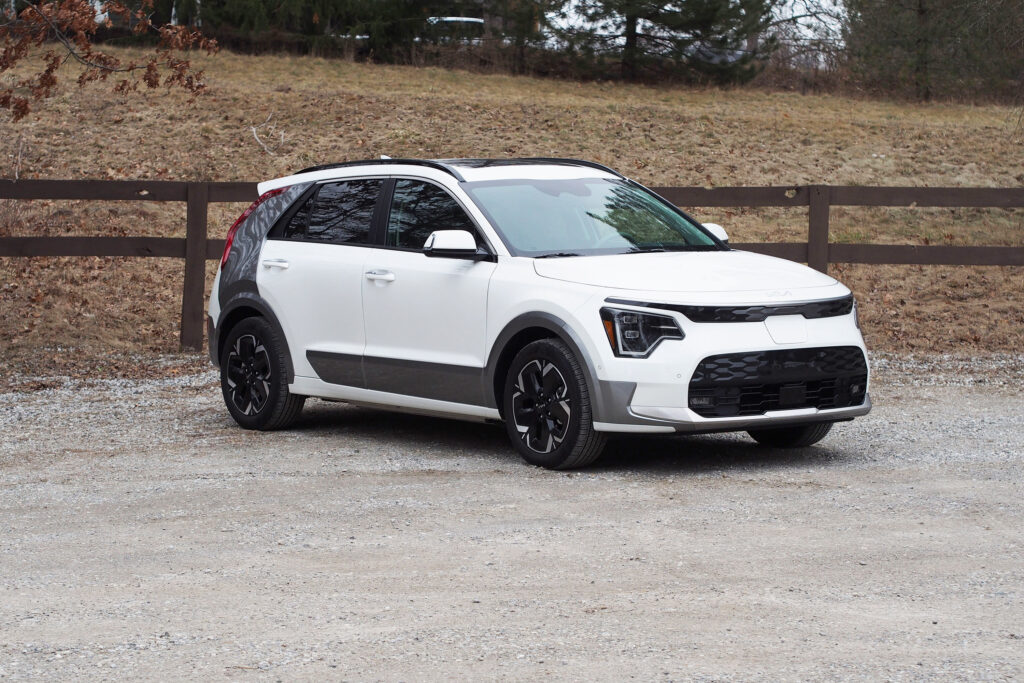 An engineering flex, Kia offers three versions of the Niro. There's a conventional hybrid, a plug-in variant and, of course, a pure electric, the Niro EV. Keeping things simple, the electric model is offered in two trims: There's the base Wind model and up-level Wave. Naturally, the higher-end trim is the one being evaluated here, though the vehicle starts at less than $41,000 including delivery fees, which makes it practically a steal these days.
Better looking than ever
The new Niro is more angular and attractive than its rounder predecessor. Up front, you'll find a handsome, reinterpreted version of the brand's signature tiger nose grille with the charging door front and center. This is the ideal place to put a CCS outlet because you never have to worry about what side the port is on, just pull up to the charger and you're good to go.
Like the EV6, the Niro has a small storage cubby under the hood, one that's large enough to house a portable electric vehicle charger and that's about it. This nook has its uses, but it's far less versatile than a proper front trunk, so forget about stashing your groceries in there or anything larger than a small briefcase.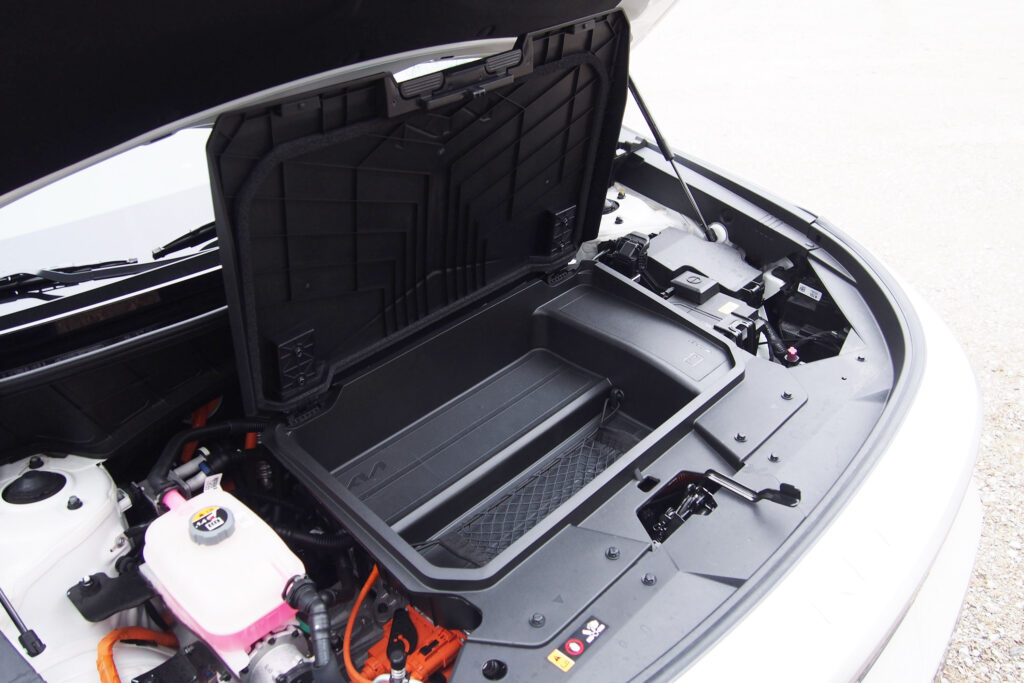 Hybrid and plug-in hybrid Niros feature black exterior cladding and wheel arch trim, though the Niro EV can be had with lovely steel gray accents. I'm not normally a fan of white paint, but this Kia's optional Snow White Pearl finish looks nice with the gray bits as well as the matte metallic trim on the exterior door handles.
The large panels on the side of the Niro's body not only add a bit of visual interest, they also help with aerodynamics. Air actually flows behind these pieces, which helps the vehicle have a slippery coefficient of drag of just 0.29, something that helps with efficiency.
An enviable interior
The Niro EV is not a fancy vehicle, but its interior is still super nice, especially for the price. This crossover proves you don't have to spend a fortune to get something good. Overall, the cabin is stylish, modern and assembled with great care. Everything fits together tightly and there's a real sense of precision and care. Additionally, the Niro's interior is made of many eco-friendly materials, so it's not only a pleasant place, it's good for the environment, too.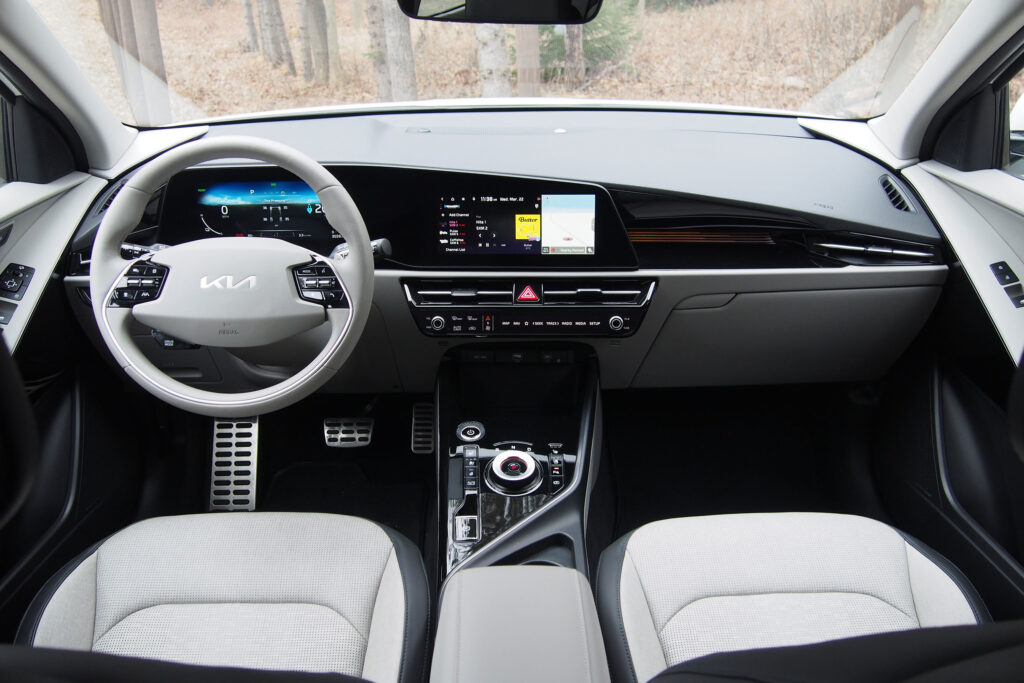 The headliner is made partly of recycled wallpaper, there's bio-based polyurethane on the seats, while other models feature fabric made from eucalyptus leaves. The paints used inside are also BTX free, meaning they contain no benzene, toluene or xylene. Aside from the headliner, nothing in the Niro seems cheap or flimsy, all the materials have a feeling of quality, as do the switches and controls.
Niro Wave models also feature heated and ventilated front seats with memory settings for the driver. There are loads of headroom and legroom in the back for lanky passengers and there's even a 120-volt household outlet in the rear near the floor, so you can power a variety of appliances. You can also use Kia's vehicle-to-load adapter, which plugs into the exterior charging port and allows you to run other electronic devices, just like you can do with the EV6.
This vehicle comes standard with a pair of 10.25-inch displays, a digital instrument cluster and a touchscreen for the familiar and intuitive infotainment system. Apple CarPlay and Android Auto are both supported, but neither can connect wirelessly, so bring a cable.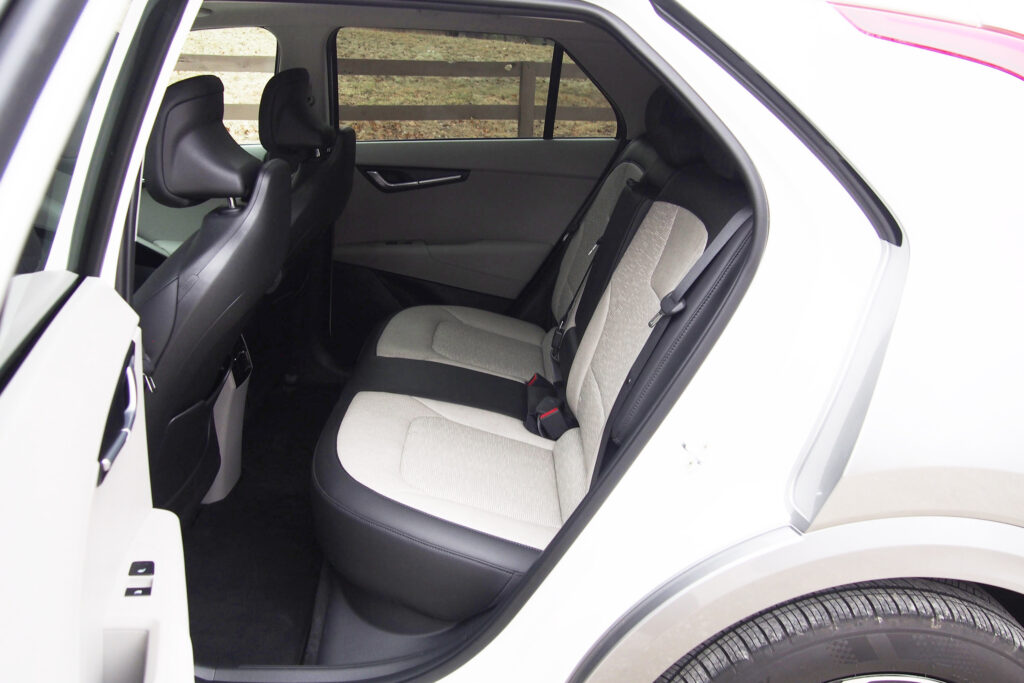 There's also a head-up display, plenty of USB ports in the front and rear, and you can even get the Niro EV with an optional heat pump in the HVAC system, which helps improve range in cold conditions, a feature that's not available in many much-pricier electric vehicles. Really, with this Kia, you're not giving up much despite it being a "lower-end" EV.
Technically speaking
Underneath the floor is where you'll find the battery. It's a lithium-ion pack that clocks in at 64.8 kilowatt-hours, which is enough to provide an EPA-estimated range of 253 miles. Normally, we like to see 300 here at EV Pulse, but this is still a decent number, one that edges out the Bolt EUV and puts this car far ahead of the Leaf.
Unfortunately, the Niro EV's DC fast charging performance is not great. This crossover-like hatchback tops out at an uninspiring 85 kilowatts. In comparison, the EV6 will do about 235, meaning it's nearly three times quicker. Still, Kia says the Niro can go from 10 to 80% in less than 45 minutes, which is OK. Level 2 AC charging at home will require about seven hours to completely replenish the battery.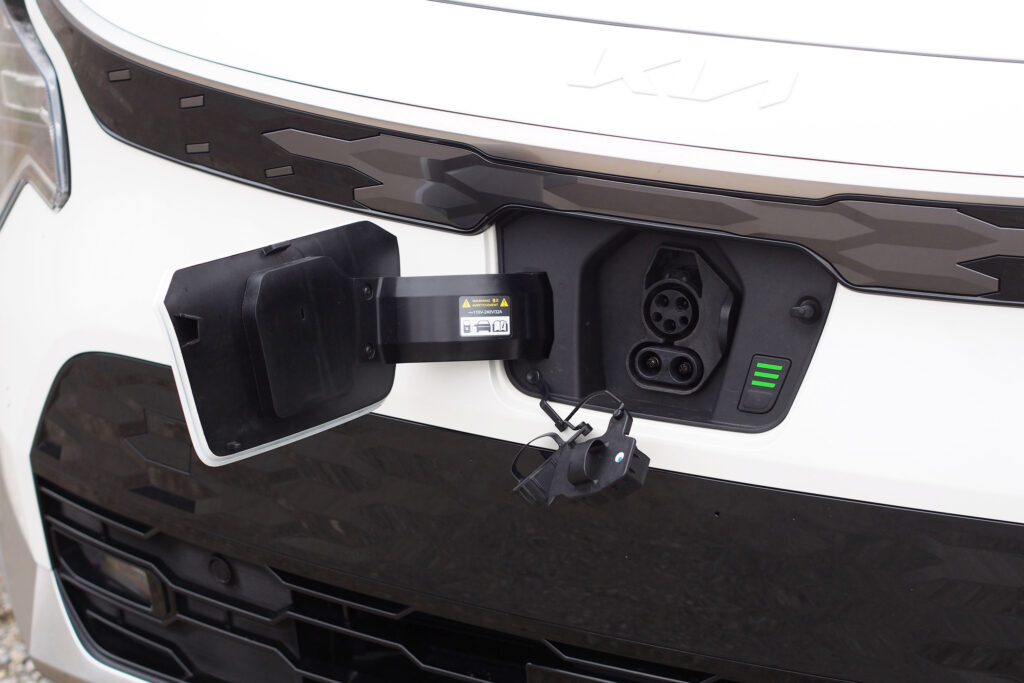 As for efficiency, this vehicle is rated at 126 miles per gallon equivalent in city driving and 101 on the highway. Combined, the Niro EV should return 113 MPGe, which is about 30 kilowatt-hours per 100 miles.
When it comes to performance, a single electric motor drives the front wheels, providing a decent 201 horsepower and a lackluster 188 pound-feet of torque. Despite those rather unimpressive numbers, the Niro EV still offers good performance and is able to go from 0 to 60 in about 7.1 seconds. In real-world driving, this vehicle feels quicker than the numbers suggest because the Niro has plenty of power.
At speed, this Kia has a composed ride with little to none of the bouncing you get in some other EVs. The interior stays quiet and the steering is nicely weighted, though more road feel would be nice. The Niro's brake pedal is also firm and easy to modulate, plus there's a one-pedal driving mode that means you never have to use the brakes if you're careful.
Kia gives you more for your money
As per usual for Kia, the Niro EV, even in uplevel Wave trim, is a strong bargain. The vehicle evaluated in this review checks out for $47,790 including delivery fees, which is roughly where the base EV6 kicks off. To be fair, that figure is certainly not cheap, but it's still a bargain in the EV world and, according to Kelley Blue Book, it's actually a couple grand less than the average new vehicle transaction price, which is right around $49,000. Options padding the bottom line include gray C-pillar trim, Snow White Pearl paint, carpeted floor mats and the Wave Preserve Package that includes a heat pump in the climate-control system and heated outboard rear seats. Unfortunately, since the Niro is assembled in South Korea, it doesn't appear to be eligible for any federal tax incentives, but if it were, it might just be the deal of the century.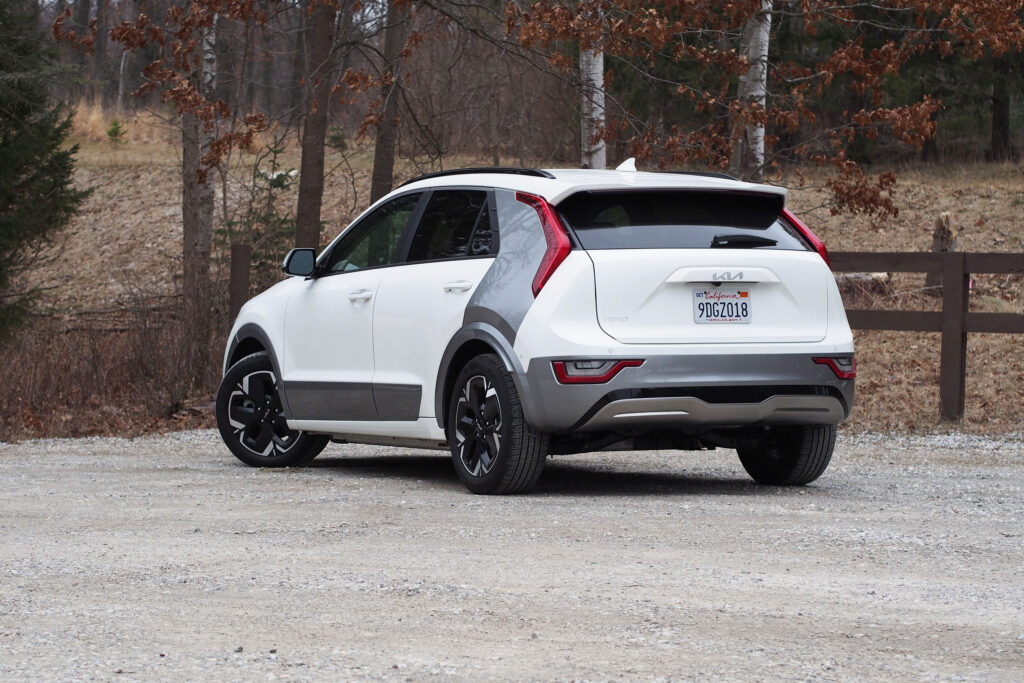 If you're looking to go electric without going bankrupt, the Niro EV is a phenomenal lower-cost option, one that's available in all 50 states of the American disunion. If you can live with the range and limited DC fast charging, it might even be a better choice than some much-pricier electric vehicles that are out there today. It's that good.
At a glance
Year: 2023
Make: Kia
Model: Niro EV
Trim: Wave
Type: Four-door all-electric crossover
Horsepower: 201
Torque: 188 pound-feet
MPGe ratings (city/highway/combined): 126/101/113
kWh/100 miles: 30
Range: 253 miles
Pros: High-quality and eco-friendly interior, good real-world performance, ample amenities, affordable price
Cons: No wireless smartphone mirroring, range could be better, slow DC charging
Estimated Niro EV Base price: $40,875
As-tested price: $47,790 including $1,295 in destination fees