Plug-in hybrids give you the best of both worlds: efficient, electric-only range for smooth and silent motoring as well as a traditional combustion powertrain so you can drive cross country without having to recharge. A little of column A and a little of column B with plenty of capability and comfort thrown in for good measure, the 2023 Jeep Grand Cherokee Overland 4xe is one of the best plug-in hybrids you can buy.
Loaded to the gills with people and equipment, this amped-up SUV proved to be a superb road trip vehicle, a cushy and surprisingly efficient steed that effortlessly whisked the EV Pulse team to Indianapolis, Indiana to cover the annual Work Truck Show. Along the way, our Grand Cherokee 4xe tester averaged around 25 mpg after racking up nearly 700 miles almost exclusively on the highway. This is mighty impressive for a large SUV, one that weighs just shy of 5,500 pounds all on its own.
According to the U.S. EPA, this Jeep should return 23 mpg combined when running solely on gasoline and 56 MPGe when the engine and electric drivetrain work in tandem. The vehicle's lithium-ion battery pack has a gross capacity of 17.3 kilowatt-hours, which provides an estimated electric-only range of 25 miles. That's a good bit less than other plug-in hybrid SUVs provide, vehicles like the Ford Escape, Mitsubishi Outlander and Toyota RAV4 Prime, but remember, those offerings are smaller and lighter than the Grand Cherokee.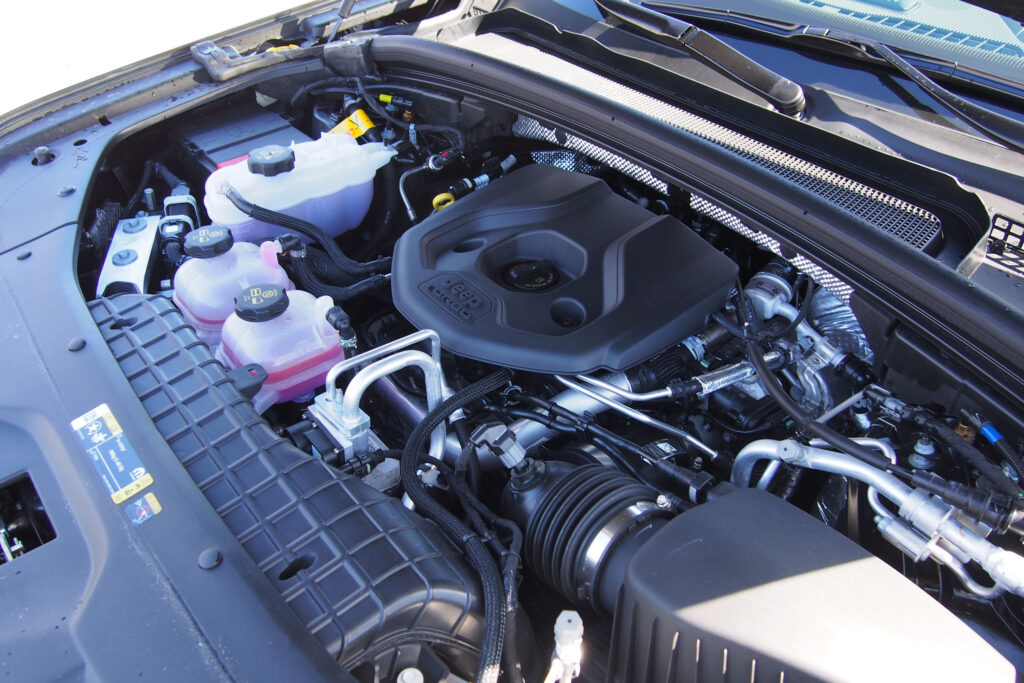 This Jeep's powertrain is centered around a 2.0-liter turbocharged four-cylinder engine. It's augmented by a pair of electric motors and an eight-speed automatic transmission. Total system output in the Grand Cherokee 4xe is 375 horsepower and 470 pound-feet of torque, plenty of both to be certain. This drivetrain combination is efficient, but it can feel lumpy at times. The transition between gasoline and electric power isn't always seamless, plus the engine always sounds a bit strained. This uneven performance, particularly at low speeds is a bit annoying, but it's hardly a deal-breaker. The efficiency benefit of this drivetrain more than outweighs occasional herks and jerks.
Keeping the battery charged and driving with a modicum of care means you never have to rely on the internal-combustion engine. The 4xe delivers good performance while running solely on electrons, and it has enough range for plenty of people to make it to work and home again without burning a drop of gasoline.
Helping drivers maximize efficiency, this Grand Cherokee offers three different drivetrain modes. There's Hybrid, which uses the gasoline engine and electric motors to deliver the best efficiency and performance; Electric allows you to run only on energy stored in the battery for near-silent operation and zero tailpipe emissions, though the engine will kick on when the battery is depleted of you nail the accelerator; and finally, there's eSave, which preserves electric range to use at a time when it's most efficient, such as around town opposed to squandering it on the highway.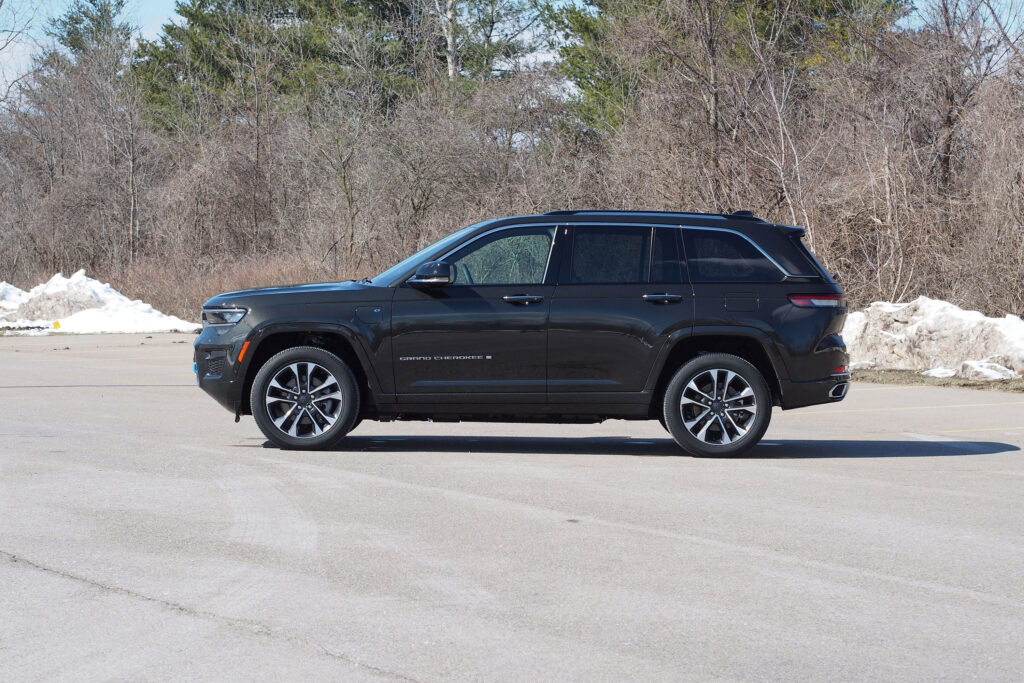 This SUV's steering is nicely weighted and precise, though the Grand Cherokee always feels its size and weight, never smaller or lighter. The Overland's standard Quadra-Lift four-corner air suspension system provides an excellent ride, one that's controlled but never coarse, silky but not sloppy. Of course, this technology also allows the body to raise and lower for improved ground clearance when off roading or reduced wind resistance while cruising on the highway.
The Grand Cherokee Overland 4xe comes standard with a host of advanced driver aids, features like automatic high beams, blind spot monitoring, rain-sensing windshield wipers and ever-useful parking sensors. Attentive and confidence-inspiring adaptive cruise control with stop-and-go capability and lane centering is included, too. The available $2,235 Advanced ProTech Group III options package includes some other welcome amenities like an easy-to-read head-up display, night vision with pedestrian and animal detection, a 360-degree camera system, a sprayer for the reversing camera and even a leather-wrapped steering wheel.
Of course, this is a Jeep, so it can go a lot more places than just the grocery store or your favorite section of interstate. The Overland 4xe offers loads of off-road hardware that makes this SUV a trail-dominating beast, including 20-inch wheels and a standard Quadra-Trac II four-wheel-drive system with a two-speed transfer case. For even more capability, the hard-core Trailhawk trim features a Quadra-Drive II system that gets you a limited-slip rear differential. They also benefit from a Selec-Terrain traction management system that adjusts the vehicle's performance to varying surface types and conditions. Helping them tiptoe over obstacles, Trailhawks have just shy of 11 inches of maximum ground clearance and they can drive through up to 24 inches of water.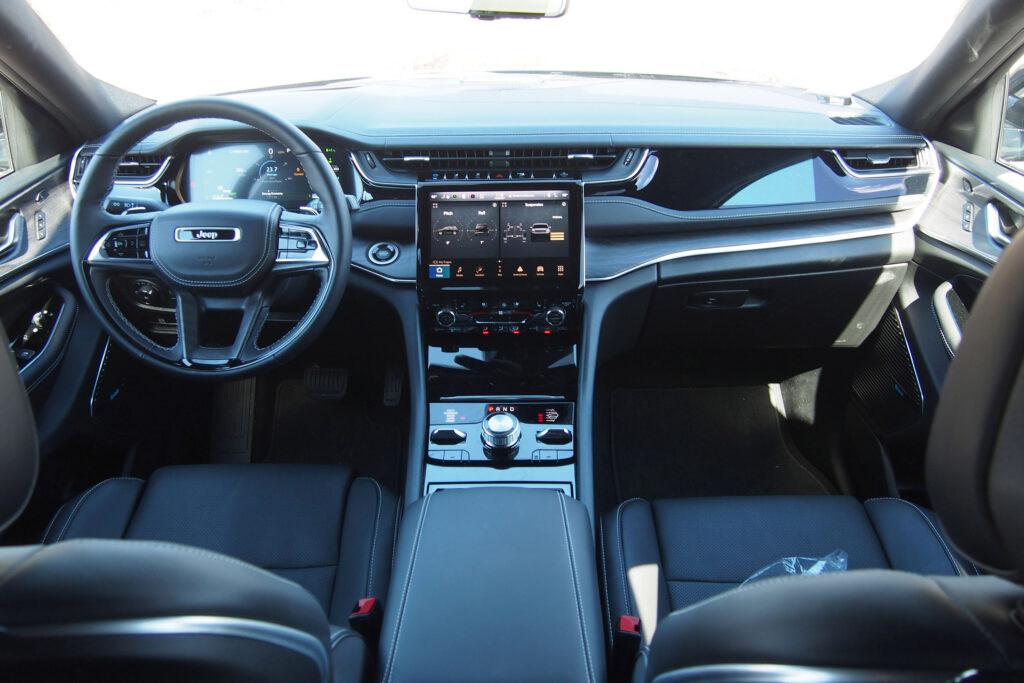 From day one, the Jeep Grand Cherokee has always had an excellent interior, and that tradition continues with the current-generation model. In high-end Overland trim, this 4xe features rich appointments including standard Nappa leather, undeniably high-quality switches and controls, arrow-straight stitched seams on the seats and dashboard, high-resolution displays and a rotary shift knob that feels like a piece fine jewelry. About the only elements that I don't care for are the unconvincing fake wood trim (the range-topping Summit model comes with real veneers) and the gratuitous use of piano black accents, which are magnets for dust, fingerprints and small scratches. Sure, piano black looks great on a baby grand, but I'd rather not have it inside a vehicle.
As for tech, this battery-bolstered Jeep offers plenty, basically everything you'd expect in a luxury vehicle. The Overland comes standard with a rockin' 19-speaker McIntosh premium audio system and a Uconnect 5 Nav multimedia array with a 10.1-inch touchscreen and an integrated 4G LTE Wi-Fi hotspot. Wireless Android Auto and Apple CarPlay are supported, and the vehicle comes with a phalanx of USB ports, both type-A and -C. Keeping the driver informed is a standard 10.25-inch reconfigurable digital instrument cluster that is actually one of the less intuitive ones in the market today. There are a few too many settings and menus, so many that the system actually feels overwhelming. Finally, this vehicle also features a 10.25-inch touchscreen on the passenger side of the dashboard, a $1,095 option.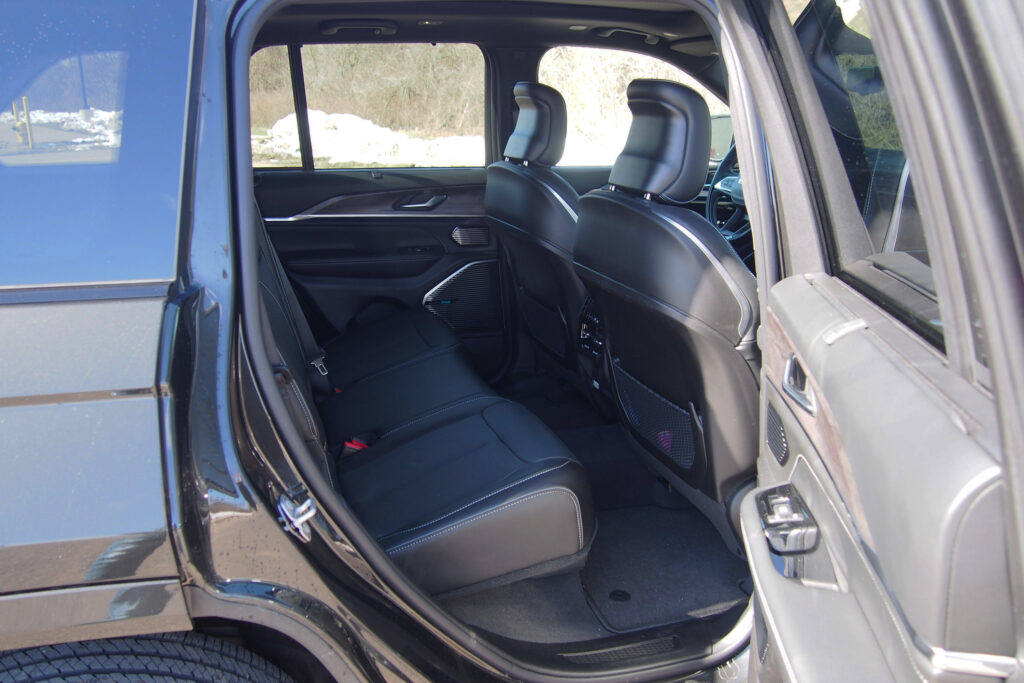 Passengers are well cared for in this Grand Cherokee. The front bucket seats are hospitable for hours at a stretch and, in this model, are heated, ventilated, feature memory settings, power adjust in 12 ways and can even give you a massage. The second row is also spacious, supportive and offers butt warmers, too. Unfortunately, the 4xe is not available with three rows of seats, so if you need extra space, you'll have to get a non-hybrid Grand Cherokee L.
The Overland 4xe is an exceedingly premium SUV, one that's comfortable, capable, refined and offers loads of amenities. But this vehicle's biggest claim to fame is its surprising efficiency courtesy of that reasonably well-behaved plug-in hybrid drivetrain. If you can swing the monthly payment (or don't plan on paying for your kids' college) it's hard to go wrong here.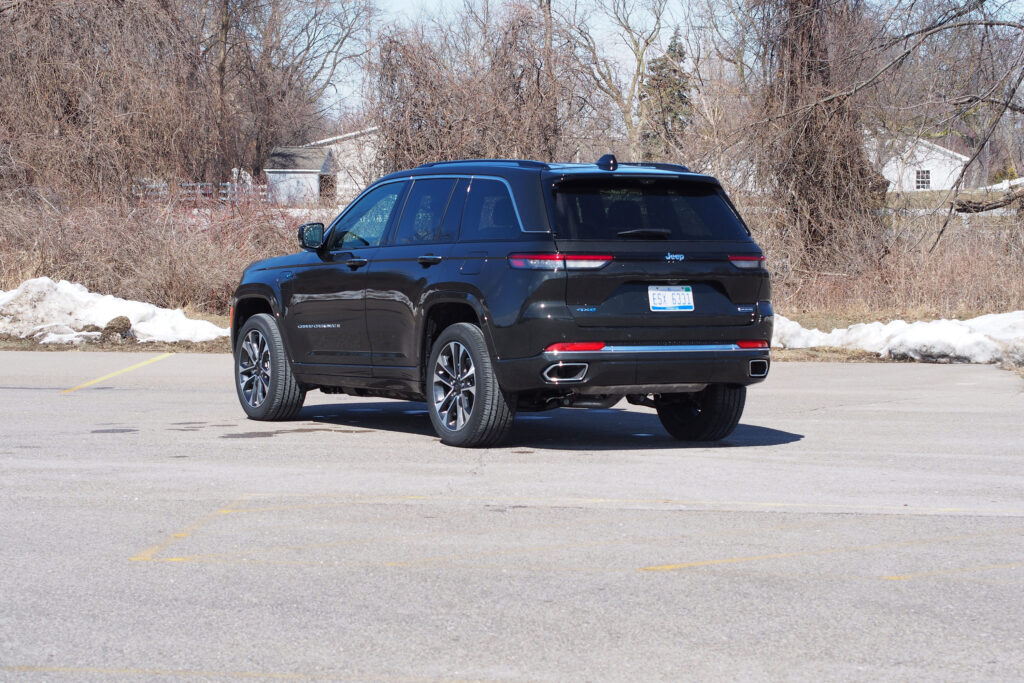 To get into a base Grand Cherokee 4xe you'll spend around $62,000 or about $19,000 more than the most-affordable non-hybrid model. Naturally, the example tested here is even ritzier than that, stickering for $75,655 before any applicable tax credits and including a borderline outrageous $1,795 in destination fees plus about 6 grand in options. That is not cheap by any stretch, and it's debatable whether this Jeep is worth the asking price, but it's hard to argue with what the 4xe can do and how well it performs in real-world driving.
At a glance
Year: 2023
Make: Jeep
Model: Grand Cherokee 4xe
Trim: Overland
Type: 4-door plug-in-hybrid SUV
Total system horsepower: 375
Total system torque: 470 lb-ft
MPGe ratings combined fuel efficiency: 56
All-electric range: 25 miles
Pros: Good fuel economy for a bulky SUV, premium interior, comfortable seats, lots of advanced driver aids, decent electric-only range, ample of off-road capability
Cons: Powertrain can feel a bit lumpy; steep pricing; piano black interior trim a magnet for dust, fingerprints and scratches
Estimated Base price: $61,660 including $1,795 in destination fees
As-tested price: $75,655 including $1,795 in destination fees