Two weeks ago, Kia officially debuted the EV9, but the automaker mainly focused on the SUV's exterior and interior design. Now, with the model's global premiere, we finally get some specifications for the upcoming SUV. And let's get the most important one out of the way: Kia is aiming for an all-electric target range of over 541 km on the generous WLTP cycle. That should equate to an EPA-estimated 300 miles or so on a single charge, which would be respectful for a vehicle of this size.
The standard, rear-wheel-drive version of the EV9 will be powered by a 76.1-kWh battery, while a larger 99.8-kWh battery pack is used in both the RWD Long Range and AWD variants. Taking a look at the standard model, it will be powered by a single 160-kW (215-hp) electric motor, which will help the EV9 go from zero-to-62 mph in 8.2 seconds. Opting for the Long Range version means a slightly less powerful 150-kW (201-hp) motor, resulting in a zero-to-62 mph time of 9.4 seconds. Both motors provide around 258 pound-feet of torque.
The all-wheel-drive version is powered by two electric motors for a combined power output of about 380 hp and 443 lb-ft of torque. That means the EV9 AWD goes to 62 mph from a standstill in 6.0 seconds. Kia also announced that it will offer an optional Boost feature that can be purchased separately at the Kia Connect Store, similar to the upgrade offered on the Polestar 2. No pricing has been announced, but the Boost feature will increase torque to 516 lb-ft, allowing the EV9 to go zero-to-62 mph in just 5.3 seconds.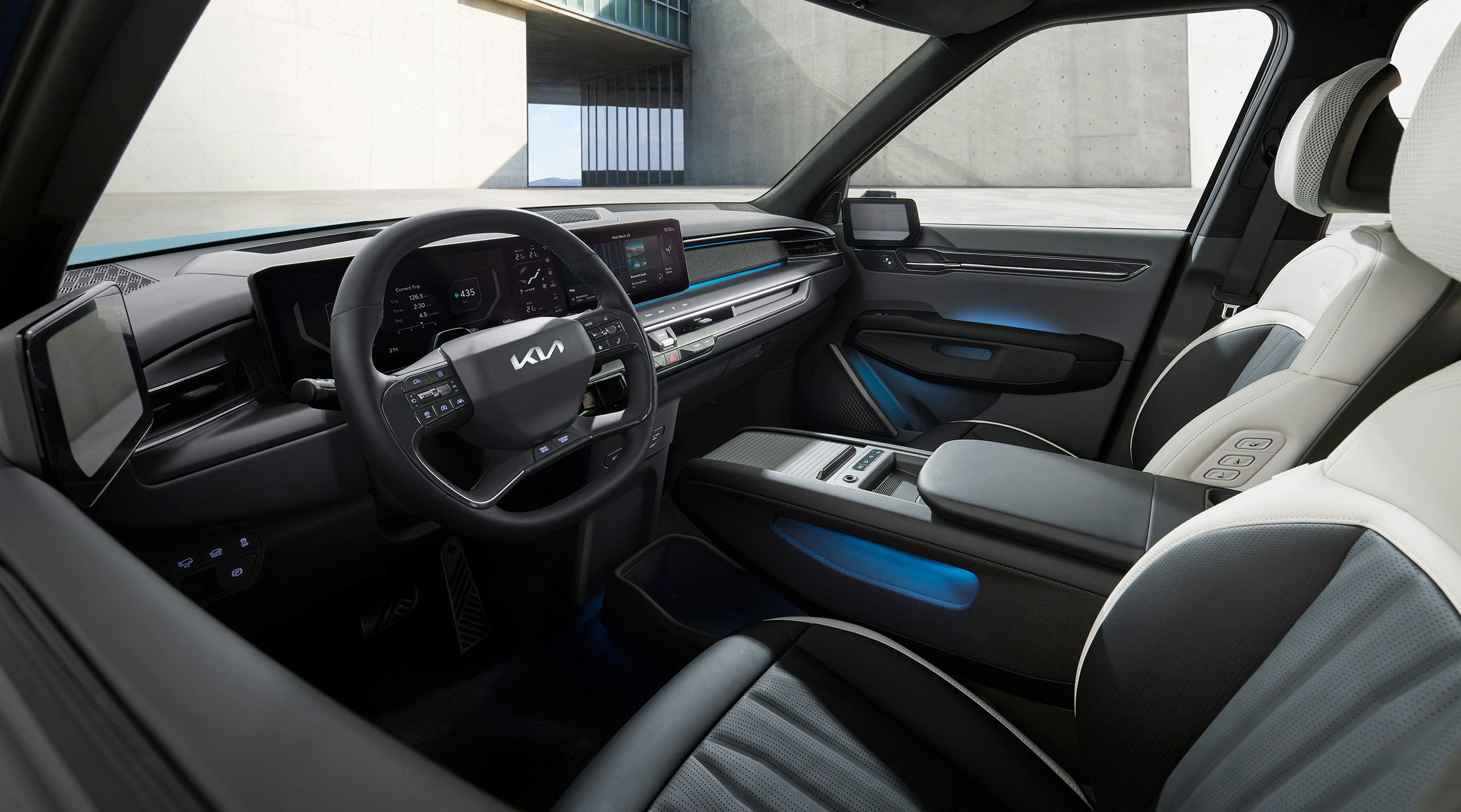 Like other E-GMP vehicles, the Kia EV9 will offer vehicle-to-load (V2L) capability, so families can use up to 3.68 kW of power to charge laptops or camping equipment. The SUV will also provide conditional Level 3 autonomous driving, thanks to 15 sensors — including two lidars — that enables it scan for and detect objects in a full 360-degree field of view. Kia's Highway Driving Pilot (HDP) system will meet the criteria required for Level 3 autonomy in certain areas of the world.
Pre-orders for the Kia EV9 for the Korean market will start in the second quarter of 2023. It will then go on sale in selected global markets starting from the second half of the year. Expect details on the North American version to be announced closer to its launch. We'll get our first up-close look at the Kia EV9 when it makes its North American debut at the New York Auto Show early April.
"The Kia EV9 transcends all aspects of traditional SUV thinking and represents the pinnacle of Kia's design and engineering capabilities," said Ho Sung Song, Kia president and CEO. "Created to meet the needs of all family members, the EV9 also spearheads Kia's rapid transition to a sustainable mobility solutions provider, not just by its advanced EV architecture, but also through the numerous recycled and sustainable materials used in its creation."