Our coverage of the 2022 LA Auto Show is brought to you by WynHouse, an innovation firm. Jumpstart your business success today by visiting WynHouse.co.
The 2023 Hyundai Ioniq 6 has made its North American debut at the 2022 Los Angeles Auto Show, ahead of its arrival at dealerships next spring. Having made its world premiere earlier this year in July, there aren't any surprises with the Ioniq 6's debut in L.A. But Hyundai did say it's targeting an estimated driving range of 340 miles, which puts it shy of the Tesla Model 3 Long Range's EPA-estimated 358-mile driving range. Still, the Ioniq 6 should be an attractive option for EV shoppers looking for a more traditional sedan, since there aren't that many to choose from.
Riding on the E-GMP long wheelbase platform that measures 116 inches, the Ioniq 6's styling is noticeably different from the Ioniq 5 crossover. This "Streamliner Design" as Hyundai calls it has an impressive drag coefficient of 0.22, further assisted by a collection of fancy aerodynamic tweaks such as active air flaps, wheel gap reducers, separation traps on the rear bumper, and reduced wheel-arch gaps. Clearly, Hyundai made a pretty bold statement with the design of the Ioniq 5 and it didn't back down with the Ioniq 6. It's quite unique in its own way.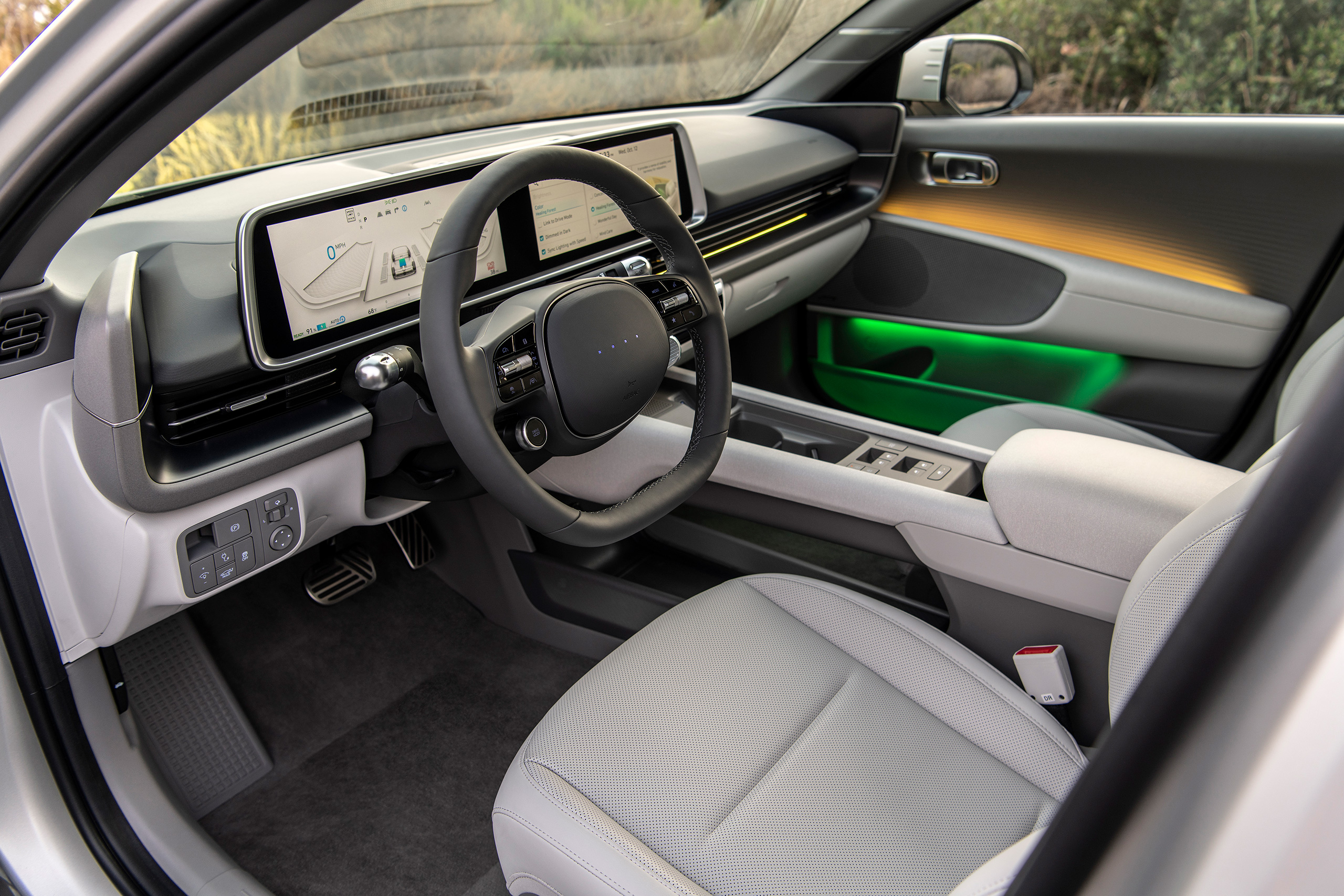 The long wheelbase gives the sedan an impressive and spacious interior with a completely flat floor. Like the Ioniq 5, the Ioniq 6 features a pair of 12.3-inch displays, one for the infotainment and one for the digital cluster. Both displays sit underneath a single piece of glass for a seamless appearance. Where things get a bit fancy however is the Dual-Color Ambient Lighting, which allows users to choose from 64 colors and six dual-color themes. Sustainability was also a focus for Hyundai when crafting the interior, using recycled and eco-friendly materials throughout including recycled fishing net for the carpet.
The standard range Ioniq 6 will be a rear-wheel-drive model powered by a single motor to offer 149 horsepower and 258 pound-feet of torque. That's paired to a 53-kWh battery and Hyundai didn't offer an estimated driving range for that model. The Korean automaker focused on the 77.4-kWh version that will be offered with a rear-wheel-drive single motor or dual motors for all-wheel drive. The single motor version has an output of 225 hp and 258 lb-ft of torque, while the dual motor will have a combined power output of 320 hp and 446 lb-ft of torque. Maximum driving range for the 77.4-kWh variants is still an estimate from Hyundai at the moment, but it should return around 340 miles for the single motor and 310 miles for the dual motor.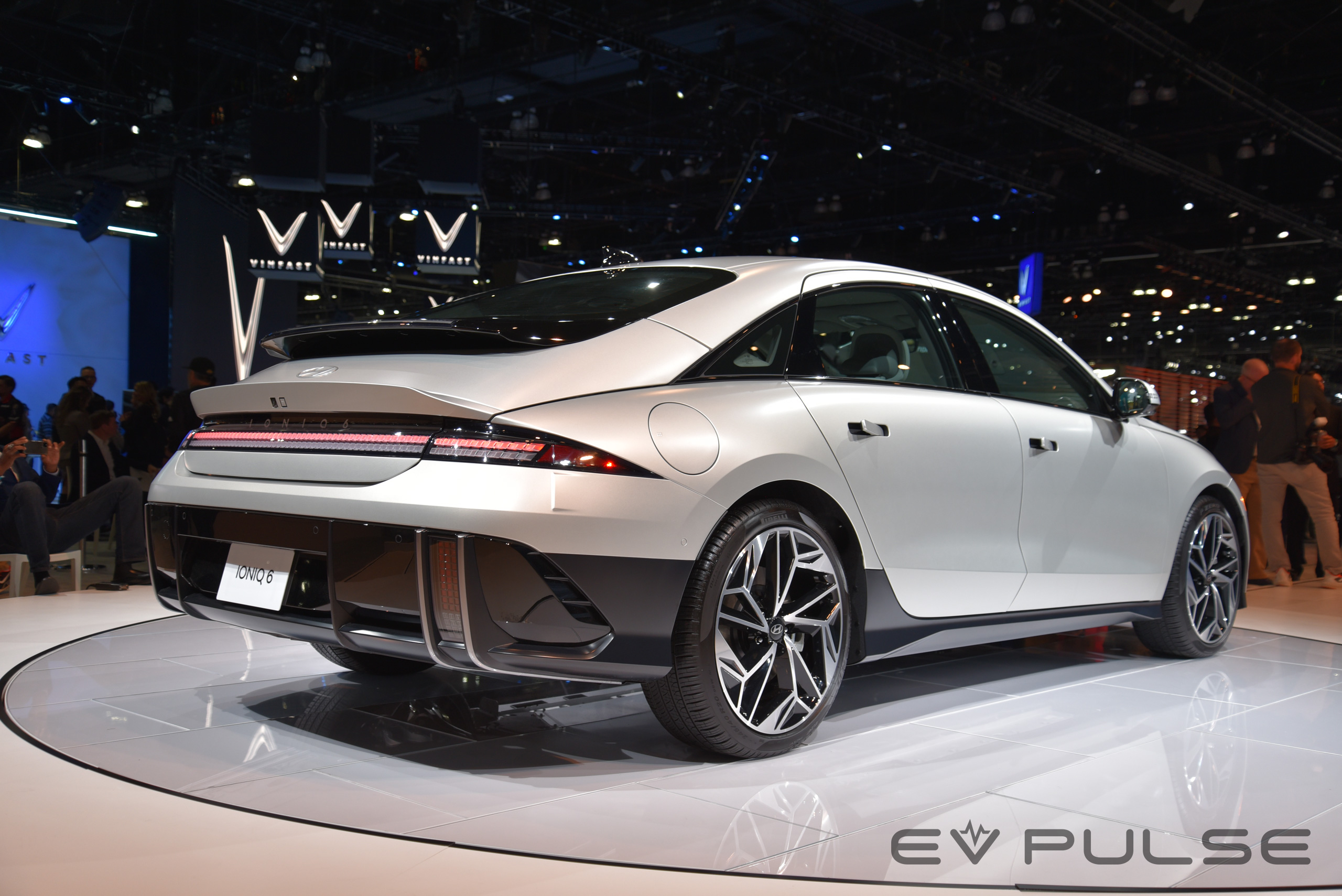 Like the Ioniq 5, the Ioniq 6 will be a DC fast charging champ since the platform can support both 400- and 800-volt charging infrastructures. With a 350-kW DC fast charger, the Ioniq 6 is estimated to go from 10% to 80% in just 18 minutes. And based on our independent testing of the Ioniq 5, we expect those numbers to be accurate. Even just five minutes of charging should add 65 minutes of range when using a 350-kW fast charger. Level 2 charging (which can be done at home) will complete a full charge in 7 hours and 10 minutes.
The all-electric sedan will support over-the-air updates and also has a vehicle-to-lead (V2L) function. This allows customers to use or charge other electric devices with the Ioniq 6. It's essentially a charger on wheels and can even be used to charge a stranded EV. Another high-tech convenience feature is Hyundai Digital Key 2.0 Touch, which allows owners to use a compatible phone or watch to lock, unlock, and start their vehicle.
At launch, the 2023 Hyundai Ioniq 6 will be available in seven different exterior colors: Gravity Gold Matte, Onyx Black Pearl, Serenity White Pearl, Curated Silver Metallic, Transmission Blue Pearl, Ultimate Red Metallic, and Digital Green Pearl. For interior, buyers will get to choose from one of three options: Black, Gray, and Dark Green/Gray. Pricing for the 2023 Hyundai Ioniq 6 will be announced closer to its launch in spring 2023.
If you're in the Los Angeles area, the Hyundai N Vision 74 Concept is also making its U.S. debut at the L.A. Auto Show.
Recent updates
Updated (9:06 am EST, 11/21/2022): Added walk around video.
Updated (4:16 pm EST, 11/17/2022): Added photos of the 2023 Hyundai Ioniq 6 from the 2022 Los Angeles Auto Show.