Owning a Tesla, or any BEV for that matter, has its perks when it comes to general maintenance of the vehicle. You're no longer worried about oil changes or spark plugs, but instead, you typically only need to keep tabs on your windshield wipers, wiper fluid, brakes, and tires. It's pretty obvious when three of those four items need replacing or refilling, but your windshield wipers are often forgotten about unless you often deal with rain. For many car owners, they won't realize they need replacement windshield wipers until they're caught in a sudden downpour and their wiper blades aren't performing well.
If you've recently turned on your Tesla's windshield wipers and found that they're squeaking with every swipe or leaving behind a thin layer of rain or debris that's obstructing your view, it's time for replacement wiper blades. Even if you don't plan on using them, give them a test and see how they function, especially if it's been over six months since you've replaced them. It's never a bad idea to see how well your wipers are performing every time you wash your car, this way you know if you need replacements before you're caught in a rainstorm.
Quality windshield wipers are essential components for the safe operation of your Tesla. After all, poor visibility while driving in the rain is a recipe for disaster. If you're looking to replace the windshield wipers on your Tesla Model S, Model 3, Model X, or Model Y, we've got you covered.
Below, you'll find our top picks for the best windshield wipers for your Tesla, some of which I've personally used and tested on my previous Model 3. Unfortunately, I live in Southern California, so I didn't experience a whole lot of rain while I owned the Model 3. However, I did spend more than half of my life in Florida, which sees its fair share of torrential downpours and hurricanes. Over that time, I tried numerous windshield wiper blades in order to find something that worked well.
What size windshield wipers do Teslas need?
Before you start shopping, here's a breakdown of the sizes you need depending on which Tesla model you own. Make sure you choose the correct size wiper blades for your vehicle!
Tesla Model S: 28″ driver's side, 18″ passenger side
Tesla Model 3: 26″ driver's side, 19″ passenger side
Tesla Model X: 28″ driver's side, 18″ passenger's side
Tesla Model Y: 26″ driver's side, 19″ passenger's side
1. Top pick: Bosch ICON wiper blades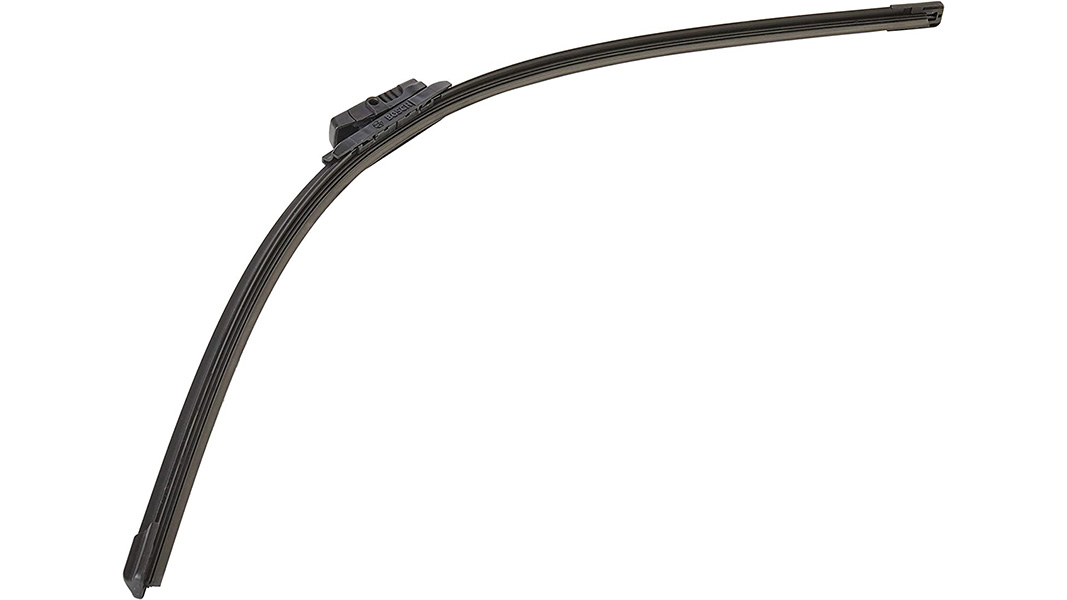 Honestly, it doesn't really matter which vehicle you own. The Bosch ICON wiper blades have been my best overall windshield wipers for years now, and they were the ones I chose when I had to replace my Model 3 factory blades. Designed to last up to 40% longer than other premium blades, the Bosch ICON has a beam design and uses exclusive rubber technology from Bosch. A weather-shield, double locking connector makes it easy to install these replacement wiper blades, while the asymmetrical flexible spoiler is designed to distribute uniform downforce on the blade so it holds firmly to your windshield with each swipe.
This is a fantastic all-weather blade and while it is more expensive than other options on the market, it's well worth the price. If you don't want to take my word for it, you'll find plenty of Tesla owners over at Tesla Motors Club with the same recommendation.
2. Made for Teslas: XTechnor windshield wiper blades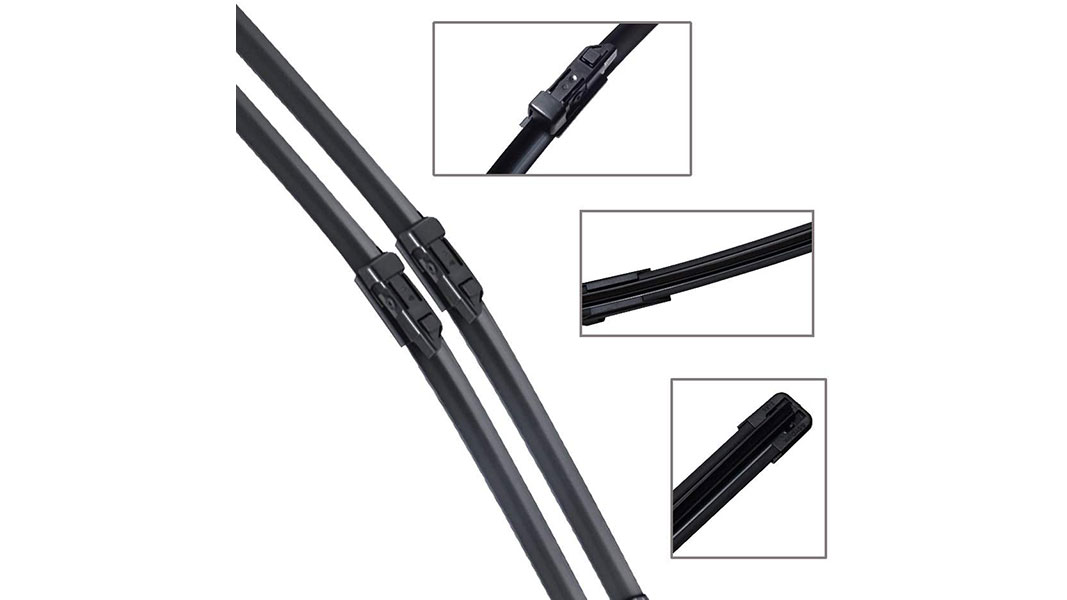 If you want a competitively priced option that's designed specifically for the Tesla Model 3 and Model Y, you can consider the XTechnor windshield wiper blades. They come in a set of two and are direct replacements with an OE-equivalent adapter for easy installation. Made from premium rubber with a graphite coating, this option is ideal for owners who want something that's easy to install and offers good value for the money. They're not the best quality blades out there and they won't last as long as the Bosch ICONs, but if you're like me and live somewhere that just sees occasional rainfall, they'll work.
The bracketless design means they can also be used in areas that see snow and ice, although there are better windshield wipers for extreme winter weather conditions. Overall, if you're looking for a good bang for the buck recommendation, here it is.
3. Best for rain: Rain-X Latitude 2-in-1 water repellent wiper blades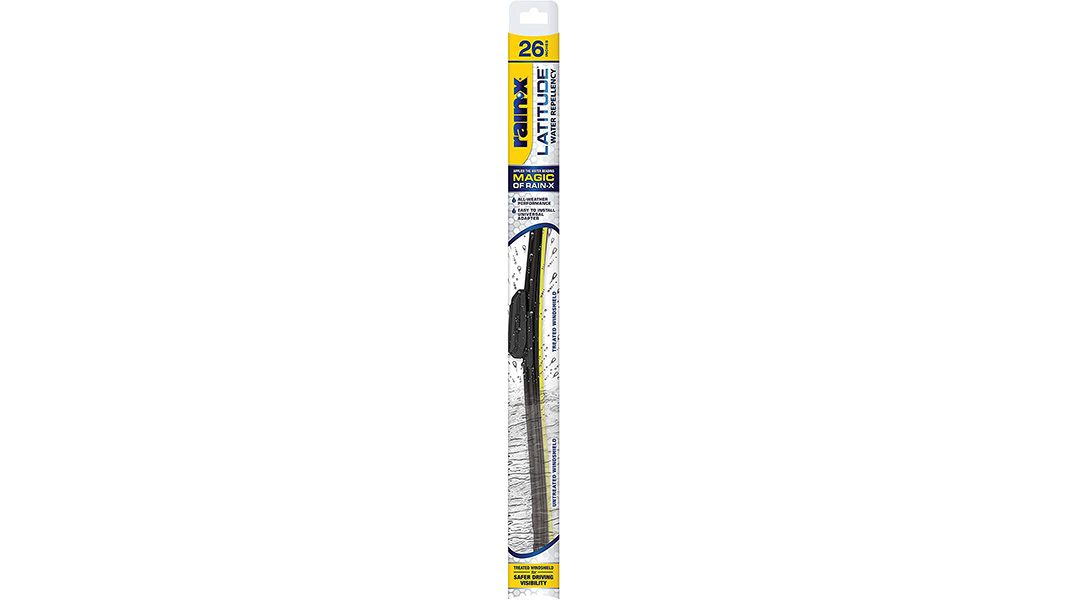 When it comes to heavy rain, I recommend the Rain-X Latitude. It's a 2-in-1 water repellent wiper blade, because it coats your windshield with the same formula Rain-X is known for. After a few uses of these wipers, your windshield will have a water repellent coating and you'll be able to see water bead right off your windshield. It's not as effective and won't last as long as applying a coat of the actual formula, but it still does a pretty good job.
These are beam wipers, which I prefer over conventional and hybrid blades. They do offer all-weather performance, but the Bosch ICONs are better for snowy and icy conditions. The Rain-X Latitude comes with a universal adapter so you can hook these right up to your Tesla and get going.
How often should I replace my windshield wiper blades on my Tesla?
We recommend inspecting your wiper blades every six months for wear, even if you never use them. Reason being, just everyday exposure can cause wear and tear on the rubber, causing the blade to deteriorate despite never being used. If you notice any tears on the rubber, then you should replace your wipers right away even if you're not anticipating rain. You can also test your wipers each time you wash your Tesla, seeing if they chatter or streak.
Do I need to replace both wipers at the same time?
It's highly recommended to replace both your driver's side and passenger's side wipers at the same time. There's no real compelling reason — other than to save money — to just replace one wiper. Replacing both wiper blades ensures you'll get the vision and safety you need if it rains.
Recent Updates:
Updated (3:39 p.m. EDT, 02/02/2023): Added more shopping options for our recommendations.
Updated (3:05 p.m. EDT, 12/14/2022): Corrected the size for the Model 3 wiper blades. Removed our best on a budget recommendation and replaced it with the Best for rain: Rain-X Latitude recommendation. Added additional shopping links and links directly to the right sizes for Tesla vehicles.
Updated (10:21 p.m. EDT, 09/13/2022): Rewrote the content to better serve our readers, with first-hand experience using some of the recommendations. Added FAQs.