The experience of owning an electric vehicle is quite different from having a gas-powered machine. For starters, you're no longer having to go to a gas station to fuel up and visits to the service department at your local dealership are rare. The one thing that doesn't change however, is that your electric vehicle won't keep itself clean no matter how advanced or high-tech it is. Unfortunately, it'll still endure the same amount of dirt, grime, dust, rain, and dead bugs that an ICE-powered car attracts.
If you purchased your EV, there's a good chance you're planning to keep it for a long time, which means regular car washes should be on your schedule. Not only do you want to keep your paint as pristine as possible, you'll need to give your interior some attention so that your seats, dash, center console, floor mats, and carpet won't be ruined from daily use.
There are a lot of companies and products to choose from when it comes to car washing and detailing supplies. It's perfectly understandable if you're overwhelmed and don't even know where to start. Below, we detail the essentials for keeping your car clean inside and out, explaining the purpose for each product and why we recommend it. I personally use every single one of these products on the list, and you'd find it all sitting on my garage shelves.
1. Chemical Guys microfiber towels
Before you start, I recommend getting a few microfiber towels to handle all your car washing needs. From wiping down your interior, to cleaning your windows, you'll want a few handy before getting started. There are plenty of options to choose from, and some really affordable bundle packs, but I prefer this dozen from Chemical Guys. They're premium microfiber towels featuring 360,000 strands in every square inch. The company says they absorb up to 10 times their weight in liquid, but that doesn't matter too much to me since I don't use them to dry my car. You can if you want, but I'll give you a better recommendation for a drying towel later on in this list.
2. Adam's car wash bucket with grit guard
No proper car wash can be done without the right bucket and grit guard. You want a reasonably sized bucket to hold plenty of water and soap, and the grit guard is there to make sure you're not mixing dirt and grime back onto your wash mitt. You can also opt for the two-bucket method, where you rinse out your mitt in a separate bucket, but I prefer simplicity here and saving a few bucks. To me, the grit guard does the job.
It's not a terribly exciting product to spend money on — it is a bucket after all — but it is important. Our recommendation comes from Adam's Polishes, with a five-gallon bucket that includes a grit guard, cover, and carrying handle. It's constructed from high density polyethylene plastic and so long as you're not abusing it, it'll last you the life of your car, if not longer.
3. Chemical Guys microfiber wash mitt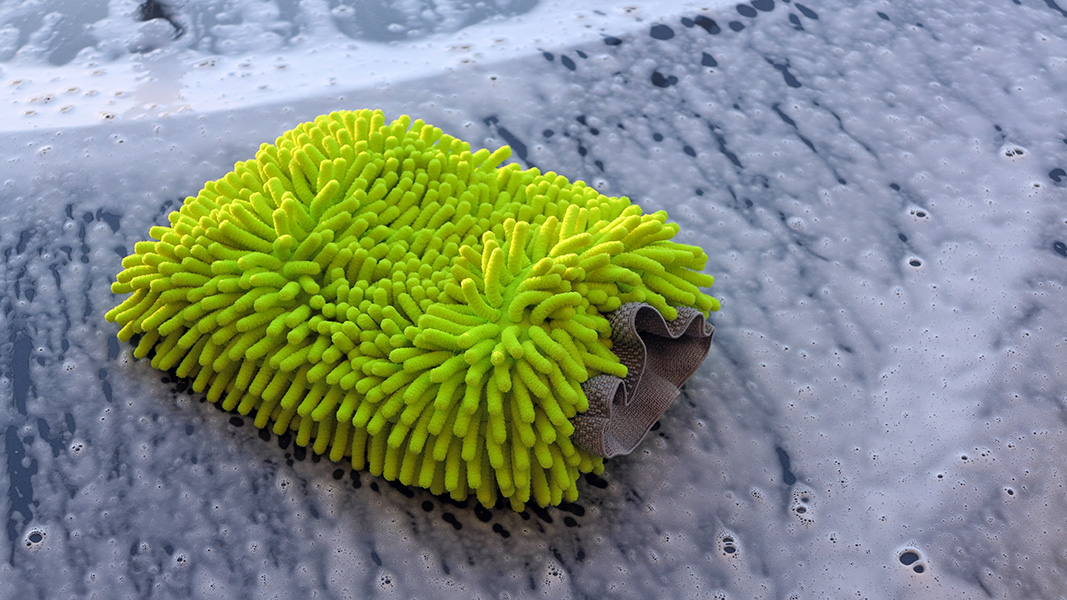 Once you have the right bucket for the job, you'll need the right washing mitt. There are dozens of options to choose from, and if we're being honest, you can't really go wrong with any quality microfiber wash mitt. The keyword being quality, as you'll want one that won't fray and fall apart after a few uses. It should also be made from quality materials so it's soft and won't accidentally scratch your car.
This option from Chemical Guys is what I've liked to use throughout the years. I also keep an Adam's Clay Mitt handy for when the surface of my car feels rough and there's likely some contaminants in my paint. It's a medium grade clay bar-infused mitt that sees use once every few washes.
4. Chemical Guys Mr. Pink foaming car wash soap
Shopping for car wash soap can be overwhelming, but like many of the other products we recommend on our list, you're fine with sticking to a reputable brand of your choice if you have a personal preference. Brands like Meguiar's, Mothers, Chemical Guys, Adam's, etc. all have quality car wash soap, but I like the Mr. Pink option from Chemical Guys. It works great with my foam cannon and pressure washer, and the 64-ounce bottle lasts quite a long time.
Mr. Pink is pH balanced and works to be gentle on your car's surface. It's safe to use on waxes, sealants, and ceramic coatings. Smells great too, at least in my humble opinion.
5. Sun Joe SPX3000 pressure washer
If you have the money to spend on an electric pressure washer, I highly recommend doing so. Sure, you can wash your car with a traditional garden hose, but the pressure washer really makes the job a lot easier. I completely understand that not everyone looks forward to washing their car, and if you're one of those people, save yourself a lot of time and effort by getting this Sun Joe SPX3000 pressure washer. It's a quality, reliable unit that is priced very competitively, while offering plenty of power to get the job done. Best of all, you can use the pressure washer to clean other things around the house.
The SPX3000 is powered by a 14.5 amp, 1800-watt motor that can generate up to 2030 psi and 1.76 GPM of water flow. It includes a pair of 0.9 liter detergent tanks, although you won't really need those for washing your car since you'll be getting a foam cannon. Sun Joe uses what it calls a Total Stop System (TSS) to automatically shut off the washer's pump when the trigger isn't engaged. This not only saves power, but prolongs the pump's life.
6. Tool Daily foam cannon
If you decide a pressure washer is within your budget, you'll want a foam cannon to go along with it. This is where you'll store your soap to apply a nice, thick layer of foam to your car with your pressure washer. There are dozens of these to choose from now, many of which probably come from the same handful of factories overseas. But you do want a quality option, one that won't break at the neck after a few uses, as can be the case with some of the cheaper ones.
That's why I recommend Tool Daily's foam cannon, after having a couple fall apart on me. So far, this one has lasted me over a year and I have no complaints. It comes equipped with a 1/4-inch quick connection fitting and has a one-liter capacity. Tool Daily also includes five different nozzle tips (0, 15, 25, 40, and 65 degrees).
If you don't own a pressure washer and aren't planning on purchasing one, you can check out the Torq Foam Blaster 6 foam wash gun from Chemical Guys, which can attach to your standard garden hose.
7. Adam's wheel & tire cleaner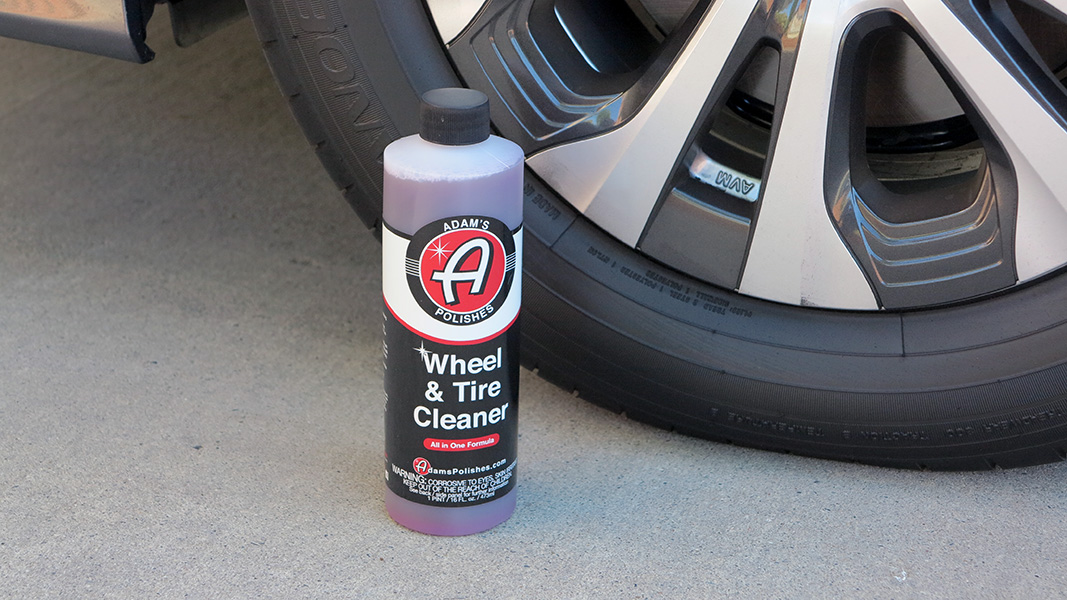 Now that you have the tools to wash your car, it's time to pay attention to your wheels and tires. Sure, your EV might not have the same level of brake dust as an ICE-powered car, but you still need to keep those wheels and tires clean. Besides, without clean tires, your tire shine won't stick and last.
Specifically formulated to target heavy brake dust and get your tires looking fresh and clean, Adam's wheel & tire cleaner is safe on all wheel types, including chrome and painted. Simply spray it on, give it a little scrub with a quality wheel brush, and rinse it off.
8. Meguiar's X2000 Water Magnet microfiber drying towel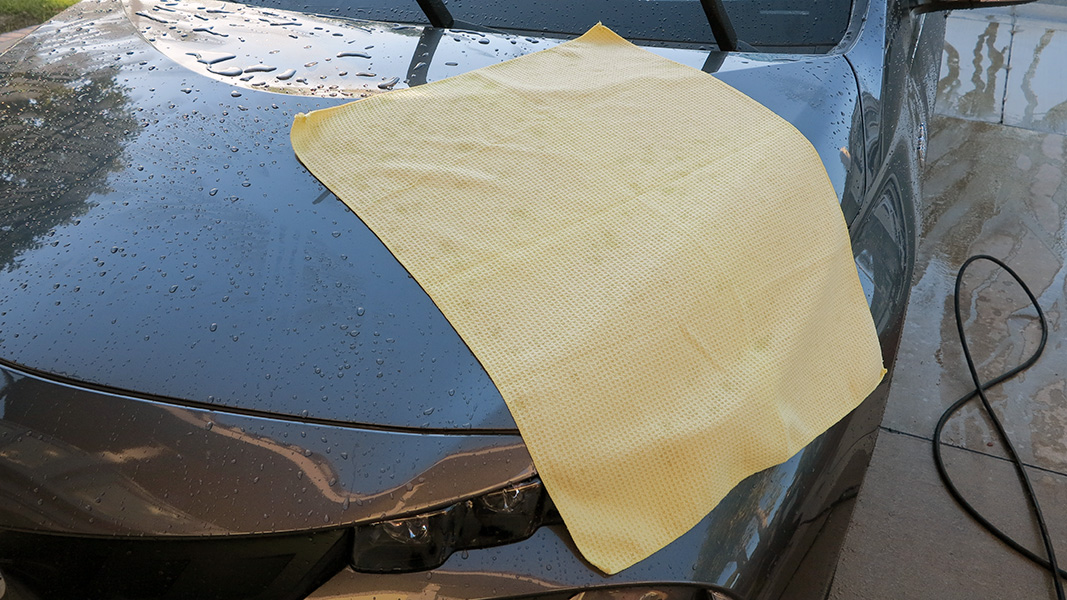 The surface of your car is nice and clean, so it's time to get drying. You can use microfiber towels for this task, but that might involve a few rinses depending on how absorbent those towels are. Instead, spend a few bucks and get Meguiar's X2000 Water Magnet microfiber drying towel. Trust me, you won't want or need anything else once you use this to dry your car. I have in the past used The Absorber and thought I would never replace it until a good friend of mine had me try out this towel.
According to Meguiar's, it absorbs up to two times the amount of water compared to traditional terry towels. While I have no scientific proof of that, anecdotally I can say it probably absorbs a lot more before having to be wrung out. The large version measures 22 inches by 30 inches, and once you're done, just toss it in the washing machine and dryer for next time.
9. Invisible Glass glass cleaner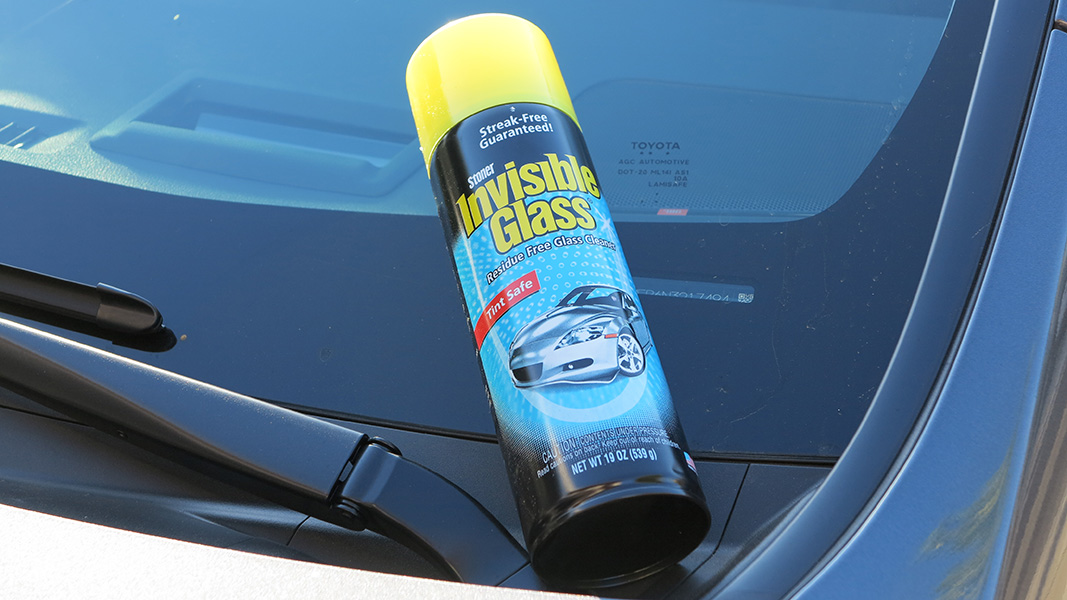 Wait a second, didn't I just wash my car? Why would I need glass cleaner? It's fair to ask those questions, but remember, you didn't wash the inside glass. Besides, there might have been some water spots leftover on your glass from when you were drying your car. Grab yourself a microfiber towel and give all the glass on your car a quick run through with Invisible Glass.
Sure, you could use any household glass cleaner and likely get the same results, but I prefer this product because it never leaves behind any residue or streaks. It's a clear dry formula that lives up to its name, with no ammonia so it's safe to also use on tinted glass. Spray it on, wipe it off, and you'll be seeing clearly out of all your windows in no time.
10. THISWORX car vacuum cleaner
Since you're now digging into your interior and cleaning the inside of your windows, it's time to get the rest of your cabin back to spotless form. If you already own a portable, handheld vacuum for your house, you probably won't need to purchase a car vacuum. But if you don't want to deal with a battery-powered, cordless vacuum and want something that can make quick work of your interior, take a look at this option from THISWORX. In the past, I've used smaller shop vacuums to take care of my car's interior, but ever since I switched to this handheld unit, I haven't gone back.
It's just simple and convenient to use, plugging into your car's cigarette lighter receptacle for power. Weighing 2.4 lbs., it's pretty lightweight and uses a 106w motor for powerful suction. THISWORX includes three attachments so you can get to hard-to-reach areas, like between your seats and center console. Inside the vacuum is a HEPA filter and a spare one is included. The 16-foot power cord should be long enough to take care of your entire car with little fuss.
11. CAR GUYS Super Cleaner interior cleaner
You've cleaned your windows and vacuumed your car, what's next? Well, all those surface areas of course! Grab yourself a bottle of CAR GUYS' Super Cleaner and you can take care of your seats, dash, steering wheel, center console, and more. I've used a lot of interior cleaners throughout the years, and most quality ones will net you similar results. The reason why I recommend this one is for value and the fact that it's so versatile. CAR GUYS claims it works on upholstery, fabric, canvas, leather, vinyl, rubber, metals, wood trim, and more. That means it'll easily take care of your interior, and you can use it around the house as well.
It's one of the few multipurpose cleaners on the market that actually works for multiple purposes, formulated with the newest nanotechnology advancements for a water-based solution that's simply spray on and wipe off.
12. Meguiar's Endurance tire gel
Now that your exterior is completely dry and your interior is nice and clean, it's time to put on the finishing touches. I like to start by applying Meguiar's Endurance tire gel to the tires, giving them a nice shine and making them look like new. There are some tire sprays that are easier to use, but they tend to drip and spit, making a mess. This tire gel does take a little more effort to apply, but it's a lot cleaner and lasts longer than other sprays I've tested.
Not only will it restore that shine on your tires, it'll protect them against UV damage and browning. Just make sure you properly cleaned your tires before using it, otherwise it won't stick well. You know all those complaints from people saying that their tire shine only lasted a day or two? Well, that's because they didn't properly clean their tires first.
13. Meguiar's Hybrid ceramic wax spray
Unless you have all the free time in the world, you probably don't want to apply a coat of wax each time you wash your car — nor should you. Instead, use a bottle of spray-on wax to protect all your hard work in between washes. There are a few ceramic spray-on waxes now on the market, but I still like Meguiar's Hybrid ceramic wax the best. It's really easy to apply and you even have the option of spraying it on your car and simply rinsing it off with a hose. Naturally you don't want to do all that after washing your car, but it is a viable solution if you don't have the time to give your car a complete wash.
Still, I like to give my car a coat of this after each wash to protect the clear coat on my paint. It uses advanced SiO2 hybrid technology for ceramic wax protection, which is now widely considered to offer better protection and durability than conventional wax.
Now, if you do want to give your car a proper coat of wax that doesn't come from a spray bottle, check out Meguiar's Hybrid ceramic liquid wax.
14. Adam's medium grade clay bar kit
If the surface of your car feels rough and washing it didn't do a good enough job, you might have to spend some time with a clay bar. The process does take a bit of time and effort, but it'll get rid of all those surface contaminants so your paint feels nice and smooth again. When it comes to shopping for a clay bar, there are going to be a lot of options with manufacturers arguing different use cases. If you don't feel like spending hours doing your research, I recommend Adam's medium grade clay bar kit. It'll come with everything you need to properly clay bar your car, and you'll want to do it prior to polishing or waxing.
You can also use this clay bar kit on your glass, metal, plastic, or any painted surfaces to get rid of debris. You'll get a pair of medium grade, 100-gram bars inside the jar.
15. Chemical Guys all-in-one polish
My final recommendation is for car owners who are looking to get rid of scratches or swirl marks from their car. For that, you'll need an actual polish and our recommendation comes from Chemical Guys. This all-in-one polish cuts away light imperfections and scratches, blended with premium synthetic sealant technology. It's recommended to use it with either a dual-action (DA) or rotary polisher for best results.
Unlike other polishes on the market, this product doesn't use oils, silicone, or other fillers that just mask and cover scratches and defects. Keep in mind, proper polishing actually removes the top layers of your paint, so make sure you know what you're doing before getting started. But once you're finished, you're going to want to wax your car as soon as possible, so you can add back a layer of protection onto your car's paint.
Recent Updates:
Updated (12:20 p.m. EDT, 08/31/2022): Added original photography from testing some of these products.