Think of the Mercedes-Benz EQE as an all-electric version of the E-Class, a battery-powered successor to a venerable automotive nameplate. The two cars are very similar in size, though the new EQE aims to blend traditional Mercedes-Benz virtues — comfort, luxury and advanced technology — with futuristic design in a package that's ultra refined and super efficient. For the most part, the EQE succeeds.
Slippery styling
Before getting to the finer points of this luxury sedan, of which there are many, a brief overview of the design is in order. Overall, the EQE's exterior is spaceship sleek. And just like the larger EQS, this sedan's body is free of tacked-on trim or wonky creases. Additionally, a cab-forward design pushes the wheels out to the corners to provide more interior space. The EQE rolls on a particularly long wheelbase, one that's just shy of 123 inches, more than 7 inches greater than the E-Class sedan's hub-to-hub span.
Despite its overall cleanliness, this battery-powered four-door's proportions are a bit odd. The front-end is somewhat bulbous, the steeply raked windshield is surprisingly large and the curving roofline flows almost to the very end of the trunk lid. Squint, and this Mercedes-Benz resembles a well-used bar of soap, smooth and completely rounded.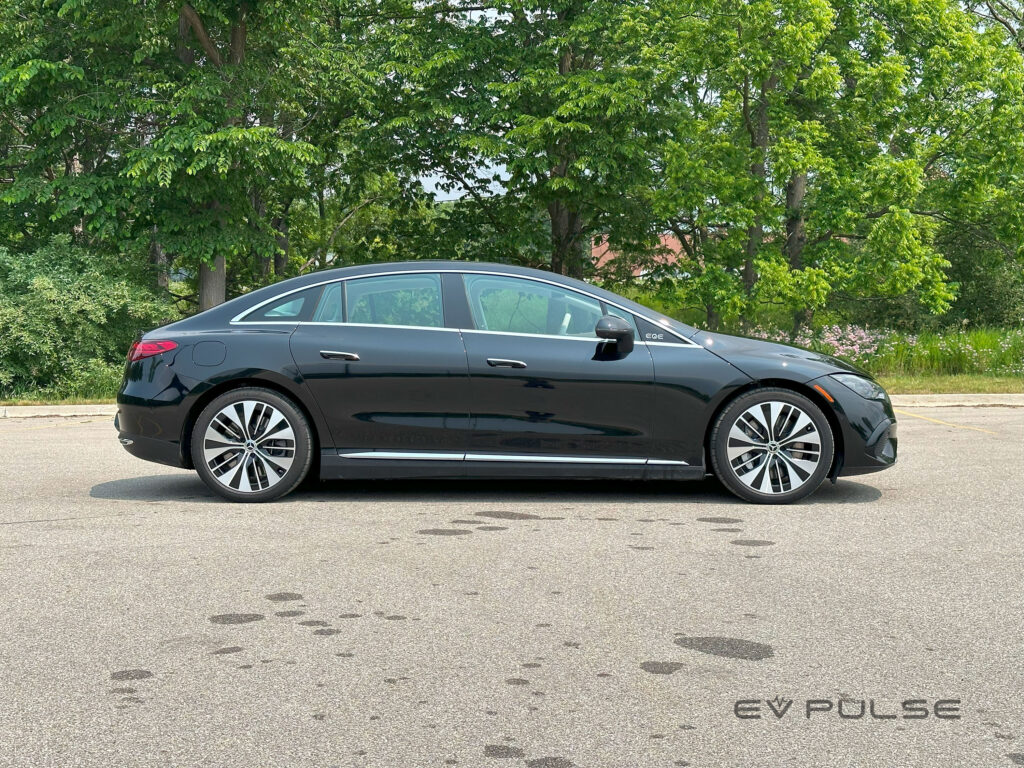 Our tester wears a shimmering paint color called Obsidian Black Metallic, which, unusually for a German automaker, does not cost extra. Up front, the car also has the beautiful Mercedes-Benz star grille pattern, a $300 option. Sparkles radiating out from the main emblem enhance what would otherwise be an unadorned surface. As for wheels, our tester rolls on available 20-inchers that look great with their black accents and only cost $850 extra.
When it comes to ports, the charging door is located on the passenger side rear fender, which is a little awkward. I generally prefer them on the front fenders or, ideally, in the grille. Just ahead of the driver's door is another small port. Since the EQE's hood is only supposed to be opened by qualified technicians, this is where you fill the washer fluid reservoir, a clever solution to a manufactured problem.
A beautiful interior
Inside, this midrange EQE's cabin wows. The design, layout and comfort are all seriously impressive. In this example, the Neva Grey and Sable Brown MB-Tex artificial leathers look fantastic, feel just as good, and are used liberally throughout the interior.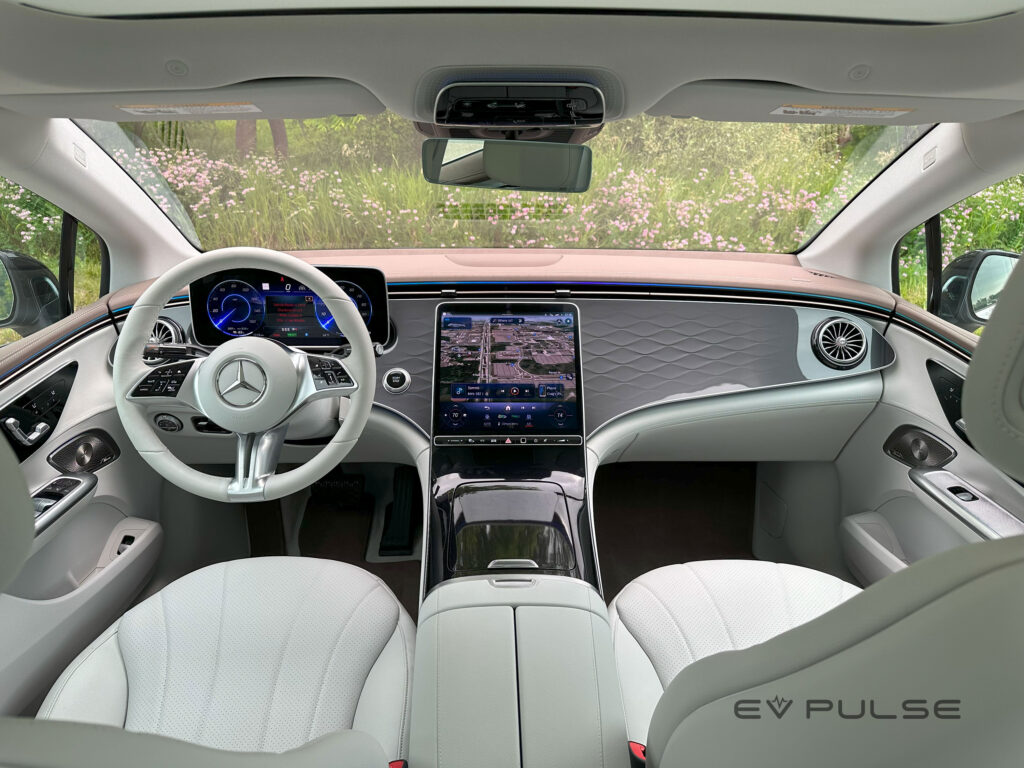 Satin brightwork adds some visual pizazz without causing unwanted glare in bright sunlight. This EQE's dashboard is also dressed up with the $540 Anthracite 3D Relief Optic trim, basically glossy plastic embossed and painted on the backside. Yes, these accents look as cheap as they sound. I would much prefer one of the available wood trims this sedan is available with, particularly walnut with metallic pinstripes. That combination looks fantastic.
The center console also features an optional enhancement, the $300 Black Fine Structure trim, basically piano black with small satin dots. This is an improvement over shiny plastic, but it still hard to justify spending three Benjamin Franklins on this amenity.
The EQE's round air vents on the far sides of the dashboard are a bit fiddly to adjust, but they feel like a million bucks and resemble the inlet of a turbofan engine. Like other Mercedes-Benz vehicles, this one features an electronic column shifter, though I prefer dials or push buttons to change gears because I'd rather have a separate wiper control on the right side of the steering column opposed to cramming these functions onto the end of the turn signal stalk.
The EQE offers lots of great features, though many common amenities cost extra. A heated steering wheel is $250, if you want ventilated front seats it will cost you $450 and laminated glass is $1,100. Relatively basic items like these should probably just be standard in a car of this caliber.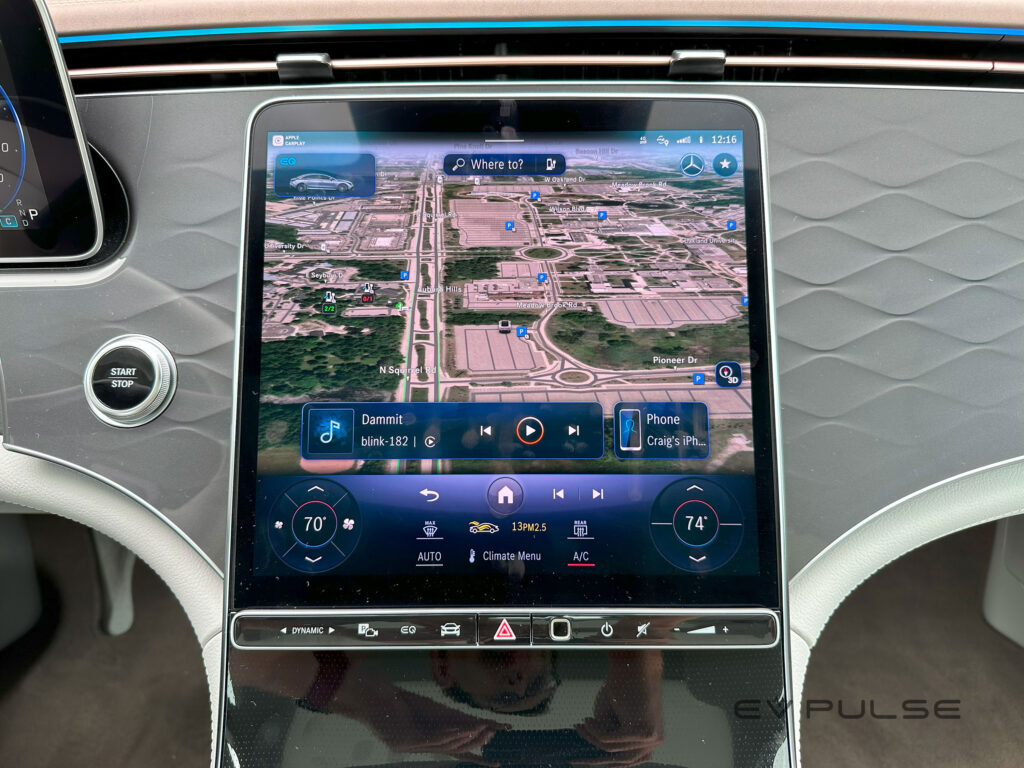 Comfort is a strong suit of the EQE. Its front seats are supple yet supportive and I love the location of the adjustment switches. Mercedes-Benz has put them on the door panels for many years where it's easy to see and reach these commonly used controls. There's plenty of space in this sedan's aft accommodations as well, and the lower cushion is deeply sculpted, making the backseat far more comfortable than you might expect. With the driver's chair adjusted to fit my 6-foot-frame there's still 4 or 5 inches or room between the front seatback and my kneecaps. Headroom, however, is just a little tight. My noggin will touch the headliner if I lean to the side slightly.
Interior storage space in this car is impressive, too. The center console has plenty of room for wallets, sunglass cases and other tchotchkes, the glovebox is generously sized and there's an open — and substantially sized — cubby underneath the console.
Despite its swoopy lines, this Mercedes-Benz is still impressively practical. The trunk clocks in at around 430 liters, about 15.2 cubic feet, which is a couple more cubes than you get in a comparable E-Class sedan. At its narrowest point, this space is about 35 inches wide, while the depth and height are roughly 40 and 21 inches, respectively. The lift-over height — how far you have to raise items to clear the trunk lip — is about 32 inches. Unfortunately, since the hood does not open, there is no front trunk, though if you need to haul longer cargo, the rear backrests fold down at the push of a button on the edge of the trunk lid, which is incredibly convenient.
User-friendly tech, a modern rarity
The EQE features a clear and easy-to-read 12.3-inch digital instrument cluster. This is dead simple to reconfigure using the touch-sensitive buttons on the steering wheel. In other Mercedes-Benz vehicles I've recently tested, these controls have been frustrating, unresponsive when you need to do something yet way too sensitive when you don't. In this vehicle, though, the touch controls are just about perfect, working exactly as advertised.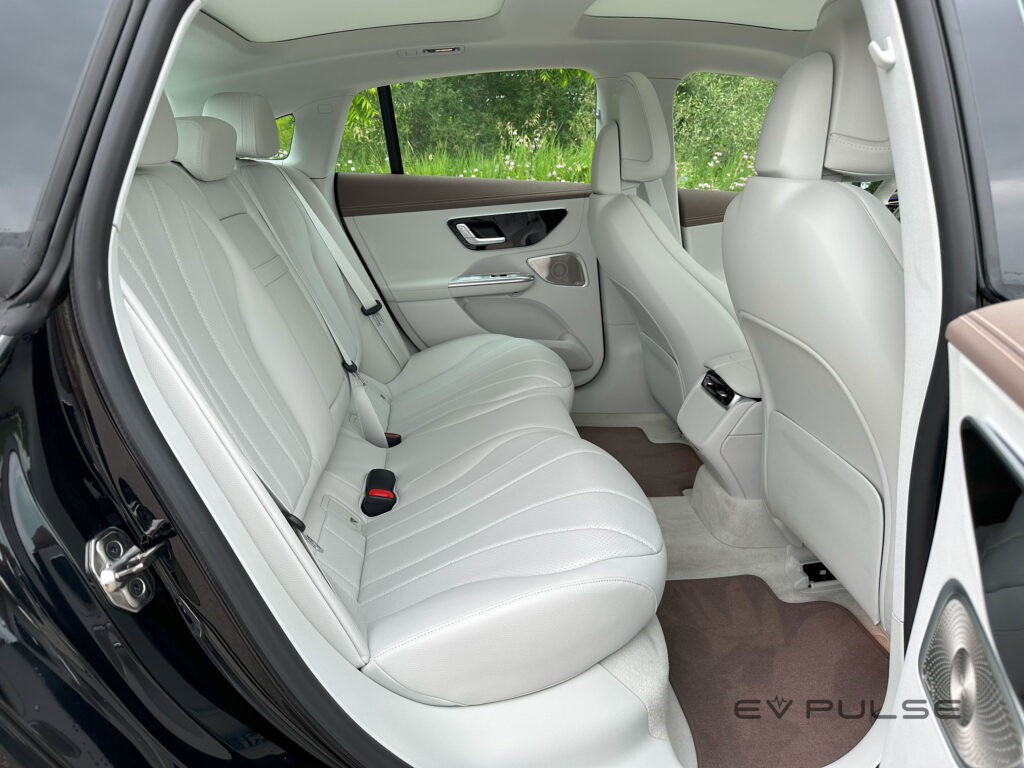 On the center of the dashboard is a gorgeous 12.8-inch OLED touchscreen. This portrait-oriented panel is crisp and colorful, home to an MBUX infotainment system. As multimedia arrays go, this one is super impressive because it's very intuitive yet still offers loads of functionality. Something called the Zero Layer puts commonly used applications or other features right on the home screen, so you can access them with one tap, rather than having to dig through several menus. Naturally, Apple CarPlay as well as Android Auto are both standard, and each smartphone-mirroring system can connect to MBUX wirelessly.
As seen in the larger EQS and EQS SUV, the EQE sedan is supposed to be offered with the dashboard-spanning MBUX Hyperscreen, but it's not available in the U.S. right now. At first glance, this massive sheet of glass is arresting, though I think I actually prefer the two separate displays currently offered in the car. The Hyperscreen is undeniably cool, but it's still just three individual screens in one housing, and you can see the edge of each display, which kind of ruins the all-in-one effect they were going for.
Floats like a butterfly… stings like one, too
The EQE comes with a 90.6-kilowatt-hour lithium-ion battery, one that DC fast charges at up to 170 kilowatts, a respectable if not industry-leading performance. Still, that charging speed can take you from a 10 to 80% state of charge in a manufacturer-estimated 32 minutes. As for range, the EQE 350 4Matic model provides 260 miles on a charge, though the rear-drive model is rated at a more impressive 305.
With two electric motors, one at each axle, the EQE 350 4Matic is graced with 288 horsepower, oddly, the same amount as in single-motor, rear-drive EQEs. Torque clocks in at a much more impressive 564 pound-feet. These figures move the car well enough, you're not really wanting for power, but the EQE does not feel as vigorous as the numbers suggest, especially for something with an estimated 0-to-60 time of 6 seconds flat.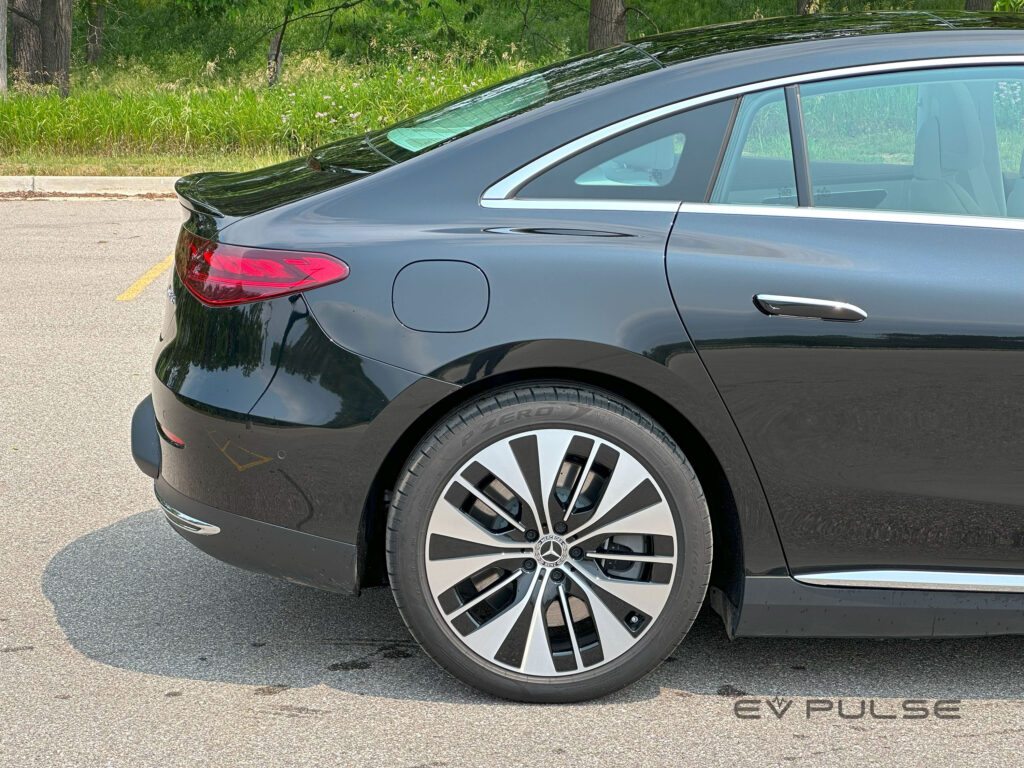 A big reason why the EQE seems a bit tepid is that it's so refined. There's basically zero powertrain vibration or noise, especially when you turn the simulated engine sounds off. This example is also fitted with the optional $1,100 Acoustic Comfort Package that includes laminated front side windows and a laminated windshield. Additionally, the available $1,900 air suspension system provides a ride that's creamier than chocolate mousse. The car absorbs and digests roadway imperfections with grace, yet the body remains well controlled, never wallowing in corners or bobbing around like a schooner in a squall.
Matching the ride quality, the EQE's steering is light to the touch, with a ratio that's neither too quick nor overly slow. The meaty rim feels great in your hands. Supercharging low-speed agility, this car is also available with rear-wheel steering. Two flavors are available and both cost $1,300. One setup angles the back tires by up to 4.5 degrees while maneuvering, the other by 10 degrees. The later reduces the turning circle from 41 feet to just 35.
More amenities that should probably be standard are bundled in the $1,250 driver assistance package. This options group includes features like blind-spot assist, adaptive cruise control with stop-and-go functionality, active lane-change assist and more. But really, you kind of need all that tech because outward visibility is surprisingly restricted. The steeply raked windshield has some glare, the dashboard and cowl are very tall, all the roof pillars need to go on a diet and the back glass is quite small.
One of my favorite EVs
While it's not a perfect electric vehicle — the acceleration and DC fast charging speed could both be better, and I don't care for the restricted outward visibility — I'm still exceedingly impressed by the 2023 Mercedes-Benz EQE 350 4Matic. It's comfortable, luxurious, refined and offers loads of great tech. This car is also just about the perfect size, neither too cramped nor unnecessarily massive. While the EQE is certainly not cheap, it isn't insanely expensive, either.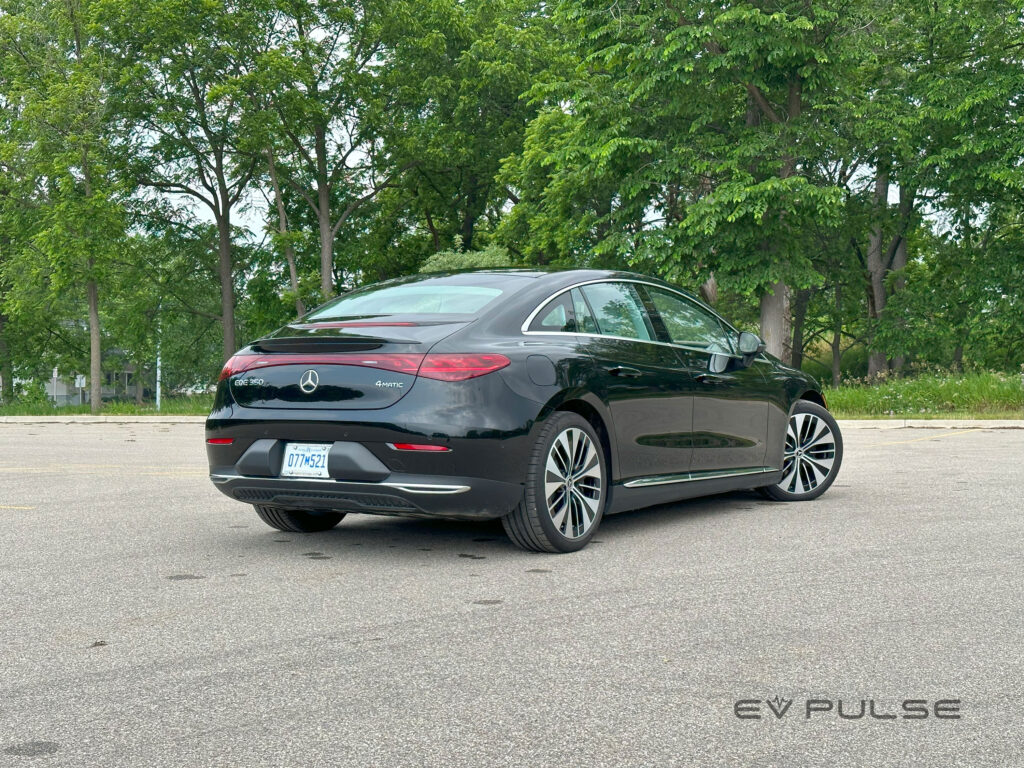 As it sits, this example checks out for $90,305 including delivery. To be certain, that's a lot of cash, but it is not unreasonable for everything you're getting; the car actually feels like it's worth the asking price. Overall, this is a fantastic electric vehicle, and it might just be one of my favorites.
At a glance
Year: 2023
Make: Mercedes-Benz
Model: EQE
Trim: 350 4Matic
Type: All-electric sedan
Horsepower: 288
Torque: 564
MPGe ratings (city/highway/combined): 86/86/86
Range: 260 miles
Pros: Excellent infotainment tech, smooth ride, gorgeous interior, comfortable accommodations
Cons: DC fast charging could be quicker, more range would be nice, merely OK performance, restricted outward visibility
Estimated Base price: $79,050
As-tested price: $90,305 including $1,150 in destination fees