Depending on where you live, driving a car during the winter season might not be an enjoyable experience. Even though most modern EVs have heated seats, sometimes you need more than that and your heater to stay comfortable, especially if you're really sensitive to the cold. If you're looking for ways to stay warm this winter while on your daily commute, consider a heated car blanket. It's also a great accessory to own if you often go camping with your EV, or find yourself in situations where your car is your bed for the night.
Heated car blankets are often also called electric car blankets and use your car's 12-volt receptacle (cigarette lighter) for power. They're very similar to the heated blankets you can use at home, just with a different source for power. We also recommend owning one if you often drive long distance and in cold weather. You just never know when you might get stuck in your vehicle during harsh winter weather and a heated car blanket might just save your life. Sounds extreme, we know, but crazier things have happened.
Below, you'll find our recommendations for the best heated car blankets along with more information about the product so you can choose the right one for you and your vehicle.
1. Top pick: Stalwart electric car blanket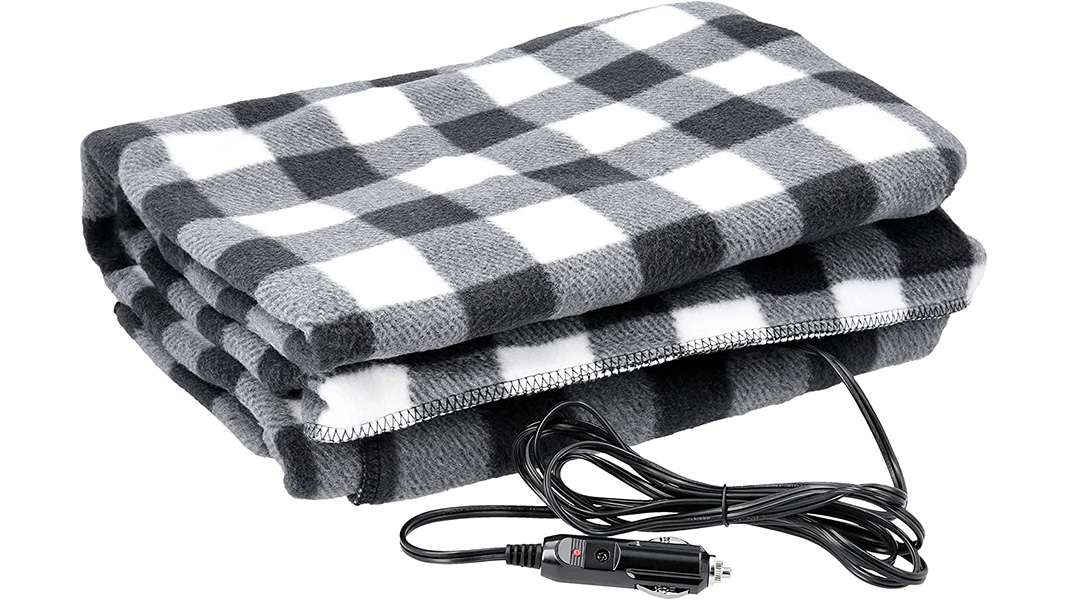 Our top recommendation comes from Stalwart, a reputable brand within the automotive industry. The company specializes in various automotive tools and accessories including this heated electric car blanket. When it comes to price, performance, and features, it's hard to beat what Stalwart's blanket has to offer. It's competitively priced, measures 59″ by 43″, and has a long 96″ power cord so you can easily reach your backseat if necessary.
A lot of users prefer this blanket because it is more "warm" than "hot", since some of the other electric blankets out there can get uncomfortably hot. One of the biggest disadvantages for this blanket is that you can't control the temperature and there's no power button. You simply plug it in and the blanket starts getting warm. If you want to be able to control the temperature of your heated car blanket, you'll have to look to our other, more expensive recommendations further down the list.
This blanket is ideal for shoppers who want something that's simple, easy-to-use, and affordable. It's also available in a variety of colors and styles: black/white, gray, green, navy blue, orange, and red. Just keep in mind, you shouldn't wash this blanket in a machine.
2. Runner-up: RoadPro BlackCanyon Outfitters 12-volt heated travel blanket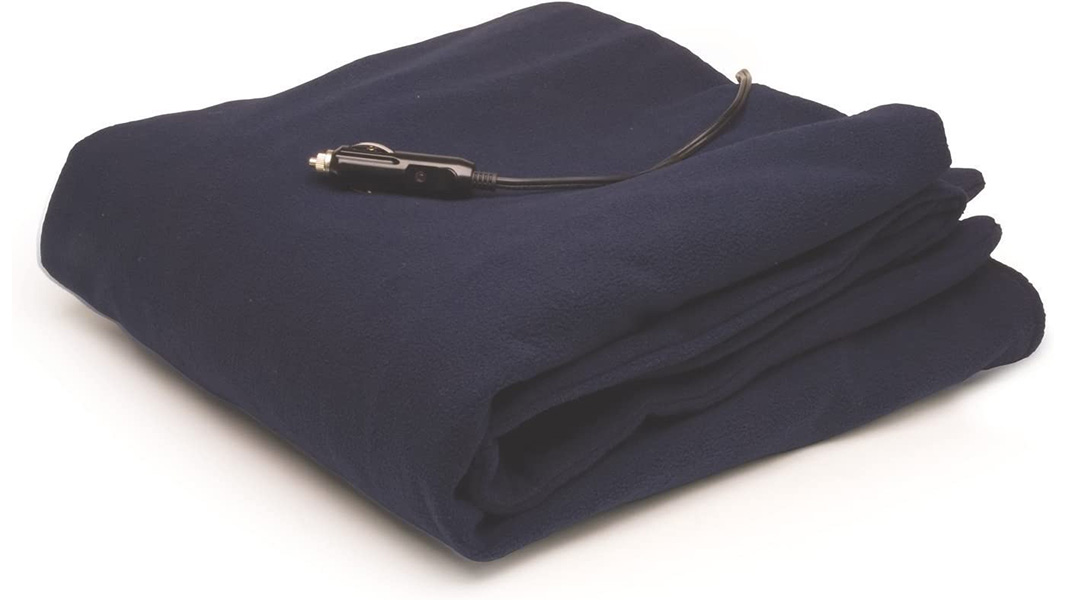 Our runner-up pick is similar to Stalwart's electric blanket, measuring 58″ by 42.5″ and constructed from 100% polar fleece material. It too has a long 96″ power cord with an LED indicator on the plug to let you know when it's getting power. The same disadvantages apply to this pick as well, with no power button or controllable temperature. So again, if you want more control over your blanket's temperature, you'll have to consider our next couple options. Also, this blanket isn't machine washable.
This recommendation is manufactured by BlackCanyon Outfitters, one of RoadPro's brands. BlackCanyon Outfitters specializes in outdoor lifestyle products and is mostly known for its line of travel bags.
Since this recommendation is pretty similar to our top pick, it may largely come down to price or style preference when it comes time to choosing one. But they're both reputable, quality products that will keep you warm during the winter.
3. Best small blanket: Comfytemp mini car electric blanket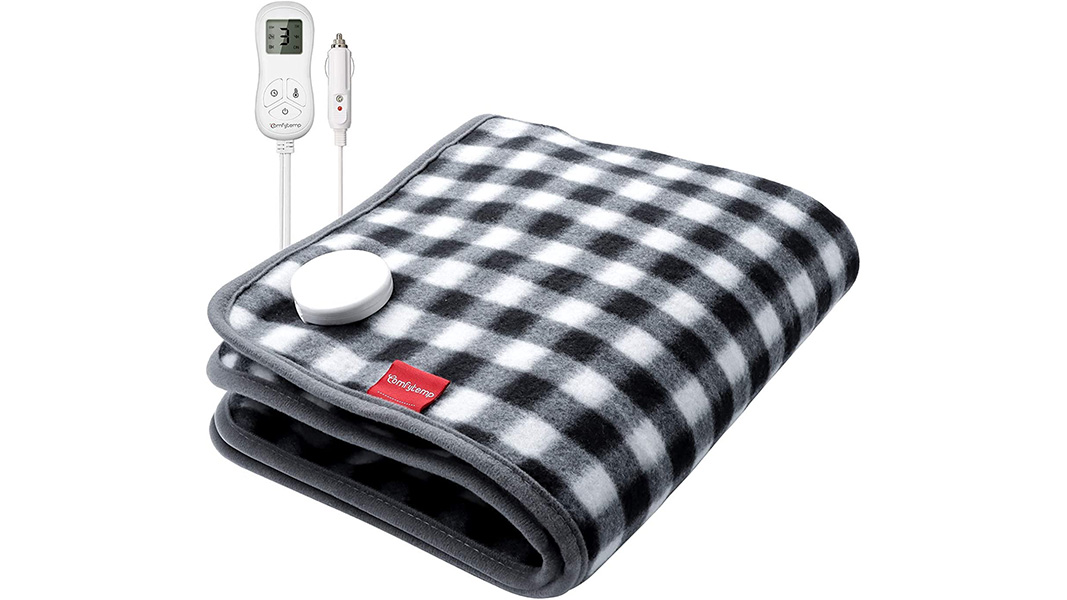 Not everyone needs a large blanket, and if you're one of those shoppers, consider this 24″ by 20″ offering from Comfytemp. Unlike our first two recommendations, this mini car electric blanket actually comes with a controller, allowing you to choose from four different heat settings. You can also set how long the blanket stays on (0.5, 1, 2, 4, and 8 hours) or disable the auto shutoff entirely. A memory function will store your last settings for heat and timer, so you don't have to configure it each time.
One disadvantage of this blanket is that you'll have to manually turn it on with the controller each time. Plugging it into the 12-volt receptacle in your vehicle will give it power, but won't automatically start heating the blanket — unlike our first two recommendations. So even though the controller with save your previous settings, you'll still have to find it to turn on the blanket. It's also worth noting the controller isn't backlit, which might be a little annoying at night.
As for one of its advantages, the company says this blanket is machine washable once you detach the controller.
4. Premium pick: Great Working Tools car blanket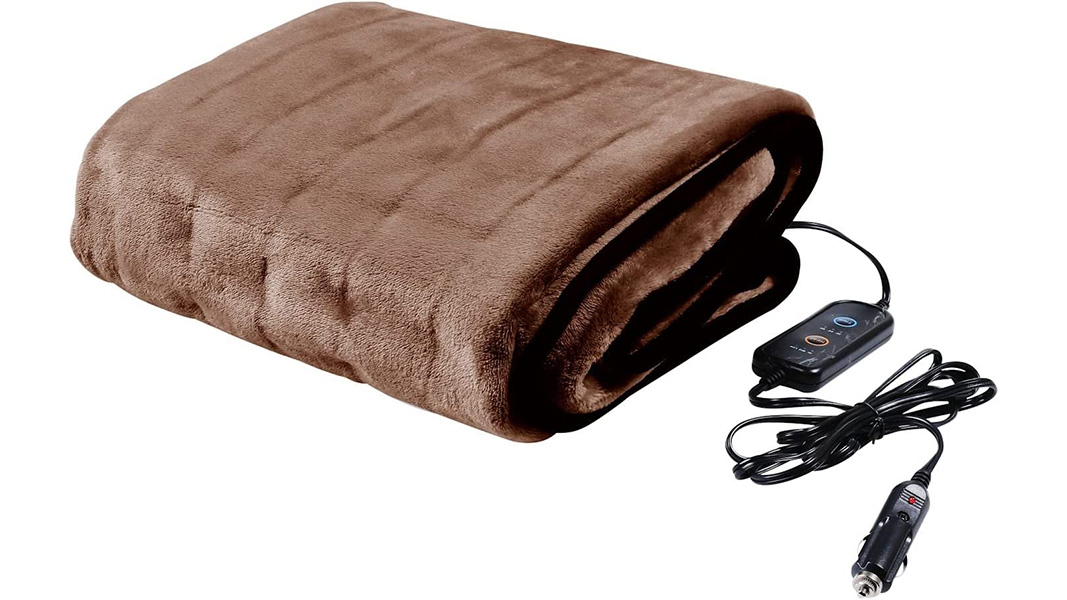 If you want a large blanket with most of the bells and whistles, we recommend this one from Great Working Tools. This blanket is available in four shades: blue, brown, charcoal, and gray, while measuring 55″ by 40″. Equipped with a 96″ power cord, you also have the ability to choose from three different heat settings. Its auto shutoff feature is also configurable, allowing you to select from 30, 45, or 60 minutes. This blanket is made from polyester fleece and is machine washable once you detach the cord.
For some, one disadvantage for this blanket is that you can't disable the auto shutoff feature, which means you can't leave it running continuously. Now that's by design, since it can be unsafe to leave a blanket running indefinitely if it's not being monitored. If you don't need a blanket that stays on overnight while you're sleeping, this is a great option for daily commutes.
5. Also consider: Car Cozy 2 12-volt heated travel blanket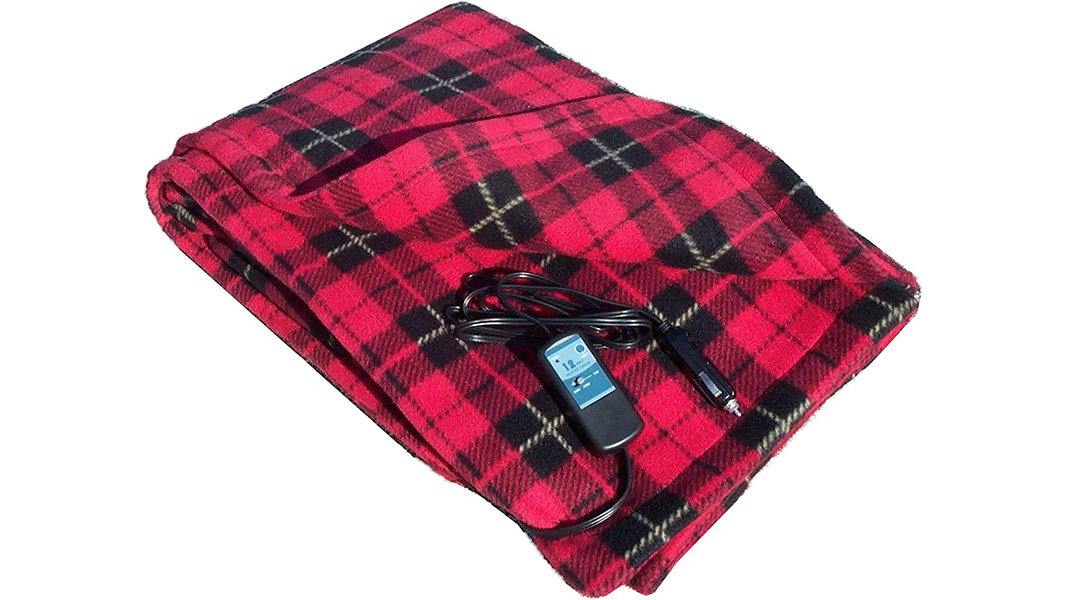 Our final recommendation is a polyester fleece blanket from Trillium Worldwide. It's called the Car Cozy 2, measuring 58″ by 42″ and wearing a red plaid design. If you've been following all of our recommendations so far, there isn't really anything about this blanket that will stand out to you. In fact, it's a bit more on the basic side.
Although there is a controller, there are actually no temperature settings. Instead, you can only choose a toggle between a 30- or 45-minute auto shutoff. The power cord is also shorter than most of our recommendations, measuring 84″.
It's a decent option that warms up nicely at a competitive price, although it lacks the features some of our other recommendations have to offer.
Do heated car blankets drain your car's battery?
Like any accessory that plugs into your vehicle's 12v outlet, it will drain your car's battery. Now, unlike traditional ICE cars where you'd have to keep your engine running so the battery doesn't completely die, EVs will simply just lose driving range in order to power an accessory. So that's what you'll have to keep in mind if you plan on using a heated car blanket for a long period of time. You may also want to check if your vehicle has a feature similar to Camp Mode that's found in Teslas.
Are heated car blankets safe to use?
If you follow the manufacturer's instructions, heated car blankets are safe to use. Many of them have built-in auto shutoff features so that the blanket doesn't get too hot. If you're planning to use your blanket for a long period of time, make sure it's being done under supervision. You'll want to turn it off or unplug it if it's getting too hot.
How long does it take for an electric car blanket to get warm?
The time it takes for a heated car blanket to get warm is largely dependent on the product itself. Most quality blankets should get warm fairly quickly — a matter of minutes — while others may take longer. If you have a short commute, you may want to let your car and blanket warm up before departing.
Recent updates:
Updated (4:45 p.m. EDT, 04/28/2023): Added Walmart and eBay shopping links to our recommendations where applicable. Our top picks remain unchanged.