Whether you're going down the road or across the country, you don't want to be driving on overinflated or underinflated tires. Or worse, a flat tire. Unless you're traveling with your own pit crew who can leap to your aid to check your tire pressure or fix a flat, it's wise to add a tire pressure gauge to your list of electric vehicle essentials.
Here are the top three reasons to have a tire pressure gauge close at hand, our recommendations for the best gauges, and tips on how to use one.
Know the proper air pressure inflation levels for your particular EV's tires. If the tires are overinflated or underinflated they are more prone to a blowout or to tire deformity — both of which could result in a fatal accident. Tires that are improperly inflated make your electric vehicle harder to handle, steer, and stop, and all of these increase your risk of an accident.
You've already made a commitment to yourself to save money when you invested in your EV. Keeping your tires properly inflated can add to your money-saving mantra. If your tires are underinflated this means the tire will have a larger contact with the rubber and the road. This adds to increased friction and affects your driving range. A properly inflated tire will also increase the useful life of the tire itself by not experiencing premature wear.
Don't always rely on your vehicle's sensors to let you know the tire pressure is incorrect. Your TPMS is designed to notify you at a certain threshold, typically 25% below your recommended tire pressure. That means you could be missing a few PSI and not know it, if you're only depending on your TPMS.
The easiest way to find out the proper air pressure levels for your tires is to check your driver's side door jamb for a label or your owner's manual. As a general rule, we recommend checking your tire pressure at least twice a month, so you're always driving on properly inflated tires.
1. Easiest to read and use: AstroAI digital tire pressure gauge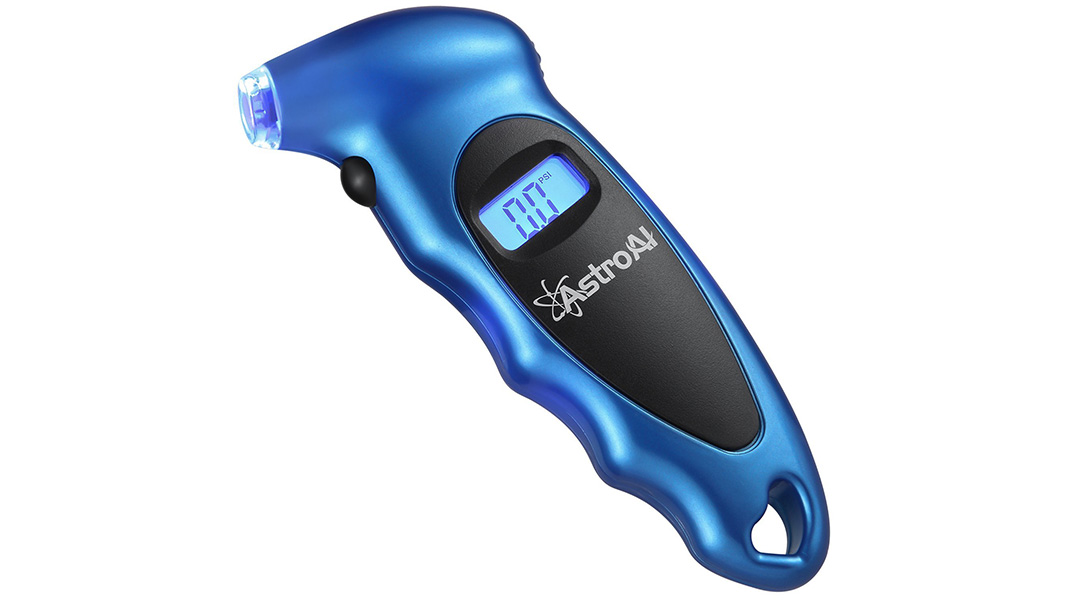 If you want to put little thought into picking the right tire pressure gauge, we recommend just grabbing yourself this digital tire pressure gauge from AstroAI. It's affordable, accurate, and easy to use, but its plastic body construction does feel cheap. Since it is a digital gauge, you'll also need a battery, which is included.
This gauge reads in four different units: PSI (0-150), BAR (0-10), kg/cm² (0-10), and KPA (0-1000) on a backlit screen. It'll also automatically shutoff after 30 to 40 seconds if it's not being used to preserve battery life.
It's worth noting that even though this is a digitally calibrated gauge and it should be accurate, some users have gotten duds. As is the case with anything that is really affordable and manufactured overseas, quality control can be an issue. AstroAI does have good customer support, so if you do happen to get a faulty or inaccurate gauge, ask for a replacement.
2. Best analog: JACO ElitePro tire pressure gauge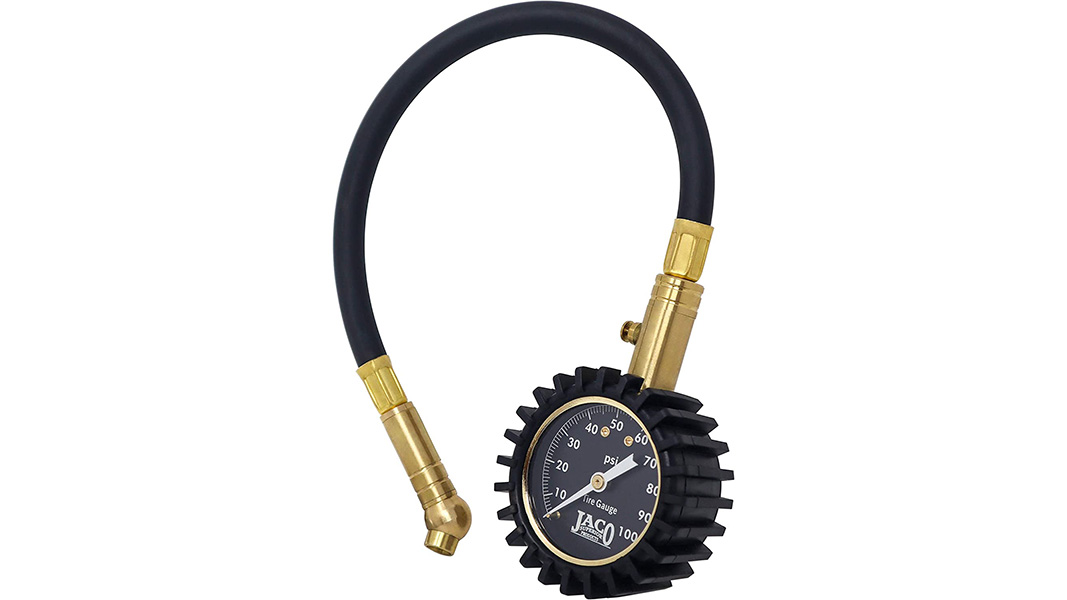 If you don't like the idea of a battery-powered tire pressure gauge, then you'll want a reliable analog dial gauge like this one from JACO. We recommend the ElitePro, which measures up to 100 PSI. What's great about this gauge is that it's certified and calibrated to be accurate within ANSI standards (within 1.5%) at an ANSI accredited calibration facility. We also prefer JACO's gauge over other brands, because the company has a solid reputation within the off-road aftermarket and we've had great personal experience with JACO's customer service in the past.
The gauge itself features a 2″ glow-in-the-dark dial and the reading is locked in place until the pressure reset button on the brass neck is pushed. It's easy to use with its 360-degree swivel chuck, and the built-in bleeder valve allows you to take air out of your tire if it happens to be overinflated. Another reason why we like this gauge is its sturdy construction with a shock-resistant protective guard in case you accidentally drop it.
3. Best on a budget: VONDIOR tire pressure gauge
For those on a budget, you can get yourself a reliable and accurate analog dial gauge from VONDIOR at an affordable price. It's often on sale too, which is another bonus. Unlike JACO's ElitePro however, this gauge reads up to 60 PSI, which should still be more than sufficient for most EV owners. It's calibrated to be accurate within 1%, although it's worth noting this isn't being done in an ANSI accredited facility.
For the price however, you're getting great value with this gauge. It has a built-in air bleeder valve, although some users do report that it's really slow to deflate tires. The swivel chuck rotates 360 degrees, and a rubberized outer bumper protects the glow-in-the-dark gauge. This recommendation is ideal for the average car owner who wants a functional gauge at an affordable price.
4. The old school gauge: Valve-Loc Pencil Tire Pressure Gauge
Just because you drive a modern, high-tech EV doesn't necessarily mean you need a matching tire pressure gauge. For those who used a pencil- or stick-type tire pressure gauge growing up and find no reason to try something else, this two-pack from Valve-Loc is the way to go.
Constructed with a stainless steel body and a chrome head, these gauges are straightforward to use. One of the disadvantages for this style of gauge is that they are a bit more difficult to read than a dial or digital gauge. But if you already have experience using these, that won't be much of an issue. A great tire pressure gauge to leave in your glove box, so you always have it when you need it.
5. Honorable mention: Slime  digital  pressure  gauge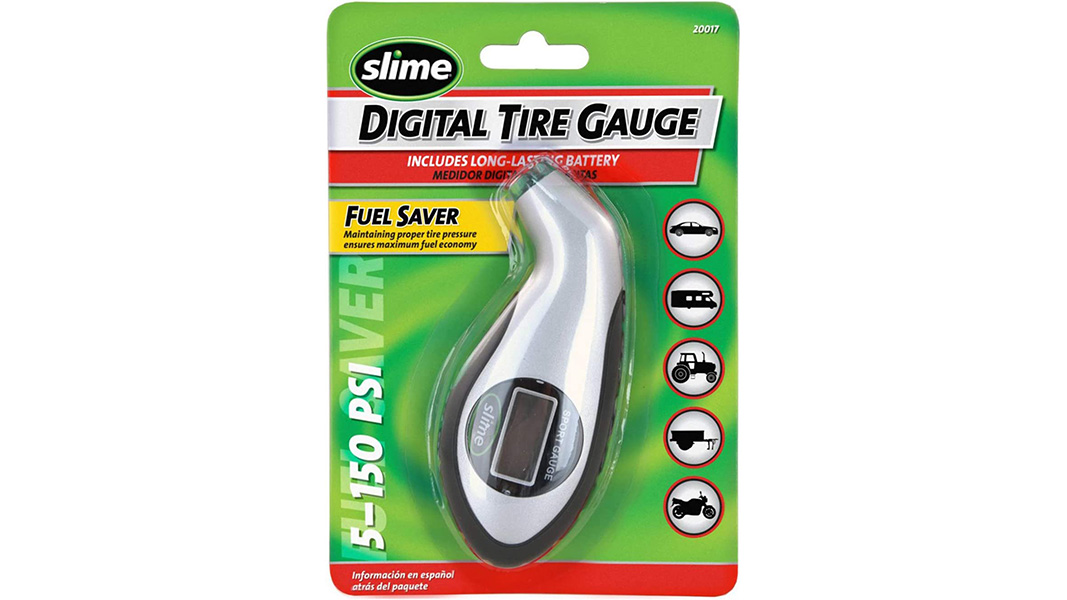 If none of our previous recommendations have caught your eye, maybe this one will. It's a compact digital pressure gauge from Slime, a company known for its tire repair products. This option is a pretty standard digital tire pressure gauge, with a lighted tip, backlit LCD screen, and an auto shutoff feature to save on battery life. It reads from 5 to 150 PSI and has a nice, rubberized grip for comfort.
How to use a tire pressure gauge
While it's important to have proper tire pressure, it's just as important you know how to properly use a tire pressure gauge to ensure the readings are correct.
A tire pressure gauge is a relatively simple tool to use. Follow these tips:
Test the air pressure on a tire that is cold. You don't have to have your vehicle in a cold place, it just means you're not driving the vehicle before you test the air pressure. Park the car and let it sit for around four hours before your test.
Find and note the recommended tire pressures for your tires. Check your driver's side door jamb or owner's manual for a label and pay close attention if your front tires have a different recommended tire pressure than the rear tires.
Decide which tire to check first.
Remove the valve cap.
Press the gauge into the valve stem and push until you hear a distinct "hiss".
Look at the reading on the gauge and compare it with the PSI recommendations.
Repeat the process on all the other tires.
If any of your tires are underinflated, we recommend using a portable tire inflator to get them to proper levels. If you don't own one, we highly advise buying one so you always have access to an inflator. Otherwise, check your local gas station for an air inflator.
What to look for in a tire pressure gauge
The technology across the various types of gauges doesn't vary too wildly, but there are some that are more user-friendly, easier to read and/or more accurate.
Types: Dial, digital, or stick
Dial pressure gauges use a dial from which you read the pressure. The dial resembles a clock face and a needle displays the pressure. There are some dial tire pressure gauges that have quite a few bells and whistles — or at least dual-scale dials, are shock resistant, and may include bleeder valves. The more features, the higher the price — something to think about.
The digital tire pressure gauge is easy to hold and pops the measurement up on a digital display that may be easier to read for some. The digital style requires batteries, but that may be a small inconvenience if need to read the PSI in the dark. Just remember to check and change the batteries regularly.
The stick tire pressure gauge is probably your "father's tire pressure gauge." It is a small, pen-sized tool that you hook up to the tire valve. Once it's properly seated the small strip pops out from the handle. Where the strip stops and the number that displays is your tire pressure. They are simple, affordable, and have stood the test of time.
Recent Updates:
Updated (3:52 p.m. EDT, 09/15/2022): Revised our recommendations based on recent testing. Added more information about tire pressure gauges, and added some content for clarification.