Recently, we took the Ford F-150 Lightning on a towing and charging test, which got us to research the best tow and recovery straps, as well as the best ratchet tie down straps. If you're often towing or carrying cargo, you'll want a set of sturdy and reliable ratchet tie down straps. Whether it's to strap down the ATV or UTV you're taking out to the desert for the weekend, or you're picking up material at your local hardware shop for a home restoration project, tie down straps are a necessity for a safe trip. High quality tie down straps are designed to secure your cargo for long distances, providing stability on your flatbed or trailer.
Shopping for the correct ratchet tie down straps is no easy task, unless you know exactly what you need. If you're new to the segment, you're probably scratching your head wondering what size ratchet straps you need and how to choose the right working load limit or break strength. We're here to help. Below, you'll find our list of recommendations for the best ratcheting tie down straps, with a variety of different sizes to accommodate your specific needs. Following our top picks, you'll find more information about ratchet tie down straps and how to choose the best ones you. Refer to our table of contents for easier navigation!
1. Top pick: Rhino USA Ratchet Car Tie Down Straps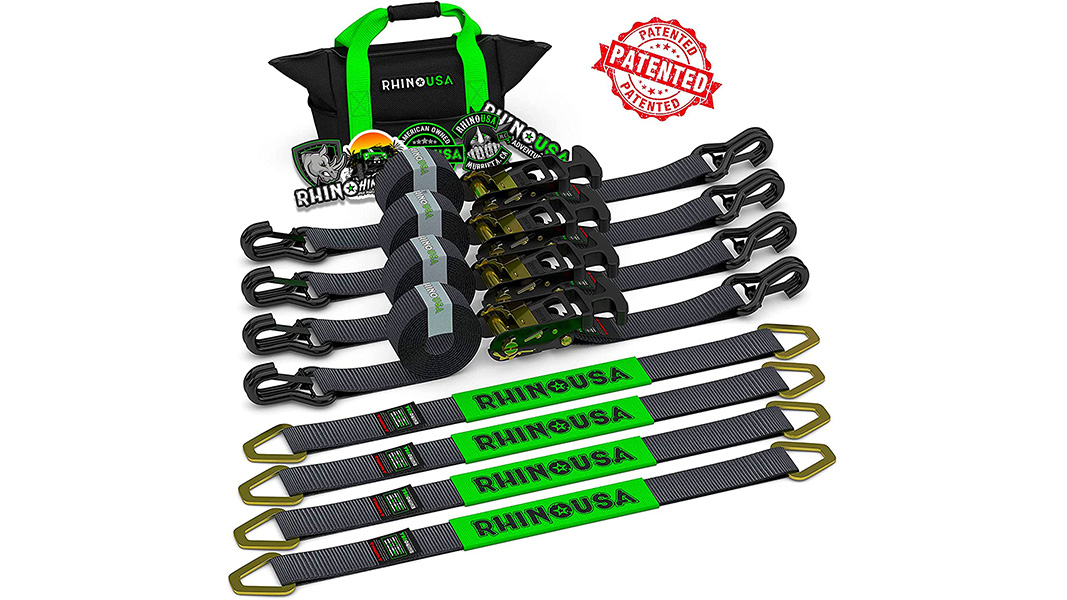 Our top pick comes from Rhino USA, a brand that also finds its way on our best tow and recovery straps list. Its latest ratchet car tie down straps kit includes four 2″ by 38″ axle straps and four 2″ by 8′ heavy-duty ratchet straps. Boasting 11,128 lbs max break strength and 3,709 lbs working load limit, these heavy-duty straps feature patented "T" handles for easy ratcheting, chromoly full bend J-hooks, and exclusive PolyBlend webbing. To help protect your cargo, the axle straps have anti-scratch sleeves on them.
It's worth mentioning that although Rhino USA does its designing and engineering in the U.S., its products are manufactured in China. That is however, the case for many of the products in this segment, so good customer service and warranty are important factors for us when we're ranking products. I've had a positive, firsthand experience with Rhino USA's customer service and the company backs its products with a lifetime warranty. If your straps rip, tear, or fray, Rhino USA will replace it at no cost. It's due to how quickly the company addressed my past issues that puts them at the top of the list.
2. Runner-up: STANLEY Ratchet Tie Down Straps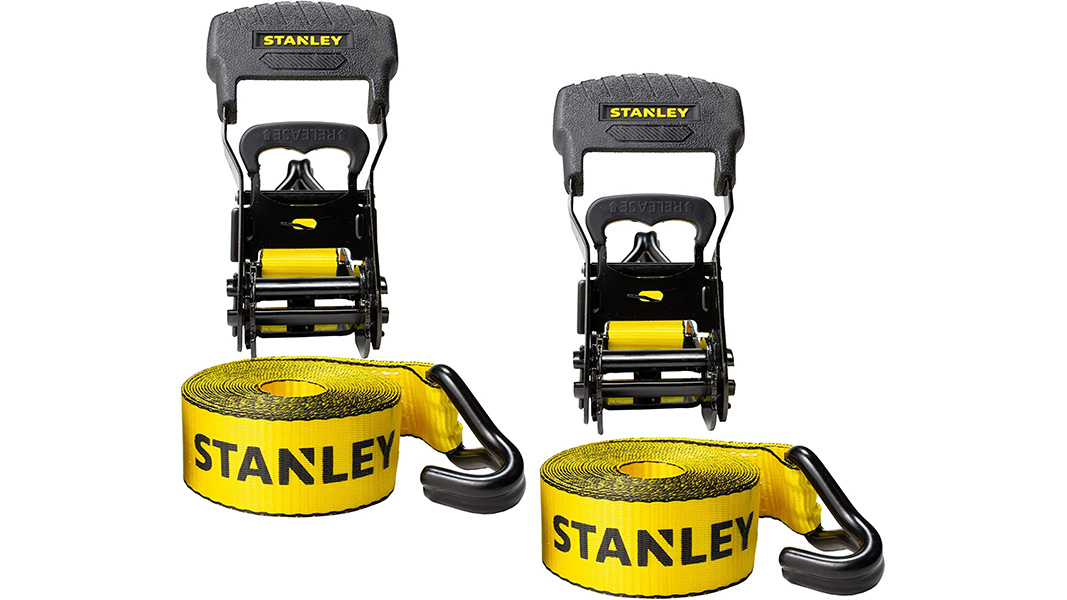 You've more than likely heard of STANLEY Tools and you might even recognize the brand's signature yellow shade. The company's ratchet tie down straps have 3,300 lbs break strength and a safe working load limit of 1,100 lbs, while measuring 1.5″ wide by 16′ long. Vinyl coated J-hooks provide a non-marring hold to protect your cargo and vehicle, while the ergonomic ratchet handle features an angular grip and a premium release lever, making them easy to use. You're getting a quality product with the STANLEY brand, and these ratchet straps are ideal for smaller items like a motorcycle, medium-sized industrial UTV, or canoe.
You can choose from different packages, based on the cargo you're hauling. STANLEY offers straps for light, medium, and heavy cargo hauling (this description is for the heavy variant), and sells its straps in two, four, and eight packs.
3. Best on a budget: FORTEM Ratchet Straps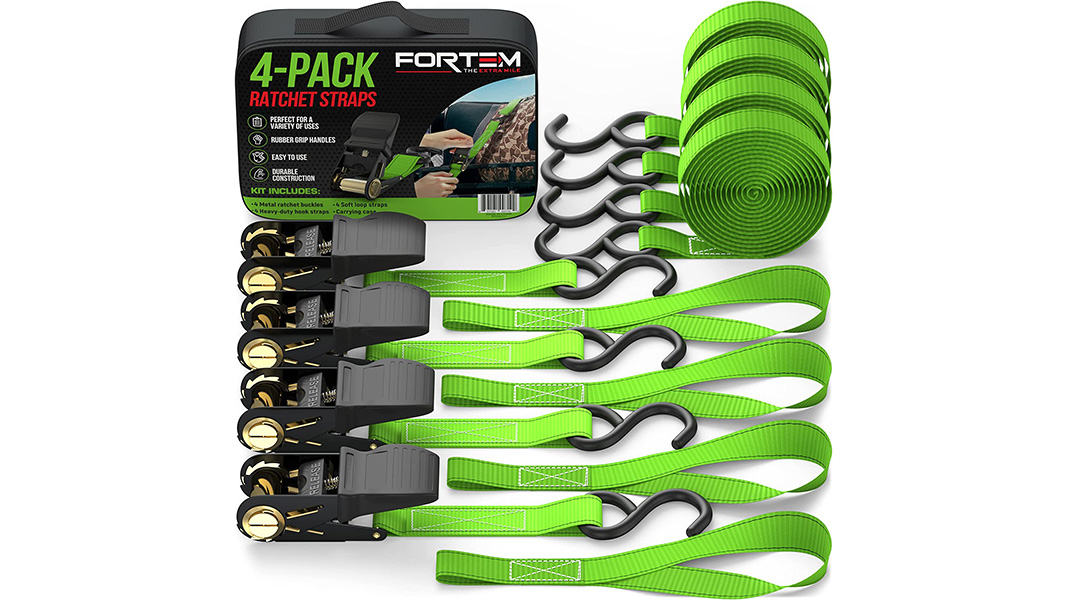 We don't really recommend cutting corners when it comes to buying a set of ratchet tie down straps, but we completely understand that some people are shopping on a budget. If that's you, we recommend these ratchet straps from FORTEM. Although they're noticeably more affordable than some of its competitors, they're still good quality straps that are ideal for light usage. This set includes four metal ratchet buckles with rubber grips, four soft loops straps, and four S-hook straps that are 1″ wide. Since these are 1″ straps, they have a working load capacity of 500 lbs and 1,500 lb break strength. In other words, you can safely use them on ATVs, UTVs, motorcycles, bikes, kayaks, and other similarly-sized items. Just avoid relying solely on them when towing a vehicle.
FORTEM includes a one-year warranty with its ratchet tie down straps. That's obviously not very competitive compared to the lifetime warranties some of the other companies offer, so keep that in mind.
4. Also consider: JACO Ratchet Tie Down Straps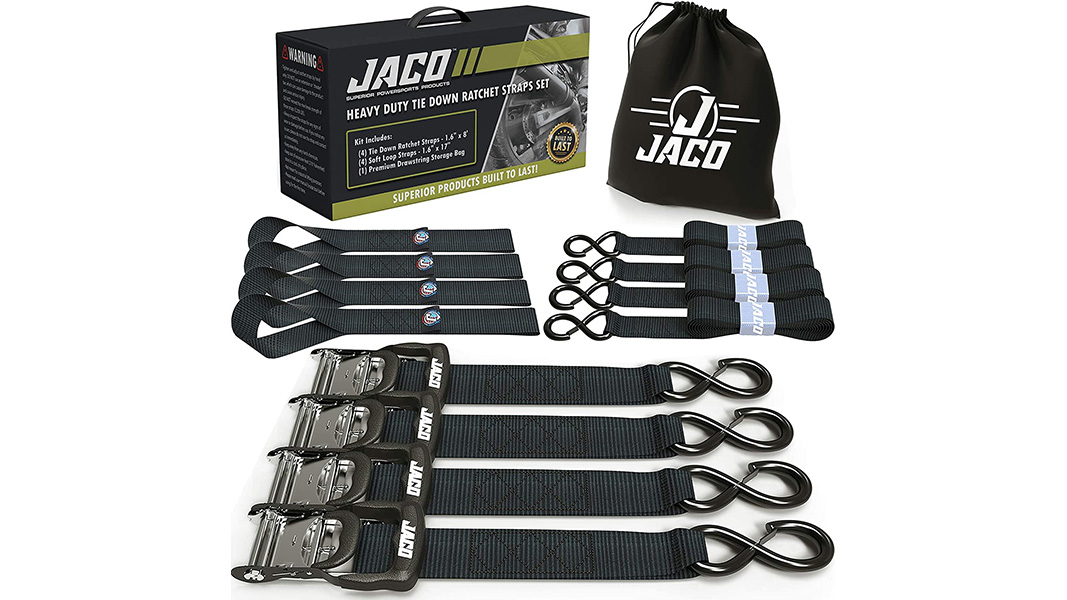 JACO has a solid reputation within the industry for many years now, so we won't hesitate to recommend its ratchet tie down straps. You can choose from black, grey, or orange finishes and you'll get straps that measure 1.6″ by 8′, made from industrial-strength polyester material. JACO had these straps break strength rated to 5,208 lbs at an AAR certified cargo control lab. The ratchet handles on these tie down straps feature high-density hard rubberized grips that have been built to military-grade specs and JACO goes so far as to say they are indestructible. The S-hooks are rubber coated and have a rust-proof vinyl finish to keep your cargo free of scratches.
JACO also has a 100-percent lifetime guarantee with its products. Each set comes with four ratchet tie downs, four soft loops, four bundling straps, a storage bag, a warranty card, instructions, and an authentic JACO decal.
5. Honorable mention: AUGO Ratchet Tie Down Straps
Our final recommendation sits in the middle of the pack, rated at 2,200 lbs break strength and load capacity of 733 lbs. These are fairly standard, run-of-the-mill ratchet tie down straps that appear to be of good quality based on user reviews. Rubber coated S hooks can be found with safety locks, while a quick-release latch is used for quicker fastening. Each set includes four 12″ soft loops, four 15′ ratchet straps, a pair of 36″ bungee cords, and a storage bag. AUGO also offers these ratchet tie down straps in blue and red, if black isn't your style.
Pricing on these are pretty competitive, which makes them a decent option if you only need ratcheting tie down straps for occasional use.
What is working load limit or load capacity?
The working load limit or load capacity is the measured amount of weight that a strap can handle under normal conditions. This is typically calculated as 1/3 of the breaking strength.
What is breaking strength?
The breaking strength of a ratchet tie down strap is the measured weight that causes the weakest part of the strap to fail. After all, a strap is only as good as its weakest point.
How do I choose the right size ratchet strap?
Generally when you're shopping for ratchet tie down straps, you want to look at the width of the strap. Straps that are 1″ wide are for light-duty use, like tying down a dirt bike or lawnmower, or cargo on a trailer or the bed of a pickup truck. Larger 2″ straps are ideal for securing a vehicle, UTVs, ATVs, or use in enclosed trailers or on flatbed trailers. They're arguably the most common size for ratchet tie down straps when you're using them to secure a vehicle for towing. There are 3″ and even 4″ ratchet straps, but they're generally for securing extremely heavy cargo and it's unlikely you're shopping for that.
How to use a ratchet tie down strap
Start by loosely placing your tie down strap around the cargo you want to tie down. Double check that the strap isn't twisted before you start.
Open the ratchet — this may require pressing the release lever — and feed one end of the strap into the ratchet's lower slot and into the take-up spool. Pull the strap through and leave a few inches of slack. Don't worry, the ratchet will fully tighten it.
To tighten the strap, move the ratchet lever in a pumping motion until it feels like the right tension. You don't need to overtighten the strap. Check to make sure your cargo won't move around during transport and then lock the ratchet into its closed position.
To loosen a ratchet tie down, pull and hold the release lever or tab. Open the ratchet completely so it lays flat and then pull the strap free. After use, close and lock the ratchet buckle.
Recent updates
Updated (4:02 p.m. EST, 02/03/2023): Added eBay shopping options to our recommendations. Our top picks remain unchanged.