We recently took the Ford F-150 Lightning on a towing range and recharge test, which inspired us to share our recommendations for the best tow and recovery straps. While in our particular case we needed tie down straps to keep the Model 3 secure on the trailer, there are a few EVs that are fully capable of going off-roading and you'll never know when you need a quality tow or recovery strap. Before we take a look at our recommendations, it's worth explaining the difference between tow straps and recovery straps, so you're getting the right tool for the job.
Tow straps are typically constructed from polyester material and are designed to tow a freely-moving vehicle behind another vehicle. The easiest way to identify a tow strap is by the metal hooks found at each end, which hook onto each vehicle. Since tow straps are made from polyester, they shouldn't be stretched as they can break under pressure. This can be particularly dangerous and even deadly, as there are some horror stories of metal hooks flying as a result of a tow strap being used for recovery and breaking.
Recovery straps on the other hand, are made from nylon fabrics for their elasticity. That means recovery straps are designed to stretch, which makes it easier to recover a vehicle that's stuck. Because of that, you'll never find hooks on true recovery straps.
That being said, there are products on the market that are made from a mix of webbing materials so that they can be used for either recovery or towing. Some of these products will provide a certain amount of stretch for recovery, while the mix of polyester gives the durability and strength needed to serve as a tow strap. You typically won't find hooks at the end of these straps, instead you should use a d-ring shackle, soft shackle, or a shackle hitch receiver to properly secure it to towing points on your vehicle.
If you want to learn more about tow and recovery straps, you'll find additional information following our list of recommendations. You can also navigate using the table of contents.
1. Top pick: Rhino USA recovery tow strap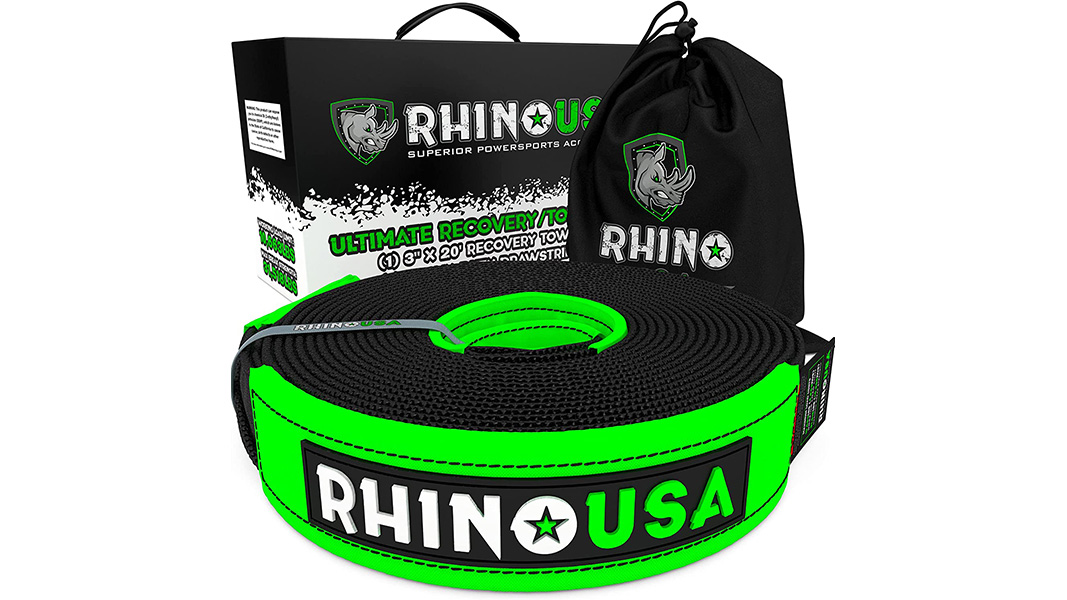 When it comes to a mix of reputation, quality, price, and performance, Rhino USA is tough to beat. The company offers its heavy duty recovery tow strap in a variety of lengths and it's rated at 10,663 lbs working load limit and 31,518 lbs max break strength. In order to offer the versatility of being a tow or recovery strap, Rhino USA uses an exclusive polyester/silk blend webbing along with triple reinforced looped ends to ensure the strap stays secured. Heavy duty protective sleeves further reinforce the strap, while the very noticeable green finish may or may not be to your liking. Each strap also comes with a carrying bag for convenient storage.
It's worth noting that while Rhino USA's products are designed and lab tested in the U.S., they are actually manufactured in China. Still, the family-owned company backs its products with a lifetime warranty. If your strap ever rips, tears, or frays, Rhino USA will replace it at no cost.
2. Runner-up: GearAmerica heavy duty tow strap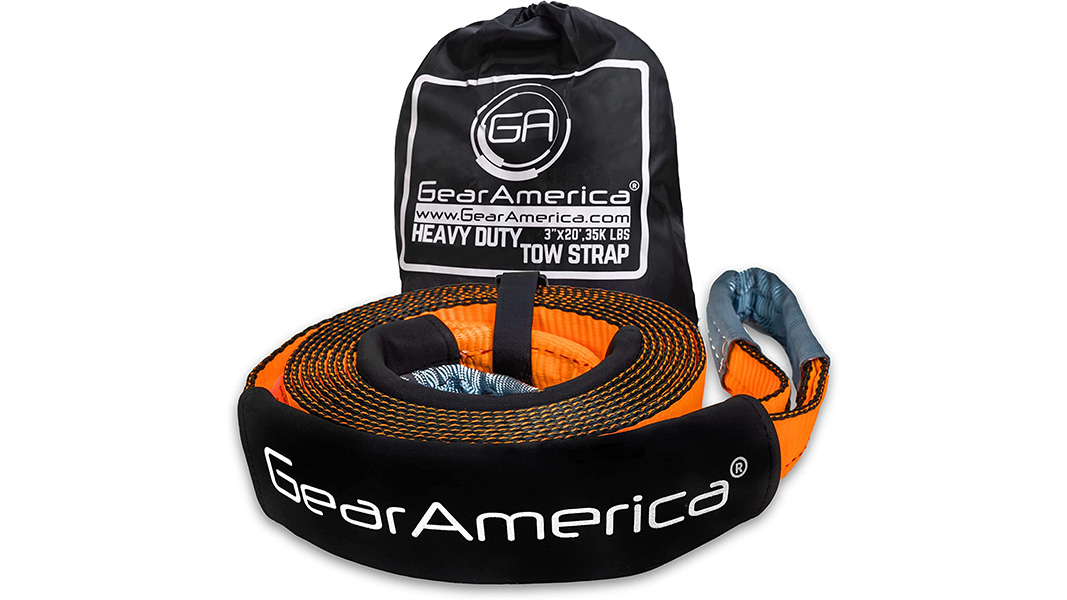 On paper, GearAmerica's product is very similar to our top recommendation from Rhino USA. It too has a positive reputation within the off-roading community and this product can be used as a tow strap, recovery strap, tree saver strap, or winch extension strap—just make sure you have the proper hardware for the task. It has a minimum break strength of 35,000 lbs and working load limit of 10,000 lbs and is constructed from a unique polyester tube webbing for strength and flexibility. Padded and reinforced double web loop ends are designed to withstand wear-and-tear at connection points. Unlike the bright green finish found on Rhino USA's tow strap, GearAmerica goes with a more traditional safety orange shade.
While some of GearAmerica's products are made in the U.S., this particular tow strap is not. They are designed, developed, and tested in the U.S., but manufactured in China. The company also offers a hassle-free lifetime replacement warranty for peace of mind.
3. Best tow strap: NEIKO heavy duty tow strap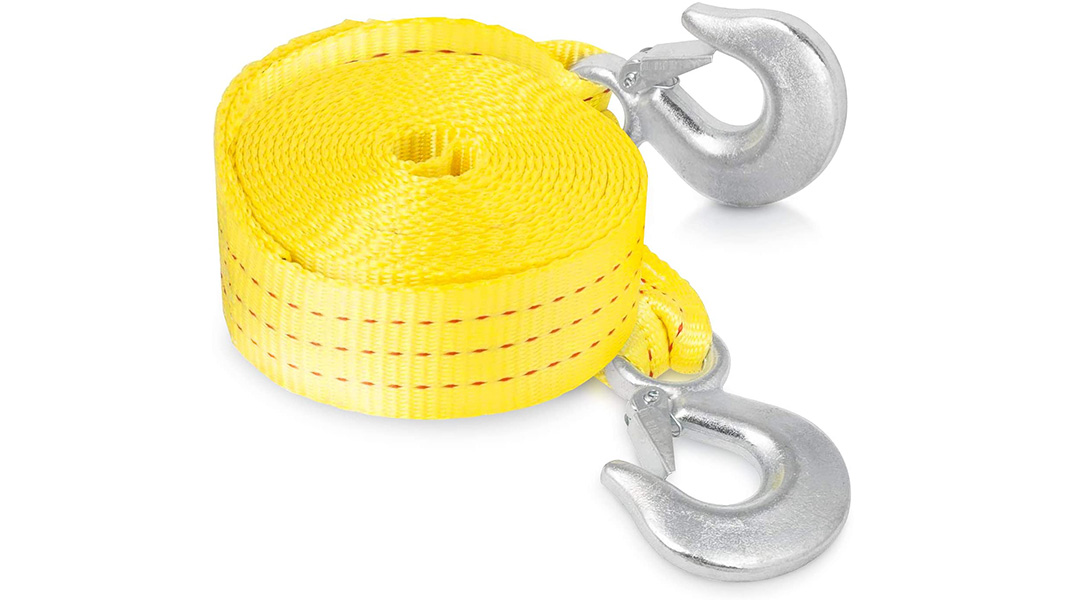 Now if you want a tow strap that's designed to be a proper tow strap and nothing more, here's our top pick. It comes from NEIKO and you can choose from either 20- or 30-foot lengths. Manufactured from polyester webbing with a maximum capacity of 10,000 lbs, this tow strap has an unmistakable bright yellow finish that's often seen on tow straps. While it's worth mentioning the solid metal hooks and all-weather resistant finish, we feel like those are the bare necessities for any quality tow strap.
This is the ideal product for those who don't tow too often and need something on a budget. The quality of the hooks could be better and is the most common complaint amongst owners. Again, this is purely a tow strap and should never be used for recovery.
4. Also consider: JACO TowPro recovery tow strap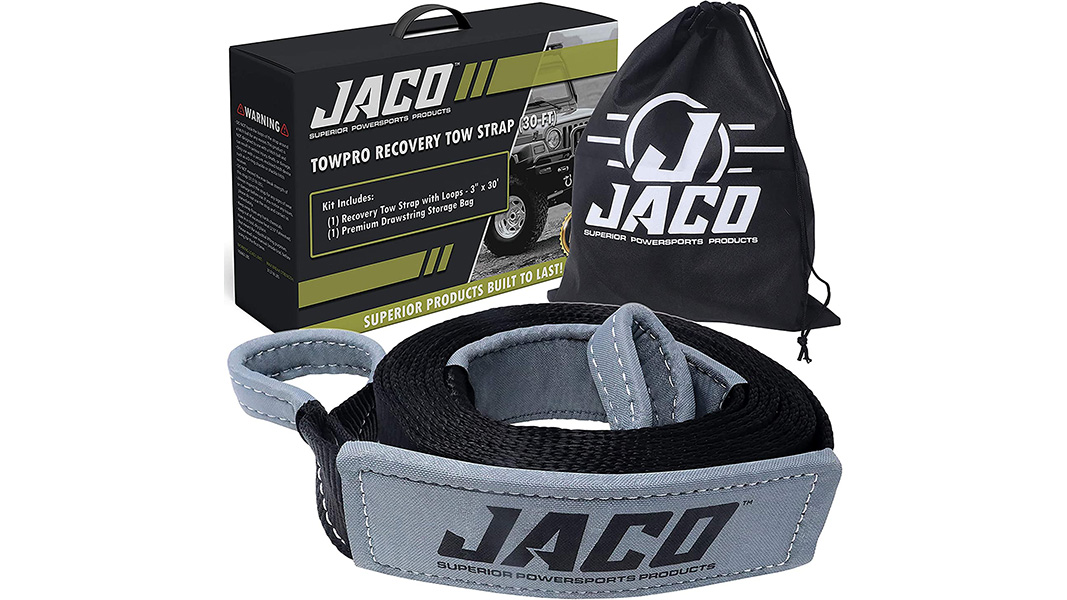 JACO is a very reputable brand within the powersports industry, with its main office and industrial testing facility in Crystal Lake, Illinois. The company also has a quality testing facility in Evergreen, Colorado where it often tests its products on off-road terrains and the Rocky Mountains canyon roads. Its TowPro strap can be used as either a recovery or tow strap, engineered using a proprietary polyester-nylon hybrid webbing. It consists of 90-percent military-grade polyester and 10-percent high-strength nylon, providing 7 percent of stretch for recovery. It is a non-kinetic strap by design, rated at 10,663 lbs working load capacity and 31,518 lbs maximum break strength.
With triple reinforced closed end loops, you'll get a secure connection between your vehicles and towing gear. JACO offers a 100-percent lifetime warranty with its products and includes a heavy duty storage bag with each strap. Choose from either 20- or 30-foot lengths.
5. Honorable mention: Hardware Factory Store tow strap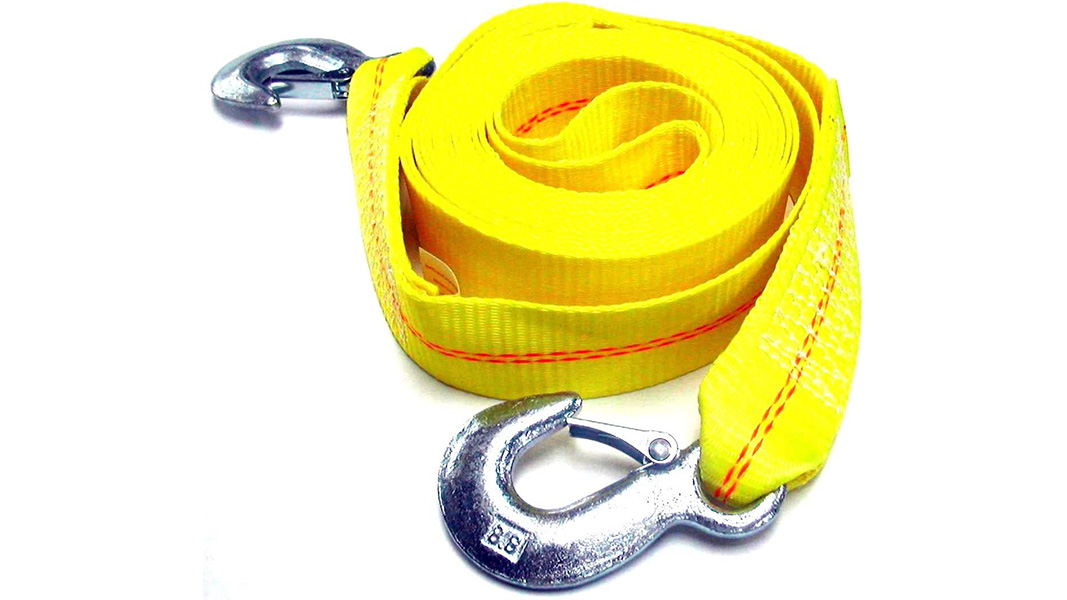 Our final recommendation is another proper towing strap, this time from Hardware Factory Store. It measures 30-feet long by 2-inches wide and has a break strength capacity of 10,000 lbs and a working load limit of 3,300 lbs. HFS recommends only using this strap to tow vehicles weighing up to 5,000 lbs. Other than that, it's a fairly standard polyester towing strap that is decent quality, with zinc-coated safety hooks and a bright yellow finish. While HFS does do its manufacturing in China, it has facilities and customer support in the U.S. should you run into any issues with its products. Again, do not use this tow strap as a recovery strap, as it's not designed to stretch and you do not want to take a trip to the hospital (or worse) because a hook went flying.
What are the main differences between a recovery strap and a tow strap?
As we mentioned in the introduction, it's really important to know the difference between a recovery strap and a tow strap. A recovery strap is designed to stretch so that you're able to recover a stuck vehicle, while a tow strap is designed to tow a vehicle. The easiest way to identify a proper tow strap is by the metal hooks at the end. Some of our product recommendations use a hybrid material so that they can be used for either towing or recovery, just make sure you have the proper hardware to go along with the job.
Do I need a 20- or 30-foot strap?
If you're often going off-roading, it's actually recommended to have a strap of each length handy. But if you only have the budget to purchase one, we'd recommend going with the longer 30-foot strap. Keep in mind however, it also depends on where you're off-roading. Some trails make it difficult to use a 30-foot strap, so if you're out where space is narrow, opt for a 20-foot strap.
Why should I never use a tow strap for recovery?
We've stressed it numerous times in this article that you should never use a tow strap with hooks for recovery. Since tow straps aren't designed to stretch, they can break when enduring the pressure from vehicle recovery. When exposed to a lot of tension, tow straps can break or fly off, and you do not want that to happen when there are metal hooks on each end of the strap.
How do I properly connect a tow strap or recovery strap to my vehicle?
One of the most important things to know when using a tow strap or a recovery strap is to never hook the closed end loops of a strap on a hitch ball mount. That's not what they're designed for and doing so can break the ball mount, which becomes a very dangerous and potentially deadly projectile. When using recovery straps, you have several options for a safe and secure connection: clevis hook, winch, tow hook, d-ring shackle, shackle hitch receiver, or soft shackle. Your tow or recovery strap is just one component when it comes to towing or recovering a vehicle. Make sure it's properly and safely hooked up to your vehicle before attempting anything.
What is break strength?
The break strength of a strap is the amount of weight that would cause the weakest part to fail. You should be looking for a break strength that is two to three times the total weight of the vehicle.
What is working load limit?
The working load limit is the amount of weight a strap can handle under normal conditions. This is normally equal to 1/3 the amount of break strength.
Recent updates
Updated (3:34 p.m. EST, 02/03/2023): Added eBay shopping options to our recommendations. Our top picks remain unchanged.