It's not just passenger cars and light-duty pickups that are going green. A company called Nikola is looking to revolutionize heavy hauling with battery-electric and fuel cell-powered Class-8 trucks.
Both the all-electric Tre BEV and hydrogen-fueled Tre FCEV are based on the Iveco S-Way semi from Europe. Speeding development, these Nikola models share the same basic cab design with their progenitor, because why create all that from scratch when a proven platform already exists? The frames of these big rigs, however, have been completely reengineered by Nikola to support the unique powertrains offered.
The Tre BEV features a whopping 733 kilowatt-hours of lithium-ion battery spread across nine separate but serviceable modules. This provides a manufacturer-estimated range of 330 miles, though this will vary. Expect that number to increase when the Tre BEV is operated in urban areas where regenerative braking is frequently used and speeds are lower, though this figure will likely decrease when the truck is operated on the interstate for extended periods. As for charging performance, Nikola says this big rig can hit 80% in 90 minutes when hooked to a thundering 350-kilowatt power source.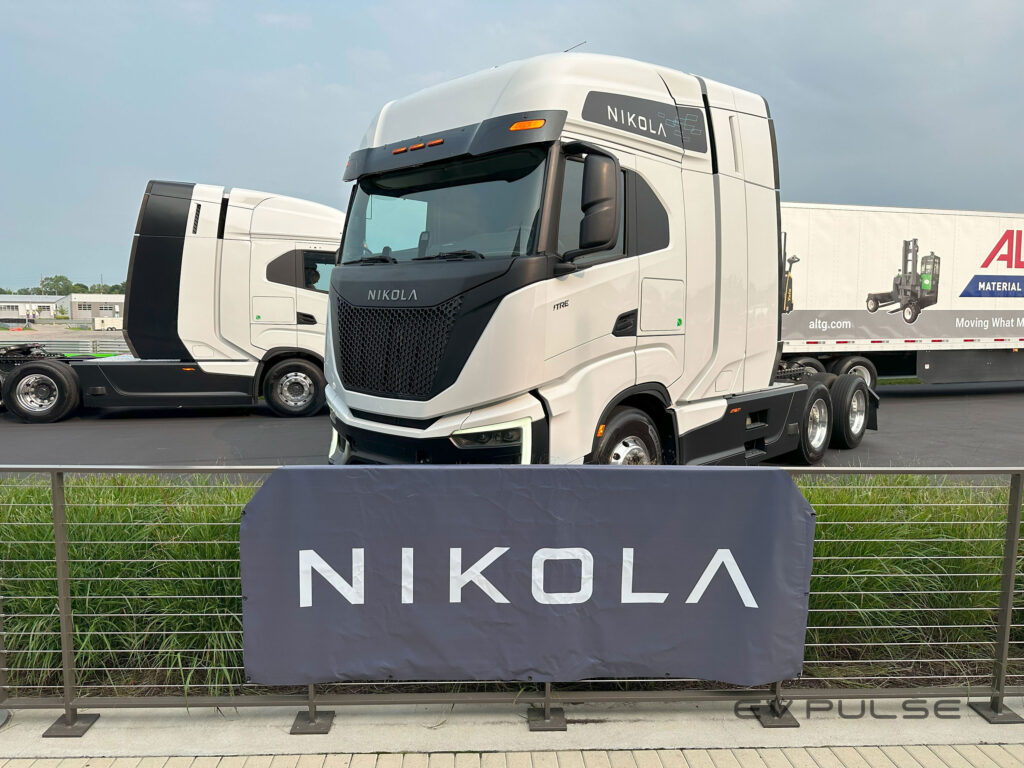 Motivation is provided by a twin-motor axle assembly that provides 645 continuous horsepower, though the peak figure is north of 1,000. This gives the vehicle a top speed of 70 mph and enables it to have a gross combined weight rating of 82,000 pounds.
The Tre FCEV is, not surprisingly, broadly similar to the all-electric model. It has the same gross combined weight rating and utilizes the same axle assembly, though in this application it provides only 536 continuous hp.
Five hydrogen tanks – three behind the cab and two along the frame – store enough of nature's lightest element to give the Tre FCEV an estimated range of 500 miles, an undeniably impressive figure. Even more remarkable is the refueling time, which Nikola says can take as little as 20 minutes, which is comparable to topping off the tank of a traditional diesel-powered rig.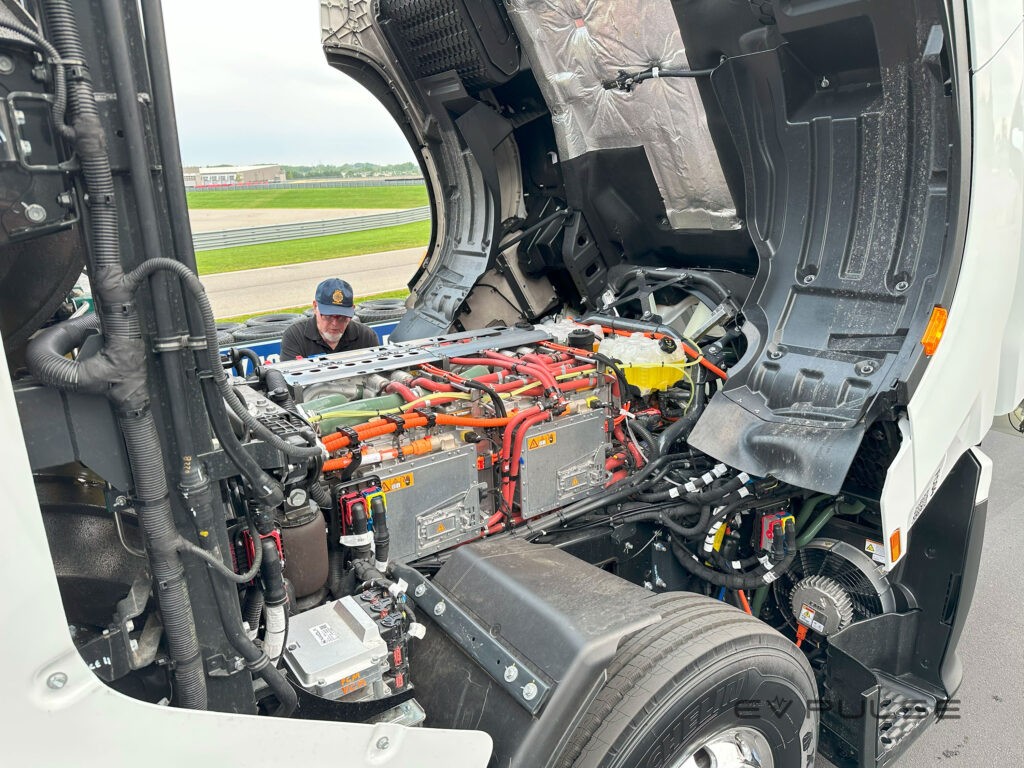 A Bosch-sourced fuel cell stack uses all that stored hydrogen to generate electricity, which gets routed to a 164-kWh lithium-ion battery. Juice then flows from this pack to the electric motors as needed. Including a sizable battery in this powertrain improves, among other things, the efficiency of this big rig because it enables the truck to have regenerative braking; you need a place to store all the energy recuperated while slowing down.
Driver comfort was another area Nikola worked to improve. Getting behind the wheel takes some effort, an awkward climb about 7 feet into the air, but once you're seated, these trucks are surprisingly cushy. The cab is massive, with stand-up headroom and loads of storage cubbies. The driver's seat adjusts in myriad ways and even has lumbar controls. There's a large and legible digital instrument cluster and even a mammoth 17-inch touchscreen on the center stack, one that looks and performs largely like what you'd get in a passenger car these days.
Front- and rear-mounted cameras help improve safety. Among numerous other amenities, these trucks are equipped with lane-departure warning and even automatic emergency braking, features that, in addition to creature comforts, make life just a little bit easier for truck drivers.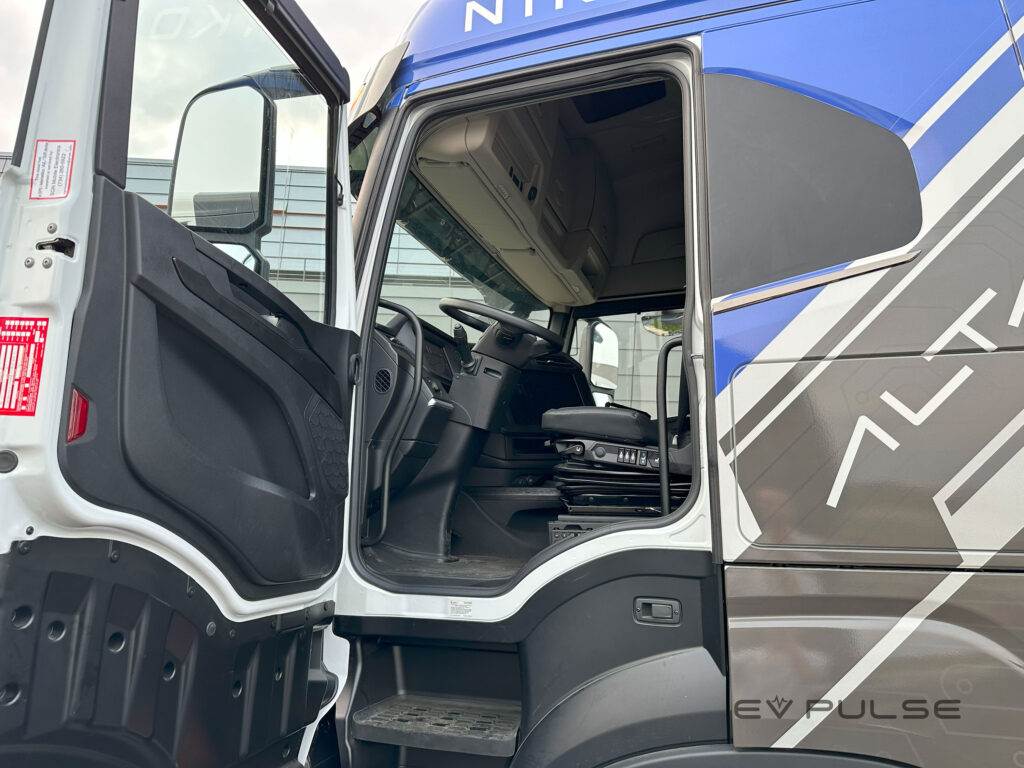 Nikola gave media and customers an opportunity to drive these rigs on a closed circuit to get a feel for how they perform. Like any other electric vehicle, both Tre models are smooth, quiet and surprisingly comfortable. There's a little more whining, whooshing and whirring from the fuel cell model because there's a lot going on inside the powertrain, but both rigs are incredibly quiet compared to a clattering diesel engine. Unladen acceleration is impressively quick in both models thanks to abundant low-speed torque.
Naturally, these trucks are absolutely massive and the handling is ponderous, which will be no surprise to anyone with a commercial driver's license. In addition to the chassis, the cabs also have their own suspension setup, so the body bobbles a surprising amount over bumps and in corners, which is disconcerting when you're not familiar with driving big rigs.
Six levels of regenerative braking are available in these trucks, which you can adjust with a stalk mounted on the right side of the steering column. The lowest setting allows these vehicles to smoothly glide along, while the most-aggressive one comes reasonably close to approximating a one-pedal driving mode you'd get in an electric passenger car.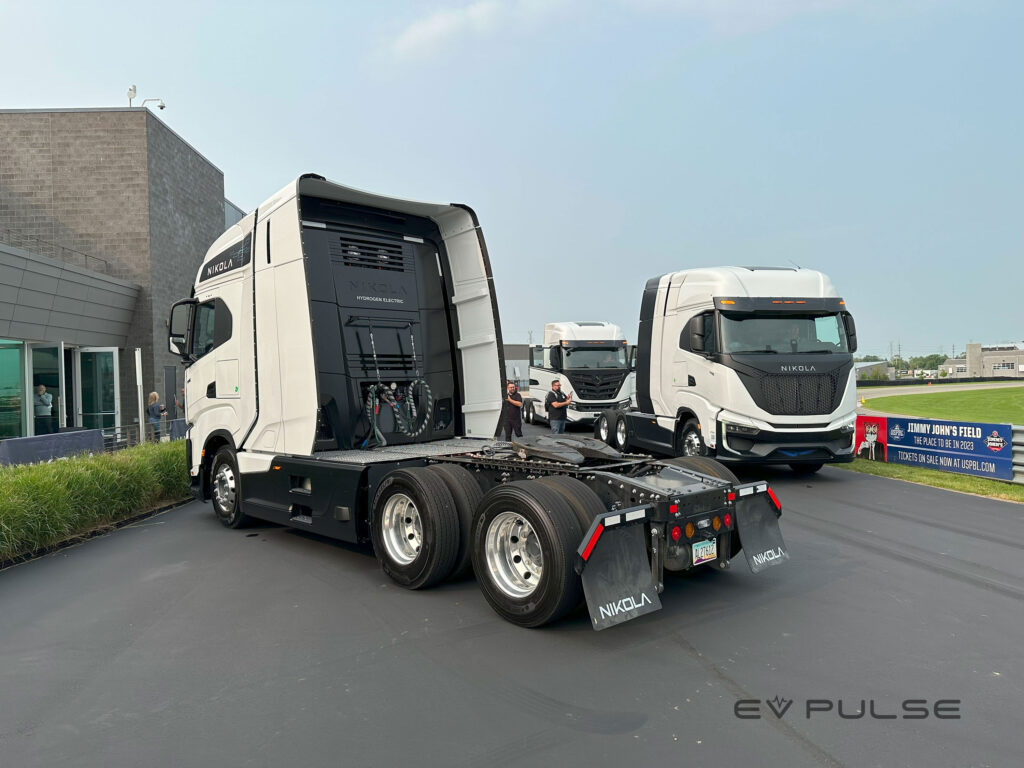 Truck drivers are sure to appreciate the work Nikola engineers have done. The company's eco-friendly big rigs are smooth, quiet, powerful and clean, with zero noxious tailpipe emissions for operators to worry about breathing in all day, every day while on the job. As for pricing, the Tre BEV starts at roughly $392,000 and the fuel cell-powered model kicks off around $450,000, though these figures both have huge asterisks because customers will not be paying that much. Depending on your state, the dealer involved, how many trucks are being purchased and numerous other variables, there are enough discounts and incentives to cut those prices in half, making Nikola's offerings comparable to conventional diesel-powered Class-8 trucks. Reduced vehicle maintenance and lower fuel costs, of course, will further sweeten the deal clients buying a fleet of these vehicles.
It's also worth noting, Nikola's Class-8 trucks are real products, ones that customers can purchase – or in the case of the fuel cell model, preorder – right now. About 68 of the Tre BEVs are in service today, and production of the FCEV just commenced the other day. Examples of those hydrogen-powered trucks are expected to arrive in client hands likely in October.
Watch our drive video