Heavy hauling is a major source of carbon emissions. Untold amounts of diesel fuel are burned every day in the Class 8 trucks that transport goods and crisscross the nation, but a company called Nikola is looking to completely change this. The manufacturer already offers a battery-electric heavy truck and it's set to introduce a hydrogen fuel cell-powered Class 8 rig in the second half of this year in North America
Putting things into perspective, "You need 4,900 mature trees to compensate [for] one diesel truck," explained Michael Lohscheller, president and CEO of Nikola Corporation while speaking at an Automotive Press Association meeting hosted at the historic Ford Piquette Avenue Plant in Detroit. "That's not what I'm saying, that's what the scientists are saying," he added. And with some 4 million diesel trucks on North American roads, "We need lots of trees," either that or cleaner alternatives.
The Piquette plant, where the legendary Model T was built in volume, neatly symbolizes what's going on today. The facility is where Henry Ford's transportation revolution started more than 100 years ago, and now Nikola is working to do the same in the 21st century.
According to Lohscheller, Nikola's Tre BEV, which is available for purchase right now, can save some 106 metric tons of CO2 per year, making it a far greener solution than existing diesel-powered trucks. "The future of mobility has to be without emissions, and it will be," he said. The truck offers up to 330 miles of range and can charge to 80% in around 90 minutes when hooked to a 350-kilowatt power source. Lohscheller said that performance is "quite sufficient for many people," particularly in ports where vehicles don't travel great distances and are usually close to chargers.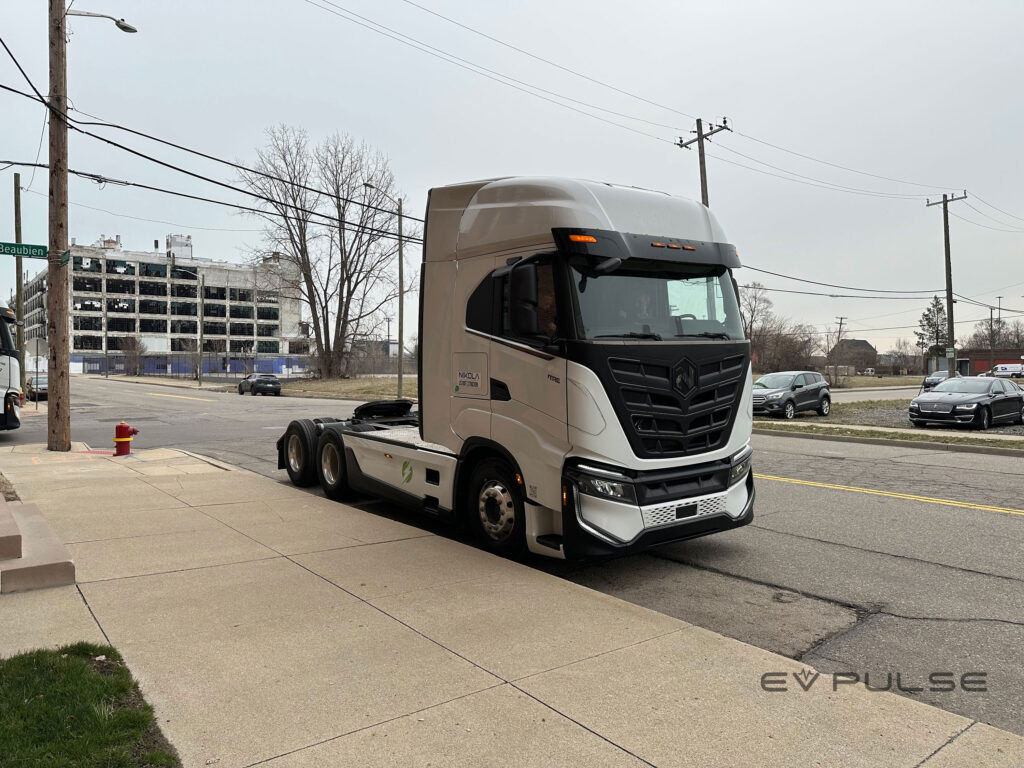 Complementing its all-electric offering, in the second half of the year, Nikola will launch a hydrogen fuel cell-powered Class 8 truck in North America. This rig will provide around 500 miles of range and can refuel in a mere 20 minutes, far faster than the Tre BEV can recharge. "So, if you want to buy a fuel-cell truck in 2023 you have three choices. You can buy a Nikola truck, a Nikola truck or a Nikola truck, because there is nothing else," said Lohscheller with a smile. Pushing forward, the company already has 100 orders for it fuel cell-powered big rig, with many more likely to come in the future.
But what good is a hydrogen-powered vehicle if you can't find the fuel to run it? Outside of California, where there is a handful, hydrogen filling stations are essentially nonexistent, something Nikola is also looking to change. To achieve this, the company introduced the new Hyla brand a couple months ago, a name that's a portmanteau of "Hydrogen" and "Nikola." It's super-early days, but currently, this division employs around 53 people.
"We can't wait for others, we can't wait for energy companies to bring their hydrogen or their … renewable fuels five years, six years, 10 years from now, because we need it right now," said Carey Mendes during the same APA meeting. He's president of Nikola Energy and a 17-year veteran of the oil and gas industry.
Drawing a historical parallel, Mendes explained the Model T would have, quite literally, gone nowhere if there wasn't any gasoline for it to run on. Henry Ford needed other industrialists like John D. Rockefeller to discover exploitable oil deposits, build refineries and create a fuel-distribution network. "We are exactly at the same inflection point in this country today… [but] with hydrogen," noted Mendes.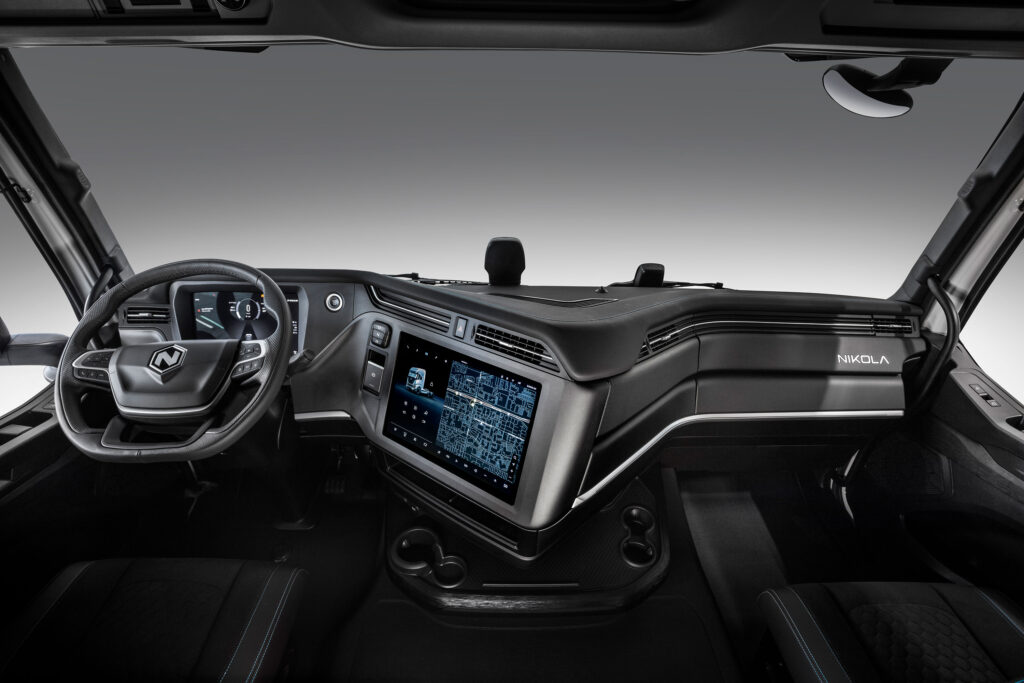 Aside from its battery-powered truck, Nikola aims to have 7,500 hydrogen-powered big rigs on roadways by 2026. To ensure these vehicles have easy access to a plentiful supply of fuel, Mendes said, "We aim for hydrogen supply for over 300 [metric] tons a day. So, that's 300,000 kilograms of hydrogen per day, which is about roughly equivalent to 300,000 gallons of diesel a day by 2026."
With the help of partner companies, Nikola is working to open 60 hydrogen fueling stations by 2026. They've also developed mobile fuel dispensers, basically giant tanker trucks that can dispense up to 2,204 pounds (1,000 kilograms) of hydrogen. Mendes explained the gas is stored under enormous pressure, around 10,000 psi (700 bar). "And why that's important is, the higher the pressure … the more you can dispense into a tank and the faster a trucker can get in and out of their fueling cycle."
So far, Nikola has built four mobile fuelers, but 20 more are in the works, which will help power a greener future. "Nikola is more than just the truck, it's about hydrogen as well," said Mendes.
Putting all this in perspective, Nikola gave media brief rides around the Piquette plant in its all-electric truck. The towering, flat-faced rig is a reworked Iveco model, one fitted with batteries, an electric drivetrain, and plenty of unique tech.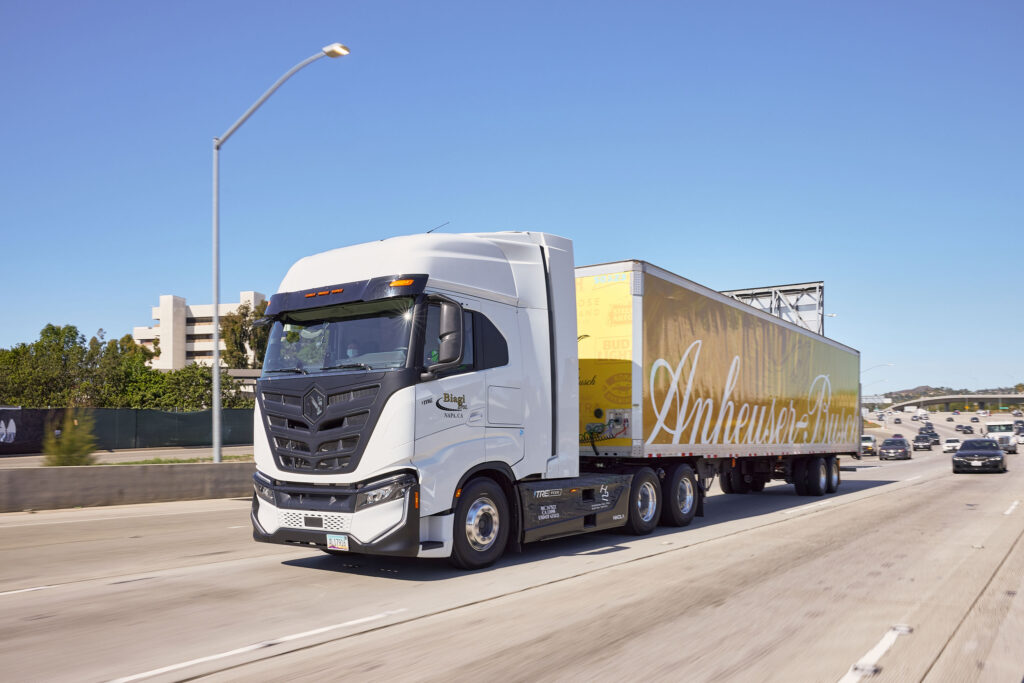 Aside from having to climb up a ladder to access the cab, the Tre BEV proved to be extremely comfortable. With a decent unladen ride, potent performance and excellent forward visibility since there's no hood sticking out.
Just like electric cars, this battery-powered big rig was smooth and nearly silent. With no clattering diesel engine or clunky transmission, the acceleration was seamless and silky. It would be interesting to see how well the truck handles a full load — not to mention what happens to the range is subzero weather — but at first blush, there's plenty to like about the Tre BEV, which feels like a legitimate harbinger of a much greener future.