On the surface, it may just be a collaboration between Honda Performance Development, the Japanese automaker's motorsports division, and their marketing team, but the aptly named CR-V Hybrid Racer is a one-of-a-kind machine with an Indycar heart. It's both a development tool for engineers and something wild to build excitement for the brand. Showing what this beastly hybrid is capable of, Honda took media for quick rides in this electrified racer, and it does not disappoint.
But first things first, a few basics. This vehicle is a total automotive Frankenstein, one with a backbone made of chromoly steel tubing. The top half of the body is production sixth-generation CR-V, including the glass, windshield and sunroof, while the lower portions are made of more exotic carbon composites. Underneath, the CR-V Hybrid Racer features an Indycar rear suspension, while up front the vehicle rocks a setup borrowed from the NSX GT3.
Providing plenty of thrills and potentially spills if your lunch hasn't settled before going for a ride, is the hybrid drivetrain for the 2024 NTT Indycar series. Honda's HI23TT electrified power unit is centered around a 2.2-liter twin-turbocharged V6 that's mounted behind the vehicle's two front seats. The engine features a duet of Borg Warner EFR7163 turbos and runs on Shell's 100% renewable race fuel, that is, second-generation ethanol made from sugarcane waste.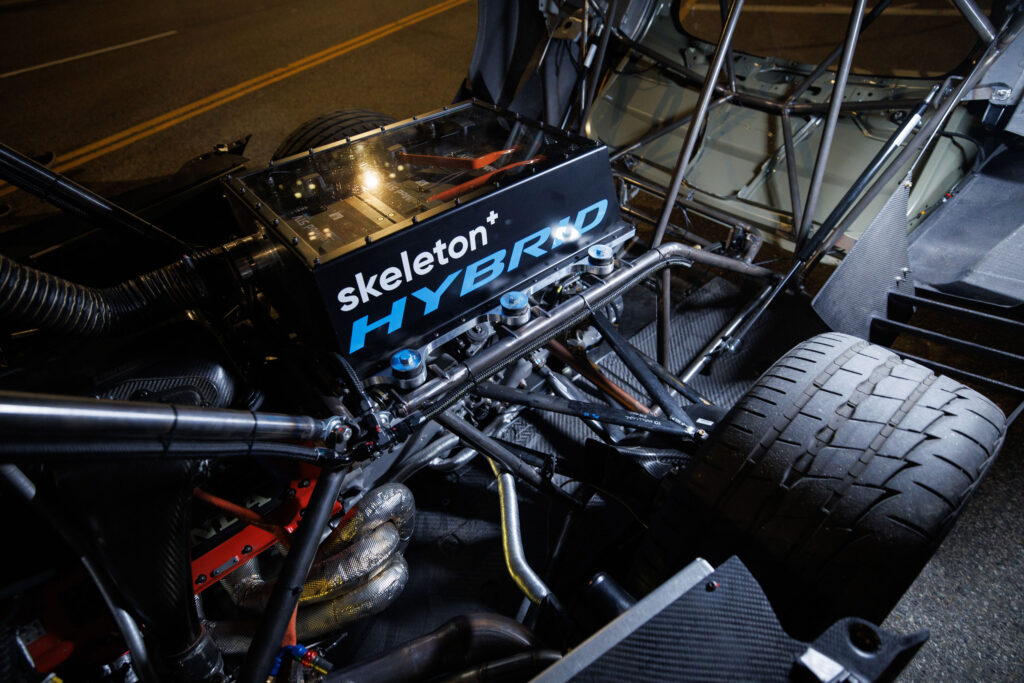 Sitting atop the drivetrain is a bank of supercapacitors supplied by a company called Skeleton. These serve as an energy reservoir that gives the Honda CR-V Hybrid Racer's driver a short burst of extra speed when needed. Unlike batteries, capacitors are fantastic for very quickly absorbing and releasing energy, which enables them to provide what is essentially a push-to-pass function in this amped-up CR-V. The capacitors can store enough energy for the vehicle to be driven for around 30 seconds, roughly the length of pit road at a racetrack.
Cleverly, the engine is bump started, almost like popping the clutch in a vehicle with a manual transmission. The capacitors power the drivetrain's electric motor, which in turn moves the vehicle. Once it's rolling, the CR-V Hybrid Racer's forward momentum is used to fire the engine.
Honda hasn't listed an output figure, but this force-fed and electrified drivetrain reportedly cranks out 800 horsepower – or possibly even more. The engine also emits a deafening wail, a high-pitched banshee scream that's oppressively loud, even at idle. Driven in anger, this powertrain sounds like pure speed.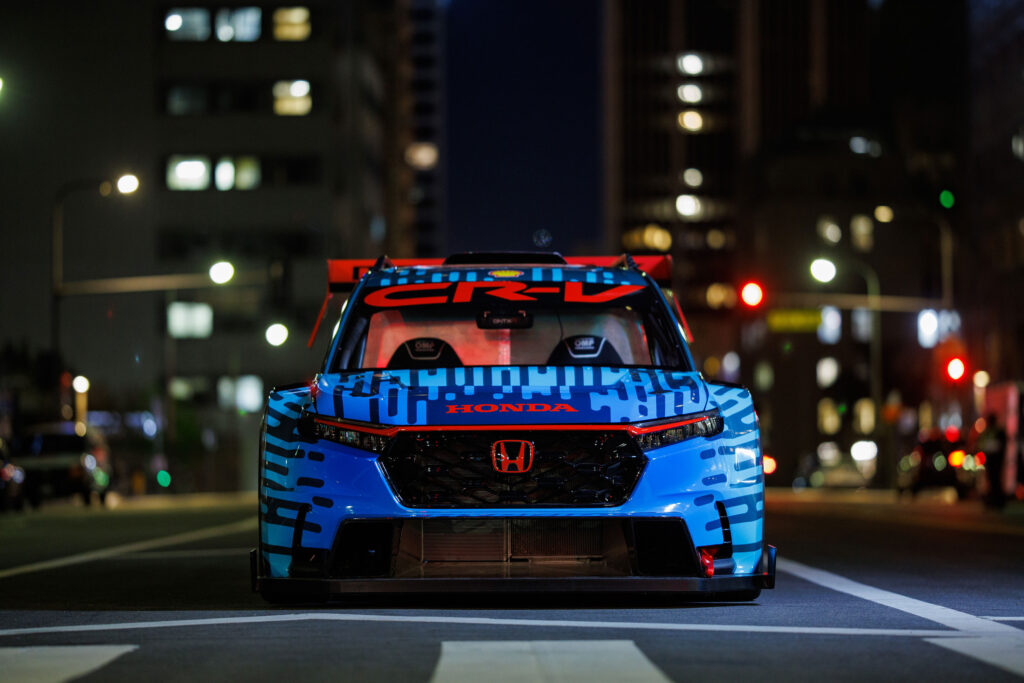 So, how does all this perform? Well, the vehicle is absolutely violent. Getting strapped into the rigid passenger seat like an astronaut getting ready for takeoff is unexpectedly claustrophobic and quite uncomfortable, doubly so while swaddled in a race suit on a sweltering June day.
This vehicle is obnoxiously loud at tick over and it's even more ferocious inside. That exotic engine moves the CR-V Hybrid Racer with otherworldly authority and emits a demonic howl when the hammer drops. Handling and braking, as far as I can tell from the passenger seat, are stellar, and the vehicle willingly rotates in turns.
An unimaginable amount of vibration accompanies the noise. The footrest vibrates to the point you expect parts to start falling off the vehicle. My feet were numb for several minutes after my brief stint in the car was over. Running an entire race in such a cacophonous and claustrophobic place is proof racing drivers are another breed entirely.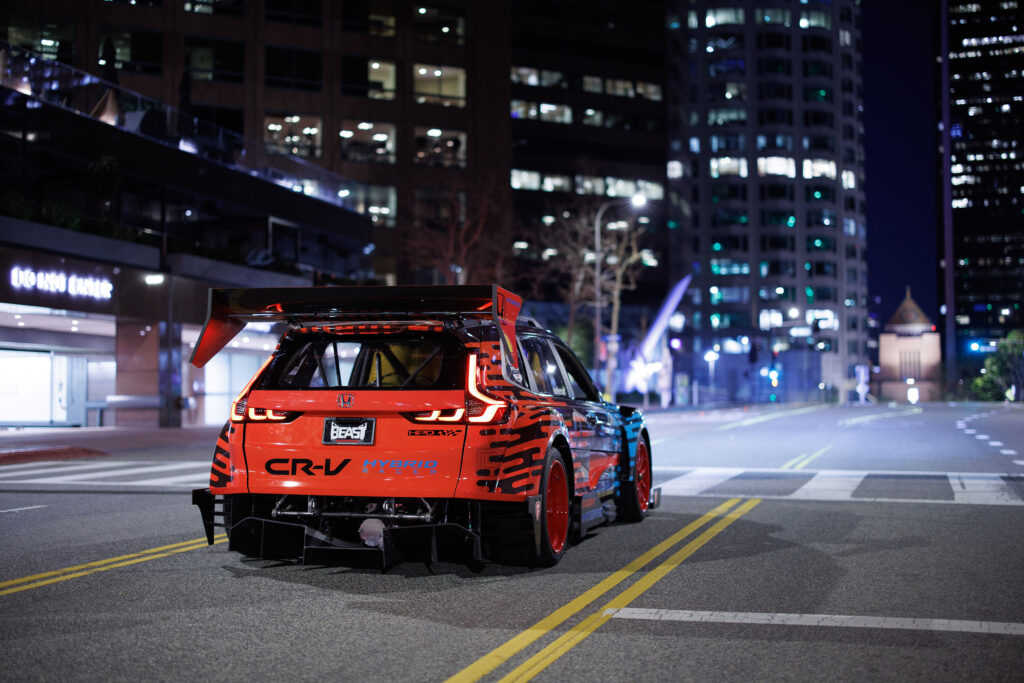 Automakers love talking about how motorsports help improve production vehicles. While nothing from the CR-V Hybrid Racer has necessarily directly translated to any roadgoing cars or trucks, it's still been instructive for engineers and a valuable exercise for the automaker's design team. Don't expect your next Accord sedan or HR-V crossover to rock an Indycar powertrain, though, however indirect, learnings from this exotic, one-off project will almost certainly find their way into future production Hondas.