On paper, the 2023 Nissan Ariya Empower+ isn't particularly impressive. This all-electric SUV doesn't DC fast charge very quickly, for a single-motor electric vehicle the range should probably be better, the horsepower and torque figures are rather middling, there's no front trunk and not everyone will love the Ariya's somewhat bulbous exterior styling. But despite what some of the specs suggest, this battery-powered Nissan is still entirely pleasant for several important reasons.
Shopping for an Ariya can be a bit confusing because there's so much choice. The vehicle is offered with two battery sizes, you can get front- or all-wheel drive with two different outputs for each configuration, and on top of that, there's an array of different trim levels. Tested here is the Empower+ model, the second-highest front-wheel-drive variant. This example has the larger battery, which has 87-kilowatt-hours of usable capacity (91 kWh gross) and can DC fast charge at up to 130 kilowatts, a middling performance at best these days. The Ariya's battery can go from 10 to 80% in around 40 minutes, more than twice as long as some Hyundai E-GMP-based vehicles take to do the same. Unlike certain rivals, the Ariya comes standard with a portable EVSE for Level 1 or Level 2 charging, a great feature to have. An included adapter on the plug end allows you to juice up from a standard 120-volt household outlet or a NEMA 14-50 socket.
This version of the Ariya offers an EPA-estimated 289 miles of range, a decent figure, though one that still leaves this SUV trailing some competitors. Single-motor versions of the Kia EV6, Ford Mustang Mach-E and Cadillac Lyriq all offer more than 300 miles on a charge. Still, the Empower+ model has longer legs than the Volkswagen ID.4 and is far ahead of the Toyota bZ4X and Subaru Solterra twins. If you want maximum range, the lower-end Airya Venture+ model is rated at 304 miles on a charge.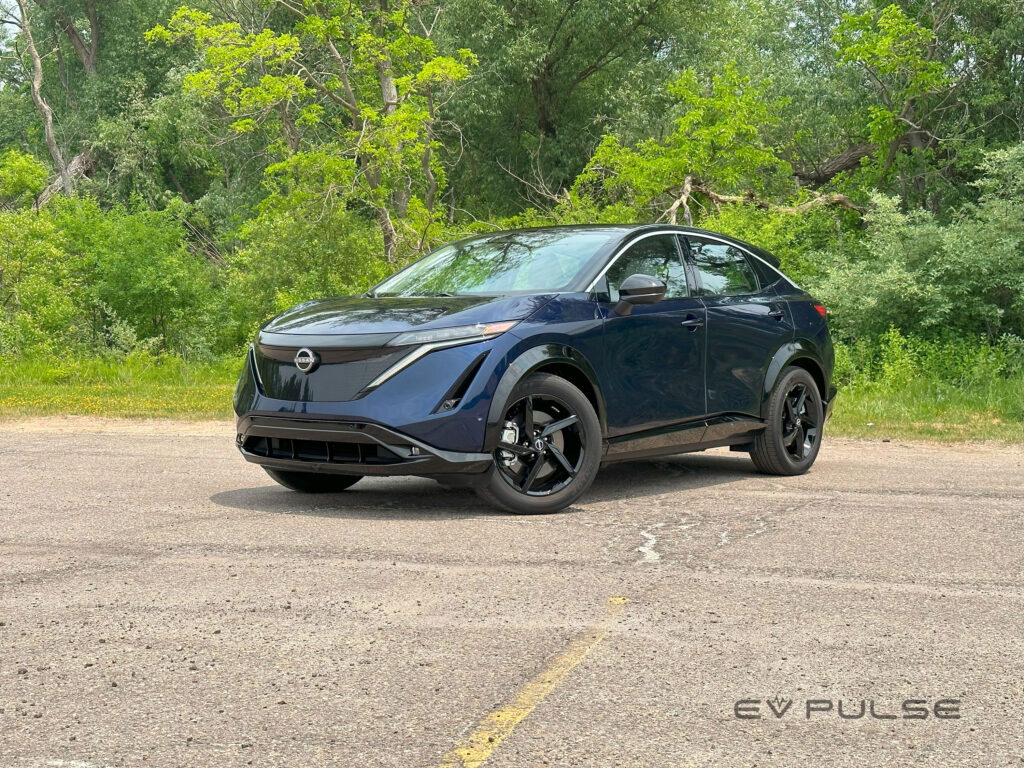 Up front, this SUV has a single electric motor that delivers 238 horsepower and 221 pound-feet of torque, decent if not thrilling numbers. The acceleration provided is perfectly fine for everyday use and you're not really wanting for power, but other single-motor EVs definitely feel quicker. This Ariya doesn't hit particularly hard off the line, instead, it pulls stronger at higher speeds, kind of like a gasoline engine. The rear-drive Mach-E has a similar feel.
Many of the front-drive Ariya's fundamentals are a bit lackluster, but this utility vehicle makes up lost ground inside, because the cabin is seriously nice. The overall design is clean and simple, the materials employed are of high quality and the assembly quality is top notch. Keeping things interesting, on the dashboard there's a row of touch-sensitive buttons for the climate-control system. I still prefer traditional knobs and switches, but these are easy to see and reach, plus they have pronounced haptic feedback, they vibrate slightly when used, which makes it feel like you're clicking on a physical button.
Up front, Nissan's famed Zero Gravity seats are as nice as ever, supple yet supportive, and the Ariya's aft accommodations are excellent, too, comfortable with plenty of headroom and legroom. The floors are also nearly flat, which is nice, so the middle passenger doesn't have to straddle a giant hump.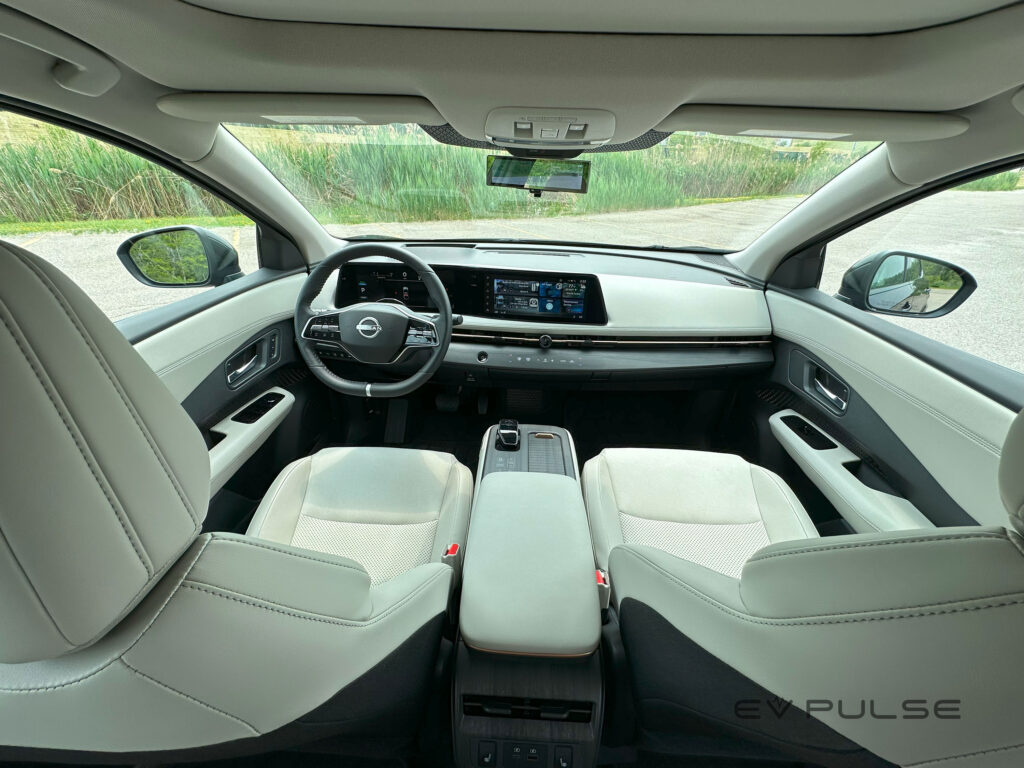 Two features make this SUV's cabin standout from other vehicles. One is the power sliding center console. At the push of a button, it motors fore and aft by about 6 inches, so the vehicle can better accommodate drivers of different heights. Aside from that, there's a clever hidden storage drawer in the dashboard. It motors outward at the push of a button and is a great place to stash valuables, so they don't get lost and are safely hidden from prying eyes.
Keeping pace with other high-tech vehicles, the Ariya has two 12.3-inch screens mounted in a single curved housing. The left one is home to a clear and easily reconfigurable digital instrument cluster, while the right one is touch-enabled and handles infotainment functions. Overall, this vehicle's multimedia array is good, intuitive enough and quite responsive, though I find the customizable home screen to be of limited value, plus it's surprisingly difficult to rearrange the various tiles, the process is not intuitive.
Of course, Android Auto and Apple CarPlay are both standard equipment. The latter connects wirelessly, though the former still needs a cable, so make sure to bring one. The Ariya also has two USB ports at the front of the center console — one type-A and a type-C — plus the same combination at the rear serving backseat passengers.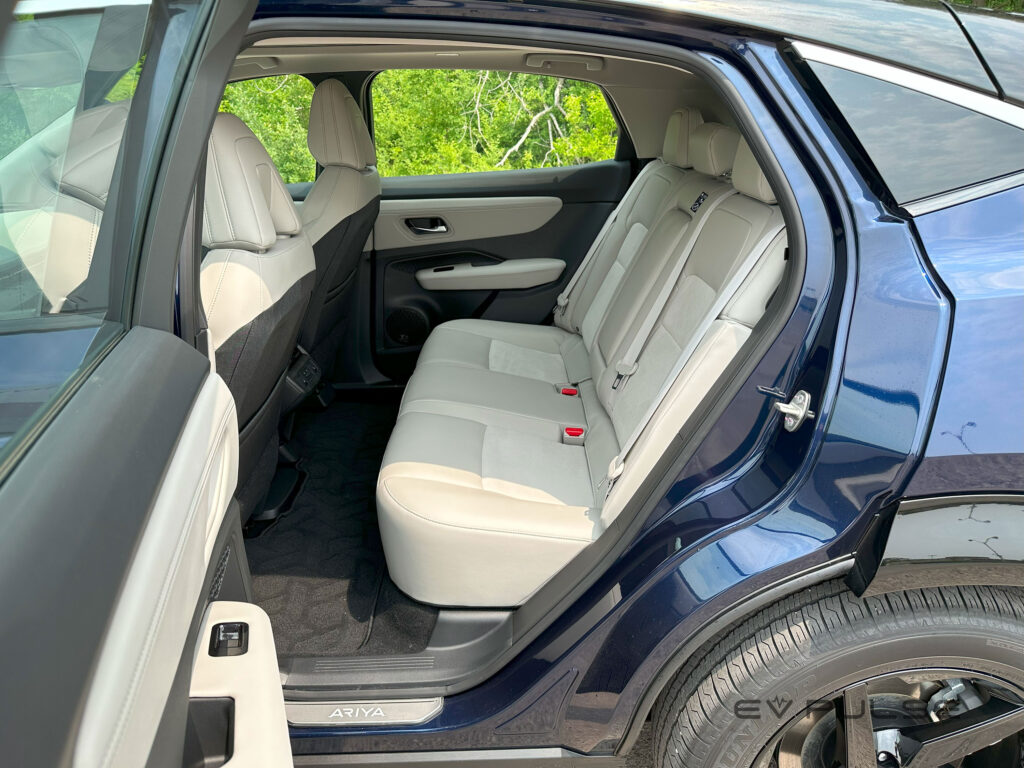 The Empower+ model also comes standard with a color head-up display, one of the clearer ones I've experienced. There's also a digital rearview mirror that greatly expands your field of view behind the vehicle, though the glass is far too glossy and the reflections make it very difficult to see what's happening behind the vehicle. An anti-reflective coating might be helpful here.
Out and about, the interior stays quiet — no surprise there, since this is an EV and there's no combustion engine churning away under the hood. The ride is also pleasantly soft, almost too soft. This is great for smothering roadway imperfections, but the trade-off for all that lovely smoothness is some bobbing over bumps and the vehicle can take a second or two to settle down, to stop pitching fore and aft, when you roll to a stop.
Making this 4,600-pound SUV feel as nimble as a compact car is agile steering. Light to the touch, the ratio is surprisingly quick, almost to the point of feeling darty, but I do like this setup. The Ariya is no corner carver, but it does handle well for a heavy utility vehicle.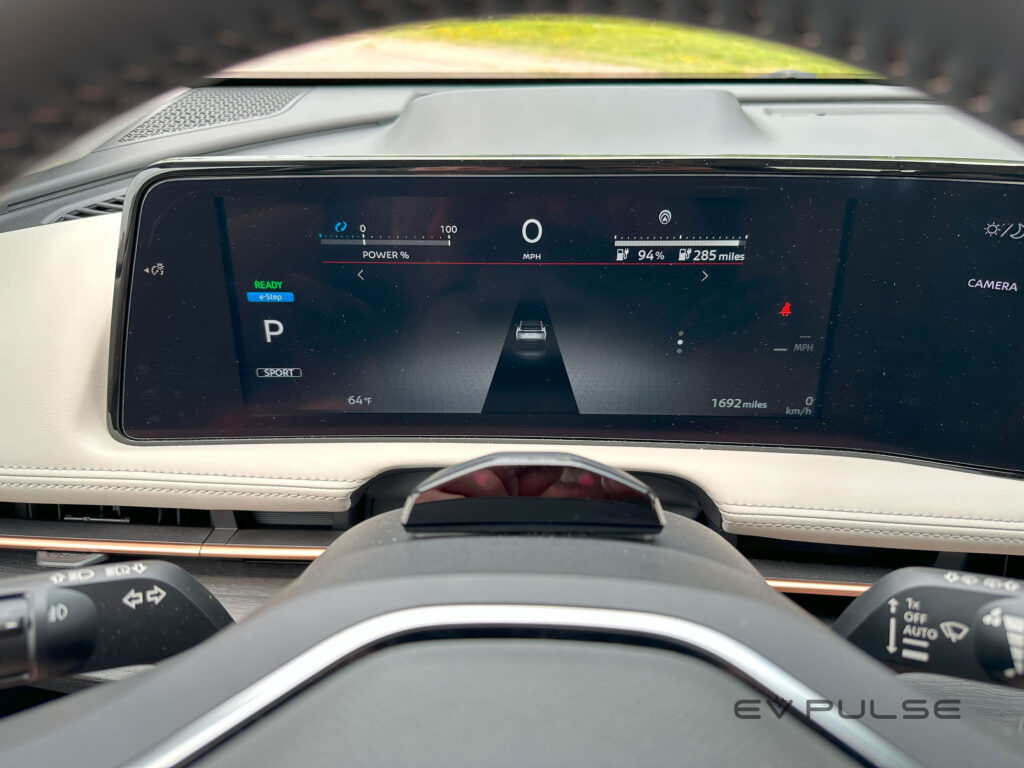 Unexpectedly, there's no one-pedal driving mode, which is unusual since the Nissan Leaf has one and it's a much more basic vehicle. Instead, there's something called e-Step, basically a more aggressive setting for the regenerative braking. You can also select the "B" mode with the shifter to amplify this effect. The vehicle doesn't roll itself to a stop, but there is a brake hold function, so you do get about 90% of the benefit of a one-pedal driving mode.
But aside from the smooth ride, sharp handling and clever storage solutions, the Ariya's true killer feature is ProPilot Assist 2.0. Just like GM's Super Cruise or Ford BlueCruise, this hands-free driving aid works on thousands of miles of limited-access divided highway in the United States. The coverage is not as generous as with those competing systems, and I did have trouble getting it to engage on certain stretches of I-75, a major interstate running through Metro Detroit, but Nissan has a winner on its proverbial hands. When it works, ProPilot Assist 2.0 is rock solid and immediately confidence inspiring. It's noticeably better than the first version of BlueCruise, which tends wander in turns and disengages somewhat frequently. I have not yet tested the latest and greatest version of BlueCruise (the 1.2 update), so it could be a cut above ProPilot Assist 2.0, but regardless, Nissan's offering is nearly as good as Super Cruise, the leader in this technology segment.
Overall, the front-drive Nissan Ariya is a more than worthy electric SUV, but is it worth the price? The example evaluated here checks out for $59,220, comparable to a similarly equipped EV6 or Mach-E. Of course, a handful of options pad the bottom line, including $1,900 for gloss black 19-inch wheels, $485 for illuminated kick plates and $350 for two-tone paint, to name a few of this SUV's extras.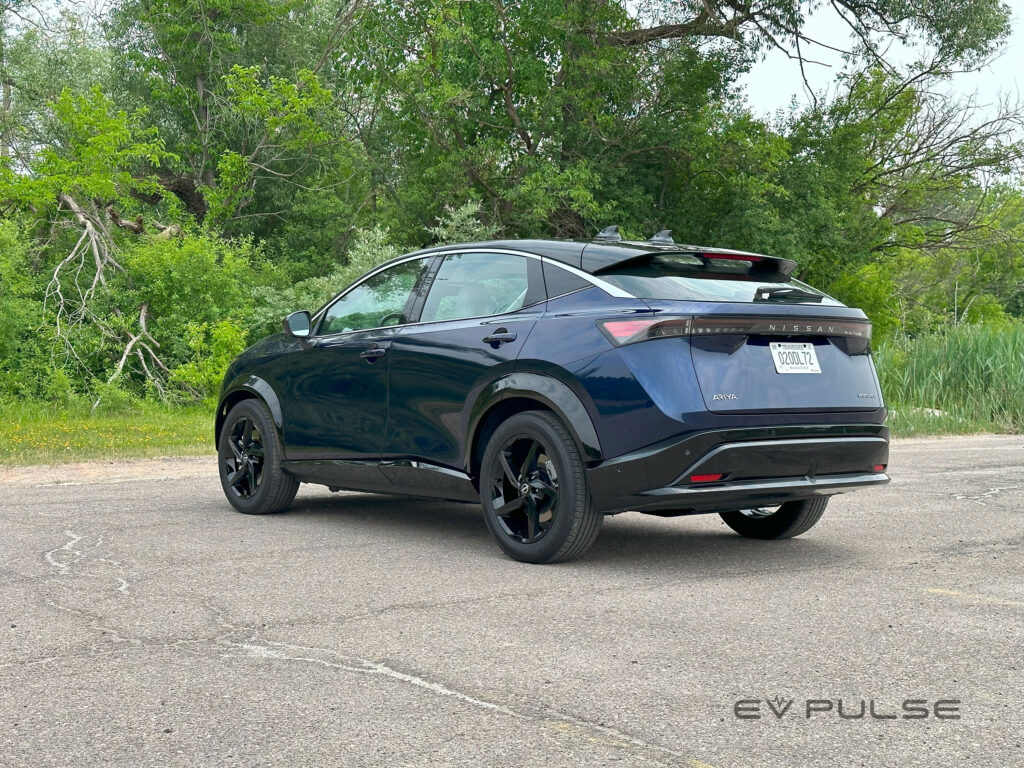 The Ariya is a likable electric SUV, but the Empower+ model has a couple potential issues. One, it's not eligible for any tax credits — no Ariyas are — and two, the fancy Platinum+ e-4orce all-wheel-drive version is only a few grand more expensive than the model show in this review. I was on the first-drive program for that vehicle a couple months ago and that top-shelf, all-wheel-drive Ariya has way more performance, not a big loss in range and the interior is even nicer. So, if you want one of these electric Nissans, I suggest you aim a little higher and go for the range-topping model if you can. It has the same strengths as the Empower+ version with fewer downsides for not a lot more money.
At a glance
Year: 2023
Make: Nissan
Model: Ariya
Trim: Empower+ FWD
Type: All-electric SUV
Horsepower: 238
Torque: 221
MPGe ratings (city/highway/combined): 105/91/98
Range: 289 miles
Pros: Comfortable and premium interior, pleasant manners, clever features, excellent ProPilot Assist 2.0 hands-free driving aid
Cons: A little more range would be nice, the acceleration isn't great, annoying reflections on the digital rearview mirror
Estimated Base price: $44,525
As-tested price: $59,220 including $1,335 in destination fees