Porsche and Cherry Street Energy, LLC have announced a new solar power microgrid that will be built at One Porsche Drive, where Porsche Cars North America's (PCNA) corporate headquarters and the Porsche Experience Center Atlanta reside. The microgrid will serve as an on-site electrical network with its own power source (solar panels) that will also connect to the wider electrical grid. In total, the new array of solar panels will generate about 2,050 MWh of electricity per year, which will cover a significant portion of One Porsche Drive's electricity needs. It will also allow the all-electric Taycan fleet at the Experience Center to be powered by renewable energy that is generated on-site.
The move is part of PCNA's sustainability goals as the campus undergoes expansion. For construction, the campus will use concrete that has been specially formulated to lower its embodied carbon content, while extensive water re-use and recycling will also contribute to sustainability measures. Currently, $50 million is being invested for the expansion, which also includes building a second driver development track for the public, a Porsche Classic Factory Restoration facility, a parking deck, and the already-opened Porsche Service Center South Atlanta. In total, the expansion adds another 33 acres to the existing 27-acre headquarters and Porsche Experience Center. Expect the second driver development track to be operational early next year.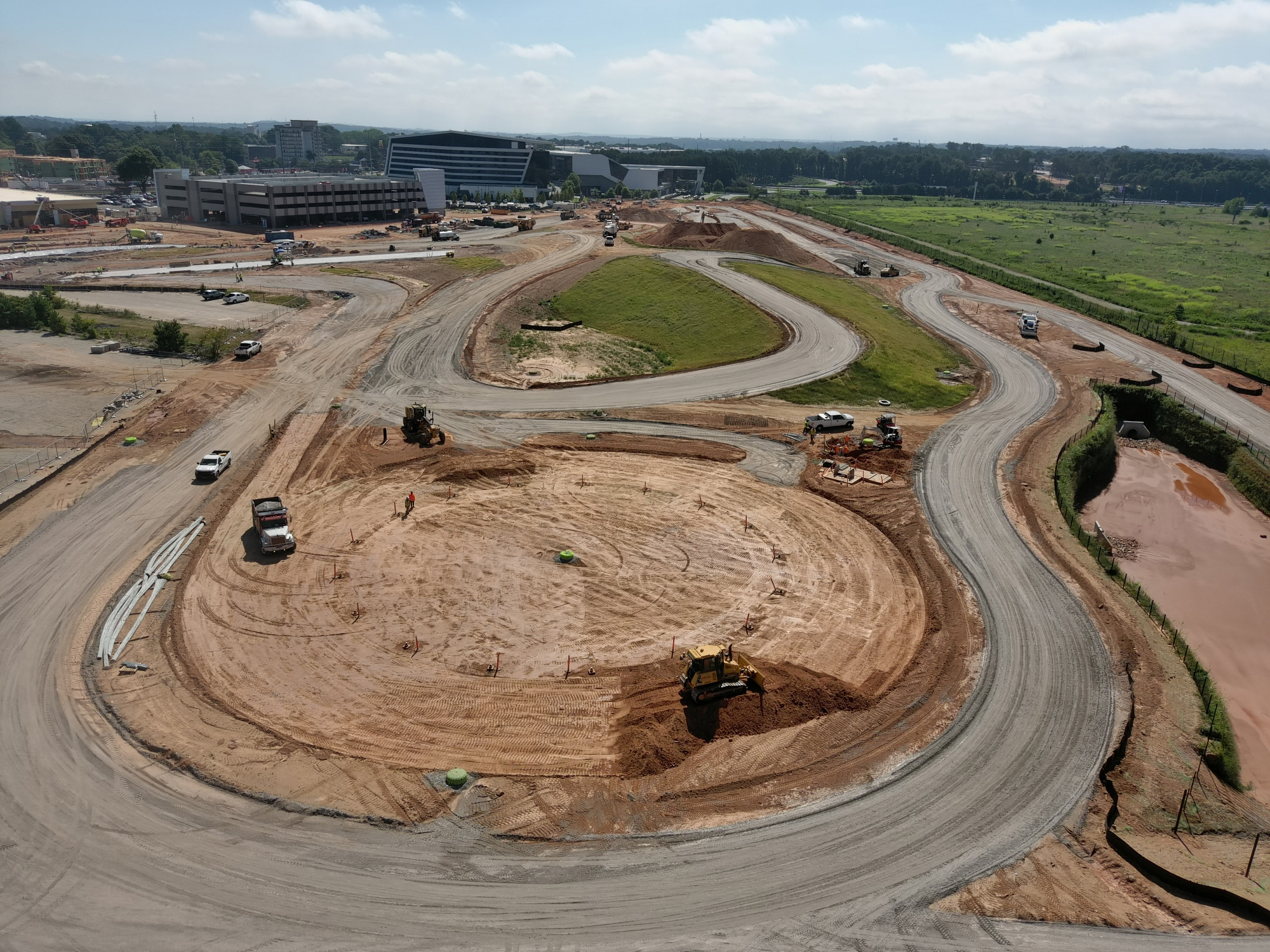 Installation of the solar microgrid is set to start this September and should be completed by next year. It's part of a 25-year operating agreement between the two companies. Expect to see solar panels mounted on new and existing buildings, the roofs of staging areas by the two tracks, and on a new 950-foot covered walkway that spans from the parking garage to the headquarters building. Cherry Street Energy will actually own, operate, and maintain the microgrid, selling the electricity to PCNA.
PCNA is designing the new campus expansion to achieve LEED Gold certification, which recognizes the high standards of Leadership in Energy and Environmental Design. It was previously awarded to the existing campus.
"Powering our North American home and our Taycan fleet through harnessing Georgia sunshine makes perfect sense, and is a great demonstration of our commitment to sustainability," said Kjell Gruner, President and CEO of PCNA. "This solar project contributes to the overall sustainability targets of Porsche AG. In 2030, Porsche aims to be CO₂ net neutral across the entire value chain and life cycle of newly sold vehicles."