Recently, after over four years of ownership, I decided to part ways with my Tesla Model 3. Truth be told, I didn't necessarily have any gripes with the vehicle and didn't have a compelling reason to sell it, other than I felt like it was time for something new. You see, I have a terrible habit of getting bored with my cars, and with how absurd demand is for used Model 3s right now, it felt foolish not to take the offer I received. With the recent release of new battery electric vehicles such as the Kia EV6, Hyundai Ioniq 5, and Genesis GV60, it feels like some of Tesla's competitors have really closed the gap and I'm genuinely excited to see what other automakers have to offer in the electrified space.
Now historically, my car purchases have typically been impulse buys — hey, I never said I was smart — but given the current demand for BEVs in the state of California, absurd dealer markups, and the fact that I'm supposed to be an adult now, I decided it's time for a little due diligence. So welcome to my series, "Shopping for a Tesla Model 3 replacement," where instead of doing a run-of-the-mill car review, I compare new EVs to this popular Tesla sedan. I feel I'm not the only (former) Model 3 owner wondering whether or not the grass is greener on the other side. If you're thinking of replacing your Tesla, I hope this series is helpful to you.
My car-ownership experience
Before I dive into my thoughts on the Porsche Taycan, I think it's worth sharing some details about my car-ownership history, so you understand my perspective. Heading into my teenage years, I became engrossed in the sport compact aftermarket world, which meant my first car had to be a Honda Civic. I spent a lot of time in the industry, from selling parts to working as the West Coast Editor of Modified Magazine, which meant many of my cars over the last two decades have been upgraded in some way, shape, or form. A few of my previous cars include a Nissan 240SX, Infiniti G35, Scion tC, Lexus IS250, Acura Integra (SEMA project), BMW 335i, Toyota Prius, Honda Fit, Subaru BRZ, and Mercedes CLA45 AMG. As you can tell, I don't have a ton of brand loyalty and I really do like seeing what different automakers have to offer.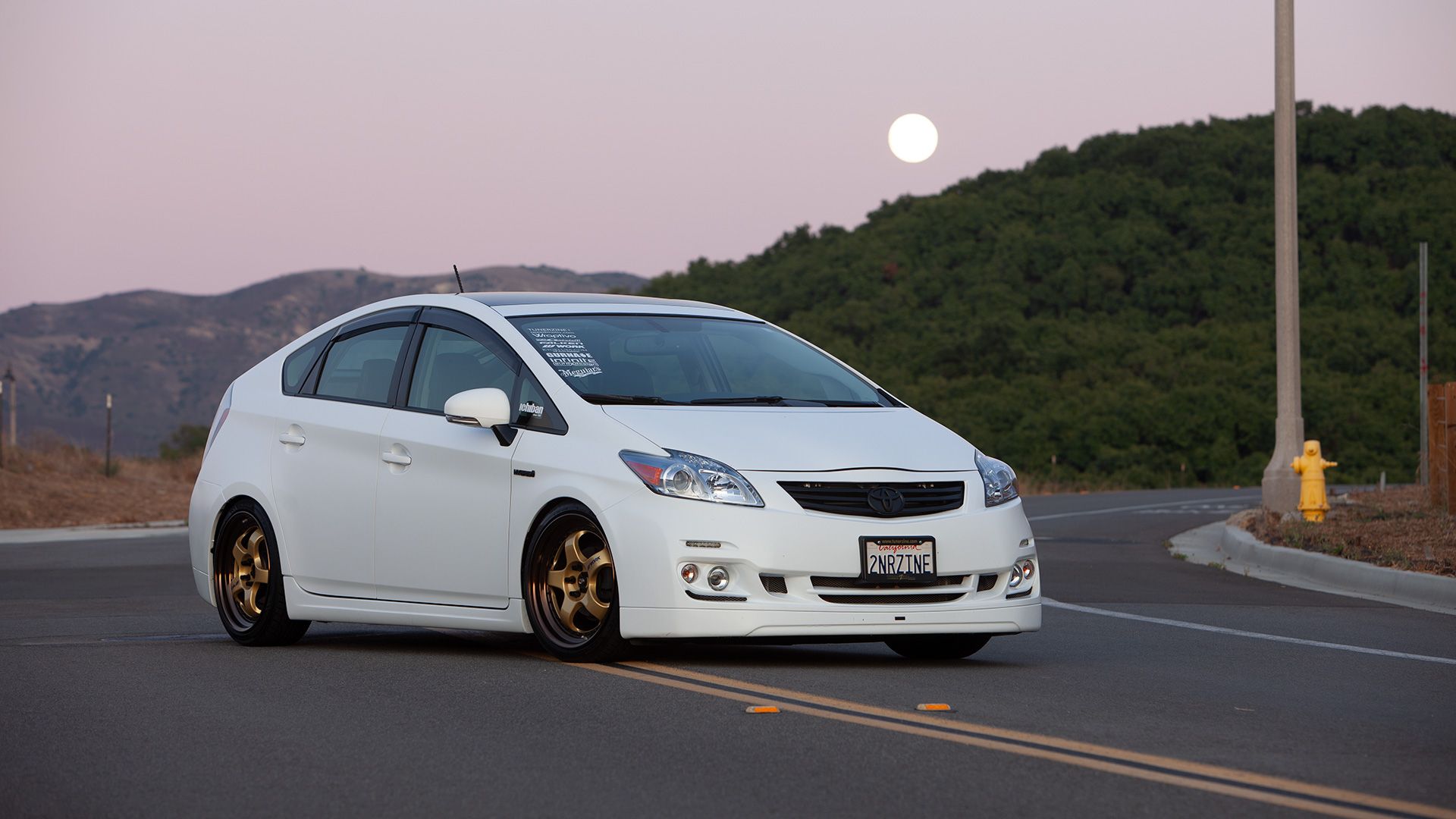 The 2010 Toyota Prius was my introduction to electrification. I had originally purchased that car to be practical and save on gas. At the time, I told myself I would stop spending money on modifying cars, but as you can tell by the above photo, that didn't happen.
My next taste of electrification was the Tesla Model 3. A pure EV instead of just a hybrid like the Prius, this sedan felt like everything a technophile would want from a car within that price range. No more trips to the gas station, OTA updates that added new features, adequate power for day-to-day driving, and Tesla Autopilot worked wonders in Southern California traffic. For once, I wasn't compelled to modify a car and ultimately, I ended up leaving the Model 3 completely untouched until the day I sold it. These days, I'm no longer shopping for a "platform" to modify, but rather a car that just satisfies me straight from the dealership lot. The Model 3, for the most part, did the job.
Tesla Model 3 ownership
I was one of the first to order a Model 3 as soon as it was unveiled in April 2016, and I took delivery about two years later in June 2018. While it had your typical early-production woes, I never experienced any major issues during my four years of ownership. It never had to go to the dealership for service, and any work that was done, Tesla sent someone out to my home to perform it. It really was a different type of ownership experience, and being a tech junkie and gamer, I loved how the OTA updates felt like free downloadable content (DLC) for your car. The quality-of-life upgrades the Model 3 got throughout the years really changed my perspective on car ownership. From auto-folding mirrors when you're approaching your garage to adding a live video display while changing lanes, Tesla nailed the upgradability factor and arguably still sets the standard in the automotive industry.
But OTA enhancements are no longer a unique selling point for Tesla, as other automakers have followed in its footsteps. One could also argue Tesla has slowed down its updates and enhancements compared to just a few years ago. The bottom line is this: One of the main reasons I enjoyed owning a Tesla is no longer unique to the brand.
The great Taycan experience
Now you might be wondering, who goes from a Model 3 to a Porsche Taycan? Well, the answer is simple. They're the same people who would go from a Model 3 to a Model S. With current prices, these two large sedans are pretty comparable, and remember, I'm not looking for a Model 3 alternative, I'm looking for a replacement. So let me get this out of the way, the Porsche Taycan is a very impressive car and I might go so far as to say it's fantastic to drive. But like every other Porsche, value is a major concern. Is the Taycan worth the money?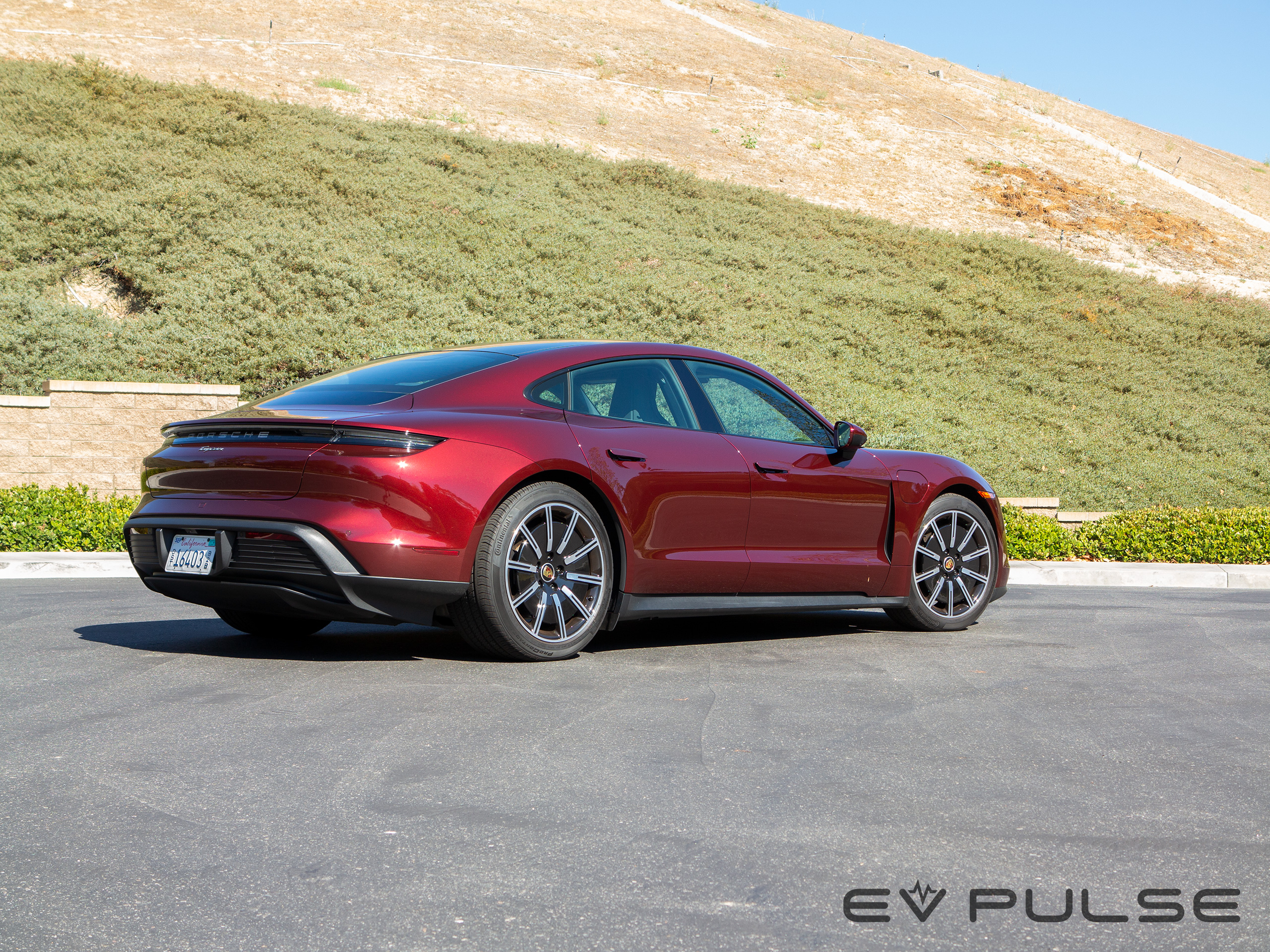 The vehicle I had on loan carried a retail price of $111,280 including delivery fees, and the first question I asked myself when it arrived was, "Is this worth two Tesla Model 3s?" I think those who want to purchase a Porsche are doing so because of the Porsche brand and the ownership experience that goes with it. You're part of an exclusive club, as they say, and you're paying a premium for that. Now don't get me wrong, there are very few vehicles in this world that drive like a Porsche, and arguably there isn't a single BEV on the market that handles like the Taycan. But the problem for me is, living in Southern California and not really having a commute, would I truly enjoy the Taycan if I barely ever drove it?
My first impression of the Taycan was how luxurious it felt compared to the Model 3. If I had to sum up the Taycan in just one word, it would be smooth. You get the expected performance from an electric vehicle (read: instantaneous acceleration off the line), but the power delivery is so much creamier than the Model 3's. It's almost surprising how quickly this car gets up to speed without needing a heavy foot, and since the Taycan was designed for German Autobahns, it's especially silky at high speeds, so much so that you might be shocked when you glance at the speedometer. You may not realize how fast you're going, which can get you into trouble with the law.
On the flip side, I did find the regenerative braking quite lacking compared to the Model 3, but potential Taycan owners should already know the car doesn't offer a one-pedal driving experience. I understand not everyone desires that, but coming from a Model 3, it is quite different and would take some getting used to.
I could sit here and write hundreds of words praising the Taycan's driving experience, but let's just sum it up with "impressive." The car drives and handles like you'd expect from Porsche, with all the benefits of being a BEV. When it comes to driving experience, the Model 3 is fine in its own right, but simply can't compare to the Taycan — and it shouldn't given the price gap between the two vehicles. We're not exactly comparing apples to apples here.
The not-so-great Taycan experience
But where the Taycan really fell short for me is its infotainment system and general user experience. Coming from the Tesla Model 3, I honestly felt like it was going from a modern smartphone to a first-generation iPhone. I found it a bit clunky, unintuitive, and downright frustrating to use some of the features in the car. To me, the Model 3 is rather intuitive, and while it is undoubtedly a bit too advanced for some folks, you get used to it pretty quickly. Once I got over how great the Taycan was to drive, I started missing all the little things from the Model 3. Features like the robust and easy-to-use navigation system, my garage door automatically opening and closing, and integrated Spotify. I found Porsche's draw-to-type interface more frustrating than convenient, and overall it just felt clumsy compared to the Model 3. Now to be fair, I only had a week with the Taycan, and with time, I could probably get used to all its features and functions. Overall, this Porsche's in-cabin tech lacks the same convenience and polish found in the Model 3.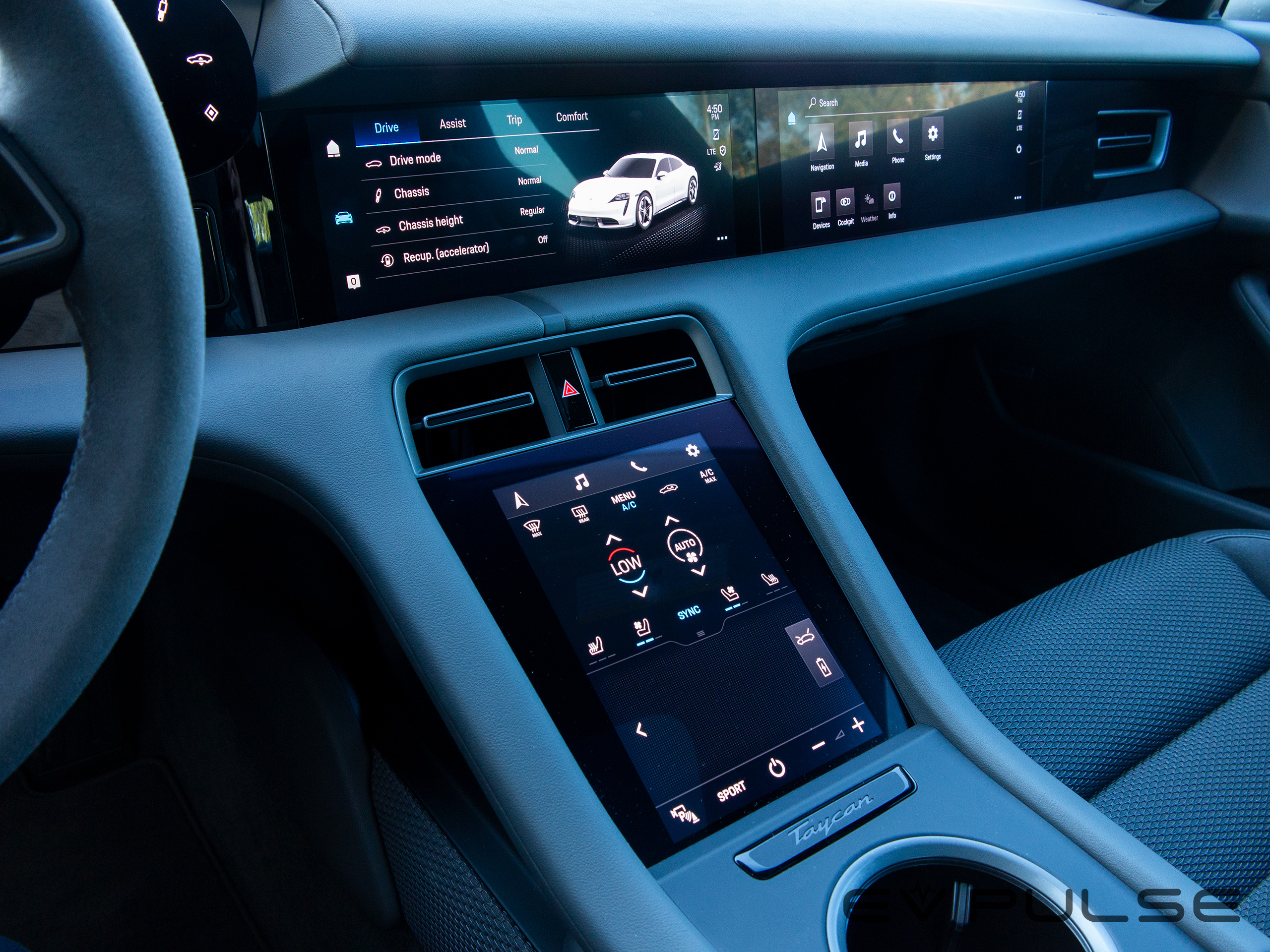 Driving range
I know many BEV shoppers care about range, but this is a minor concern for me living in Southern California and working from home. I have a home EV charger and don't take a lot of road trips. Additionally, the infrastructure in my region is very robust and you can find a charger every few miles. With that said, I did not perform your typical range test with the Taycan. What I cared about was its performance in my daily situation, which consists mostly of city driving with a lot of stop-and-go traffic and occasional jaunts on the freeway. This result likely won't be terribly informative to other BEV owners, but I averaged 2.5 mi/kWh during an 88-mile trip while averaging 19 mph. While driving, I noticed how accurate the remaining mileage indicator was on the Taycan compared to the Model 3. I always found the Tesla's indicator to be very conservative and not really based on your actual driving habits. Often a 10-mile trip would take 15 miles off my range in the Model 3, but the Taycan was much more accurate.
As for charging, I had a positive experience at an Electrify America station, which was the first time I've ever used one. I never charged at Tesla Superchargers very often, but I would say the two are similar in terms of charging speed and convenience. I won't get scientific and inundate you with numbers (you can find that elsewhere on our site!), but I did go from about 20% to full in less than 30 minutes.
Conclusion
Ultimately, after spending a week with the stylish and engaging Porsche Taycan, I couldn't stop asking myself, "Is it worth the money?" I couldn't reach a definitive "yes" in my head. While the driving experience is undoubtedly amazing, it's hard to justify this car's price. I think you ultimately need to buy into the Porsche brand and all the perceived value that comes with it. If you love Porsche and want a BEV driving experience that's second to none, then the Taycan is the way to go. But for me, the shopping continues until I find a worthy Model 3 replacement.