Arguably one of the biggest advantages Tesla still holds on today's EV market is its Supercharger network. It's hard to argue that Tesla's public charging infrastructure isn't in a league of its own and it's one of the main reasons why people choose to purchase a Tesla vehicle over other EVs. Mercedes-Benz is hoping to change that, announcing its own branded charging network at CES 2023 with the goal of establishing over 10,000 high-power chargers worldwide, starting with North America.
This new charging network may feature Mercedes-Benz branding, but it won't be limited to Mercedes-Benz owners. Instead, those owners will have the ability to pre-book a charging station from their car, but the network will still be open and accessible to all EVs. The German automaker hopes to have its full network in place before 2030, which is also when Mercedes-Benz intends to go full electric wherever market conditions allow.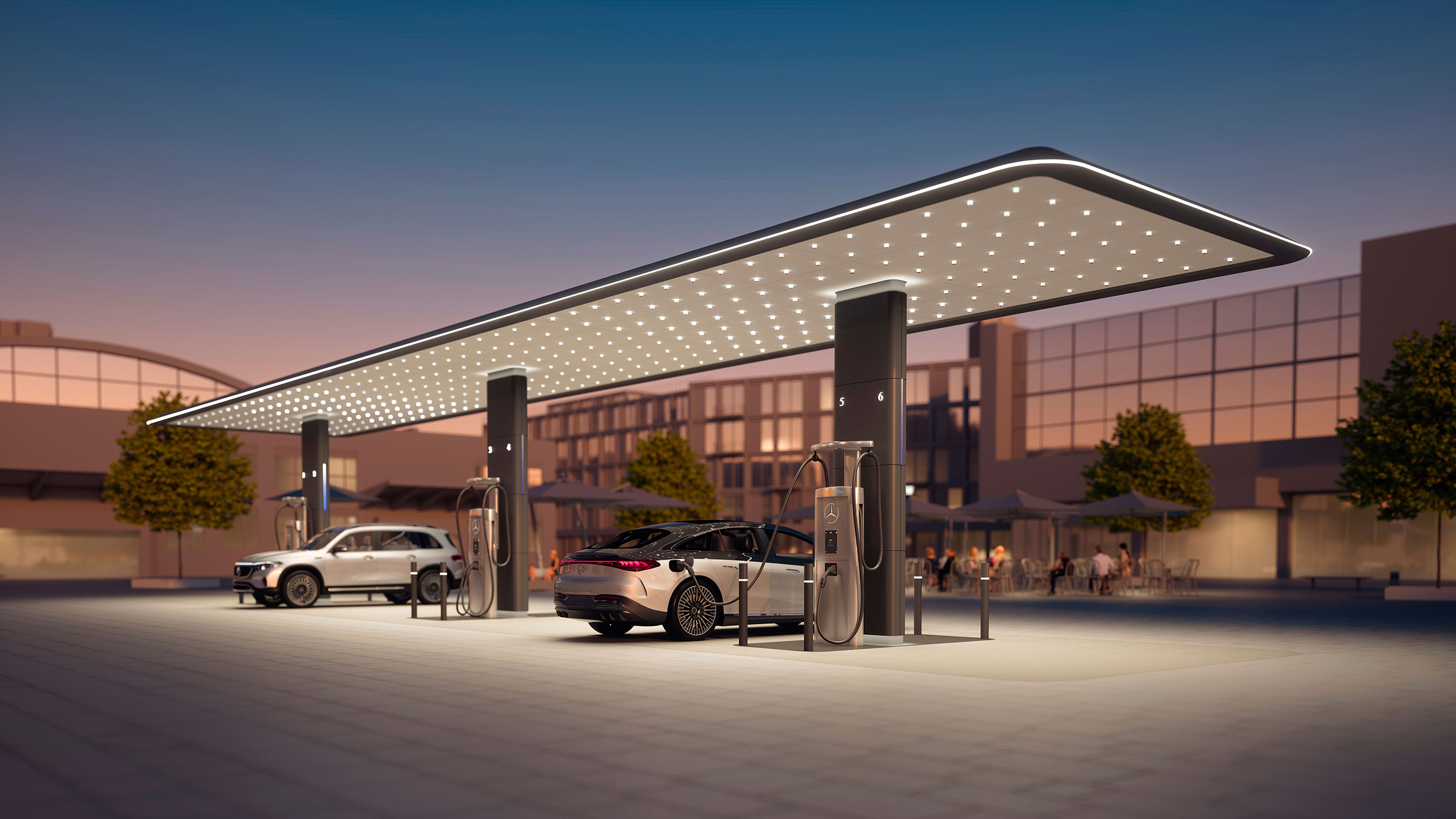 For North America, the automaker is partnering with MN8 Energy and ChargePoint to establish over 400 hubs and more than 2,500 chargers across the continent. Most hubs will offer anywhere from 4 to 12 charging stations, but some may have as many as 30 depending on region and location. Each charger will be capable of up to 350 kW of charging power and the optimized station layout will ensure plenty of space around each vehicle. As a premium brand, it's not a surprise that Mercedes-Benz wants the charging points to be covered for protection from the weather, where feasible. In addition, each hub's location will be carefully selected to ensure there are food outlets and restrooms nearby. They will also be equipped with surveillance cameras and other measures to promote safety.
The automaker did say the total investment cost for the North American network will be just over 1-billion Euros and that it will be deployed over the next 6 to 7 years. Mercedes-Benz and MN8 is roughly splitting this investment 50:50. If you've never heard of MN8 Energy, it's one of the largest solar energy and battery storage owners and operators in the U.S. The other partner involved with the North American rollout is Chargepoint, which has powered approximately 5-billion electric miles so far. The company is already Mercedes-Benz's backend provider in the U.S. for Mercedes me Charge, so it was a natural fit for the new charging network.