Today, many new vehicles offer a blind spot monitoring system, either as standard or as an option: this is especially true on EVs. The technology is designed to enhance safety, providing drivers a quick and easy way to know if another vehicle is in their blind spot. If your car isn't equipped with a blind spot monitoring system, your next best option is to install a set of blind spot mirrors. These small mirrors are usually convex in shape so they can reflect a wider field of view.
Affordable and easy to install, there isn't anything terribly exciting about blind spot mirrors. They do come in different shapes and sizes, and some are adjustable. Most blind spot mirrors are designed to be universal and are likely to work with your vehicle's side mirror. Some products have a unique shape to them, and as a result, may not fit as nicely on your vehicle's side mirror.
Although quality may not be the primary concern, it should still be considered. I've owned some inexpensive blind spot mirrors that started to corrode after just a few months. Other poor quality units can provide a distorted view, potentially compromising safety. You want to stick with well-known and popular products, even though these are pretty inexpensive items.
The following are our picks for the best blind spot mirrors, mainly based on user reviews, although I have personally used a couple of these on my vehicles in the past. Choose the one that fits your vehicle the best, in the style you prefer: they're all quality products that will make driving safer and easier. Additionally, these aren't ranked in any particular order. It's difficult to determine that one blind spot mirror performs noticeably better than another on our list. Choose the option that appeals most to your preferences.
1. Frameless round: Ampper 2″ blind spot mirror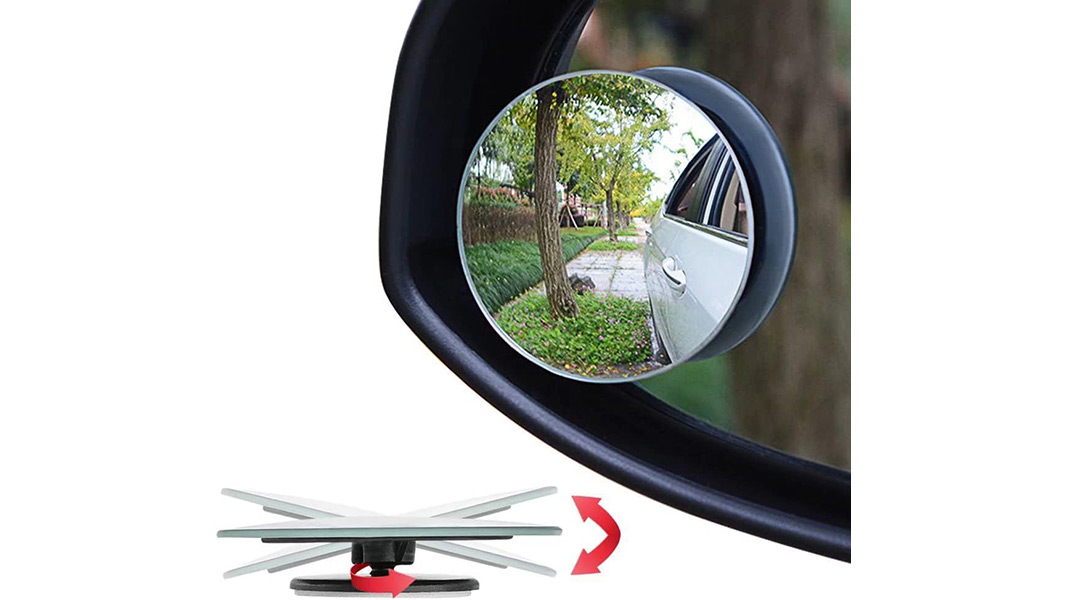 The Ampper blind spot mirror may be suitable for most car owners out there. It features a traditional 2″ round shape with a sleek frameless design and adjustable swivel pivot. You can choose to mount the mirror without the pivot if you'd like. Either way, it offers a 360-degree rotatable mirror that is waterproof and durable. Ampper uses 3M adhesive on the back of its mirrors.
I would recommend this blind spot mirror to most car owners out there. It's got a pretty slick design and the adjustability is a useful feature. Additionally, Ampper offers other mirror shapes on its listing page, so if you really don't want a round mirror, you can check out the other shapes the brand offers.
2. Framed round: Frienda 2″ blind spot mirror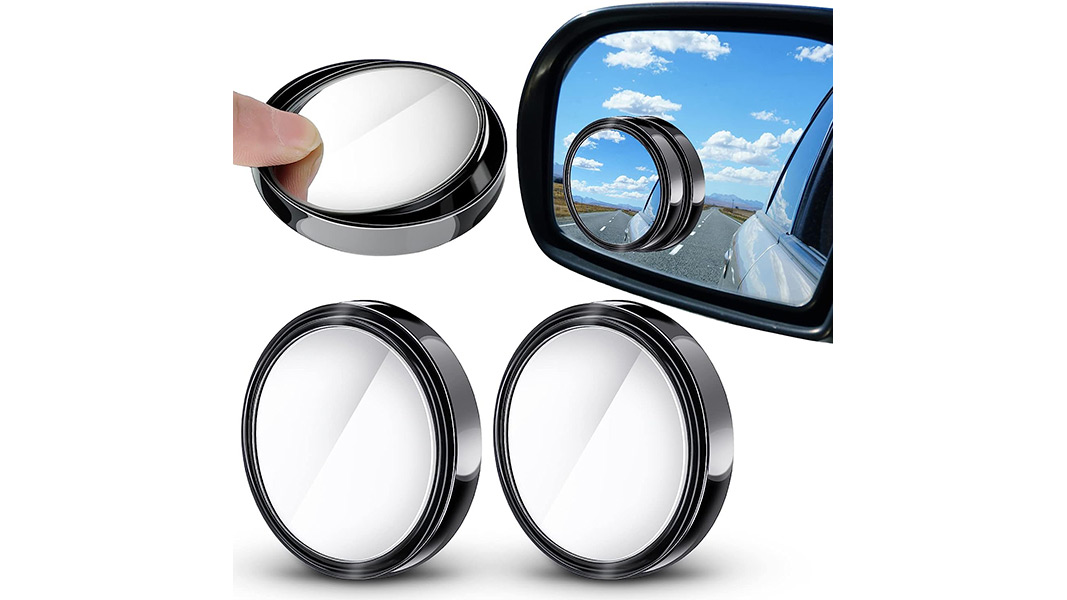 For those who prefer a framed design on a round mirror, check out this recommendation from Frienda. I actually had these blind spot mirrors on a previous vehicle and they proved durable during a 4-year period with no issues. Frienda also offers them in a larger 3″ size, for those who need something bigger for their side mirrors. Options include black or silver frames.
These mirrors can also be rotated 360 degrees and can easily be adjusted so you get the exact view you want from them. Some users may prefer the framed design, as it offers better protection for the pivot than the frameless blind spot mirrors.
3. All different shapes: Utopicar blind spot mirrors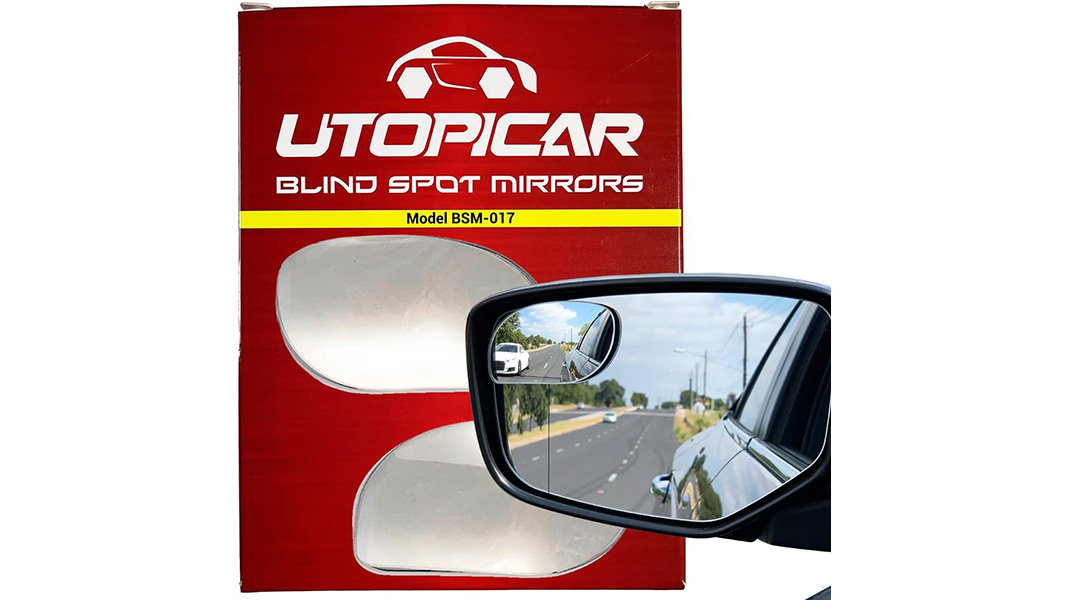 A popular brand for blind spot mirrors is Utopicar, which has a few different shapes to choose from. Packed with overwhelmingly positive user reviews, it's difficult to go wrong with a set of Utopicar's mirrors. The brand offers a unique design that is a bit different — Utopicar says the image on the mirror is three times larger than the average blind spot mirror.
You may also get a conventional round design from Utopicar, as well as a long mirror that essentially runs like a strip across the bottom or top of your side mirror. Additionally, there is the XL option which is better suited for an SUV, pickup truck, or van with larger side mirrors.
For those unsure which shape they really want for their blind spot mirrors, consider exploring all of Utopicar's options to determine the most suitable choice for your vehicle.
4. Frameless rectangular: LivTee blind spot mirror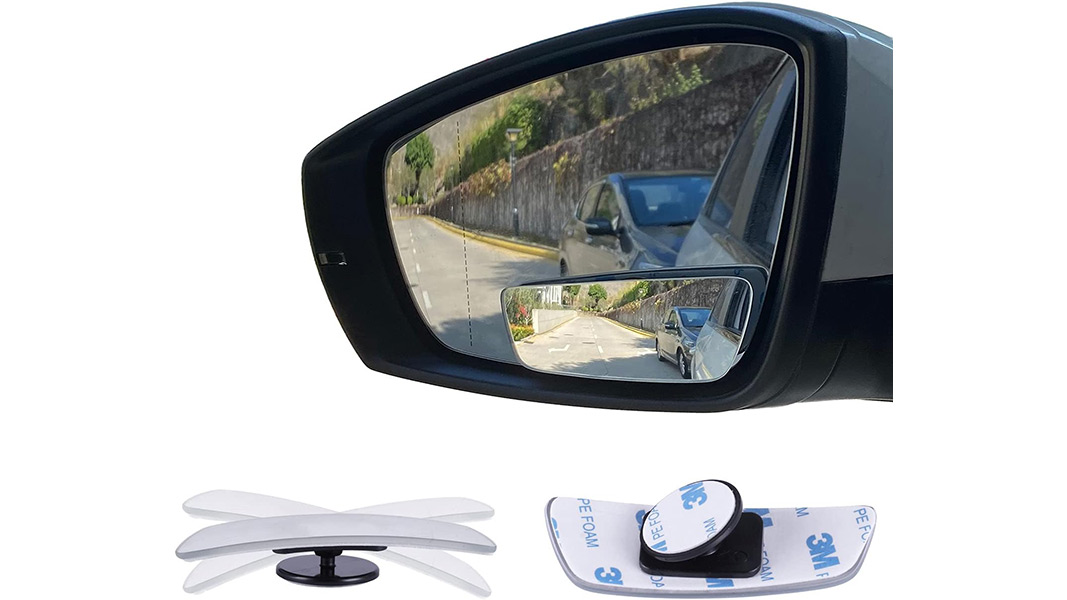 For those who prefer a rectangular, frameless blind spot mirror, consider this recommendation from LivTee. The company does also offer it with a framed design, and both versions are 360-degree rotatable and sway adjustable. They also come with a tiny swivel mounting bracket that makes them easy to install. Some owners however, did warn that the bracket is somewhat fragile and can easily break. Some users noted the mirrors move too easily and have little resistance.
For certain car owners, this style of mirror will fit their vehicle much better than a conventional round mirror. This design offers slightly increased coverage. LivTee also uses quality 3M adhesive on its blind spot mirrors.
5. Fan-shaped: Mudder blind spot mirror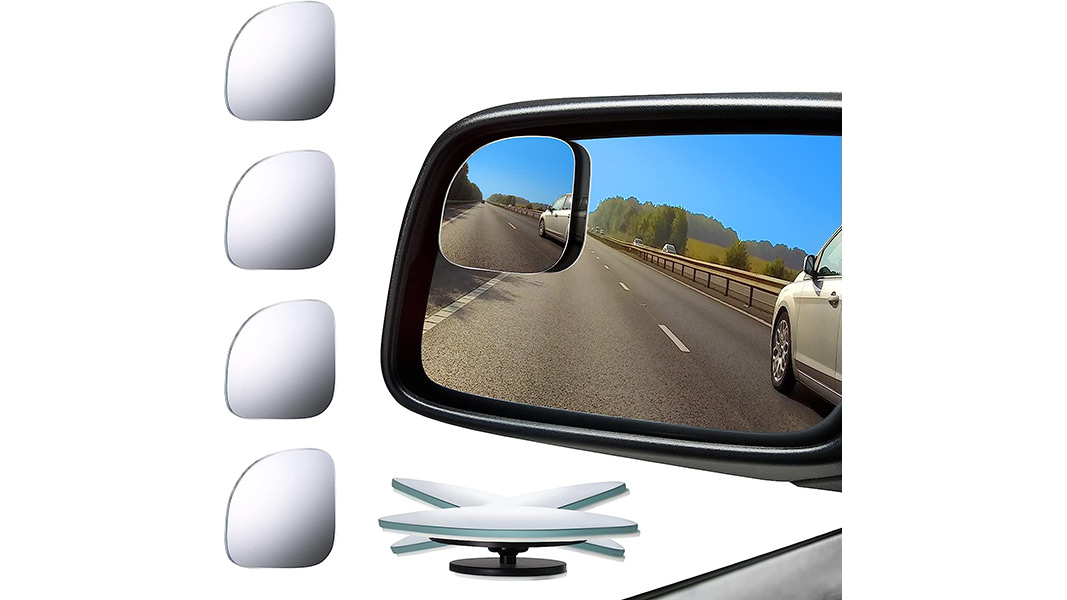 My final recommendation comes from Mudder with these fan-shaped blind spot mirrors. Some drivers prefer this shape over the conventional round mirrors, and these mirrors provide an affordable option for a set of four. They're constructed from high quality glass and can be installed in minutes thanks to 3M adhesive. As with our other recommendations, they can be rotated 360 degrees and adjusted in various directions.
Similar to our previous recommendation, this too received some complaints for a flimsy base as some owners reported losing their mirrors in a car wash — a common issue with the bases found on many blind spot mirrors. For those who wash their cars at home though, this isn't as big of an issue.
What are blind spots?
Blind spots are the areas on the sides and the rear of a vehicle that are not visible to the driver from the side mirrors. These areas are a reason why accidents occur, especially when it comes to switching lanes, and the inability to see another vehicle in these blind spots.
What are blind spot mirrors?
Blind spot mirrors attach to a vehicle's existing side mirror to provide a view of areas that are usually not visible in the side mirror. Blind spot mirrors do this by providing a wider view due to their convex shape — which means they curve outward.
Why do I need blind spot mirrors?
A car's regular side mirrors provide a limited field of view, which is why you have blind spots. For vehicles equipped with blind spot detection technology, then you'll at least have a notification when an object is in your blind spot. However, with a blind spot mirror, you'll be able to actually get a visual on what is in your blind spot, rather than merely an indicator from the side mirror.