Ford is investing billions of dollars in the U.S. to ramp up electric vehicle production, and now it's doing the same in Canada. The automaker has announced its Oakville Assembly Complex (OAC) in Ontario will transform into a Canadian hub for electric vehicle manufacturing starting in the second quarter of 2024. The $1.8-billion (CAD) investment will result in renaming the campus Oakville Electric Vehicle Complex, with the production of next-generation electric vehicles beginning in 2025. According to Ford, this marks the first time a full-line automaker has announced plans to produce passenger EVs in Canada for the North American market.
As part of the investment, Ford will repurpose and transform existing buildings into a state-of-the-art facility. Currently, OAC is a 487-acre complex with three body shops, one paint building, and one assembly building. After the transformation, the Oakville Electric Vehicle Complex will be home to a new 407,000 square-foot on-site battery plant, using cells and arrays from BlueOval SK Battery Park in Kentucky. Workers at Oakville will use those components to assemble battery packs, which will be installed in vehicles assembled on-site.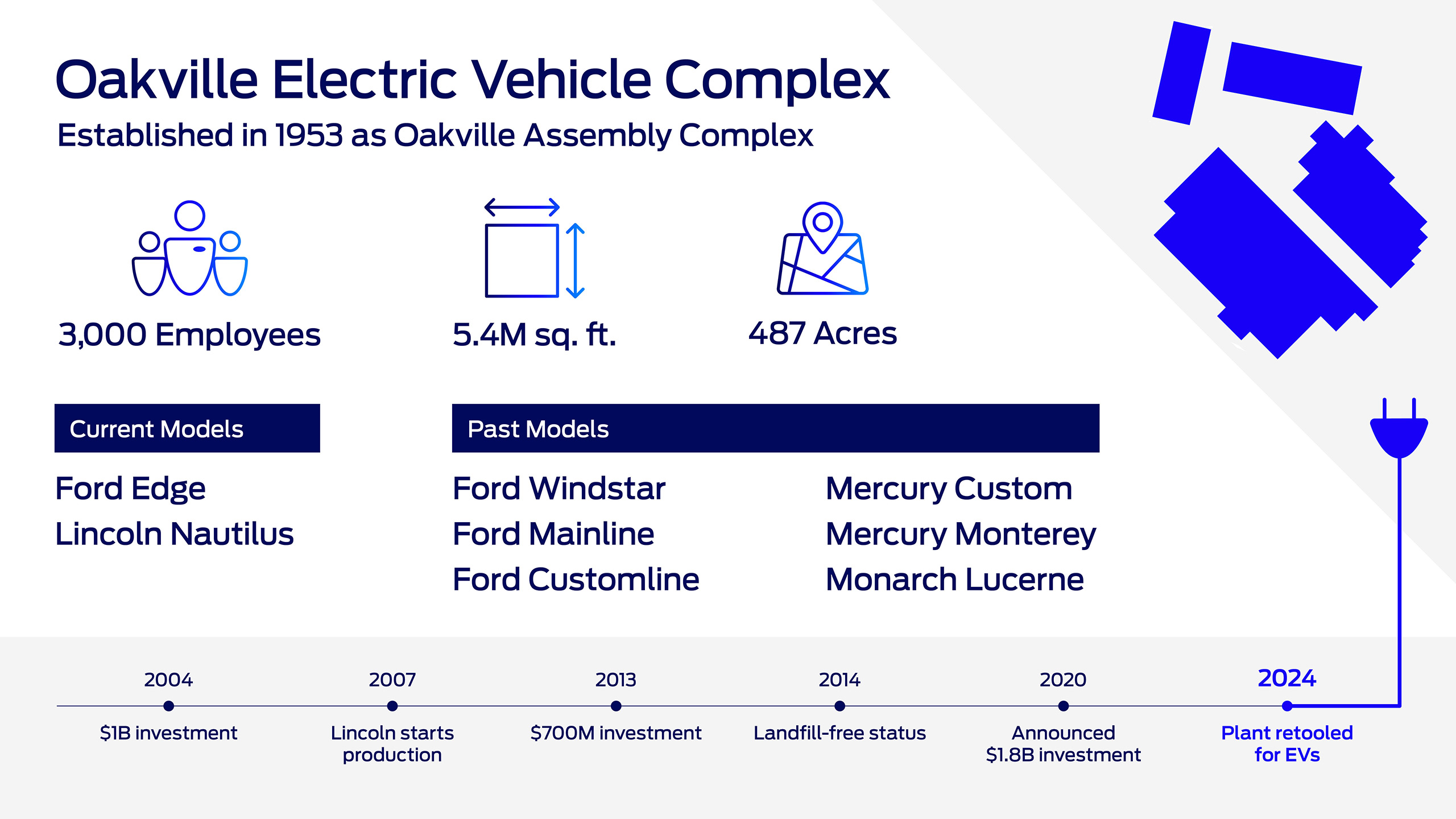 This is just one of several investments Ford is making towards EV production. BlueOval City will be an all-new EV manufacturing ecosystem in West Tennessee, where Ford will produce its next-generation pickup truck. The automaker is also building a lithium-iron phosphate battery plant in Michigan, with production slated to begin in 2026. Ford is also modernizing its vehicle assembly campus in Cologne, Germany, transforming it into the Ford Cologne Electrification Center. In addition, Ford, LG Energy Solution, and Koç Holding have plans to build one of the largest commercial electric vehicle battery cell production facilities in Turkey later this year. Finally, Ford is already expanding production of the F-150 Lightning at its Rouge Electric Vehicle Center in Dearborn, while Mach-E production is also increasing at Ford's Cuautitlan facility in Mexico.
"Ford of Canada has been a leader in the country's auto industry since it was founded 119 years ago, driven by hard-working, dedicated employees," said Bev Goodman, president and CEO, Ford of Canada. "As the top-selling auto brand in Canada for 14 straight years, the successful transition to EV production in Oakville will help deliver stable Canadian employment with the opportunity to build the new skills and expertise to drive Ford and the industry forward."