You've decided that Tesla is the electric vehicle for you, but which home charger should you buy? While Tesla sells its own charging equipment, there are other lots of other options to consider. Here's a breakdown of how EV charging works and how quickly the different chargers can charge your Tesla so you can decide which charger is the right choice for your needs.
(Almost) Every Tesla has a Level 1 charger
Your Tesla comes with a Level 1 charger that you can plug into a standard 120-volt outlet. It includes a handy carrying bag, 20-foot cable, and an adapter for use at public charging stations that might not otherwise accommodate your Tesla's unique charging port. A Level 1 charger is the slowest way to charge an EV. On average, it delivers just 4 miles of range per hour, so this isn't the best solution.
The upside to using this type of charger is that it requires no special equipment, just a typical household outlet. The only added expense you'll have to worry about is the cost of having an electrician install a plug near where you park if there's isn't an accessible plug already.
Update: As of April 17, 2022 Tesla vehicles no longer come with a corded mobile connector and it's sold separately for $200.
Upgrading to Level 2
A Level 2 charger significantly increases the speed at which you can fully charge your Tesla. These chargers are typically 240 volts and deliver around 25 miles of range per hour. Rather than buying a Level 2 charger, you can purchase Level 2 adapters for your Tesla Level 1 charger directly from Tesla. These plugs come in a variety of styles that work with different 240-volt outlets, so you can take advantage of the faster charging whenever and wherever it's available.
While this option works, at home you might find it more convenient to leave the Level 1 charger and any adapters tucked away in your vehicle to use only when needed out on the road. Installing a Level 2 charger at home is an easier solution for daily charging rather than bundling up the Level 1 charger and its adapters and tossing all that equipment in your trunk every morning.
Level 2 chargers are available as either plug-in units or hardwired units. A plug-in unit simply requires the appropriate outlet, which is generally a NEMA 14-50 or 6-50. These are the same kinds of outlet that are used to power a clothes dryer. If you already have one installed near where you park, then you're all set. Otherwise, you should call a licensed electrician to professionally install this outlet to ensure it operates properly.
If you choose to go with a hardwired Level 2 charger instead, then you absolutely need an electrician to do the installation work. This does cost more than having a simple outlet installed, but a hardwired Level 2 charger has its benefits. They're often a better solution if you have extreme weather conditions like severe snow or rain. They're also a better choice if you're concerned about theft since someone can easily unplug a plug-in charger and walk away with it while a hardwired unit poses more of a challenge.
If you're wondering why the Tesla Wall Connector isn't the most obvious pick, there are a couple reasons. For starters, the Tesla Wall Connector only works with Tesla vehicles unless you use a Tesla to J1772 adapter. So if you have another EV or PHEV at your home, then the Tesla Wall Connector can't easily be used on that vehicle. Another reason not to purchase a Tesla Wall Connector is thinking about the future. Are you always going to own a Tesla? What if you decide to purchase an EV that uses the universal J1772 standard?
I personally owned a Model 3 and installed a Tesla Wall Connector thinking that would be the best solution. When I decided to sell my Model 3 and got a Polestar 2, I had to decide what I wanted to do. I either used an adapter every time I wanted to charge at home, or I replace the Tesla Wall Connector with something universal. The adapter did the job for the first few months, but I ended up replacing the Wall Connector with the Wallbox Pulsar Plus. So take it from me, as tempting as it may be to just get a Tesla Wall Connector because you own a Tesla, it might make more sense to purchase a J1772 Level 2 charger and use a J1772 to Tesla adapter to charge your Tesla at home. You just never know what the future may bring, and there are going to be a lot of compelling options on the market over the next few years and beyond.
Our top picks for Level 2 EV chargers
1. JuiceBox 40
The JuiceBox 40 is the top pick on our best home EV chargers list, so it's only natural that it's also our top recommendation for the Level 2 charger you should buy for your Tesla. It's one of the most feature-rich home chargers out on the market today, but if you don't care for all the high-tech features, you can check out our other recommendations below.
This charger is available as a plug-in model or hardwired. As its name suggests, it's a 40-amp charger offering 7.7 kW and comes with WiFi connectivity so you can control it all from an app. That includes the ability to set and monitor the charger, controlling when to start or end  charging remotely. Convenience is another reason to opt for the JuiceBox 40, as you can schedule your charge time, ideally when rates are the lowest. The company includes a three-year limited warranty and each charger comes equipped with a 25-foot cable.
The JuiceBox is also available in 32- and 48-amp models.
2. Wallbox Pulsar Plus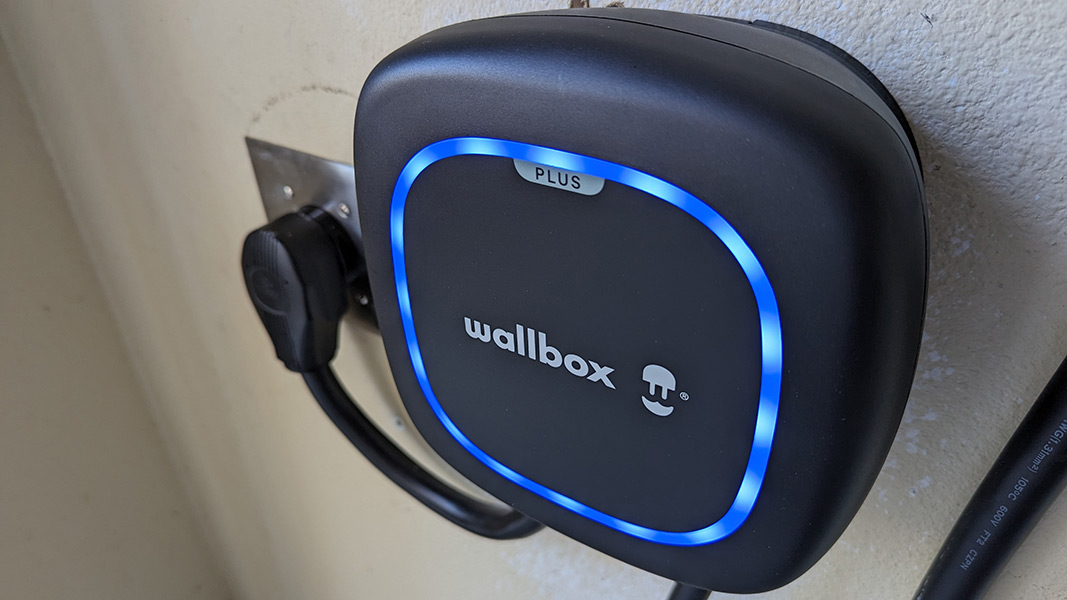 Depending on how well the Wallbox Pulsar Plus performs in my long-term review, it may become my top pick for home EV charger recommendations. Its extremely compact body makes it easy to install at any location and it has a separate nozzle holster and cable management, so you can customize the installation based on your needs. The Pulsar Plus is available with a NEMA 14-50 plug for 40-amp power, or you can purchase a 48-amp hardwired variant.
The app works pretty well once you have it setup, and you can adjust amperage on the fly. Notifications can be a bit finicky, and the Bluetooth connection did have some issues with my particular phone (Pixel 7 Pro). But as an EVSE, the Wallbox Pulsar Plus has worked flawlessly. I particularly like the high-quality connector on the charger and that it's NEMA Type 4 rated so you can safely install it outdoors. My only real complaint is that I wish the 25-foot charger cable was thicker. While I don't have to deal with extremely cold temperatures, I do imagine it may be an issue if you live somewhere that sees freezing conditions.
3. Electrify Home HomeStation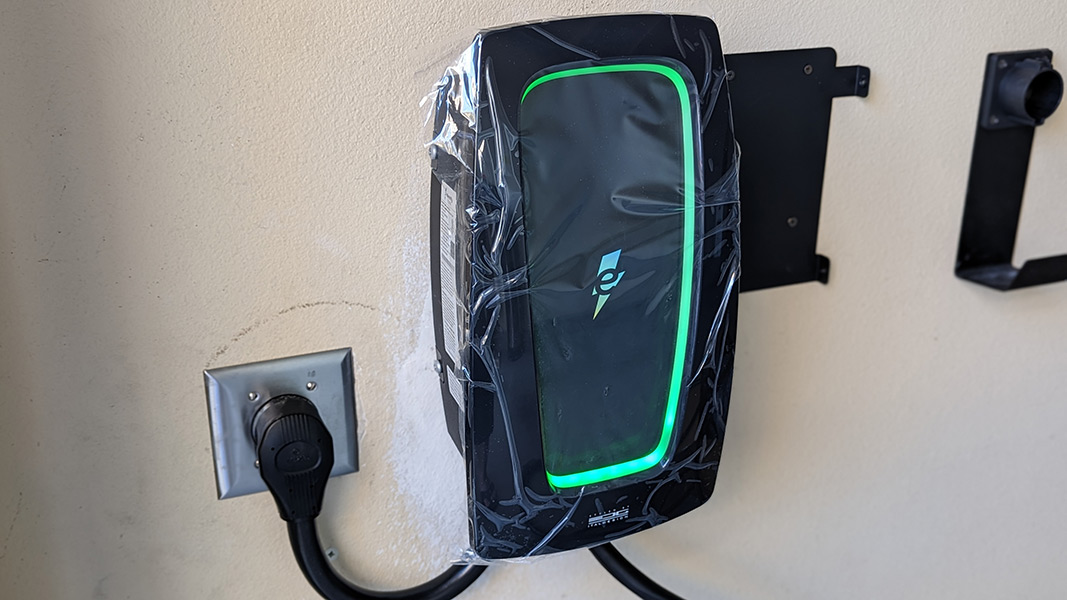 I had the opportunity to borrow the Electrify Home HomeStation for testing purposes and came away impressed by its packaging and stylish design. Unfortunately, after seeing just how compact the Wallbox Pulsar Plus, I find the HomeStation to be a bit too large for my liking. But design is subjective, and some of you may hate the way the Pulsar Plus looks and love the way the HomeStation looks.
It comes from Electrify Home, the home division of Electrify America. Yes, the same brand with thousands of public EV chargers across the U.S. This is a smart, WiFi-enabled charger that has adjustable amperage from 16 to 40 amps when plugged into a NEMA 14-50 outlet. You can remotely control the charger through an app, which worked well enough during my testing. My biggest grievances with the charger was the inability to control the lighting and I didn't receive any notifications once my vehicle was done charging. Both these issues could be addressed in the future with software updates, however.
Electrify Home provides a three-year limited warranty with this EVSE, which is pretty standard across most quality manufacturers. It's got a hefty charging cable, but the connector isn't the best I've held. I also was not a huge fan of the two-piece design for the nozzle holster — seems overengineered for no real good reason.
4. Tesla Wall Connector
The Tesla Wall Connector is a hardwired Level 2 charger that requires professional installation. You can choose to order the unit and hire your own electrician do the work, or you can choose to have a Tesla installer do the work as a package deal when you purchase the charger. This unit is approved for indoor or outdoor installation and is compatible with the Model S, Model 3, Model X, and Model Y.
Depending on exactly which Tesla you own and how its configured, you can get up to 44 miles of range per hour. You can also customize the power level provided by your Tesla Wall Connector for circuit breakers as low as 15 amps all the way up to a maximum of 60 amps. This charger includes an 18-foot cable and features WiFi connectivity.
Recent updates
Updated (12:24 p.m. EST, 04/18/2023): Added Best Buy shopping links to our recommendations.
Updated (8:40 p.m. EST, 04/14/2023): Added a Best Buy shopping option for the Tesla Wall Connector.
Updated (2:00 p.m. EST, 04/03/2023): The Tesla Wall Connector is now available on Amazon, so we added a shopping link for convenience.
Updated (1:57 p.m. EST, 03/07/2023): Updated the list of recommendations based on recent testing of home EV chargers. Added more information on why you shouldn't go straight to purchasing a Tesla Wall Connector just because you own a Tesla.
Updated (2:00 p.m. EST, 06/07/2022): Added a new top pick for a Level 2 charger recommendation. Updated content to reflect that Tesla is no longer including a mobile connector as standard.