Its immense dimensions and weight notwithstanding, the GMC Hummer EV Pickup is an accomplished off-roader. Thanks to features like an adjustable air suspension system, four-wheel steering and even underbody cameras, this titanic truck can tackle just about any trail it fits on. Further enhancing this all-electric pickup's versatility, on Thursday, GMC and a company called EarthCruiser announced an exciting new upfit that's sure to make you yearn for the great outdoors.
Resembling a camper insert that slides into a truck bed, this new product offers loads of welcome amenities to make spending time in nature even more enjoyable. Constructed largely of carbon fiber, this upfit has a pop-up roof that tops out at 117 inches. Retracted, that lid is just 90 inches high. As for those all-important standing headroom figures, there's 80 inches of it in the entry area, 76 on the hallway step and a respectable 35 above the mattress, so there's no need to worry about smacking your head if you carelessly sit up in bed.
At 217 inches in length, this camper features an RV-compatible full-size mattress that can accommodate two people. There's also a 7-inch touchscreen to control various features, an outdoor shower and even a flat-pack toilet, however that works. As for freshwater storage capacity, it tops out at 13.5 gallons and there's even a 7-gallon gray water storage tank. Providing protection from extreme temperatures is an insulated tri-layered pop-up roof.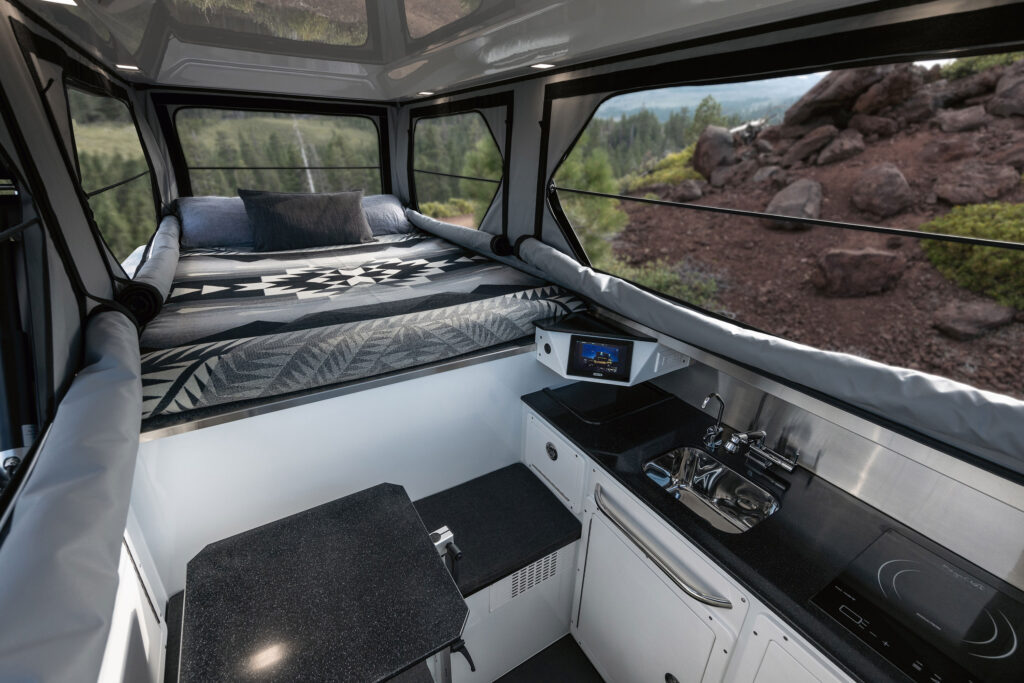 Giving you many of the creature comforts of home, the EarthCruiser upfit also comes with rooftop solar panel that puts out 605 Watts' worth of juice. There's also a 460-amp-hour 12-volt lithium battery and a 1,500-Watt inverter. All this gives you both 12- and 120-volt outlets, so you can run all kinds of appliances. There's even enough juice to power the included refrigerator/freezer for about a week.
Beyond all that, there's also a sink for washing up, an efficient induction cooktop and some underbed storage. Dimmable interior lighting, filtered water access from outside the camper and an exterior keypad are all included, too. Beats sleeping in a tent, eh?
There aren't too many all-electric off roaders out there today, making the GMC Hummer EV Pickup rather unique. This nascent market could expand in the coming years, however, as automakers continue pushing electrification in a big way. With this upfit, EarthCruiser and GMC are looking to stay ahead of the curve and open people's minds to the viability of overlanding in a vehicle with zero tailpipe emissions.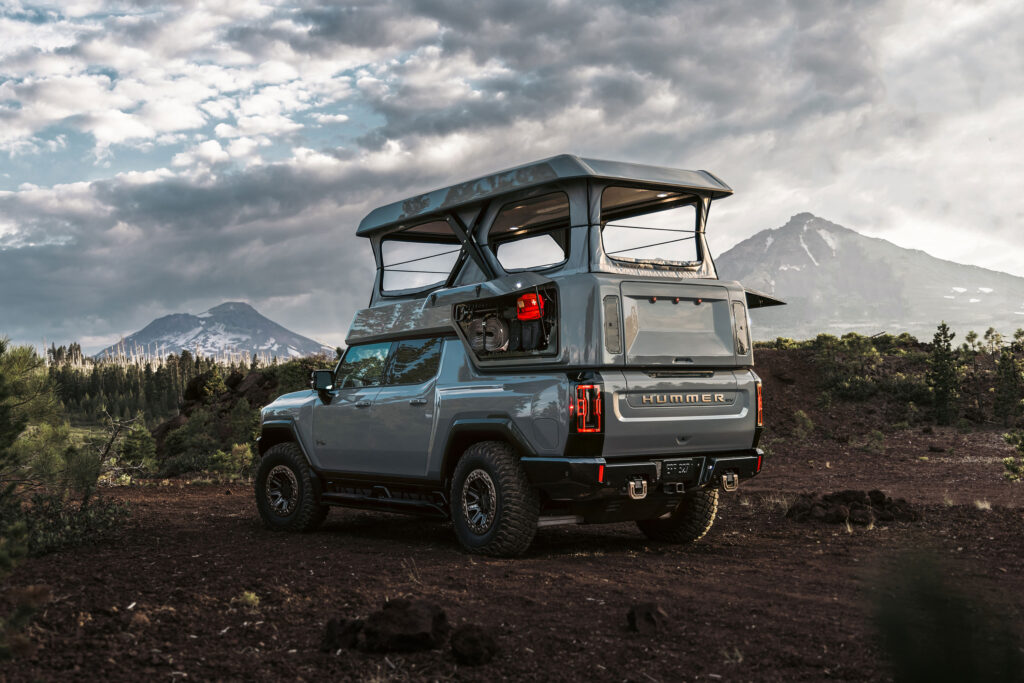 Getting Rocky Mountain high, this camper upfit will make its public debut at Overland Expo Mountain West in Loveland, Colorado. If you're planning on attending the event, you can see this product in the flesh from August 25 to 27.
This camper upfit from EarthCruiser looks like a great addition to the GMC Hummer EV Pickup, though just like the truck it attaches to, this add-on will likely not be cheap. Additional details about the cameper, ostensibly including pricing, which has not been announced, will be released later this year. You'll be able to purchase this EarthCruiser camper at some point in 2024, so stay tuned for updates.