Our coverage of Work Truck Week 2023 is brought to you by WiTricity.
At NTEA's Work Truck Week 2023 in Indianapolis, The Shyft Group's Blue Arc revealed its new all-electric Class 5 Crew Cab that promises to be "truly in a class of its own," according to Daryl Adams, president and CEO of The Shyft Group. Featuring a walk-in-van style cab, this work truck is designed for work crews with its sliding door and weather-protected steps. Inside, the cabin reaches 85″ high and measures 88.5″ wide, giving plenty of space for crew members to comfortably setup mobile workstations if necessary. But this isn't actually the selling point for Blue Arc's latest addition, according to Adams. "Never before have you seen a cab like this on a work truck, and customers are asking for it."
With a unique and highly flexible cab chassis, this Class 5 Crew Cab allows for a variety of bodies for stake trucks, box trucks, dump trucks, and more, Adams explained. "The applications are endless from landscaping to moving vans to power companies and others," he added. "This innovative truck brings new markets to Shyft and helps accelerate the transformation to EVs across our country."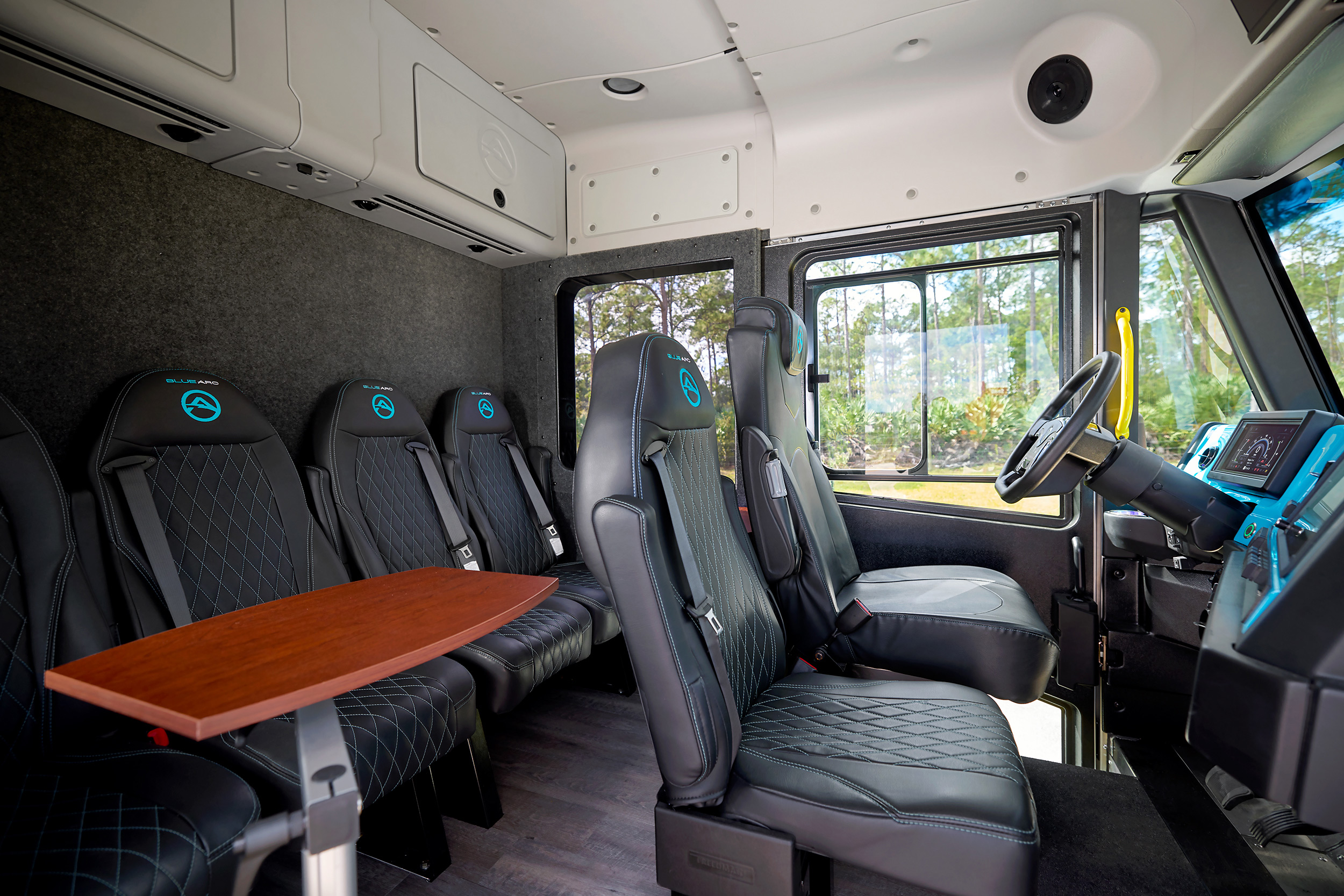 It rides on Blue Arc's proprietary, modular Class 5 commercial-grade EV chassis and features lithium-ion, liquid-cooled battery packs returning over a 200-mile all-electric driving range. Optimized for Level 2 and DC fast charging, the EV work truck charges to full anywhere from 2 to 6 hours depending on its source of electricity. At Work Truck Week 2023, Blue Arc had a lightweight aluminum dump body on display, designed by the company's DuraMag brand. It said the payload capacity on it ranges from 6,000 to 10,000 pounds. Buyers will be able to get an optional 450-Wh integrated solar roof package.
For vehicle and driver safety technologies, Blue Arc is equipping its Class 5 Crew Cab with 360° cameras, 12″ in-dash HD displays, front parking sensor, blind spot detection, tire pressure monitoring, weather-protected steps, keyless and automated entry, and more. The company will also offer the Class 5 EV chassis in strip chassis and cowl chassis in the near future. This could be used to electrify buses, shuttles, motorcoaches, and other vehicles that are looking to transition to the all-electric future that's slowly coming.