Obviously, one of the major benefits of owning an EV is not having to buy gas. If you've made the switch to an electrified vehicle, it only makes sense that you'd also want to make the switch to an electrified portable generator. For those who enjoy camping with their EV, a portable power station is an ideal companion to keep all your devices fully charged and running. Sure, they may not be as powerful as a gasoline-powered generator, but you're not dealing with the noise and exhaust emissions that those generate.
Portable power stations have become more popular over recent years, as battery technology continues to improve and more of our lives are centered around devices that constantly need to be charged. Best of all, they're also useful for emergencies or power outages. You don't have to worry about keeping gas nearby to keep it powered, and a full charge from some of these stations can last you days depending on your usage. Some of these power stations can also be combined with a solar generator to be recharged. And since there are no emissions, you can safely use them inside your home.
Now, you shouldn't rely on a portable power station to keep something like your home refrigerator powered — or any large appliance for that matter — but devices like your laptop, tablet, cell phone, or even a CPAP machine will be fine. Below, you'll find our recommendations for the best portable power stations along with more information about them, how to choose the best one for you, and what to look for when shopping for one.
1. Top pick: Jackery Explorer 500 portable power station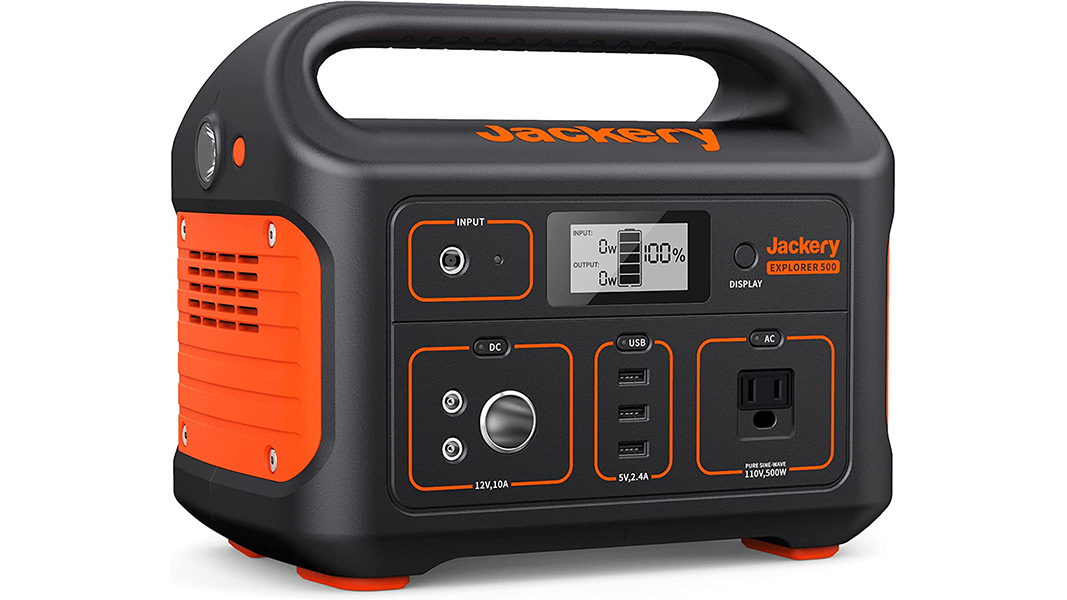 Jackery is one of the most well-known brands within the solar generator market and its Explorer series power stations are all solar-ready with the company's SolarSaga panels. The company has a wide lineup of offerings, depending on how much power, battery capacity, and outlets you need. So while we do recommend the Explorer 500 as our top pick, your needs may be different and we recommend shopping the rest of Jackery's lineup to get exactly what you want.
As for the Explorer 500, it features a pure sine wave AC outlet, a standard 12v/10a car port, a trio of USB-A ports, and a pair of DC ports. It's powered by a 518Wh lithium-ion battery pack, which is good enough to run a 60w mini cooler for nine hours or even a TV for up to 7.5 hours. You can recharge this power station through one of Jackery's solar panels, a wall socket, your vehicle's 12v outlet, or an electric generator.
Jackery's power stations feature heavy duty, rugged construction and a thoughtful, comfortable handle design that makes the power station easy to carry. It's also our top pick because of the company's solid reputation within the community. If the Explorer 500 doesn't fit your needs, make sure to check out the rest of the brand's lineup.
2. Runner-up: Anker 521 portable power station
If you've ever shopped for portable battery banks or chargers, there's a very good chance you've come across the Anker brand. To say Anker knows its way around portable batteries might be an understatement, so it's little surprise the company's portable power station is also highly recommended. Anker's portable power station uses LiFePO4 (lithium iron phosphate) batteries as opposed to lithium-ion seen in many of the other power stations. LiFePO4 is widely considered safer to use than lithium ion and offers a longer lifespan. So much so that Anker promises its power station can deliver a 10-year lifespan and it includes a five-year full device warranty.
The Anker 521 has a 256Wh capacity and is equipped with a total of six ports: two AC ports, two USB-A ports, one USB-C port, and a 12v car outlet. We particularly like its bright and informative LED display that makes it easy to identify everything that's going on with your power station. Another advantage this power station has is how quickly it recharges. By using the included adapter and the USB-C port, you can get back 80% of its charge in about 1.5 hours. It too can be recharged through solar panels (sold separately).
It's worth noting that you shouldn't plug any appliance that requires more than 200w into this power station. If you need something more powerful, Anker has the 545 portable power station, which is a 778Wh unit that supports up to 500w devices.
3. Best on a budget: Westinghouse iGen200s portable power station
If you're shopping on a budget and need a portable power station for occasional use, our recommendation is the iGen200s from Westinghouse. It features a 194Wh lithium-ion battery pack and is equipped with two 120v AC outlets, three USB ports (one USB-C), and a 12V DC outlet. This power station outputs 150 continuous watts and 300 peak watts, so it's best to use mainly with your electronic devices.
One reason we particularly like this unit is its compact size and lightweight design. If you're looking for a power station that doesn't weigh 20 pounds or more, the iGen200s is only 4 lbs on the scale. Its exterior dimensions measure 8″ by 3.6″ by 7.36″, which makes it relatively compact compared to our other options.
Westinghouse is a reputable brand too, and it offers a two-year limited warranty with the iGen200s. Like many of our recommendations, this portable power station can also be recharged in a variety of ways, including solar panels (sold separately), your standard household AC power outlet, or your car's cigarette lighter receptacle. One disadvantage for this power station is that it does take a while to recharge — about four hours to get to 80% using your household outlet.
4: Premium pick: BLUETTI AC200P portable power station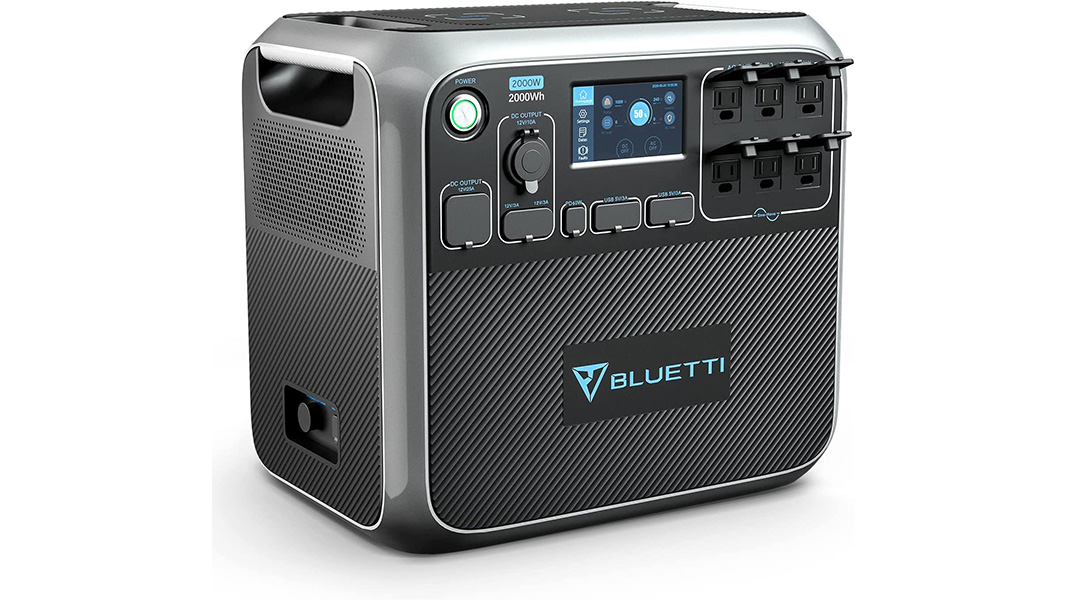 Another well-known brand in the market is BLUETTI and its AC200P is our premium pick. If you need a lot of power and battery capacity, this power station has you completely covered with its 2000Wh battery pack and 2000w pure sine wave AC inverter. That means it's a great option for emergency home use, since it could power appliances under 2000w. Not surprisingly, the BLUETTI AC200P is packed with plenty of ports: six AC ports, one DC port, one USB-C port, four USB-A ports, one car socket, two DC 5521 ports, and it even has a pair of wireless chargers on top.
Like Anker's power station, BLUETTI uses LiFePO4 batteries, which means it could last up to 10 years. Given that this power station is packed with features and high battery capacity, it probably comes as little surprise that it's also very heavy, one of its major disadvantages. This power station weighs 60.6 lbs while measuring 16.5″ by 11″ by 15.2″. It's a heavy duty unit and is ideal for shoppers who are willing to pay a price for nearly everything you'd need from a portable power station. If you want even more, BLUETTI does have the EB200P, which packs even more features with a 2048Wh battery pack and 2200w AC output.
As for recharging, it will all depend on the power source. Using the AC adapter, it'll take about 5.5 to six hours to recharge. Using 700w solar panels, it'll take 3.5 to four hours with ideal conditions. Using your car's 12v outlet will take the longest, about 20 hours. What does make this power station unique however, is its ability to recharge using two sources. For example, you can use solar panels and a wall outlet to recharge the power station in less than 2.5 hours. Dual AC recharging takes 2.5 to three hours.
5. Also consider: EcoFlow RIVER Plus portable power station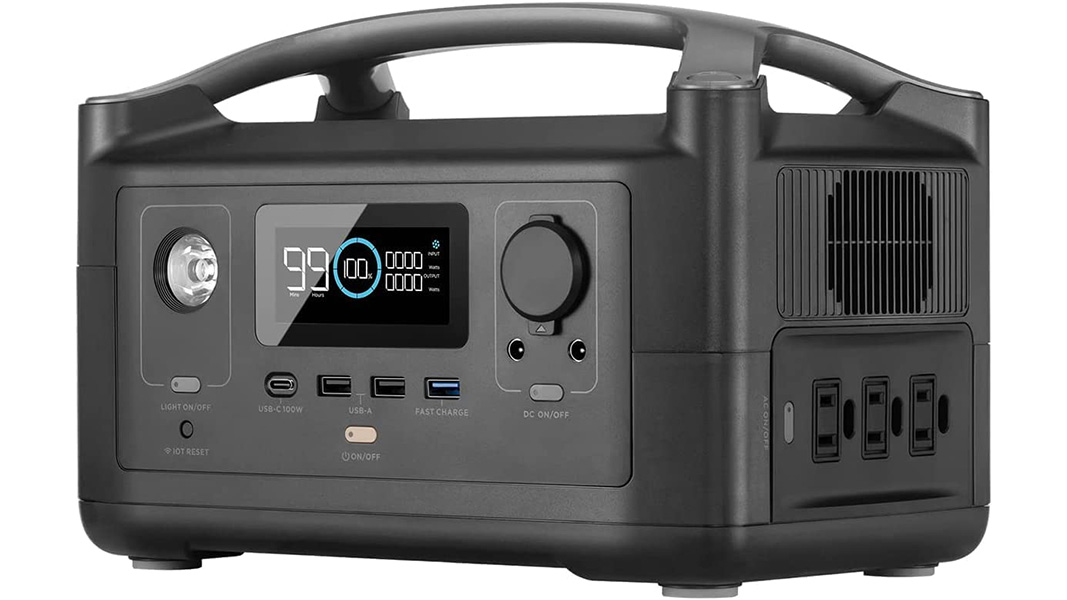 Our final recommendation offers a good balance of price and performance, but one of its biggest advantages is how quickly it recharges. It features a 360Wh battery pack but you can go from 0% to 80% charge in just 1.6 hours using a standard household wall outlet. Even using your vehicle's 12v outlet will get you to 80% in about four hours. If you're opting to use solar panels, a pair of 110w units will get this power station recharged in two to four hours. It also features technology called X-Boost, allowing you to power some appliances up to 1800w. This power station is equipped with a trio of 600w pure sine AC outlets, three DC car ports, two DC outputs, a USB-A fast charge, two USB-A standard, and a USB-C fast charge port.
Despite all the performance it packs, the EcoFlow RIVER Plus is comparatively lightweight at 11 lbs. It's worth mentioning that it uses NCM lithium-ion (nickel manganese cobalt oxide) batteries, which is often used in EVs. EcoFlow says this power station is good for about 800 cycles at 80% capacity, which is noticeably less than what you'd get from power stations with LiFePO4 batteries.
Given its size, price, and specs, this power station is a great option for both home and travel use. It recharges quickly and has the potential to power some appliances if necessary. Just make sure you read and understand how the X-Boost feature works and what it's capable of powering. This is our recommendation if you want a power station that recharges quickly and is versatile.
What exactly is a portable power station?
The main idea behind a portable power station is a portable generator that doesn't require gas. They're really like solar generators, in the sense that they're storing power for you to use when you need it, and they have the ability to connect to solar panels to recharge. You can also think of it like a much larger and more powerful battery bank, with inverters to power devices that require a 120v outlet. One of the main differences of portable power stations over battery banks is the different outlets a power station offers, allowing you to power and recharge a variety of devices or even appliances.
What is a pure sine wave inverter?
If you're shopping portable power stations, you've likely seen mention of a pure sine wave inverter. But what exactly is it and why should you want one? A sine wave inverter essentially converts direct current (DC) power into alternating current (AC) power. The reason why you want a pure sine wave inverter is that it produces AC power that most closely matches the power provided by a wall outlet — or an actual sine wave. That means it is a steady, continuous electrical wave that is clear and smooth.
How to choose the best portable power station
There are several factors to consider when shopping for a portable power station. For starters, consider the devices you'll want to power or charge with your power station, and that should help narrow down the power output you need. If you're planning to rely on your power station for certain appliances, you'll want a unit that can safely provide that amount of power. Next, try to determine the number of devices you need to power or charge on any given trip. That will help determine the battery capacity you need. If you've got multiple devices using up every port, you'll naturally drain the power station's battery much quicker than just recharging a single device.
You should also consider recharge time for the power station itself, and if you'll have the ability to conveniently recharge it. If not, you'll want a unit with a much larger battery capacity. Otherwise, think about investing into solar panels to keep your power station topped off.
Finally, consider the size and weight of the power station. Do you need something that's really compact? Or are you setting up camp and don't plan on moving the power station all that much. For some of our recommendations, the word "portable" is being used generously, especially when one option weighs 60 lbs. It's likely not something you want to carry around for a long period of time.
Can I use a portable power station while it's charging?
Most portable power stations will allow pass-through charging, which means you can use it while it's plugged in and being charged. This doesn't apply to every power station out there, so if you need pass-through charging, make sure it's a feature on the product you're planning to purchase.
Can I safely use a portable power station indoors?
Yes you can. The biggest benefit of portable power stations is that they are safe to use indoors since they don't emit any sort of fumes or gases that gas-powered generators emit.
Outside resources:
Recent updates:
Updated (5:08 p.m. EDT, 03/17/2023): Added additional shopping links to our recommendations and a couple more FAQs. Our top picks remain unchanged.