The Hyundai Kona crossover lineup has been totally redesigned for 2024. This includes the standard model, the sporty N Line version and, of course, the battery powered — and surprisingly spunky — Kona Electric.
This Hyundai has always been an adventurous looking little crossover, and that continues with the new model. The 2024 Kona wears angular, almost diamond-faceted flanks, just like the Hyundai Tucson SUV. This vehicle has a clean, aerodynamically sculpted front end with a pixilated light bar that runs from fender to fender. At the rear, the redesigned Kona is similarly clean. Overall, the design simultaneously looks futuristic and like it's from the 1980s.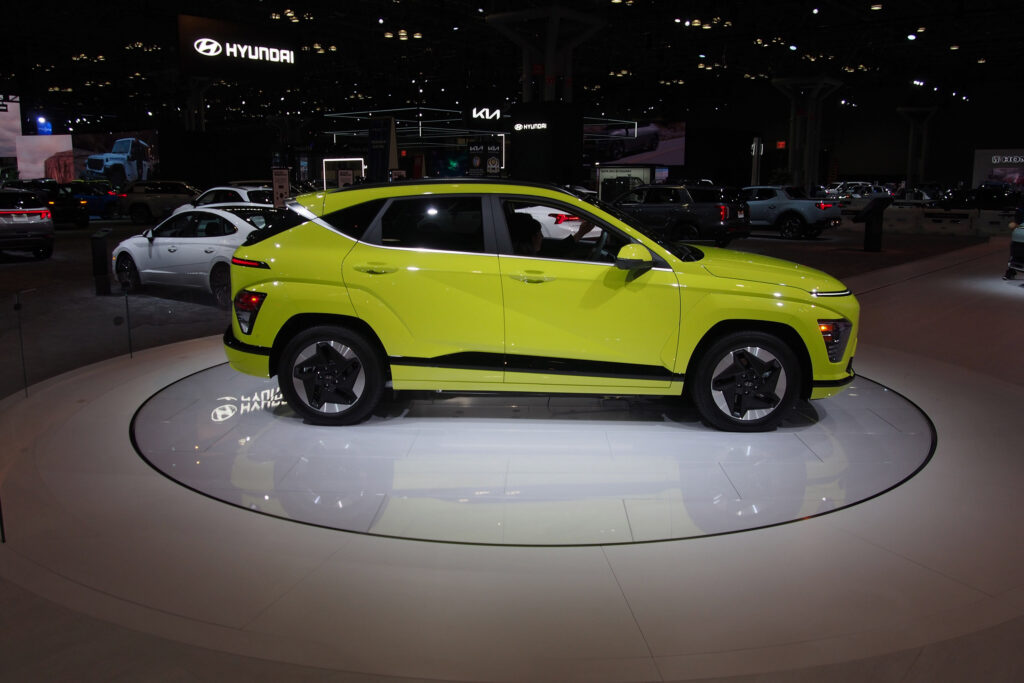 Unlike some other EVs, this one is built on a platform that was designed to support electric models first, not the other way around — engineers did not convert a combustion-powered vehicle architecture to be electric. This should give the new Kona some important benefits, not the least of which is an increase in size. Overall, this crossover is about 6 inches longer than its predecessor, the wheelbase has increased by 2.3 inches and the vehicle is about 1 inch wider than before.
The new Kona Electric offers two battery sizes. The smaller pack clocks in at 48.6 kilowatt-hours and provides and estimated 197 miles of range, which is OK. The larger unit checks out at 64.8 kWh and is expected to provide a much more appealing 260 miles of driving on a charge.
When it's time to replenish the electron reservoir, the new Kona Electric can DC fast charge from 10 to 80% in around 43 minutes, a mediocre performance. Keep in mind, this is an affordable, mass-market EV, not a premium offering, so you can't expect the world. Helping improve performance and range in cold weather, the Kona Electic is also available with battery preconditioning.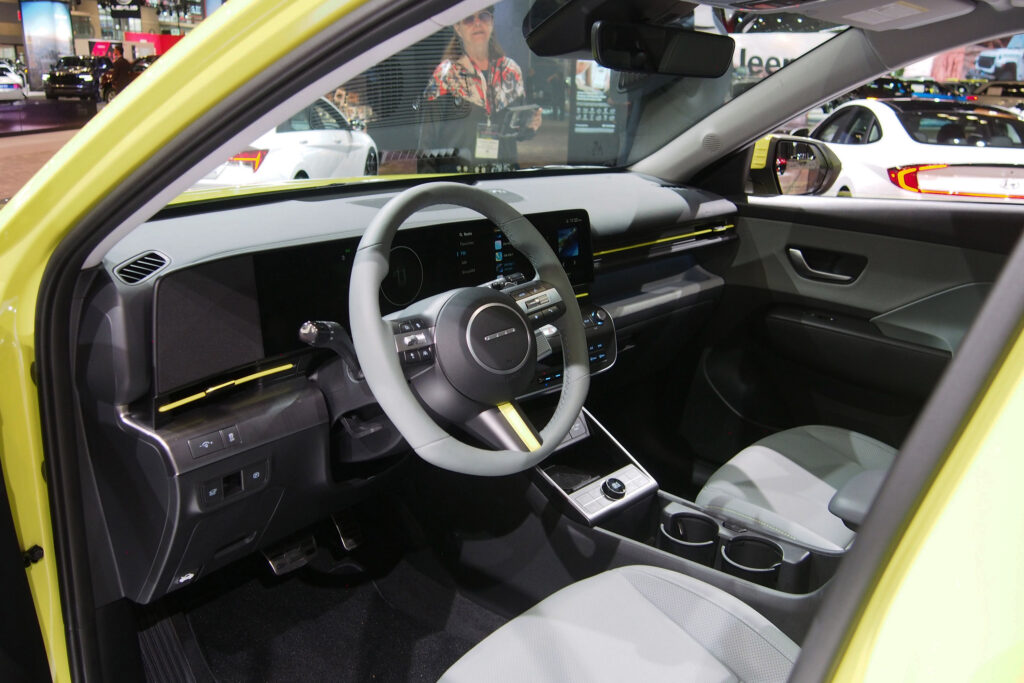 When it comes to giddy-up, the new Kona Electric is front-wheel drive. Models fitted with the small battery are graced with a 133-horsepower motor, while the larger pack helps deliver 201. Either way, you get the same 188 pound-feet of torque. Helping recuperate energy, this vehicle now features Hyundai's smooth and intuitive i-Pedal one-pedal driving mode, which allows the Kona Electric to roll to a stop without you having to touch the brake pedal.
Of course, if you prefer something a little more old school, the new Kona is also offered with two gasoline engines. The base unit displaces 2.0-liters and is rated at an estimated 147 hp and 132 lb-ft of torque. N Line models feature a 1.6-liter turbo-four that is expected to deliver 190 hp and 195 lb-ft of twist.
Matching its fresh exterior, the new Kona has a brand-new interior. A pair of 12.3-inch screens are impossible to miss. There's also a handy storage cubby running across the passenger side of the dashboard. Helping improve rear seat legroom, the front seat backs have been made about 30% thinner.
When it's time to haul cargo, this Hyundai does not disappoint. There should be 25.5 cubic feet of luggage space behind the rear seat and 63.7 with the aft backrest folded down.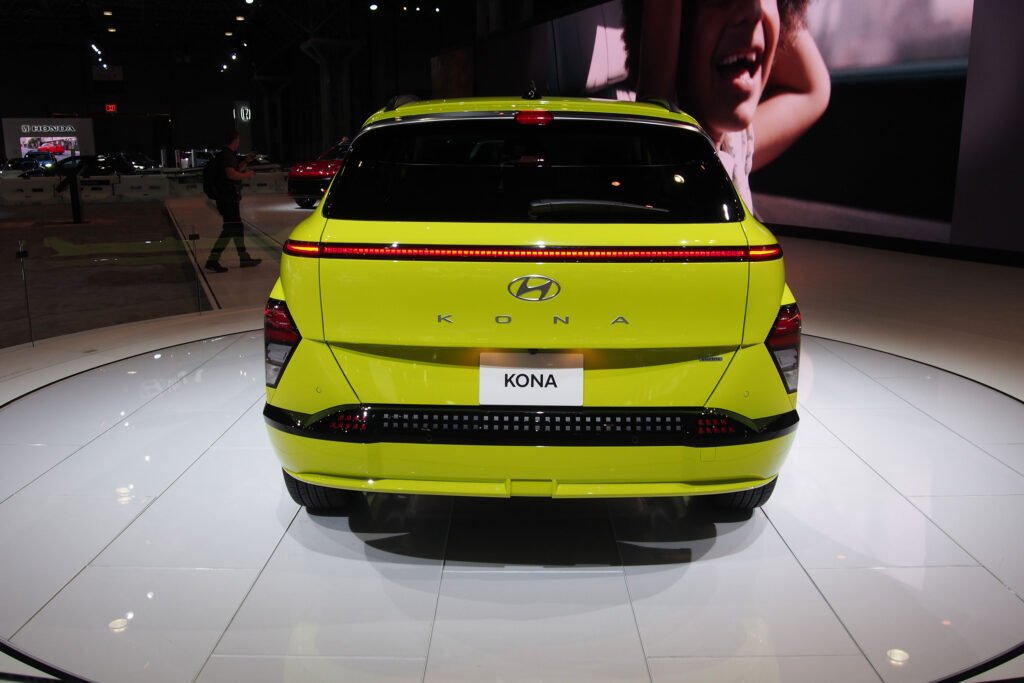 The 2024 Kona comes with plenty of tech, too. The vehicle will support over-the-air software updates to improve performance and add new features. The vehicle is available with a new digital key, which allows you to use a smart device to lock, unlock and drive the Kona without having to carry a fob around in your pocket or purse. And finally, this crossover will be offered with a raft of advanced driver aids, amenities like blind spot monitoring, automatic high beams, a 360-degree camera system and even adaptive cruise control.
The 2024 Hyundai Kona looks like a great update to an already solid vehicle. Combustion-powered models are likely to start arriving at dealerships this summer, while the electric version is not expected to be available until late in the fall. Naturally, pricing will be announced closer to this stylish and eminently likable crossover's on-sale date.