Easing onto the accelerator while pulling out of pit lane, the all-electric Honda eGX Racing Kart Concept I'm piloting immediately responds with a herculean shove, sending me hurtling toward the chicane. A quick left-right flick of the heavily weighted steering wheel has me safely around the first set of cones and into the next corner. Mighty performance with no extra heat, vibration or noise, and zero noxious exhaust fumes proves electrification is the way, whether it's a full-size truck, a family-friendly crossover or even a 276-pound go-kart.
In a bid to electrify grassroots motor sports, Honda showed off its eGX Racing Kart Concept to media, giving schlubs like me a chance to experience the benefits of electrification on a smaller-than-usual scale, much smaller in this case. We typically evaluate cars and trucks here at EV Pulse, rarely something petite enough to be carried by two people.
Essentially a off-the-shelf Parolin racing kart modified with battery boxes, an electric motor and associated electronics, the eGX concept is designed to provide motor sports enthusiasts with a vehicle that has high output and durability in a compact, relatively lightweight and, perhaps most importantly, low-cost package. After a few minutes behind the wheel, it seems the automaker delivered on all these promises and more.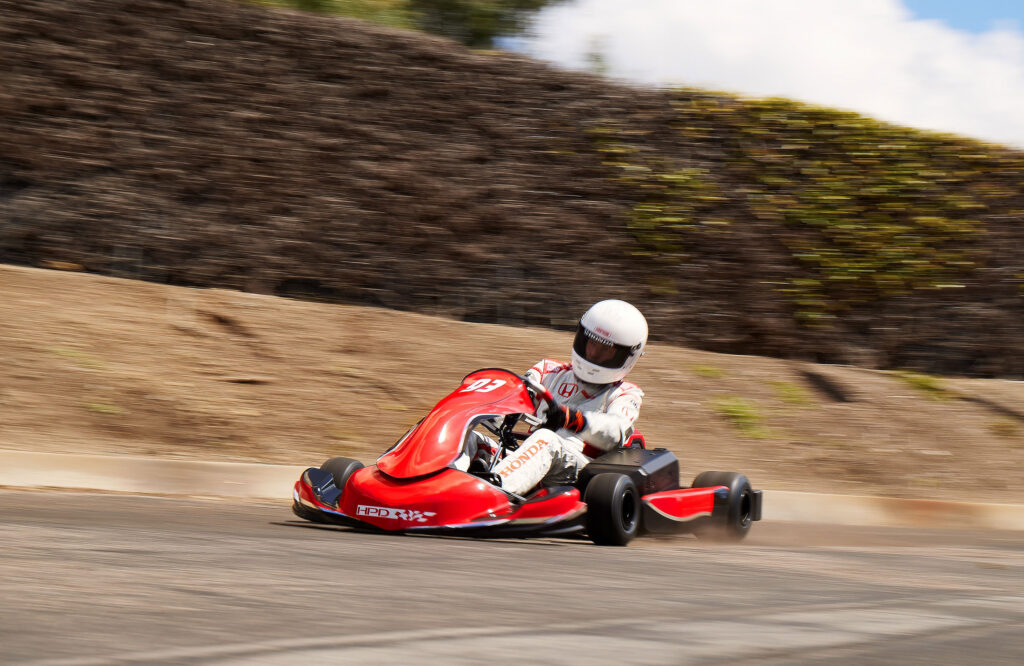 What sets this go-cart apart from others is the powertrain, specifically, Honda's Mobile Power Pack e system, which is built around swappable batteries and is currently available in things like scooters in certain Asian countries. The eGX concept is motivated by two of these battery packs, each one sliding into a latch-top bin on either side of the driver. They lock in place with a reassuring click and are held snug by a large bail.
Mobile Power Pack e batteries weigh 10 kilograms, around 23 pounds, so they're easy to handle, if not quite light enough to toss around like you could a small fuel can. At less than a foot long and around 7 inches in width and height, each battery stores 1.3 kilowatt-hours of power and can recharge in about 5 hours. Wired in series, these energy reservoirs provide 35 to 45 minutes of run time. If your hands and arms can withstand the kart's ultra-weighty steering and your backside doesn't tire from the molded seat, you can swap the batteries in about 30 seconds to keep on racing.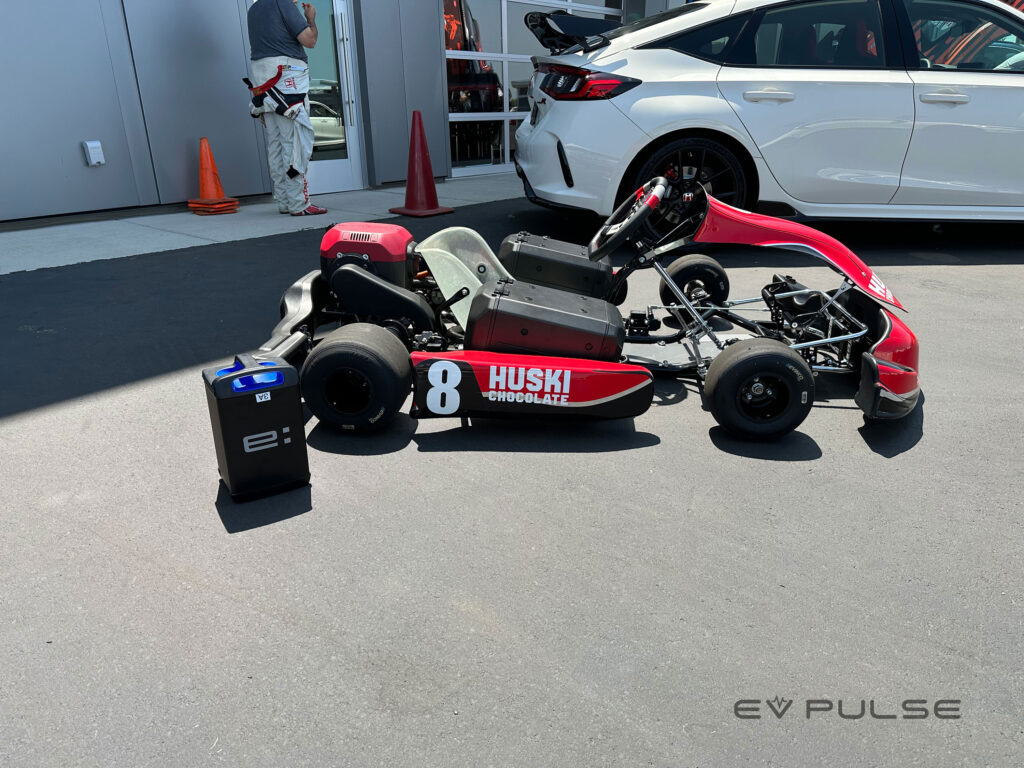 Honda representatives will not share how much power or torque the eGX Racing Kart Concept has, but the sprightly little vehicle has a top speed of around 45 mph, which doesn't sound like much, but it feels way, way faster when you're just inches above the pavement. Of course, aside from the powertrain, which has numerous benefits over gasoline engines, this vehicle drives like any other kart, with instantaneous reflexes and a snug driving space. The contoured seat and tight packaging keep you firmly in position with no need for additional safety restraints. The batteries on either side also help make it feel like you're locked in place behind the wheel.
Overall, this little EV is less than 78 inches in length, measures about 53 inches across and has a wheelbase of 41.3 inches. With a chromoly steel tube frame and a single 7.6-inch brake rotor the whole shebang weighs around 230 pounds, or 276 with the batteries installed.
Another advantage this Honda has over conventional, combustion-powered racing karts is that it also has reverse. Just press two buttons on the steering wheel and the vehicle slowly backs up, which makes maneuvering a snap.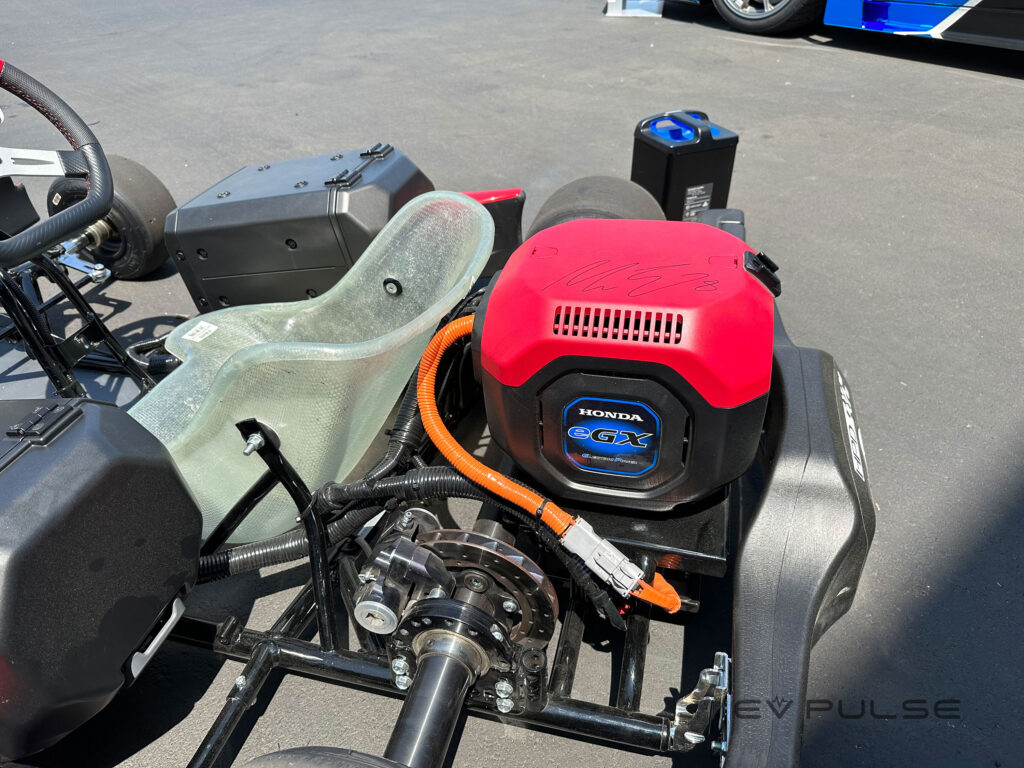 Honda is far from a leader in the electric vehicle space, but the Japanese automaker is moving to change that. Its Prologue and Acura ZDX SUVs are set to launch soon, and additional EVs are in the pipeline. Unfortunately, it seems unlikely Honda will build a production version of the eGX Racing Kart Concept or even offer the powertrain for retrofitting to existing karts. According to a company spokesperson, this is just a design study, one that's still in the early stages of development. Still, for grassroots motor sports enthusiasts, this setup's responsiveness, smoothness and lack of heat or tailpipe emissions truly elevate the racing experience. Let's hope Honda decides to offer this powertrain in the future.