If you've recently purchased a PHEV or BEV and it came with a charging cable, you're probably wondering what's the best way to store it. The last thing you want to do is have the cable loosely scattered across your garage floor, and you want to keep that connector as well protected as possible. One of the easiest and most affordable solutions is to purchase an EV charger holster dock. While it may seem that many of these holster docks and charging cable holders are very similar, there are some minor differences that make some better than others.
Below, you'll find a couple recommendations for EV nozzle holster docks that I've personally tested and currently use in my garage. I've also included an option for Tesla owners and some information as to why you want to install one of these to manage and store your EV charging cable. That is, if you decide you don't need to purchase a separate home EV charger.
1. Lectron J-hook and nozzle holster dock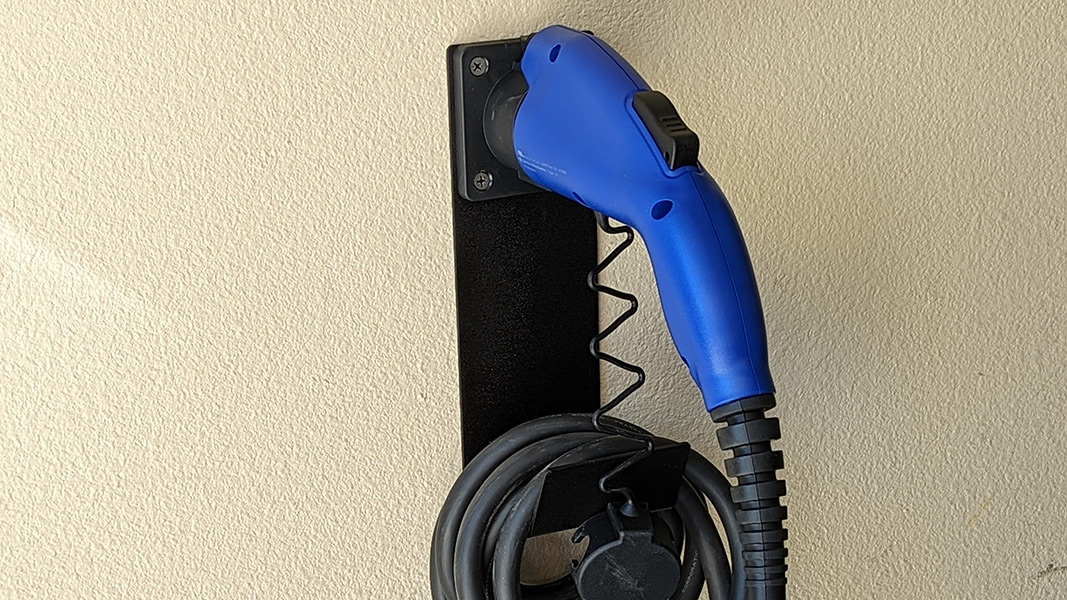 My search for a good holster began after I got a Toyota Prius Prime. The vehicle came with a standard Level 1 charging cable, but no easy way to keep it organized inside my garage. So while I still debated whether or not the Prius Prime needed a Level 2 charger, I decided to purchase the Lectron J-hook and nozzle holster dock combination, which you see above. It's a pretty basic option with two separate pieces — a hook to organize your charging cable, and a holster for the connector.
It came with all the necessary hardware to install it, which was a really quick installation. Just drill four holes, install the wall anchors, and then the screws. Quality for the combination J-hook and holster dock is good, especially at the price. The hook is metal, which is nice since a lot of other products are full plastic. There's nothing too sophisticated with this product's design, but it works well. This is the one I like to recommend if you need a simple solution that doesn't take up a lot of space.
Another added bonus is that there isn't any branding on this product, which I know some readers prefer.
2. Wallbox Berlin connector and cable management holster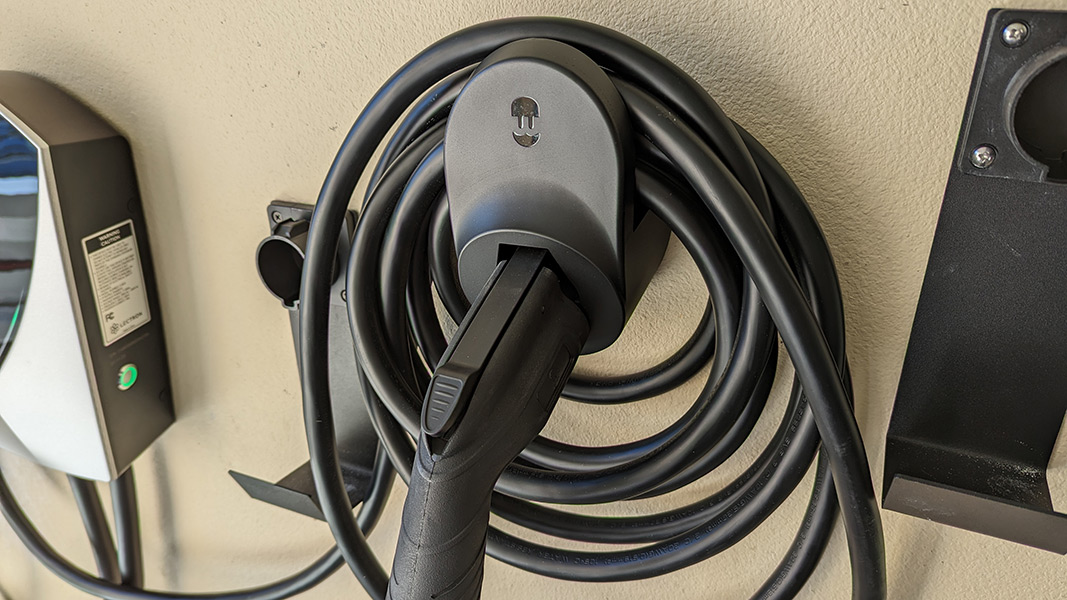 I recently had the opportunity to test Wallbox's Pulsar Plus home EV charger and it came with the "Berlin" J1772 connector and cable management holster. It's a bit bulkier than Lectron's J-hook and nozzle holster dock, but I do like that it gives the connector a slight downward angle for better clearance. My garage is a single car garage, meaning it's not very wide and the mirrors on my car can sometimes get uncomfortably close to the EV charger connectors I'm testing.
This nozzle holster dock is a one-piece design and the charging cable wraps around it. Overall, it's nicely constructed although it is completely plastic. Installation is straightforward with just two screws and it does come with the mounting hardware you need.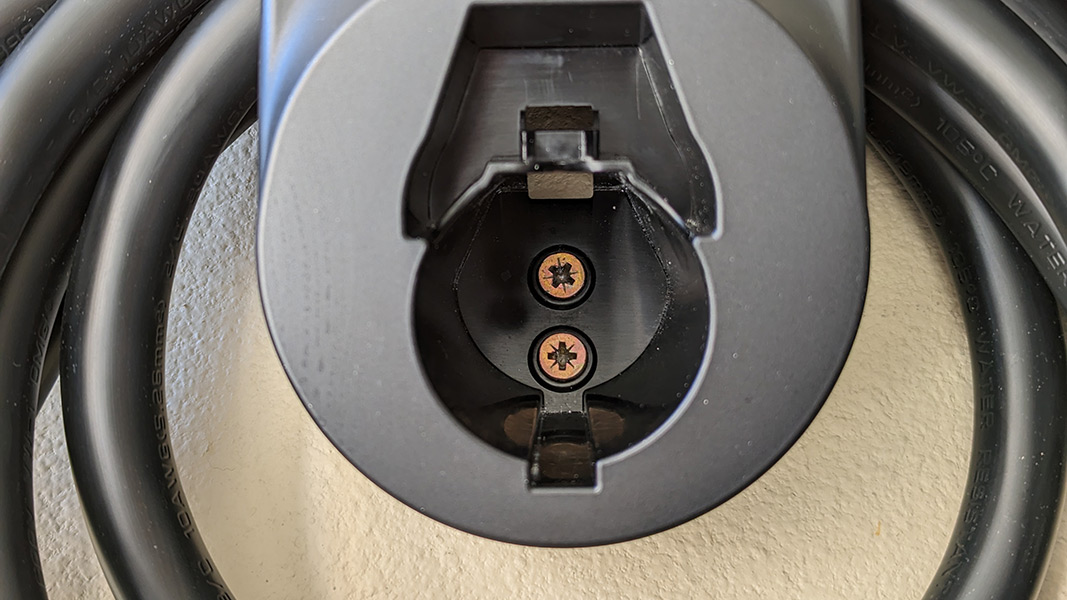 3. Best for Teslas: Seven Sparta charging cable holder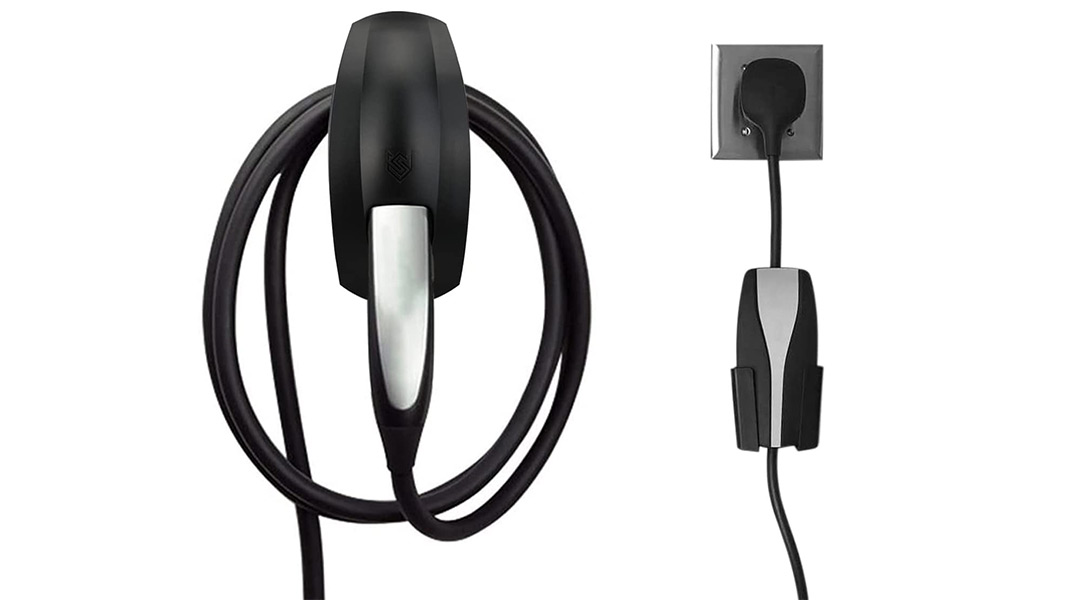 While I no longer own a Tesla, I did previously have a Model 3 that came with the corded mobile connector. I hardly used it however, since I was part of the period of time when Tesla referrals actually got you real good rewards, like a free Wall Connector. But I do have several friends who own Teslas and this charging cable holder from Seven Sparta comes highly recommended. It's a slick organizer to keep your charging cable neat and secure, constructed from ABS plastic.
It's also worth purchasing even if you do own a Tesla Wall Connector, since it allows you to manage your cable and connector separately. For example, if you had to install the charger near your electrical panel and that location makes it inconvenient to plug-in your vehicle, you can run the cable and connector somewhere else and keep it holstered with this package.
Why do I need an EV charger holster?
The most obvious reasons to install an EV charger holster is to better organize your charging cable and to protect your charger's connector from the elements. Most connectors have a plastic shell and some can get terribly damaged after just one or two accidental drops. Also, you don't want a loose charging cable on your garage floor, since someone can easily trip on it. It's also not something you want to drive over.
Are EV charger holsters universal?
Most EV charger holsters are designed for J1772 connectors. Unless you are driving a Tesla, chances are you'll need a charger holster for a J1772 connector. If you do own a Tesla, make sure the charger holster you're getting is compatible with a Tesla connector.
Can a charger holster be used outdoors?
If you purchase one suitable for outdoor use, yes. Some charger holsters are designed for outdoor use and will do a better job at protecting the connector from exposure to the elements. If you need a holster for outdoor use, make sure to check whether or not the one you're purchasing is suitable for outdoor use.