As the plug-in hybrid variant of the popular Toyota Prius, the Prius Prime offers an EPA-estimated driving range of 25 miles in EV Mode from its 8.8-kWh battery pack. The vehicle comes with a charging cable that offers Level 1 charging speeds and can be plugged into your standard 120-volt household outlet. In this post, we'll try to answer the question of whether or not you need a Level 2 home charger for your Toyota Prius Prime, since it largely depends on your daily driving situation.
Level 1 charging
When using the included charging cable and a standard household outlet, the Toyota Prius Prime takes about 5.5 hours to fully charge from empty. Depending on how often and how far you drive, Level 1 charging may be adequate for you. For example, if your daily commute is under 25 miles, Level 1 charging is probably sufficient. But if you're often coming and going, the slower charge times may not be enough to refill your Prius Prime's battery pack before your next trip.
Level 2 charging
The Prius Prime has a maximum charge rate of 3.3 kW, so it doesn't take full advantage of a Level 2 charger. When using public Level 2 charging stations or a Level 2 home EV charger, it will take approximately 2 hours and 10 minutes to fully charge the Prius Prime from empty. That is about less than half the time of a Level 1 charger and that can be advantageous for some owners. If you're taking several trips throughout the day and able to charge in between those trips, then a Level 2 home EV charger might make sense for your Prius Prime. You're basically getting double the range compared to a Level 1 charger, so even if it's just a short recharge, you'll reap some benefits.
Recommended Level 2 home EV charger
Since the Toyota Prius Prime has a maximum charging rate of 3.3 kW, you don't necessarily need to purchase a top-of-the-line Level 2 charger. If you decide that a Level 2 home charger makes sense for your Prius Prime, we recommend the JuiceBox 32, which provides up to 7.7 kW — more than enough for your plug-in Prius. To install any Level 2 charger at home, you'll need to have a 240-volt outlet (for plug-in chargers) or have an available circuit breaker that can accommodate a hardwired solution.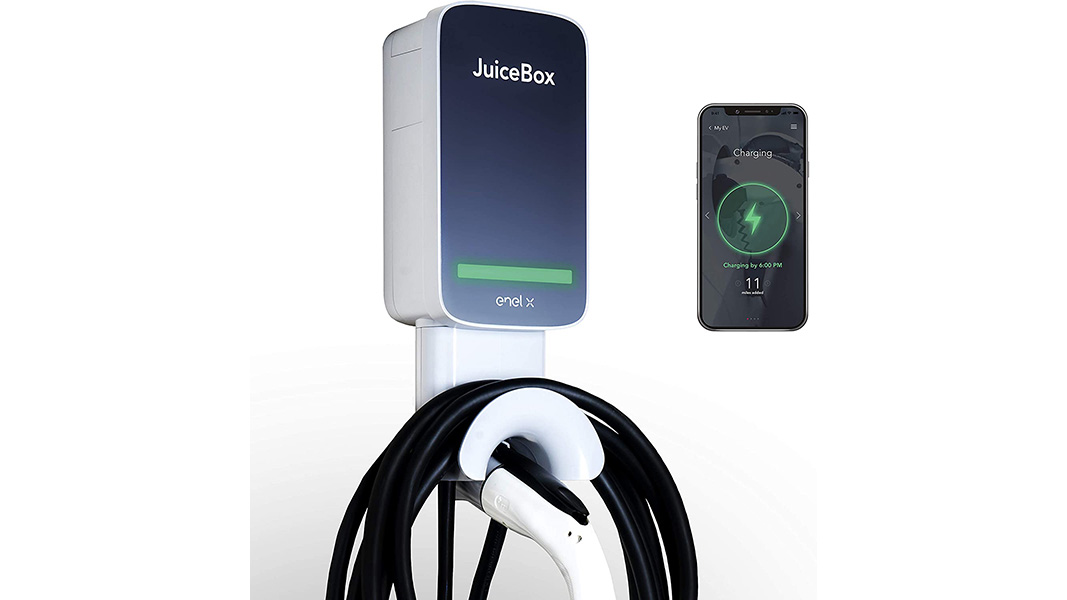 The JuiceBox 32 from Enel X is a 32-amp, 7.7-kW charging station and is available with a NEMA 14-50 plug or hardwired. It supports WiFi connectivity, so you can install the JuiceNet app on your mobile device to control the charger remotely. That includes scheduling your charge times, setting reminders to charge, and more. This home EV charger also supports voice commands through Amazon Echo or Alexa. Our staff here at EV Pulse actually use JuiceBox chargers at our office, albeit the commercial versions. Over the years, we have found them to be reliable and easy to use, so they're our go-to recommendation for home EV chargers.
If you plan on eventually upgrading your Prius Prime to a BEV or thinking of adding one to your garage as a second vehicle, you might want to consider the JuiceBox 40 or even the JuiceBox 48. Those chargers can take advantage of faster charging rates, if the vehicle supports it. If the Prius Prime is all you care about, then save some money and get the JuiceBox 32.
If the JuiceBox 32 is out of your price range, you can check out our full list of the
best home EV chargers
for other recommendations.