The 2024 Mazda CX-90 is a three-row SUV that replaces the CX-9 in the Japanese automaker's lineup. Far more than just a renamed refresh, this new utility vehicle emphasizes design and driving dynamics in a way none of its rivals do, plus it's available with a plug-in hybrid powertrain, which is almost unheard of in the segment.
New from the ground up
Built on a new platform with the engine mounted longitudinally opposed to transversely, every version of the CX-90 comes standard with a rear-biased all-wheel-drive system for enhanced dynamics and extra traction in every driving situation. Unexpectedly, the CX-90's wheelbase is 7.5 inches longer than the outgoing CX-9's, though the new model has a tighter turning circle.
Equally fresh is this SUV's new 3.3-liter turbocharged inline-six that's available in non-plug-in-hybrid models. Less exciting though more significant, electrified variants feature a naturally aspirated 2.5-liter four-cylinder engine that's matched to a 68-kilowatt electric motor. That little dynamo provides 173 horsepower and 199 pound-feet of torque on its own, but this drivetrain delivers a total of 323 hp and 369 lb-ft of twist when you put premium fuel in the tank, plenty of both for speedy acceleration.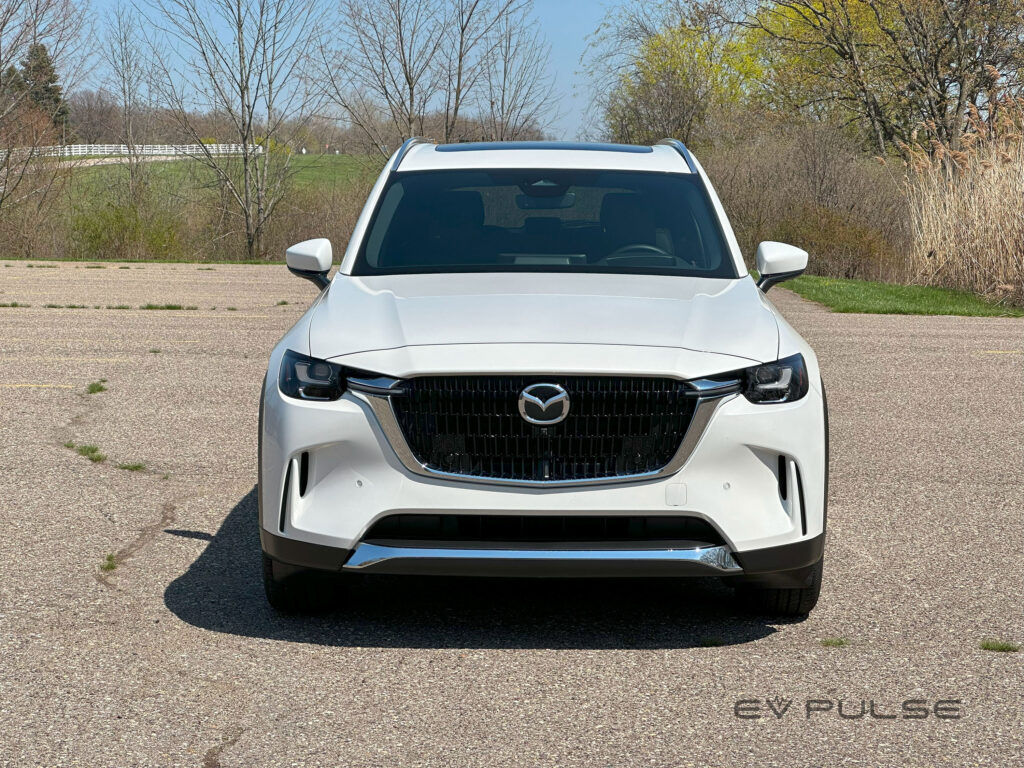 A 17.8-kilowatt-hour lithium-ion battery feeds the system and provides an EPA-estimated 26 miles of electric-only range, a not-insignificant amount. According to Mazda, this pack can Level 1 charge from 20 to 80% in 6 hours 40 minutes. Mercifully, Level 2 charging is much quicker. The CX-90 PHEV can do the same deed in just 1 and a half-hours. It's interesting, and a bit misleading, that Mazda lists 20-to-80% recharge window opposed to the quasi-industry standard, which is 10 to 80%.
This Mazda's hybridized powertrain is mostly agreeable, delivering good performance and a 3,500-pound maximum tow rating. Unfortunately, the four-cylinder engine never sounds happy, and the standard eight-speed automatic transmission, which has a wet clutch instead of a conventional torque converter, isn't always smooth, exhibiting occasional lumpiness, though this is a minor complaint. Additionally, this Mazda's power delivery can feel a bit uneven at times, though it's far from the worst plug-in hybrid out there, in fact, it's one of the better offerings, more refined than the Jeep Grand Cherokee 4xe's powertrain. Not surprisingly, this SUV is considerably less vigorous when motivated by the electric motor. Acceleration, while silent and silky, is, at best, adequate.
Giving drivers some flexibility, there are several driving modes including Towing, Sport, Normal and Off Road. Beyond those, if there's sufficient juice in the battery pack, EV mode allows the vehicle to run solely on the electric motor, though the engine will engage to provide extra oomph if you push the accelerator past the kick-down switch. Using just the electric motor, expect 56 MPGe combined, though if the engine is in play, the CX-90 should return 25 mpg in mixed driving.
A true driver's SUV, but does it matter?
The CX-90 certainly drives well, better than probably any other mainstream three-row utility vehicle out there, but does this matter to your average motorist? The difference between how this Mazda rides and handles isn't leagues ahead of, say, a Chevy Traverse, Ford Explorer, Honda Pilot or Hyundai Palisade. These are all competent vehicles and, for consumers, things like price, fuel efficiency and reliability are likely more important than lively dynamics.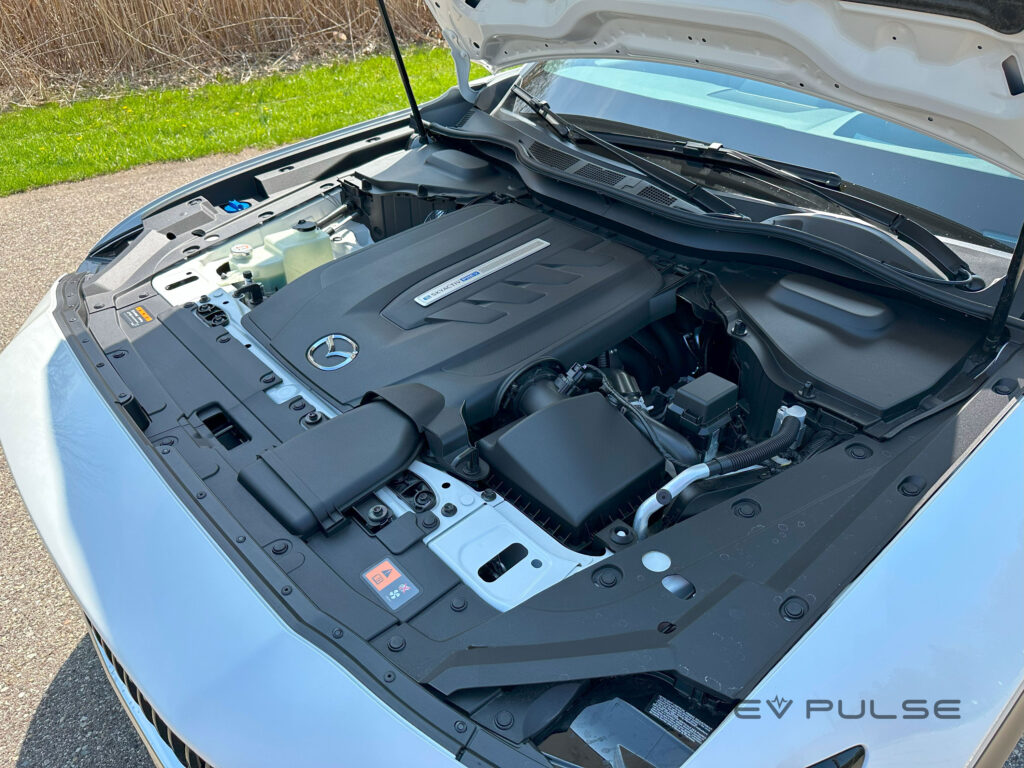 In normal, straight-ahead driving, the CX-90's steering is fine. It feels dense and the vehicle seems to need a bit more corrective input to track straight in its lane. Other than that, the steering is largely unremarkable, but where the magic happens is in corners. Toss this SUV into a turn and the ordinary steering transforms, becoming as crisp as a fresh head of romaine lettuce, unexpectedly precise and nicely weighted. The difference is, frankly, startling. When pushed, there's also minimal body roll in corners, though this is not surprising because the suspension is quite stiff. This Mazda's ride is probably a little too starchy for its own good, the husky 21-inch wheels crashing over potholes and washboard surfaces. Moms and dads will want a little more compliance from their family haulers, even if it comes at the expense of a little steering sharpness.
Dynamite design
The CX-90 is nice to drive and economical to operate, but what truly sets it apart from every other SUV in its class — and many luxury vehicles, too — is design. This three-row hauler is almost impossibly clean. There's such restraint to the styling, no superfluous creases, unusual cutouts or tacked-on trim. From hood to hatch, elegance is the name of the game.
This vehicle's proportions are entirely conventional — there's only so much you can do with a two-box design — but the details make all the difference. Up front, the grille is smiling and happy, framed by a tasteful bow of chrome. The headlamps are narrow and leering to keep the CX-90 from looking too friendly. The sides are nearly free of lines or trim, leaving naked surfaces for shadow and reflection to play on. And of course, the back is handsome, too, with a sleek, simple design that has a strong Mazda family resemblance.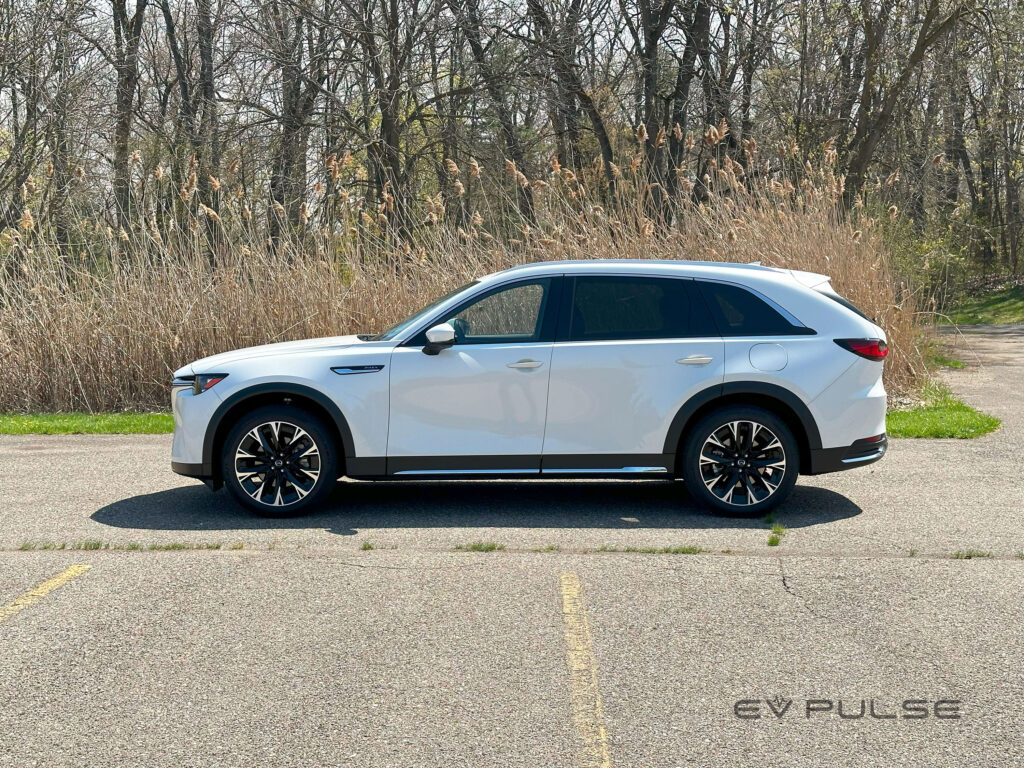 Inside, the CX-90 is just as nice. This vehicle's cabin is super premium, chockablock with rich leather and soft plastics. The assembly quality is, not surprisingly, top notch, too. It's no exaggeration to say this interior wouldn't look out of place in an Audi, Lexus or Mercedes-Benz.
Loads of luxury
Plug-in hybrid models are offered in three trim levels: Preferred, Premium and Premium Plus. The top-shelf version evaluated here includes a broad range of amenities. There's Nappa leather, heated and ventilated front seats, a 360-degree camera system and much more.
Depending on configuration, the CX-90 can seat six, seven or eight people. Starting up front, the bucket seats power adjust in eight ways, yet, the driver's chair is far from the most comfortable I've ever experienced. The lower cushion is a little too short for taller folks and doesn't extend, plus the front seats don't angle up far enough at the front, making it feel like you're perpetually leaning forward on your toes.
Surprisingly, the available second-row buckets might be nicer than the front seats. There's a good amount of legroom and headroom here, plus the bottom cushions are a nice height above the floor, so it feels like you're sitting on a chair opposed to the floor.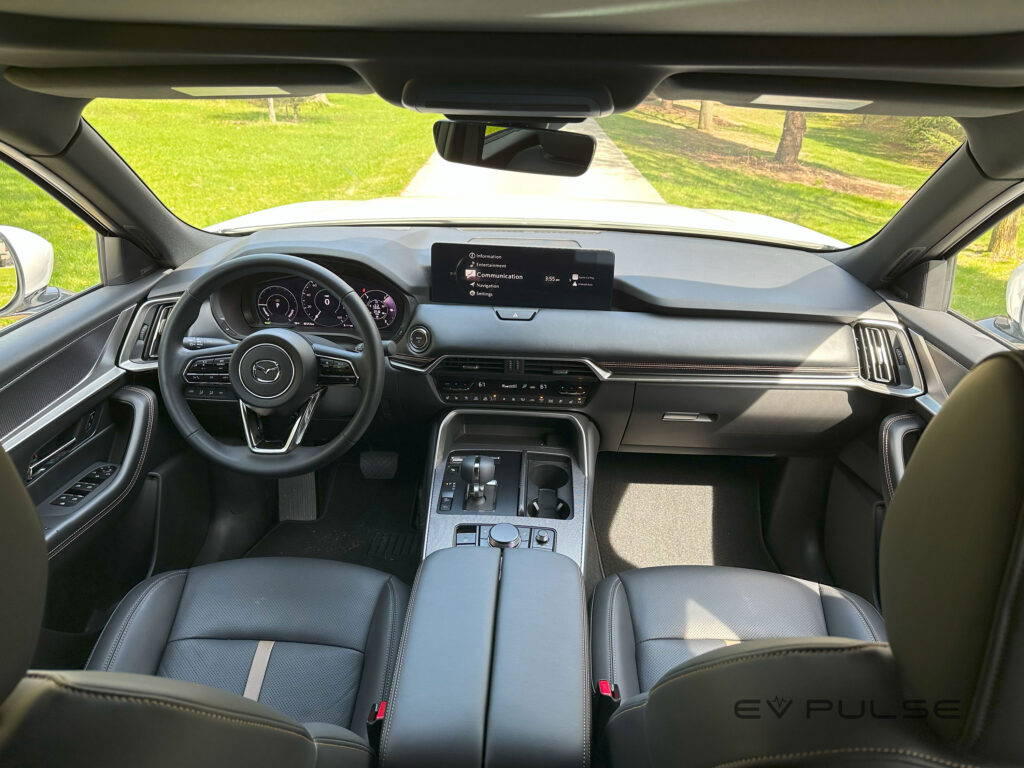 Heading to the third row, there's a noticeable kick up in the floor between the second-row seats, but this doesn't hinder access to the aft-most accommodations. Against the odds, the CX-90's third-row seat is not a terrible place for 6-foot-tall adults. The cushion is a decent height above the floor and there's ample headroom, though legroom does come up a little short. Making up for this slight deficit, there are HVAC vents, a range of cupholders and several USB ports.
The CX-90 comes standard with a 10.25-inch central display, though the Premium Plus Package gets you a lovely 12.3-inch touchscreen with a very wide aspect ratio, so it fits on the dashboard nicely. You can use your fingers to navigate the Mazda Connect infotainment system, but the screen is quite a reach from the driver's seat, so it's easier to use the control dial on the center console.
This multimedia array has never been one of my favorites, not even close, but Mazda Connect seems far more responsive in the CX-90 than it has in other vehicles. There's a bit of a learning curve, especially for rearranging radio presets, which is so confounding and counterintuitive you'll be screaming at the car until you learn the secret. Of course, you can avoid much of this frustration if you use a smartphone-mirroring system. And fortunately, wireless Android Auto and Apple CarPlay are both supported in the Premium and Premium Plus packages.
Beauty is more than skin deep with the 2024 Mazda CX-90
The 2024 Mazda CX-90 PHEV starts around $49,000, though the top-shelf example tested here checks out for an estimated $58,920. That price includes $1,375 in destination fees ($1,420 in Alaska) and $595 for a blindingly bright Rhodium White paint job.
The CX-90 plug-in hybrid offers a unique blend of efficiency and performance you don't get from other three-row SUVs. And while it's not necessarily the most comfortable vehicle in its class, this Mazda is arguably the best driving, nicest looking and most premium three-row SUV available from a non-luxury brand, though this Mazda easily gives blue-chip automakers like Audi, Lexus and Mercedes-Benz a run for their money when it comes to design and interior quality. If stunning design, premium appointments and engaging dynamics are what you're looking for in a three-row SUV, the CX-90 is the only vehicle in its class that delivers it all in one package.
At a glance
Year: 2024
Make: Mazda
Model: CX-90 PHEV
Trim: Premium Plus
Type: Three-row plug-in hybrid SUV
System horsepower: 323
System torque: 369 pound-feet
Electric horsepower: 173
Electric torque: 199 pound-feet
Electric range: 25 miles
Pros: Decent electric-only range, stunning design, luxury-car interior, usable third-row seat
Cons: Too-firm ride, coarse-sounding engine, tepid electric performance
Estimated PHEV base price: $48,820 including $1,375 in destination fees
Estimated as-tested price: $58,920 including $1,375 in destination fees