The 2023 Mercedes-Benz EQE SUV does a lot of things very well, which shouldn't be a surprise since this all-electric utility vehicle is basically an EQE sedan that was left to rise like bread dough in a warm corner. Thanks to its pumped-up body, this SUV offers more comfort and space than its four-door sibling, all without sacrificing any of the fundamental goodness inherent to the sedan.
Compared to its four-door progenitor, the EQE SUV's wheelbase is roughly 3.5 inches less and its body is about 5 inches shorter, surprising differences, since these are pretty foundational numbers for any vehicle. But other than those dimensional changes, the two machines are nearly identical inside and out.
The EQE SUV's body is sleek and slippery, with elegant proportions that make this vehicle even more attractive that the sedan, which kind of a saggy beltline. This example is also fitted with the optional $1,200 Digital Light Package that includes an illuminated band between the LED headlamp assemblies. There's also the $2,200 AMG Line Exterior Package that embellishes the vehicle with a unique — and more aggressive — front fascia, adds flared sill trim and enhances the rear bumper. In additional to all that, the optional 21-inch wheels look nice and cost a reasonable $1,950.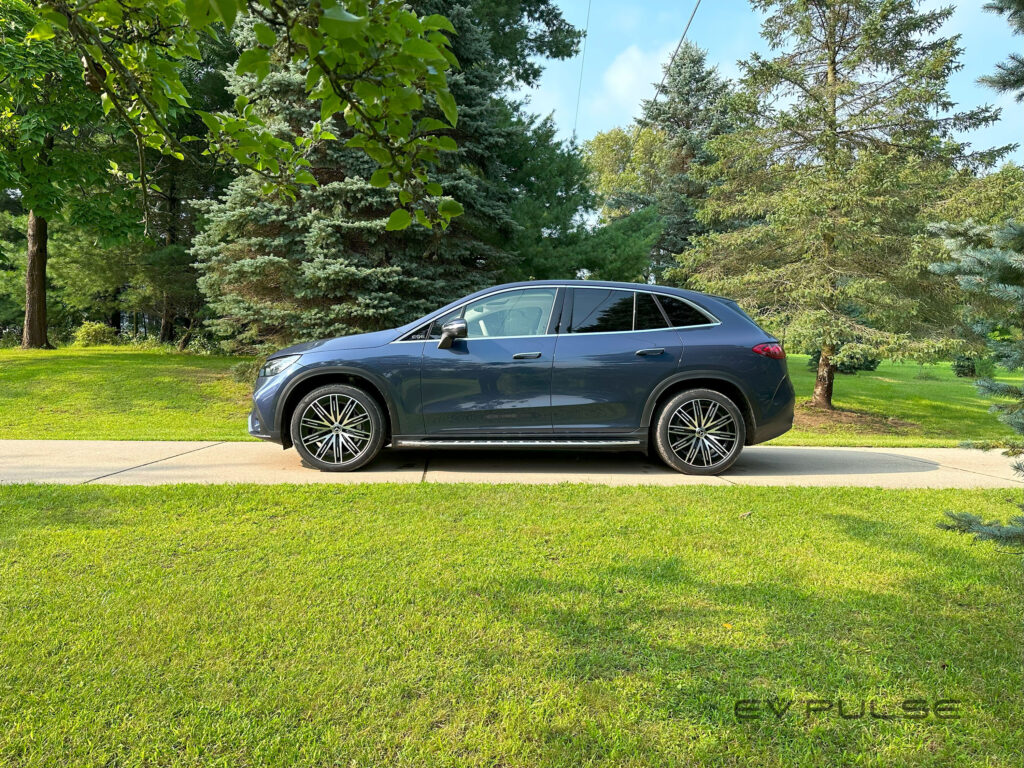 When it comes to paint colors, the palette is limited and conservative, no surprise for a German automaker. Aside from black, white, silver, gray and a dark green that may as well be black, Mercedes-Benz also offers Twilight Blue Metallic, a smoky hue that looks great and does not cost extra.
If there's one thing to dislike about the EQE's exterior, strongly dislike, it's the optional running boards. Sprouting from the rockers, these tacked-on protuberances may be the most useless feature offered in the automotive world today. A hindrance rather than a help, all they do is streak your pantlegs with dirt and mud as you try to step over them. This vehicle sits low enough to the ground that even people of short stature do not need running boards, so save yourself a weekly dry-cleaning bill and the $650 Mercedes-Benz wants for these silly things.
Speaking of dollars and cents, luxury automakers love charging extra for every little feature, and there's no exception here. If you want a heated steering wheel, ventilated front seats, four-zone climate control or even a cleaning cloth for the touchscreen, that all costs extra. The EQE SUV is an undeniably premium vehicle, and amenities like those should probably just be standard in a product of this caliber.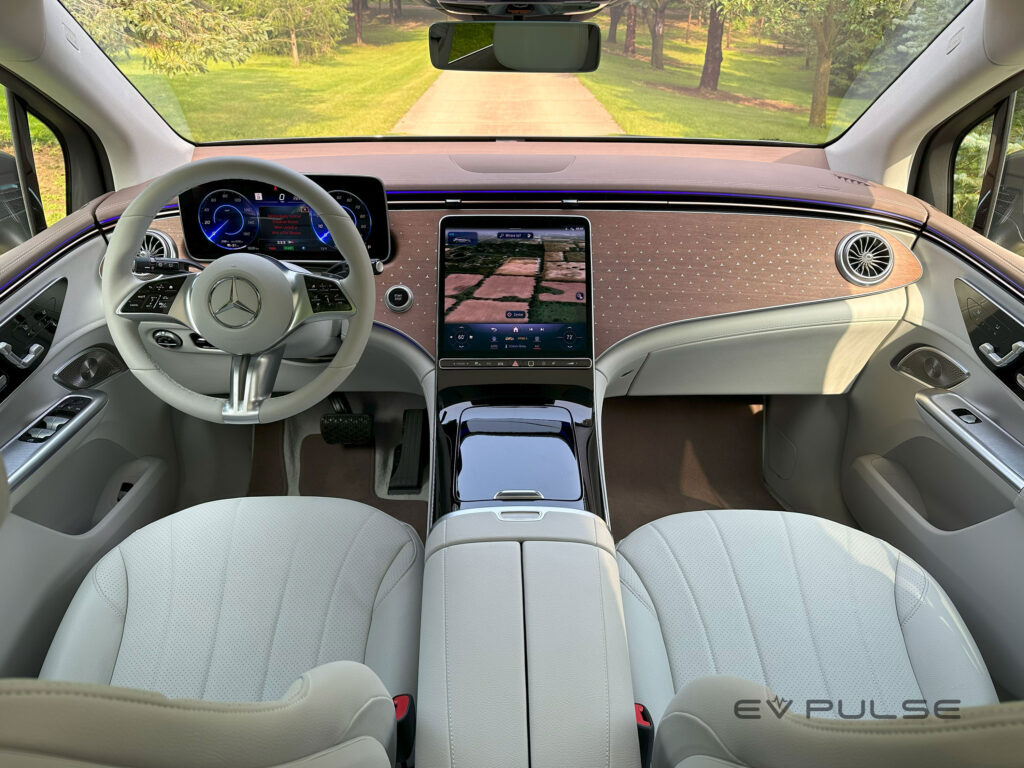 Once you've settled in, there's plenty to love about the interior. Not only is it comfortable and well built, but this SUV's cabin is stylish and richly appointed, too. This example is fitted with MB-Tex artificial leather, a material that feels good and looks fantastic, especially in the Neva Grey and Sable Brown color combo. Of course, genuine leather is available if you prefer (and don't mind paying extra).
Aside from all this, the dashboard is also dressed up with open-pore magnolia wood trim embellished with a repeating pattern on inlaid sparkles, the three-pointed center section of the Mercedes-Benz logo. These accents look fantastic and contribute immensely to the interior's opulence.
Comfort is another strong suit of the EQE SUV. The power-adjustable front buckets will keep aches and pains at bay for hours at a stretch, and the back bench is lovely as well, with plenty of legroom for six-footers. Thanks to this vehicle's elevated roofline, the rear also offers appreciably more headroom than the EQE sedan, meaning it's much better at accommodating lanky passengers.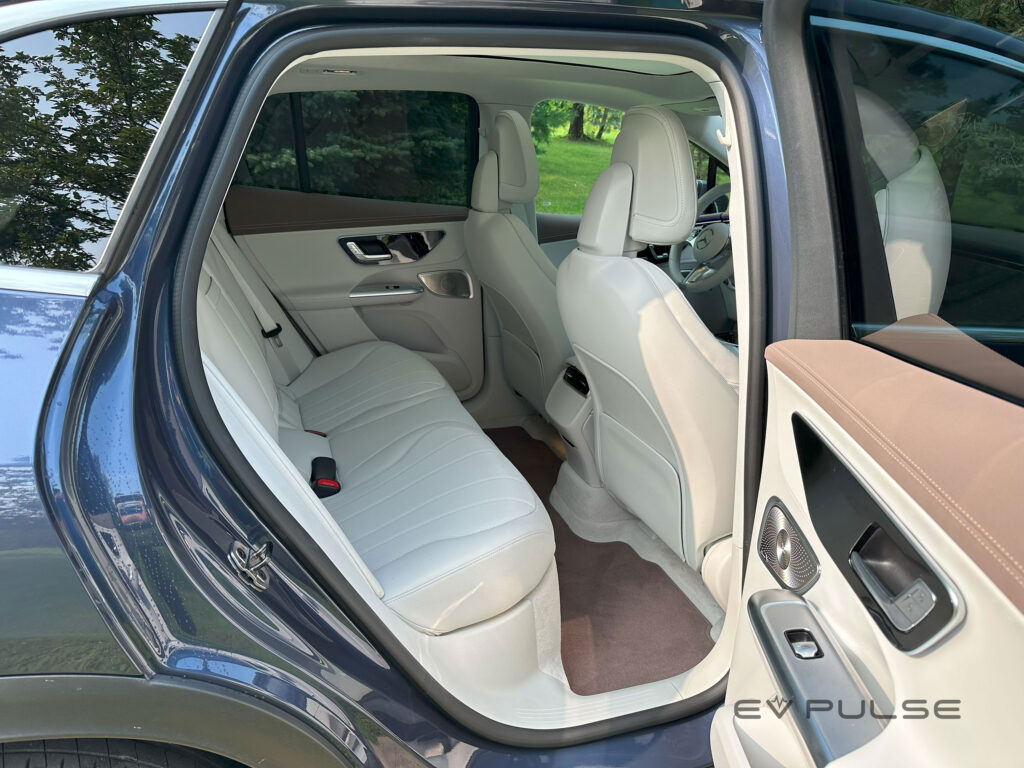 There's plenty of cargo space, too. You get 14 cubic feet behind the second-row seat, about 1.2 cubes fewer than the EQE sedan offers, however, this area is more usable in the SUV. There's also a surprisingly deep underfloor cubby, a great place for keeping precious cargo out of sight. Fold this vehicle's 40/20/40 split rear backrest down, and the cargo space expands to about 55 cubes, 59 if you load 'er up right to the ceiling.
The automaker nailed the technology in this SUV. Ahead of the driver is a highly legible 12.3-inch digital instrument cluster that's easy to read and reconfigure. On the center of the dashboard is a stunning 12.8-inch touchscreen. Beautiful and crisp, this display is home to an intuitive and responsive MBUX infotainment system, one of the best in the business today.
Midrange EQE 350 4Matic models are fitted with two electric drive motors that, combined, deliver a middling 288 horsepower, oddly, the same amount you get in the entry-level, rear-drive trim. Somewhat making up for that relatively low number is a mountain of torque, 564 pound-feet to be exact.
The acceleration this drivetrain provides is perfectly fine, but despite that mountain of twist, this SUV doesn't set the world on fire. In fact, it feels like kind of like a diesel, surging off the line, then running out of steam as speed increases. According to the automaker, this EQE should be able to hit 60 mph in 6.2 seconds, a more-than-adequate performance, but just a little more oomph might be nice. Of course, the EQE 500 4Matic and AMG version both deliver loads of additional performance if you're willing to pay the price.
When it comes to range, a 90.6-kilowatt-hour battery pack is standard. It provides this model with an EPA-estimated range of 253 miles, a merely OK performance. The base, rear-drive EQE SUV is better, able to go an advertised 279 miles on a charge, but even that falls short of the 300 we typically like to see at EV Pulse. As for DC fast charging, this vehicle tops out at a decent 170 kilowatts, enough for the battery to go from 10% to 80% in around 32 minutes.
Befitting its luxury price tag, the overall refinement of this vehicle is outstanding. The interior is whisper quiet and the ride quality excellent, even with the standard suspension, which includes adjustable dampers. Very little roadway harshness makes its way into the EQE SUV's interior, yet the vehicle stays mostly flat in corners. For an even smoother ride, an adjustable air suspension system is available for an $1,900. This setup is self-leveling and can raise or lower the body for increased ground clearance or better aerodynamics.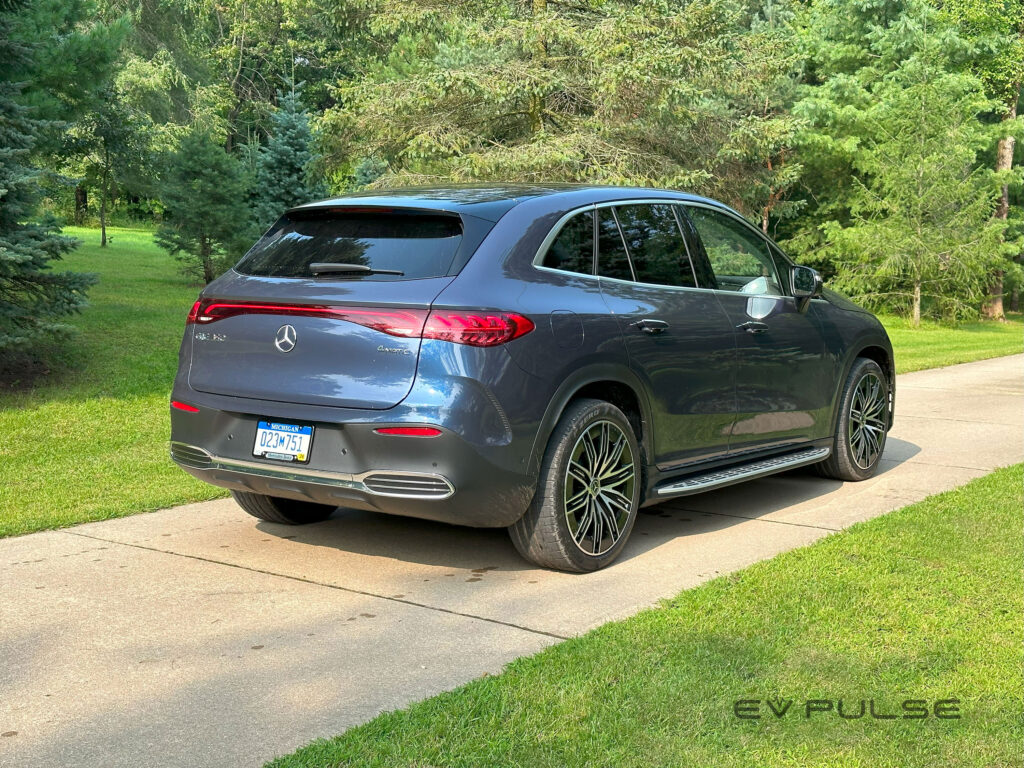 The steering feel of this SUV is not necessarily great. It's light to the touch and somewhat imprecise, which makes this Mercedes-Benz seem bigger than it is. Additionally, some of the sightlines are not great. The A- and C-pillars are chunky, and the way the hood slopes downward, you have no idea where the front bumper ends. Parking sensors and an excellent 360-degree camera system help immensely in this area.
Supercharging low-speed agility is the available rear-wheel-steering package. This allows the back tires to turn up to 10 degrees for greatly enhanced maneuverability. This option is worth every penny of the $1,300 they charge because it allows the EQE SUV to easily whip around in tight spaces, practically like a golf cart.
When it comes to pricing, the entry-level 2023 Mercedes-Benz EQE 350 4Matic SUV starts at just about $79,000, though this all-wheel-drive model checks out for $91,040 including $1,150 in delivery fees. That is a lot of money to be certain, but as with the EQE sedan, this vehicle more than feels like it's worth what the automaker is asking, thanks to its comfort, tech and pleasant overall demeanor.
At a glance
Year: 2023
Make: Mercedes-Benz
Model: EQE SUV
Trim: 350 4Matic
Type: All-electric SUV
Horsepower: 288
Torque: 564
MPGe ratings (city/highway/combined): 82/79/81
Range: 253 miles
Pros: Premium and spacious interior, excellent tech, clean styling, comfortable accommodations, low-speed agility with rear-wheel steering
Cons: Optional running boards are less than useless, options pricing, performance could be better, a little more range would be nice
Estimated Base price: $79,000
As-tested price: $91,040 including $1,150 in destination fees
Watch our video review