The latest crop of all-electric BMWs hasn't really impressed me. The i4 M50 sports sedan is as quick as a flash but otherwise not terribly engaging, and for better or worse, the all-electric iX SUV feels like a rolling art project, a little too far out there. But the 2023 i7 xDrive60 sedan is something else entirely.
This battery-powered flagship is a seriously impressive piece of work, one that manages to be both cushy and coddling yet cutting edge at the same time. Thanks to its ample comfort and advanced technology, sure-footedness and peerless refinement, the i7 hits all the right notes for me, something I haven't been able to say about a BMW in years.
Design: 75% timeless, 25% extraterrestrial
When I first saw the new i7 and redesigned 7 Series a year or so ago I thought the cars looked, well, awful. Being crammed into a tiny event space with harsh artificial lighting did these luxury sedans no favors, but after seeing the i7 in person under natural sunlight my opinion of the design has done nearly a 180. This is a seriously beautiful car, well, 75% of it at least.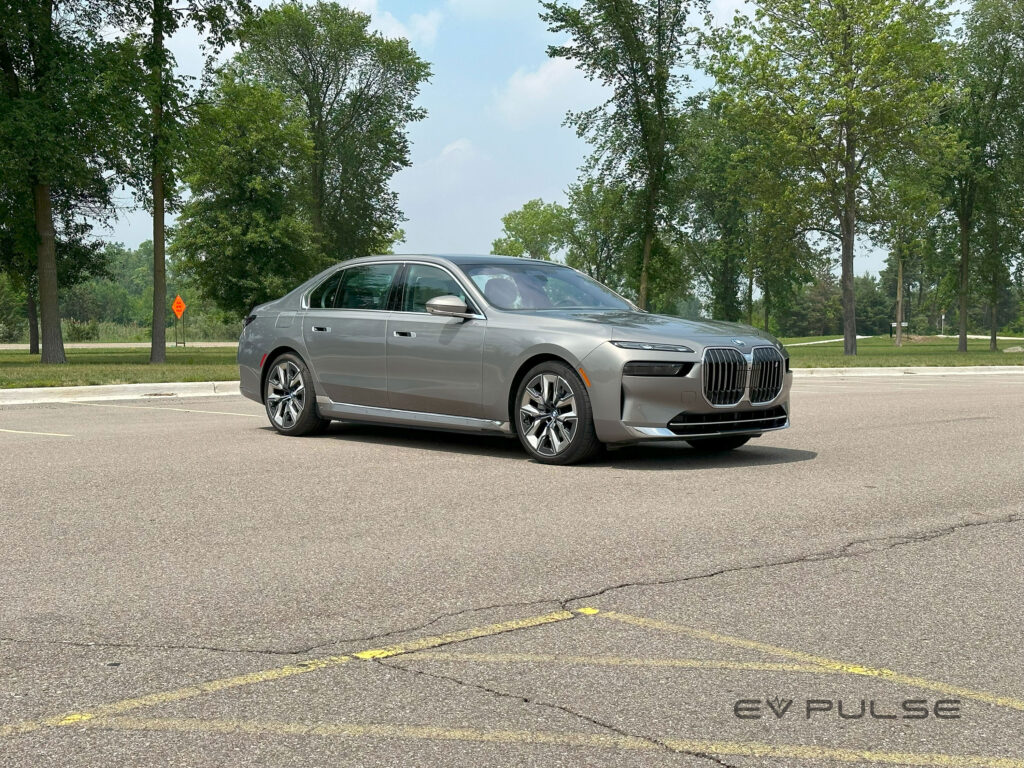 The i7's rear is tidy and clean, with small slivers of chrome accenting the narrow taillamps. The trunk release button is conveniently mounted beneath the BMW roundel, where it's easy to see and press.
Moving along, the sides of this sedan are just as elegant, free of unnecessary creases or tacked-on trim. Tasteful brightwork outlines the side glass, and recessed door handles provide a tidy look. Optionally, as part of the $6,550 Executive Package, the i7's doors will power open or close, which you can do at the press of a button from inside or outside the car.
This BMW is cleanly styled and elegantly proportioned… for the most part. Up front is where the design goes a bit off the rails. The i7's face is dominated by an almost comically large twin-kidney grille, which is flanked by two-tiered headlights that bring to mind what Genesis is doing these days. On this example, those lamps are also embellished with glittering crystalline accents, another component of the Executive Package. Overall, the front of this car looks alien, rather out of place compared to the rest of the body.
Still, three out of the i7's four sides look great, which ain't too bad. Also, never judge a vehicle's looks until you see it outside and in person. Photos, video or even auto show turntables never tell the whole story.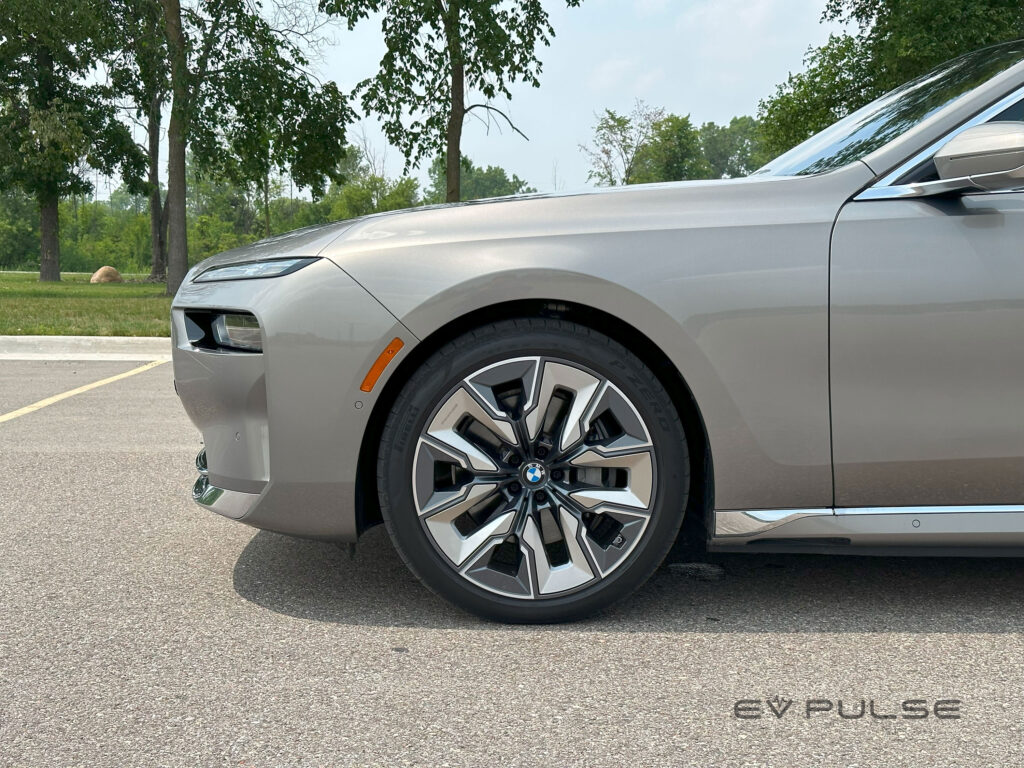 Given its market positioning, the i7 is a large sedan, very large. Its hood is extremely tall, coming up to my waist, the body is nearly 18 feet long and the wheelbase spans almost 127 inches. Weight is prodigious, too, clocking in at nearly three tons.
As for wheels, you can get 19-, 20- or 21-inchers on this BMW. Our tester is fitted with optional 21s that cost an extra $1,300 and get you and EPA-estimated 308 miles of range. Go with the standard 19s, and you should be rewarded with 318 miles on a charge.
Wow, what an interior!
The i7's cabin is richly trimmed and supremely comfortable. It makes you question whether this is a German car or not. The overall look is warm and expressive, not cold and industrial like you might expect from BMW.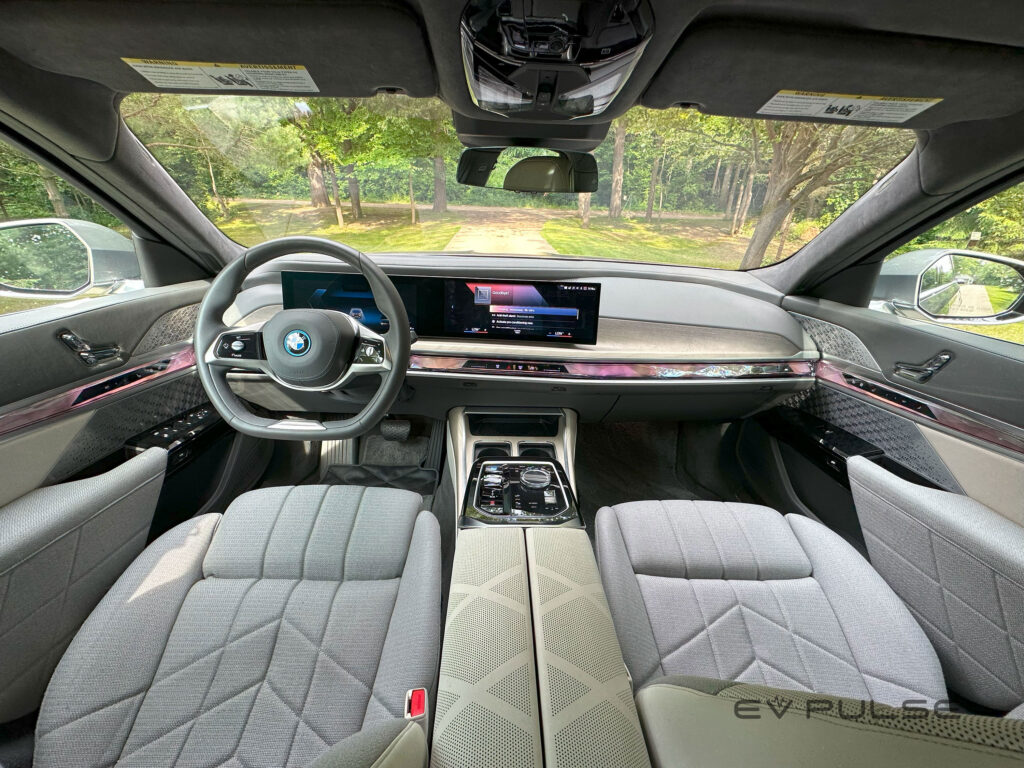 Optional Merino leather feels like money and this example also has an Alcantara headliner, another extra-cost feature. Open-pore ash wood accents adorn the dashboard and center console, contrasting nicely with the unusual faceted trim and crystalline accents BMW has included. I would prefer something cleaner and simpler than these diamond-inspired add-ons, but I appreciate the automaker doing something different, for the most part.
About the only misstep in this cabin is the design of the air vents. They're basically tiny slits underneath the dashboard trim and you adjust the flow with little drums that rotate and slide. This configuration is fiddly, difficult to aim and distracting to use while driving. I hope BMW changes things in the future, because this setup is far from ideal.
As for luggage space, the i7's trunk clocks in at a more-than-respectable 17.7 cubic feet (unfortunately, there's no front trunk), only about 1.4 less than a combustion-powered 7 Series. There's also a surprisingly deep storage well underneath the floor, a great place to stash items so they're out of the way. Unfortunately, the rear seatbacks on this example do not fold down, so carrying long cargo is out of the question.
Up front, the bucket chairs are exceptionally comfortable, adjusting in all the right ways, plus they're partly covered in a rich feeling cloth, a material echoed on the door panels. The i7's backseat offers acres of space to sprawl out, catering to passengers of nearly any stature.
Displays for days
This BMW also includes a 5.5-inch touchscreen in each rear door panel, so you can control the sunshades, adjust seating functions and more. These are a little cumbersome to use, but otherwise intuitive. Upping the ante, we also have the $7,250 Rear Executive Lounge Seating Package. This includes a passenger-side reclining seat plus a footrest, a special center console with a wireless charging pad and — get this — a 31.3-inch 8K BMW Theater screen that folds down from the ceiling.
As the specs suggest, this display is stunning — clear, bright, colorful and even somewhat adjustable to provide a better viewing angle. When deployed, the rear and side sunshades also go up, reducing, if not eliminating, glare. Amazon Fire TV is integrated into the screen, too, enabling you to watch movies or TV shows while on the go, though there's also an HDMI port, so you can plug in other devices as well.
This test car is also fitted with the $600 Luxury Rear Seat Package, which includes ventilated and massaging chairs, amenities that should probably just be standard in a sedan of this caliber.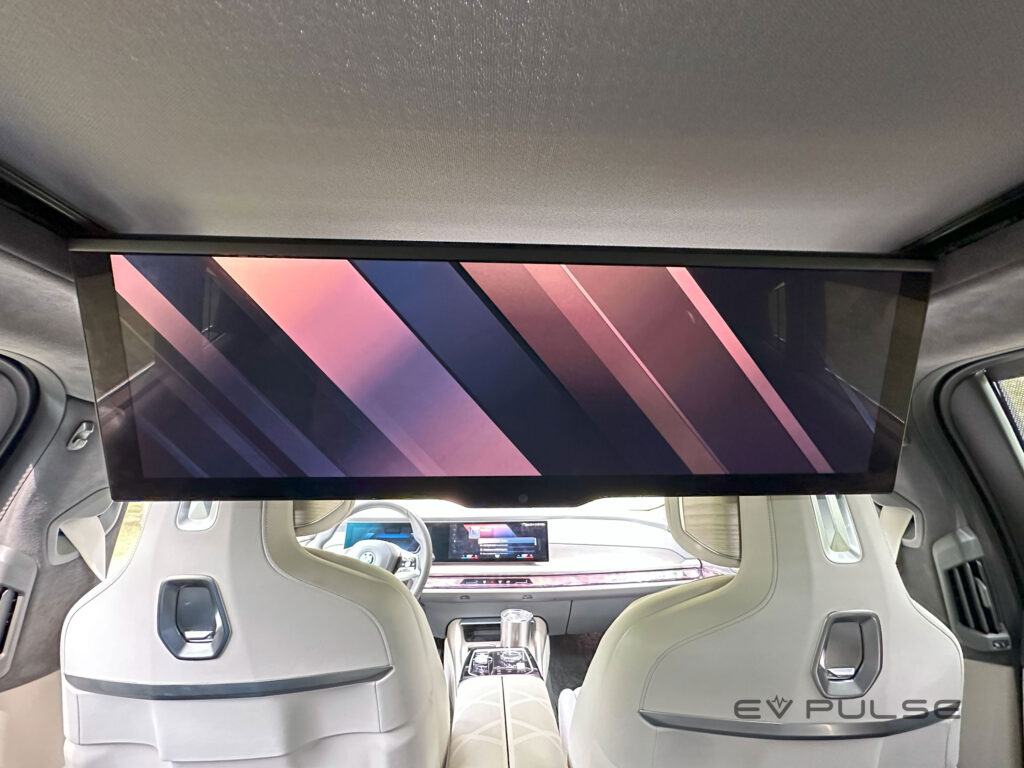 Up front, the driver is treated to a color head-up display and a 12.3-inch digital instrument cluster. Both of these readouts are super easy to adjust via the buttons on the steering wheel. A 14.9-inch touchscreen is also included, mounted in the same curved housing as the gauges. This is where BMW's iDrive infotainment system resides, a multimedia array with a rather steep learning curve because it offers so much functionality, but this system is also one of the speediest in the automotive industry. iDrive in the i7 absolutely flies, never stuttering or lagging, in fact, it doesn't even seem to boot up; it's pretty much ready do go as soon as your backside hits the seat cushion.
If you'd rather not use BMW's infotainment system, Android Auto and Apple CarPlay are included, and both smartphone-mirroring systems connect wirelessly. Naturally, there's also a wireless charging pad.
smooth, Smooth, SMOOTH!
The i7 xDrive60 features a pair of electric motors that provide standard all-wheel drive along with 536 horsepower and 549 pound-feet of instantaneous torque. That's enough to propel this behemoth sedan to 60 mph in a BMW-estimated 4.5 seconds.
But just like the Mercedes-Benz EQE 350 4Matic, the last all-electric luxury sedan I reviewed, this car doesn't feel as quick as the numbers suggest. This is because the i7 is so incredibly refined. The standard air suspension system with electronically controlled dampers provides a pillowy-soft ride. Seriously, you barely feel any roadway imperfections in this car. Keeping the body almost perfectly flat in corners is Active Roll Stabilization, another feature included in the Executive Package. And of course, this Bimmer's interior is nearly silent at practically every speed, legal or otherwise.
In your hands, the i7's tiller is light but very precise, while standard rear-axle steering moves the back tires up to 3.5 degrees, dramatically enhancing low-speed maneuverability while also improving highway stability. This is a sizable sedan, and it does feel big, but nowhere near as gargantuan as the numbers suggest.
Several levels of regenerative braking are available, which you can access via the touchscreen. When lifting your foot off the accelerator, the car will sail right along or quickly slow down, it's your choice. Clicking the crystalline shift nub from "D" to "B" provides a one-pedal driving mode, that is, maximum regenerative braking with the i7 rolling to a stop on its own. An adaptive setting is also offered, whcih changes how the car recuperates energy based on diving conditions. If you're on an empty country road, it will glide right along, but if you're in traffic or following another vehicle, the i7 will automatically and proportionally increase the regenerative braking. It works brilliantly and is almost totally seamless.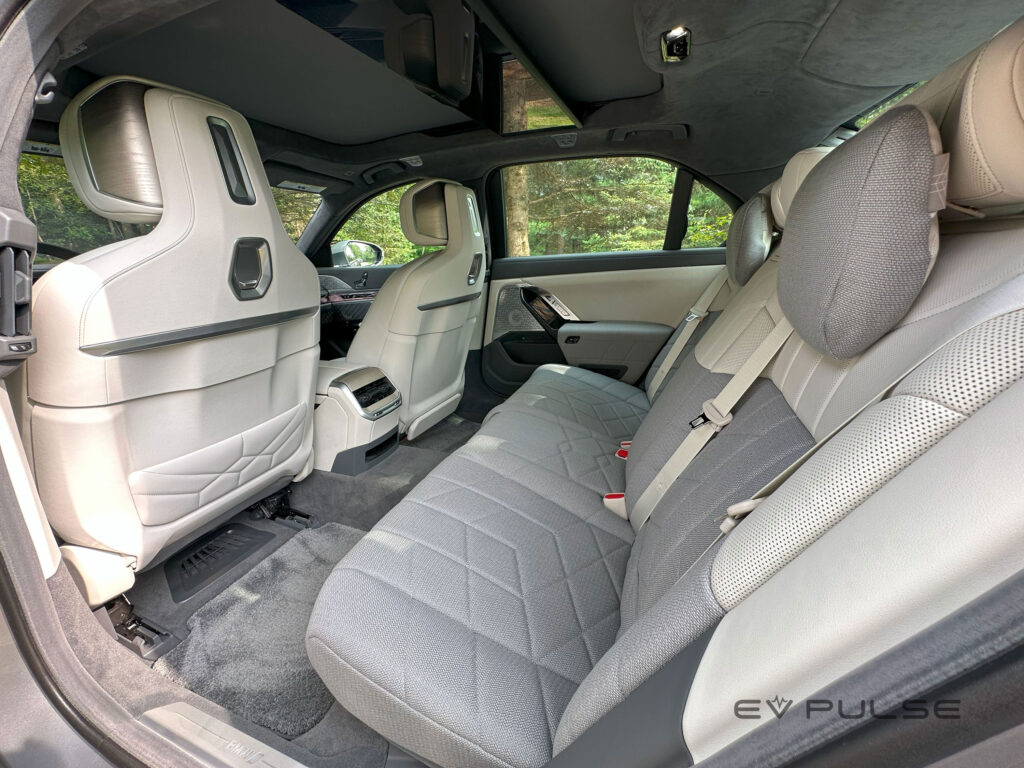 Springing for the $2,100 Driving Assistance Professional Package gets you numerous amenities including steering assist, lane-keeping assist and emergency-stop assist. This options group also includes Highway Driving Assistant that provides hands-free capability on limited-access, divided roadways, just like Super Cruise and BlueCruise. BMW's solution operates at speeds up to 85 mph and works amazingly well. When driving hands-free the vehicle feels rock solid, even in corners. The tech also supports automatic lane changes.
Curiously, there's no digital rearview mirror in the i7, so when that 8K display is down, you can't see anything out the back window. This is a curious omission from BMW.
Making life a little easier, the i7 comes standard with an EVSE, one that supports both Level 1 and Level 2 charging — the former from a standard household outlet, the latter via a NEMA 14-50 plug; just swap the ends. Sturdily built with heavy-duty wiring and a generous 20-foot-long cable, yet still totally portable, this is a great addition to an excellent car.
A better flagship sedan
This 2023 BMW i7 xDrive60 has an as-tested price of $151,995, a figure that includes around 32 grand in options, more than the price of a new Honda Accord. That is a hefty sum to be certain, but this Bimmer feels so good and offers so much.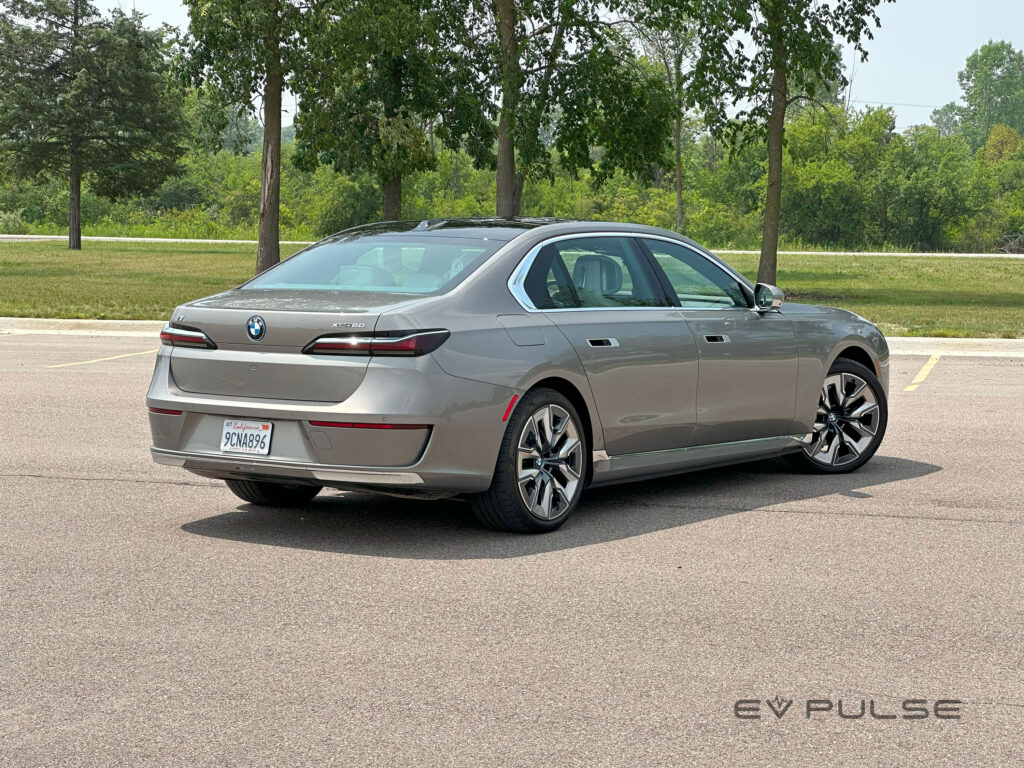 The i7 is a lovely automobile, a true flagship-caliber sedan, one that just happens to be electric. Thanks to its superb refinement, capable dynamics and incredible tech, this is probably a better choice than the conventional, combustion-powered 7 Series, it's that good.
At a glance
Year: 2023
Make: BMW
Model: i7
Trim: xDrive60 (21-inch wheels)
Type: All-electric luxury sedan
Horsepower: 536
Torque: 549
MPGe ratings (city/highway/combined): 85/89/87
Range: 308 miles
Pros: Buttery-soft ride, regal interior, loads of comfort and space, excellent hands-free driving capability, responsive infotainment system, strong performance, silent running, excellent range, impressive DC fast charging
Cons: High price, nickel-and-dime options, questionable front end styling, ridiculous air vents
Estimated Base price: $120,295
As-tested price: $151,995 including $995 in destination fees
Watch our review video