Mercedes-Benz's most efficient eVan yet will launch in the U.S. and Canada in the second half of 2023, the German automaker has announced. Boasting a usable 113-kWh battery pack, Mercedes says the eSprinter is estimated to return up to 248.5 miles based on a simulation using the generous WLTP cycle. Based on the WLTP city cycle, the automaker estimates the range to be up to 311 miles. EPA-estimated range won't be announced until closer to the electric van's launch later this year, but expect it to be closer to 200 miles.
The model heading to North America will be a long cargo van with a high roof, featuring a load capacity of 488 cubic feet and gross vehicle weight of 4.25 tons. It will be produced in Charleston, South Carolina for the U.S. market with two different power levels: 100 kW and 150 kW of peak output. Available torque will reach up to 295 lb-ft for the cargo van. For charging, the onboard charger for Level 2 will top out at a maximum acceptance rate of 9.6 kW, while DC fast charging will accept up to 115 kW. Given its massive battery, DC fast charging from 10% to 80% will take around 42 minutes.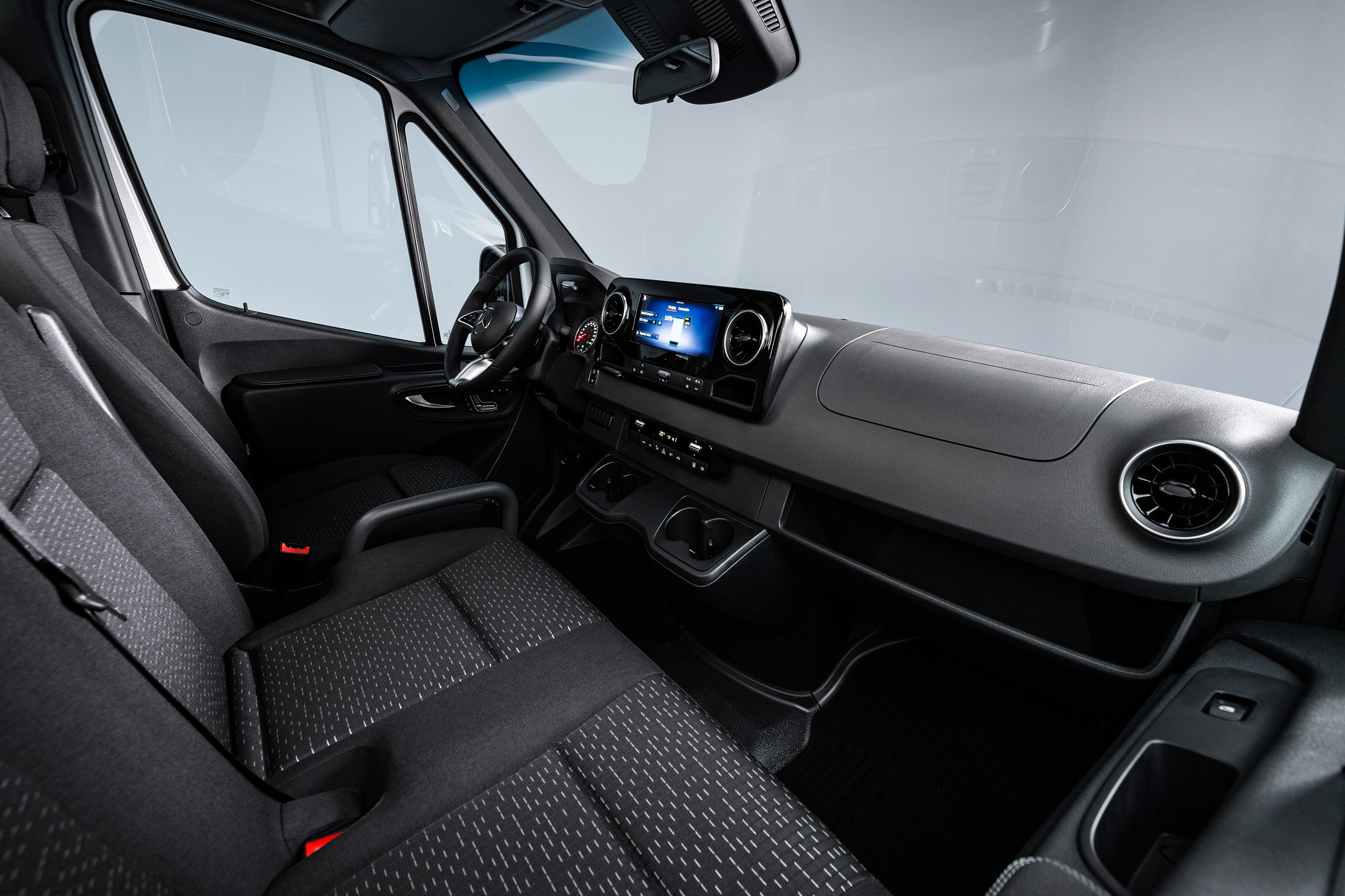 The latest version of Mercedes-Benz User Experience (MBUX) will make its way to the eSprinter, previously only available on Mercedes-Benz passenger cars. Some highlights for the infotainment system include navigating with "Electric Intelligence", which will show the current range of the van in real time based on the current traffic situation and the route. It will also determine the route based on the desired state of charge at the destination, or getting you to the destination as quickly as possible while optimizing driving range. Owners will also be able to use Mercedes me to authenticate payment at eligible charging stations. Another feature for MBUX includes "Hey Mercedes" voice control assistant for hands-free commands.
The Mercedes-Benz eSprinter is another step in the German automaker's plans for all new van models to be all-electric from 2025. The company also recently announced plans to launch its own branded charging network with the goal of establishing over 10,000 chargers worldwide, starting with North America.
"The new Mercedes-Benz eSprinter consistently follows our strategy – to be the leader in electric mobility with the most desirable vans while achieving profitable growth worldwide," said Mathias Geisen, head of Mercedes-Benz Vans.