Our coverage of the 2023 LA Auto Show is sponsored by Emporia. 
Prosperity Market is a mobile farmers market based in Los Angeles, California, one that highlights the produce and cuisine produced by Black farmers and chefs. Making fresh food available throughout the community is the mission of this organization, and helping broaden its reach, Prosperity Market debuted a new electrified, solar-powered mobile trailer at the 2023 LA Auto Show.
Assembled by a company called LA Stainless Kings, this huge, 48-foot-long, 8.5-foot-wide piece of work is both a farmers market and a food truck rolled into one. Helping power lights and cooking equipment, the trailer is fitted with a husky, 80-kilowatt-hour lithium-ion battery pack; that's large enough to power an EV for hundreds of miles! Additionally, 8 kilowatts of solar panels and a 12-kW inverter are installed, too. All this electric hardware makes it possible to replace dirty gas- and diesel-powered generators, for a cleaner, quieter power source.
After the show, this trailer will travel around the community multiple days per week, from Malibu to Compton, selling fresh, delicious food. This will make it easy for residents to support Black chefs and food producers.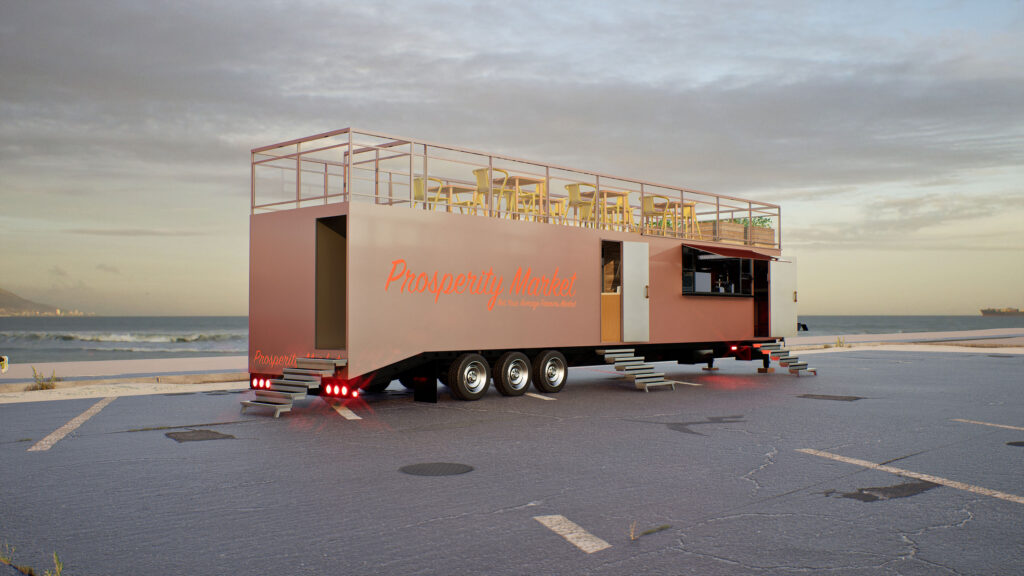 "Since Prosperity Market's inception in 2020, the trailer has been core to its mission of increasing food access throughout Los Angeles," said co-founder Carmen Dianne in a media statement. Continuing, she explained that Prosperity Market is entering its next phase with the introduction of their new electrified trailer.
Similarly, co-founder Kara Still noted, "We've been working overtime to bring our vision to life and can't think of a more legendary way to introduce our mobile trailer to the world than at the LA Auto Show."
Electrification is key to cleaning up transportation, but as Prosperity Market is demonstrating, that's not the only thing that can benefit from ditching fossil fuels. The organization's new, amped-up trailer is set to make an impact across communities in the LA area very soon.