Slowly but surely, electrification is taking off in the passenger vehicle market, but arguably, there's an even bigger opportunity for this technology to make a difference in the commercial space. Helping companies clean up their vehicle fleets, late last month California-based Motiv Power Systems announced the introduction of its next-generation medium-duty all-electric trucks.
Motiv Power Systems has been in business for nearly a decade and a half, developing battery-powered step vans, box trucks and shuttle busses, vehicles that form the backbone of countless industries. The firm's latest and greatest models feature a new motor and battery pack that, together, have fewer components, which means simplified maintenance and less to go wrong down the road.
A six-phase electric motor codeveloped with Nidec provides motivation. A newly developed controller helps this dynamo crank out more toque than comparable internal-combustion engines, though no specific numbers for that or horsepower have been shared. The company, however, notes that this powertrain will deliver torque that's comparable to Class 8 diesel-powered trucks, so probably around 1,200 pound-feet, enough to out accelerate all gasoline-powered equivalents from 0 to 30 and 0 to 60 mph when fully loaded with between 4 and 6 tons of cargo.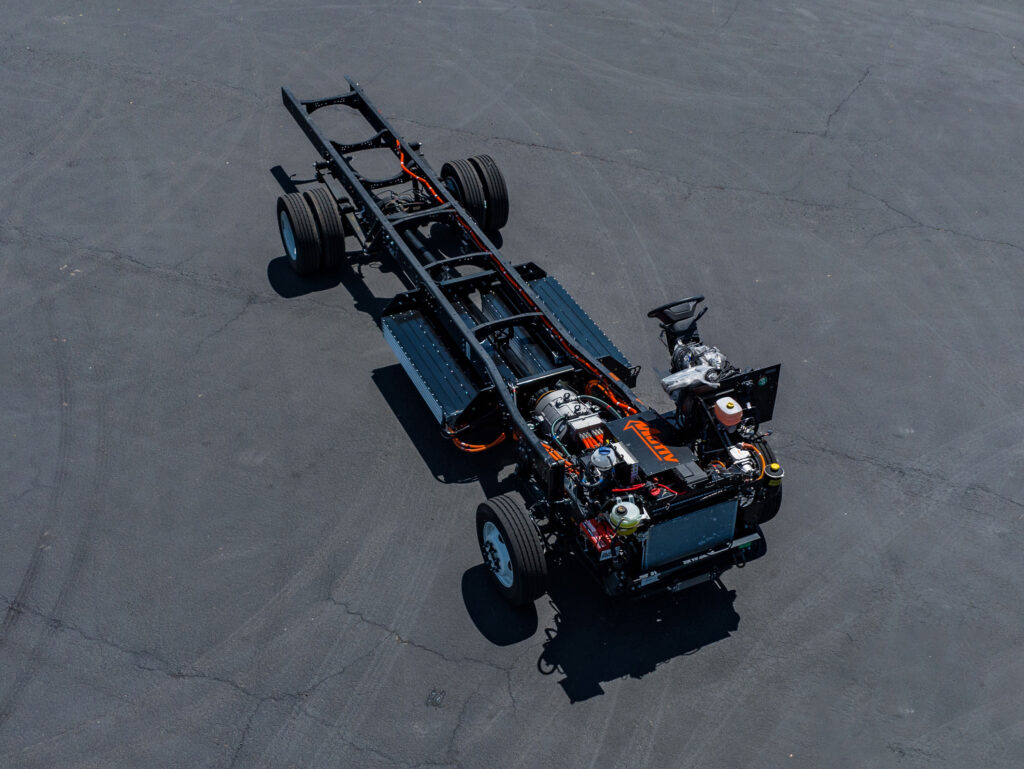 Loads of off-the-line oomph are exactly what you want in a large truck or van when hauling thousands of pounds of cargo. Providing the juice is a US-built ONE Aries LFP battery system with a chemistry that uses no cobalt or nickel. This is the first battery of its kind released to the market. According to Motiv, their new energy storage system will be offered in two configurations: a base with 150 miles of range and another that promises 200 miles on a charge, impressive numbers for any large commercial vehicle, especially when loaded to the max.
Sooner than later, all-electric step vans, trucks and buses will be the norm, and not just because companies are looking to save money on fuel. Thanks to their noxious emissions, diesels are under fire in numerous markets, including California, the most populous state in the country. This is also why competitors like Blue Arc, Harbinger and REE Automotive are all developing medium-duty vehicles with electric drivetrains.
Motiv develops its own cooling systems, circuit boards and software, among other things, but they don't necessarily build vehicles, at least not in the traditional sense. Instead, they're something of an upfitter, they take an existing chassis, specifically a Ford E-450, F53 or F59, and install their own powertrain components. The electric drive system is what matters most, so why waste time and money developing your own frame, suspension, brakes and other systems when perfectly capable offerings are already in production, ones that customers are already familiar with and can easily maintain?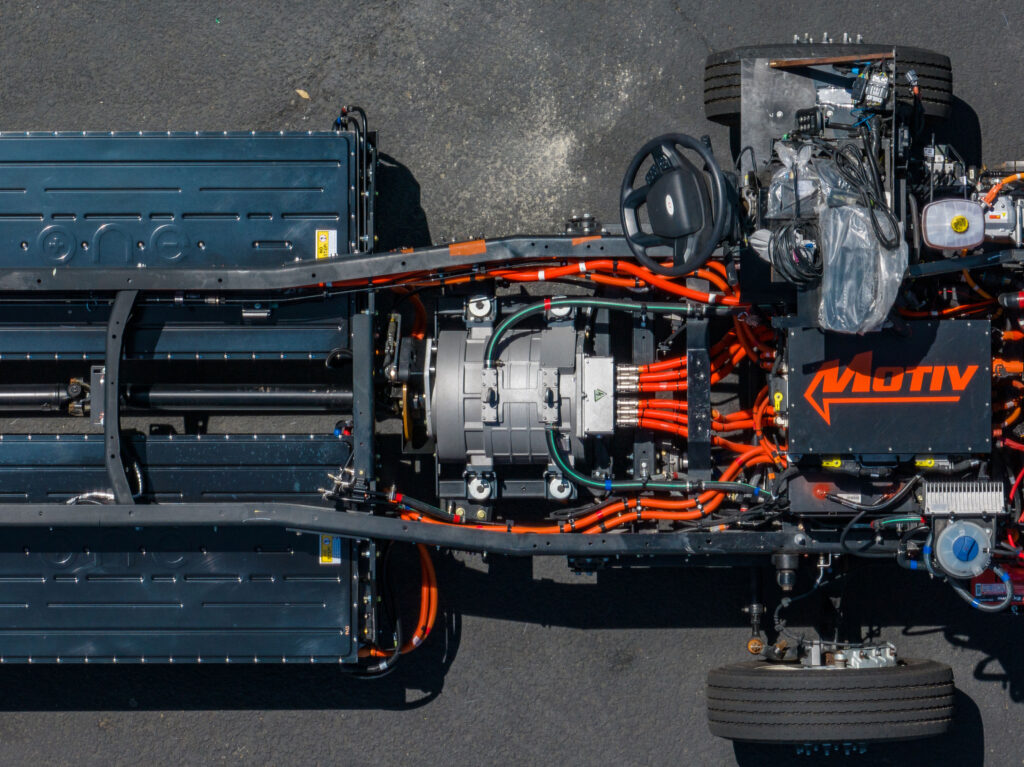 "We are certainly capable of building (chassis) as well," explained Motiv Power Systems CEO, Tim Krauskopf, in an interview with EV Pulse, but for the time being at least, Ford is their focus, particularly the F59 model. "Historically, Ford was somewhat of an innovator [in this space]," he said, because they've allowed other companies to convert or modify their rolling chassis through a program called EQVM, shorthand for electric qualified vehicle manufacturer. This is part of the reason why Motiv works with Ford, though their drivetrain technology is chassis agnostic and they have built prototypes on other manufacturers' platforms.
Krauskopf said one downside to not building their own architecture is that they have to pull out engines and transmissions because Ford won't sell them a chassis sans the powertrain. "But what we need is choices of chassis, particularly where we don't have to remove an engine."
Reliability is mission critical to commercial vehicle fleets, and Motiv has an advantage here, too, though not a huge one. Krauskopf explained their vehicles have an uptime of about 98% compared to combustion-powered equivalents that come in around 97%. Oil changes and other related maintenance items take time and result in much of this difference.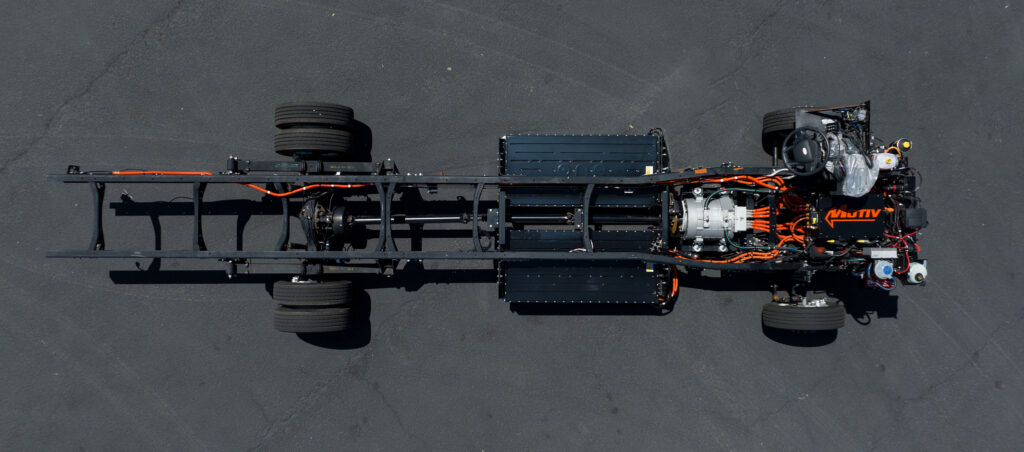 To date, Motiv has delivered more than 150 vehicles to customers including Cintas, and Bimbo Bakeries and Purolator. In the automotive world, that's a tiny number, but the company's products are already making a big impact. Krauskopf said their vehicles have covered more than 2.5 million miles and saved some 3.5 million pounds of CO2 emissions, earning the respect of customers and gaining Motiv more business. "We have a good number of reorders from our customer fleets," he added. That's good news for customers and anyone that appreciates breathing clean air.